Late last week, nearly 1,000 residents of Sydney created a giant human Progress Flag on the steps of the city's iconic Sydney Opera House. The colourful display that quickly became a viral hit marked the 44th anniversary of the first Sydney Gay and Lesbian Mardi Gras and was a welcome to the world as Sydney gears up to host WorldPride in 2023.
A 17-day celebration of the Australian LGBTQIA+ community, with over 300 events across the city, it is for the first time in its history that WorldPride will head to the southern hemisphere. On from February 17 to March 5, Sydney WorldPride will mark a watershed moment in the history of Australia's LGBTQIA+ community, a story — like many from the community across the world — of survival against all odds. 
WorldPride may be at least a few months away, but the anticipation for it is already palpable. That's what I felt last month when I walked down Oxford Street, one of Sydney's major thoroughfares and more importantly, the city's gay hub, being the beginning of the Annual Gay and Lesbian Mardi Gras Parade route every year.
It was a cold, drizzly May afternoon in Sydney. But as soon as I motored into Oxford Street, the greyness seemed to give way to a riot of colours. There is hardly a corner of Oxford Street that isn't bursting with vibrancy. And embodying both colour and vibrancy was my guide for the Oxford Street walking tour.  The Fabulous Wonder Mama, who describes herself as the 'Glambassador of Love and Justice' and 'The Super Hero Drag Queen from Down Under' was waiting for me in all her fabulousness, channeling Wonder Woman in her attire and, as I discovered in the one hour that I spent with her, one of the most fun, uninhibited people I have ever met. The fact that she hosts a regular 'Drink & Draw' class — where you doodle even as you down a few shots — sealed the deal.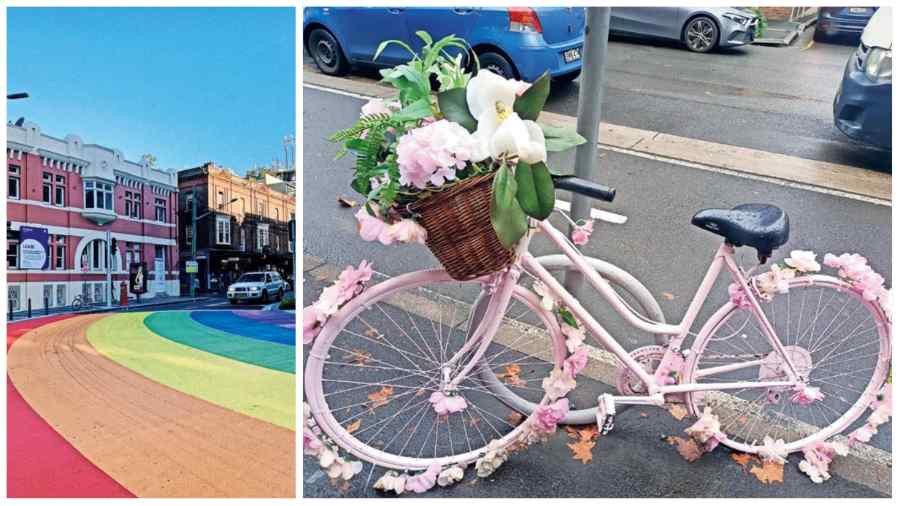 (L-R) The famous Rainbow Crossing at Oxford Street, a top draw for many an Instagram post; Every corner of Oxford Street is a riot of colours and wears its gay identity proudly on its sleeve.
Glam-Sham
Our first stop on Oxford Street was the rather obviously named House of Priscilla, a vibrant store that houses everything from colorful costumes to crazy wigs — as over-the-top as it can get — which is not only a hotspot for  drag queens looking to glam up for their performances but even for those participating in costume parties. I loved every corner of it, but didn't end up buying anything. Even by my standards — wave a sparkly something at me and I will buy it on the spot — this was a bit too much.
Every corner of Oxford Street wears its gay identity on its sleeve — whether it's the adult lifestyle markets that dot the kerbside, the pink cycles parked, the stores that sell some eclectic (to put it mildly) innerwear.
"It's going to be 45 years of Mardi Gras next year and five years since marriage equality in Australia. So WorldPride in 2023 has a lot of significance for us," smiled The Fabulous Wonder Mama, waving at everyone around with her umbrella, instantly reminding me of Mary Poppins, but with a twist.
Out and Proud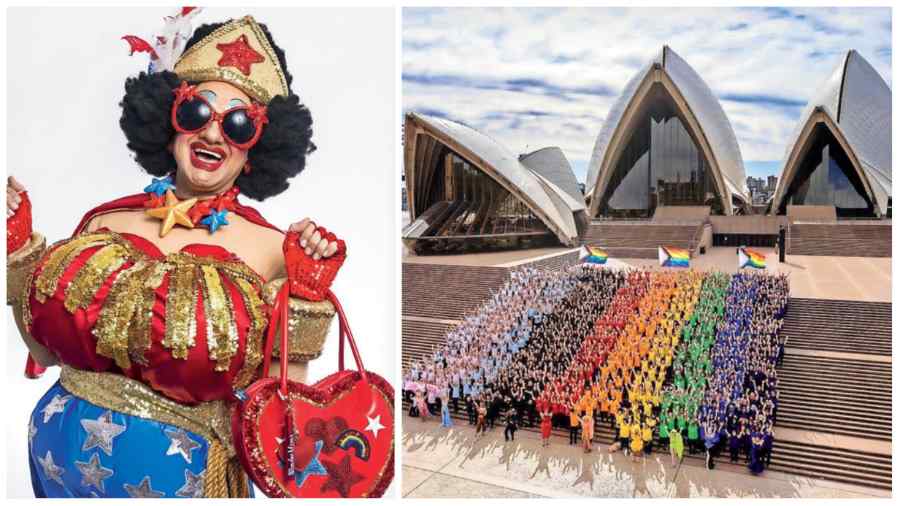 (L-R) My Oxford Street guide was The Fabulous Wonder Mama, one of Sydney's best-known 'glambassadors' of the LGBTQIA+ community; The giant human Progress Flag on the steps of the iconic Sydney Opera House last week.
In the run-up to Sydney WorldPride, Oxford Street already wears an atmosphere of celebration and everything is being done to make it a memorable event. There are only-gay cruises that will sail off starting end-2022. Starting off with a party on Oxford Street on November 3, the revellers will continue the fun on these cruises. "It's going to be one of the highlights of WorldPride," said Wonder Mama.
A few steps took us to the permanent rainbow crossing at Oxford Street's iconic Taylor Square. The rainbow crossing, a go-to for photo-ops on the street, came about in 2019, with Sydney joining the world, including in Hollywood, San Francisco, Paris and Wellington, in having an indelible symbol of rainbow pride.
Enough pictures taken for a photo dump, Wonder Mama took me to the most interesting bit of the walking tour. A tiny eatery called Mykiki, its name screaming out in pink neon, with the words 'naughty waffles' being a giveaway. Here, one can bite ('bite' being the operative word) on waffles dished out in phallic and vulva shapes. I decided to give into some guilty pleasure and opted for their bestselling 'Sugar Daddy', a phallic-shaped waffle covered in white chocolate and gold flecks and a whipped cream 'happy ending'. The pictures are too graphic to be printed here. An indicator of the fun time I had wolfing down mine.
My tryst with the queer side of Sydney culminated that evening at a 'Drag 'n' Dine at  The Imperial Erskineville, an icon and an institution of the LGBT community in the city. Even as I munched on a delish spread and downed some delicious cocktails, I enjoyed one drag dance act after another, all of them peppered with some fun jokes and one-liners by the performers. But it was the performance to Gloria Gaynor's I Will Survive that summed it up for me, showing how far the community has come and the battles it needs to fight ahead.
Pictures by the author and courtesy Instagram