The film Avijatrik is the concluding part of the epic novel Aparajito by Bibhutibhushan Bandyopadhyay and sequel to the great Apu Trilogy by Satyajit Ray. Visually, I wanted this film to be as exotic and as breathtaking as it can be, to portray the real India, to portray the wanderlust of Apu. In Avijatrik, Apu has to disembark from a train for some unexpected turn of events and has to detour and visit Varanasi to keep a promise to Leela. He revisited those exotic places once again with his son Kajol. Varanasi, erstwhile Kashi, is one of the main chapters amongst the five chapters in the film. Avijatrik, which releases on December 3, is presented by Bhandarkar Entertainment and produced by Gaurang Films.
Place: Early morning on the banks of Varanasi
Characters: Shankar (Sabyasachi Chakrabarty), Apu (Arjun Chakrabarty) and Kajol (Ayushmaan Mukherjee)
Scene: Shankar and Apu meet by coincidence. Legendary globetrotter Shankar is now middle-aged. They knew each other from Apu's Nagpur wanderlust days. Shankar rekindles the passion of adventure in Apu and acts as the catalyst which takes the life of Apu in a new direction. A journey started. Outside as well as within.
BTS: The scene was shot in two days to maintain the continuity of the light angles and sun position. It was shot in Bhosle Ghat. Adjacent two ghats were also cordoned off to keep away the bystanders with modern clothing. Art department decked up the main ghat according to my research photographs of Varanasi in 1940s. Costume team transformed the junior actors in different get-ups, expected to find there at that point of time, as per my research and visual references. The water level of the Ganges was much higher than what we had seen during our recce. My cinematographer and I had to adjust the shot compositions and shoot planning accordingly on the spot, without hampering the aesthetics. Modern structures were eliminated and ancient heritage structures were incorporated by the VFX designer during post-production to give a final authentic look of Varanasi of 1940s.
Place: Varanasi Rajbari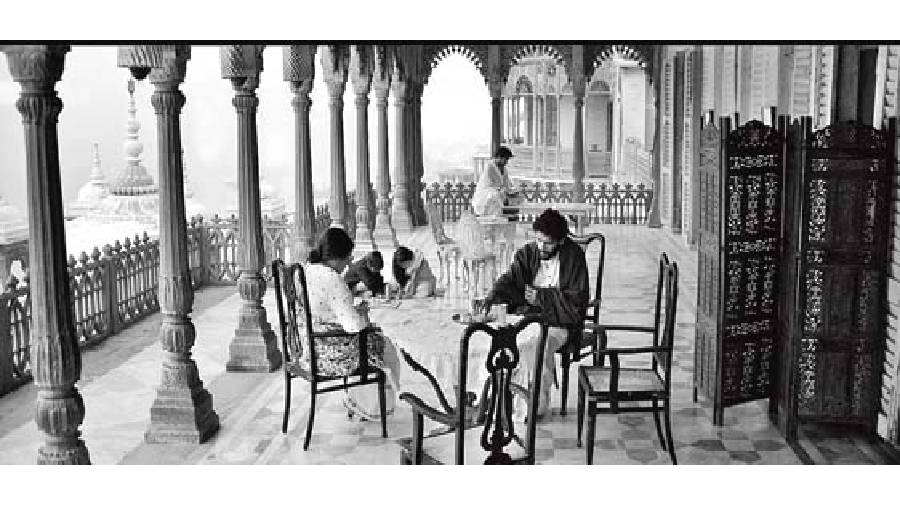 Characters: Apu, Kajol, Bouranima (Leela's mother / Tanusree Shankar), Bimalendu (Leela's younger brother / Shubhro S. Das), Khuki (Leela's daughter / Pratyusha Dutta)
Scene: Apu visits Leela's house to keep a promise to her.
BTS: This scene was shot in Ramnagar palace, the place of Kashi Naresh, who still lives there, situated on the opposite bank of Varanasi. We had hired our own big boats and bajras to ferry the unit to the location from Dasaswamedh Ghat. It was a fun ride every time from recce till shooting. We shot many scenes there, which is absolutely breathtaking visually. Rajbari in Varanasi was the only place in 1940 where electricity was introduced specially, we kept this information in mind while propping up the set and did the light scheming.
Place: Sarnath excavation site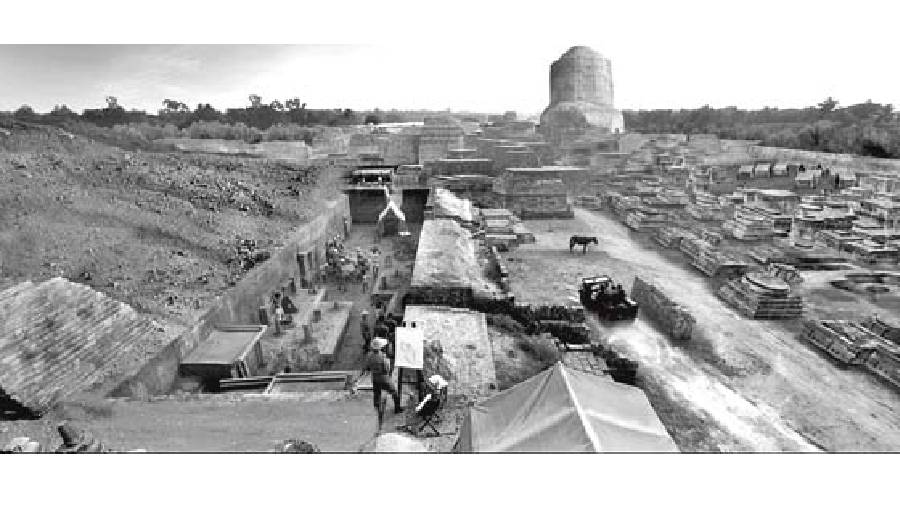 Characters: Shankar, Apu and Kajol. And special appearances by Juergen Thomas Shrod, Sayan Bhattacharya, Irina Malysheva
Scene: Shankar takes Apu to the excavation site of Sarnath where a group of European archaeologists are unearthing the forgotten root of India's glorious past.
BTS: Shooting this scene was a production department's nightmare. Hundreds of junior actors, horses, mules, vintage jeep, huge set, main actors, respected dignitaries who kindly consented to act in the scene as guest stars, and the producer Gaurang Jalan all were present there. We had almost 400 people on that day at the shooting. The set was constructed in Taki, to recreate the actual site. We took every possible photographs from the actual site in Sarnath during our recce and it took almost a month to recreate this set according to the reference. We added many layers and details later on through VFX.
Place: Viswanath Gali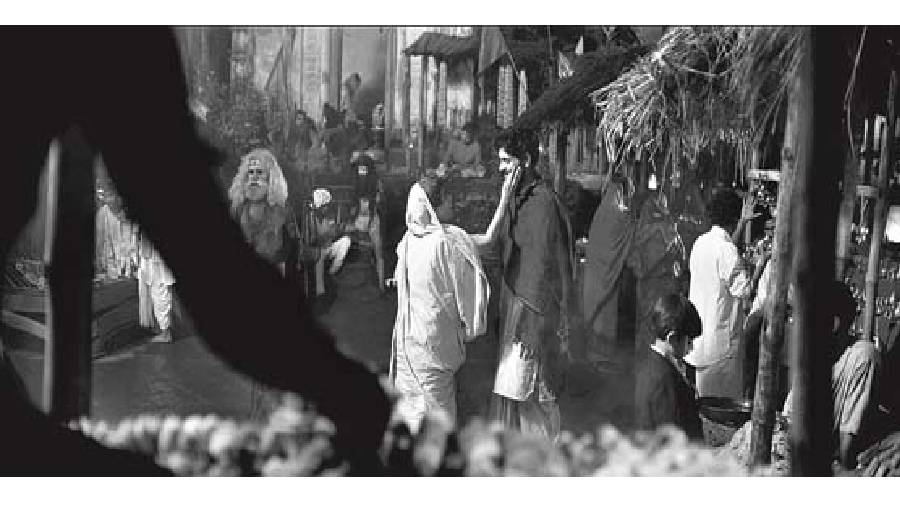 Characters: Apu, Kajol, Bordi (Sohag Sen)
Scene: While taking little Kajol to the fanfare of this exotic city, Apu surprisingly meets Bordi, his distant eldest cousin sister from Nishchindipur. Bordi now lives in Varanasi as an elderly widow.
BTS: This set was created in Calcutta in an old dilapidated Shiv Mandir complex in Tollygunge as present day Varanasi alleys are totally different and modern. Around 50/60 junior actors were required during the scene. I wanted to recreate the diversified population of pilgrims of the Viswanath Gali, representing all corners of India as well as different sects of sadhus. The junior actors were decked up accordingly.
Place: Kashi Viswanath Mandir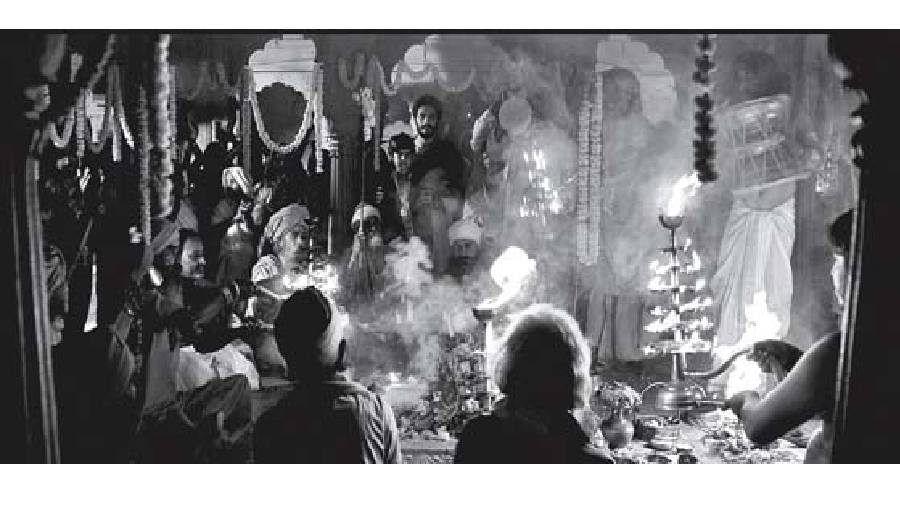 Characters: Apu, Kajol, Aparna (Ditipriya Roy)
Scene: Apu takes Kajol to the Viswanath Mandir which he frequented in his younger days, to give him the same experience of Saptarshi Aarti. Apu realises Aparna (through his fragment of imagination) is watching over them lovingly amidst the crowd.
BTS: Viswanath Mandir is a strictly prohibited zone for shooting, so we had to recreate the set in Varanasi itself, in Chait Singh fort. We hired real pujaris from the Viswanath Mandir who replicated the Puja rituals of Saptarshi Aarti. As usual we had hundreds of junior actors representing diversified India. This was basically a small scene during the script stage, but it developed further in my mind when I spent almost two hours in the actual Saptarshi Aarti in the sanctum sanctorum of the Kashi Viswanath temple during our recce, by a special permission. I watched the pilgrims, I experienced the real India in front of me. I tried to recreate that in this scene through Apu's eyes.
Filmmaker Subhrajit Mitra's film Avijatrik is a sequel to the Apu trilogy by Satyajit Ray