Coaching centres for competitive exams are heaving a sigh of relief. The state government has granted them permission to start in-person classes at 50 per cent capacity and while they have had mixed experiences during the pandemic, they are all glad at being able to offer the option to students.
Geo IAS, that imparts training for Union Public Service Commission (UPSC) examinations, has recorded a marked increase in admissions ever since offline classes were announced. "We have started in-person classes and have about 10 students out of a batch of 60 joining us. These are students who live nearby, while those from states like Bihar and Odisha have assured us they will reach Calcutta next month and join," says A.P. Chatturvedi, who is in charge of administration at the CK Block centre.
The institute starts new batches every three months and in the latest batch, 90 per cent students have opted for offline classes. "Online classes were available from some web portals even before the lockdown but very few preferred them as they can never be as effective as face-to-face classes. Now that offline sessions are back, students are back too," Chatturvedi says.
Another Sector I institute that imparts UPSC coaching confirms that admissions have been abysmally low all through the pandemic. "Since the number of exam attempts are restricted, many students backed out last year. They felt the pandemic would affect their preparation and their state of mind. We are hoping the situation would improve now but let's see what happens," says the director.
Chiranjit Ghosh, manager admissions of Fiitjee Ultadanga, says business had suffered last year as their admissions usually take place in April. "That was the beginning of the pandemic and amidst the panic and confusion many students couldn't decide what to do. But now they have realised that the world will not stop and admissions this year are almost at par with pre-pandemic levels," says Ghosh. 
In memory of offline classes 
G.S. Roy, who runs Mivigyan Academy in AA Block, is relieved that offline classes can resume. "In the last one year, students have studied nothing. They logged into virtual classrooms but were mentally bunking. Exams were also online and parents and teachers went out of their way to help their wards cheat," says Roy, who also teaches chemistry to IIT-JEE and NEET aspirants.
Manta Dey, who runs and teaches commerce subjects at Salt Lake Academy in IA Block, agrees. "Online classes are great for mediocre students. They pass exams but don't learn anything," she says. Her institute coaches students for MBA and chartered accountancy entrance exams, among others. They have resumed offline classes and are getting 40 to 45 per cent physical attendance.
Ghosh, of Fiitjee, does not blame the students. "Our classes are more than six hours long and one needs a high level of concentration to follow them. They'll be even tougher in the virtual format," he says.
A teacher and co-ordinator of a UPSC coaching centre in Sector III longs to see his students in flesh and blood. "Coaching is not lecturing. It's a two-way process and for effective learning, we teachers need to see the faces of students up close. It's an important part of feedback. But when the strength of a class is too large in online classes, we are forced to shut our videos lest the system collapse. Teaching this way is like staring at walls," he says.
Chatturvedi mentions how important peer learning is. "At a UPSC class, students will only talk of their subjects but at home they will talk to family members about other topics. Students lose focus this way," he says.
Sayed Anzar Abbas, a partner at CLATapult, says that if students were disciplined, nothing could be better than online classes. "They would save time and money commuting to institutes. But students, and especially parents, think offline is more effective and value for money and we can't disregard their perspective," he says. One of his law entrance coaching institutes is near the PNB Island.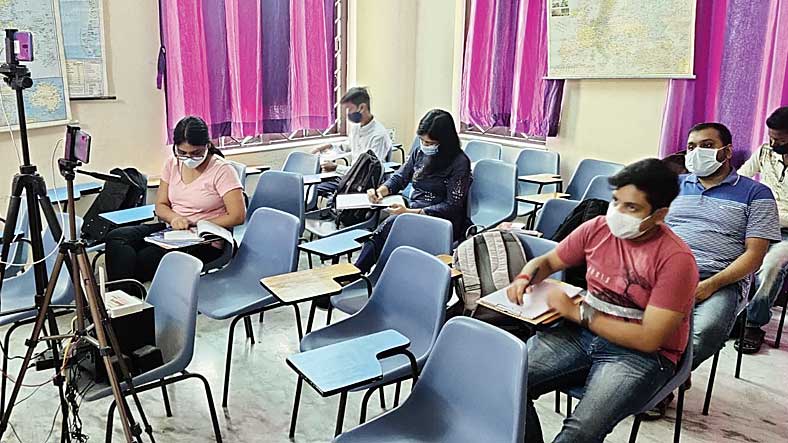 In-person classes have begun at CK Block's Geo IAS with phone cameras streaming the same to online students.
Sourced by The Telegraph
Major preparations
While a couple of institutes spoken to have already started offline classes, most said they had lots of preparations to take. Let alone sanitising the rooms, those like Mivigyan Academy said they first needed to rent rooms afresh!
"We used to run centres in Salt Lake's AB Block and New Town's Sukhobristi housing complex, out of which I had let go of former in the pandemic. If offline classes resume I'll first have to work out a deal with the landlord and rent the space again," said Roy.
Fiitjee Ultadanga will not start offline classes before the Pujas. "Besides introducing a system of thorough sanitisation, we have to co-ordinate with faculty as they will now have to teach both offline and online batches," said Ghosh. "But we will resume as soon as we can. We had started getting calls about offline classes ever since the relevant government order was released in August."
CLATapult is busy revamping their PNB branch that has been shut for a year and a half now. "While there is demand for offline classes, many students will continue online. So we are dividing the extra load of classes among three teachers per subject," said Abbas.
Hybrid classes seem to be the future and Salt Lake Academy has imported high-end gadgets that will enable online and offline classes simultaneously.
Fiitjee too has to have hybrid classes for the sake of students who have joined in the pandemic from different towns and even Dubai and the US.
Too soon or too late
Some institutes wonder if offline classes are worth the health risk. "Countries like China and the UK started schools too but had to stop them in 15 to 20 days as Covid started spreading like wildfire. This is always a risk when we get students to gather in a group and use public transport. Will they keep their masks on all the time?" asks the co-ordinator of the Sector III UPSC centre.
Arup Gupta, who imparts private tuitions to students of IIT and JEE, says he will not resume full-fledged offline classes till schools reopen.
"Since students aren't vaccinated yet the risk is still high. Parents too are divided on the issue. Besides, after such a long spell of online classes switching to the offline mode will need adjustment," he says.
Gupta tends to batches of no more than three or four students in person at his Tollygunge home. "I shall be shifting to New Town's Elita Garden Vista next month but my students of New Town and Salt Lake will not be allowed to come for in-person classes till schools re-open," he says.
Another director of a UPSC centre in Sector I says even with offline classes resuming, irreparable damage has been done. And he does not mean the standard of education.
"Eighty per cent institutes in this business will not even be able to survive the pandemic and many have already shut down," says the man whose institute has about 20 branches pan India.
Even more than paying rent endlessly in lockdown months, he fears litigation. "Students have ganged up and are suing these institutes. Many students who paid for offline classes want their money back, saying online isn't good enough. Consumer courts are giving us hell and even the government, which had rendered our services to conduct some classes, are not paying up," he laments.
To conduct high quality online classes, his company had invested Rs 50-60 lakh in setting up a studio. "But even that didn't work out as the teachers couldn't come down for live classes. All our teachers hail from out of Bengal. They are paid around Rs 10 lakh for a handful of classes a year and obviously they were stuck in their hometowns, conducting poor quality online classes from home, which irked students who have paid good money as fees."
saltlake@abp.in