West Bengal's terracotta temples, a lesser-known part of the land's history, comprise several brick temples covered in terracotta art, built between the ninth and 19th centuries. Since Shakta or Shakti worship originated in the region much later than Vaishnavism or Shaivism, they usually depict Hindu deities like Shiva, Vishnu or Radha-Krishna, and not goddesses Durga and Kali. They also offer an interesting glimpse into the socio-cultural life of the times.
The fierce warrior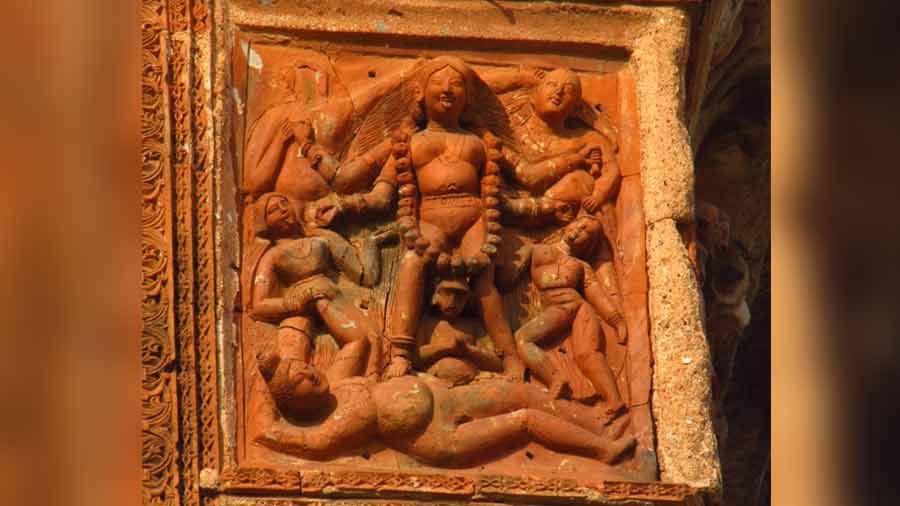 Kali with a smiling countenance Gopal Laxmi Janardhan temple, Ghurisha
Amitabha Gupta
In Hinduism, Kali is the first of the Dasa Mahavidyas, the ten aspects or forms of Mahadevi or Shakti. Author and Professor of Religion at McMaster University, Canada, David Kinsley describes Kali as having a "fierce countenance" in his 2016 book Tantric Visions of the Divine Feminine: The Ten Mahavidyas. According to the author, most sources describe Kali the same way. She has a dreadful face with large teeth and is laughing loudly as she stands over the body of Shiva. She holds a bloodied cleaver and a severed head, her lower right hand makes the gesture of bestowing boons. She wears only a garland of severed heads and a girdle of severed arms, has unbound hair, and is standing in a cremation ground or on a battlefield. The hair, and a lolling tongue are Kali's typifying characteristics. Kinsley goes on to say that in most settings, the Dasa Mahavidyas are "understood to arise from her and to be her different forms."
With origins in Tantric worship, Kali was hardly considered a motherly figure in Hindu iconography, but that changed gradually when everyday Bengalis began worshipping Kali. 
Fierce to feminine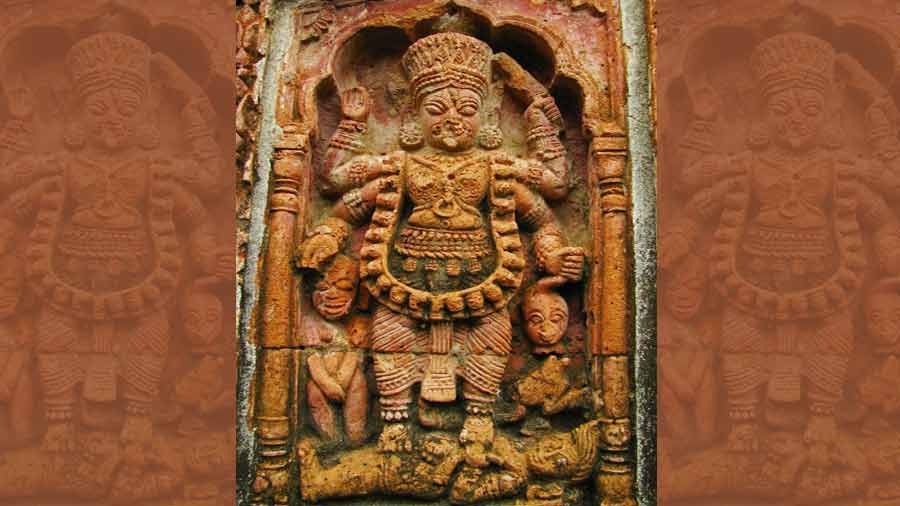 Bejewelled Kali at Gangeswar Temple, Murshidabad.
Amitabha Gupta
The change in image occurred through the 18th century beginning with Brihat Tantrasara, a book written by Krishnananda Agamavagisha, a tantric follower and activist from Nabadwip. His work domesticated the goddess's form and rituals of worship making it easier for people to worship Kali at home. Devotee poets like Kamalakanta Bhattacharya and Ramprasad Sen sang about looking away from the depictions of Kali as "dark" or "black," creating a more nurturing feminine persona.
From Kali, the fiery goddess, she became Shyama, Bengal's divine daughter. Instead of a bearing a war cry, her countenance became demure — an image that fit into the patriarchal concept of Kali being ashamed that she had stepped on her husband, Shiva.
Maharaja Krishna Chandra (1710-1782) popularised the worship of Shyama, and his zamindars and landlords patronised Kali Puja in their households. The present-day form of worship and celebration, or the Dipannita Kali Puja, dates back to these pujas.
In tandem with this changing image, Kali in terracotta plaques from the 18th century onwards rarely have the fierce manifestation of the goddess. Instead, these depict a docile version with additional features that reduce her extreme intensity.
Many faces, one goddess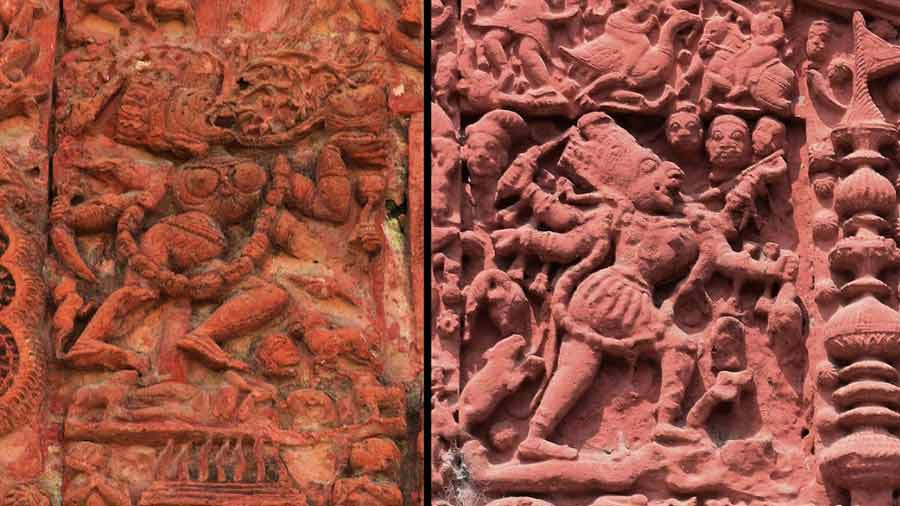 Kokamukha Kali, sometimes identified as Chamunda at Raghunath Temple, Ghurisha (left); at Radhamadhab temple of Cheliama (right)
Amitabha Gupta
In the oldest known terracotta plaque depicting the goddess, which is in the Raghunath temple in Ghurisha, Birbhum, Kali is seen in her old form adorning severed body parts and holding a bloodied weapon. The temple, built in 1633, also features a nude Kali, wearing a garland of severed heads and having an animal-like face with an unusually long tongue, licking the severed human head she holds while standing on a body in a lit pyre. This form is referred to as Kokomukhi Kali, though some argue it could Chamunda. Signs of the goddess's evolving form can be seen in the Laxmi Janardhan temple, built in 1739 in the same town. There, Kali still wears only severed heads and hands, but has a serene expression.
Like Ghurisha, the 17th-century temples of Kesto Rai at Bishnupur in Bankura, and Radhamadhab at Cheliama in Purulia depict Kali in her older fierce avatar, with the latter showcasing her in a fighting pose.
A figurine of the Kokomukhi Kali is seen in the Shiva temple at Baghtikra village near Katwa, Purba Bardhaman. There are two terracotta versions of this Kali here, one wears a girdle of severed arms and the other wears a saree along with the girdle. The presence of the saree is indicative of the temple's 18th-century build date.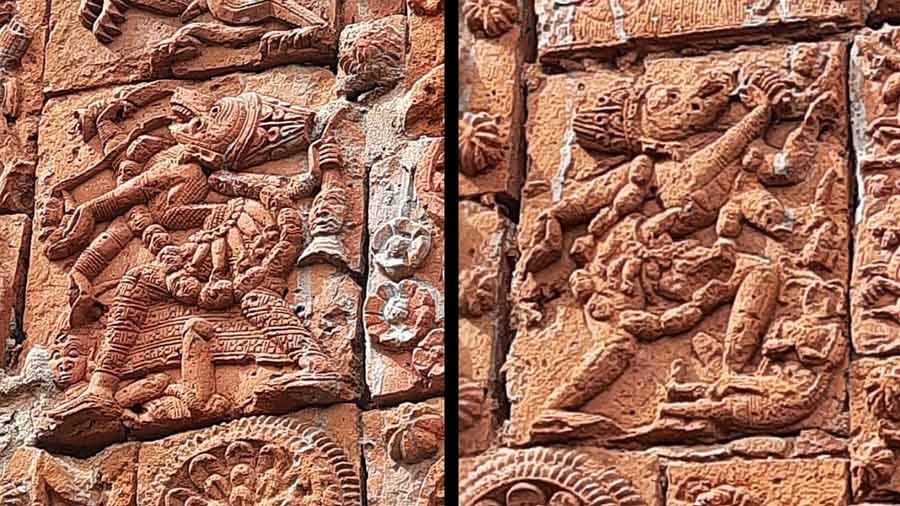 Two Kokomukhi Kali at the temple in Baghtikra near Katwa.
Tathagata Sen
Modifications in Kali's expression and her attire mark the shift seen through the 18th century and is reflected in the terracotta art. At the Radha Gobinda Temple of Atpur, Hooghly, built in 1786, the goddess is unclothed but wears jewellery along with a garland of skulls. She carries not only a severed head and a cleaver, but also a javelin in two lower hands. There is no depiction of Shiva, and Kali has an almost smiling face even with her tongue out.
Similar depictions are seen on two adjacent plaques the Shiva temples at Uchkaran, Birbhum, built in 1768. One features Kali semi-nude, wearing a top, and garland of human heads that covers her hips. The other shows her in a decorated saree. Both are wearing jewellery. Instances of a bejewelled and fully clothed Kali can be seen in the Gangeswar temple of Baranagar, Murshidabad.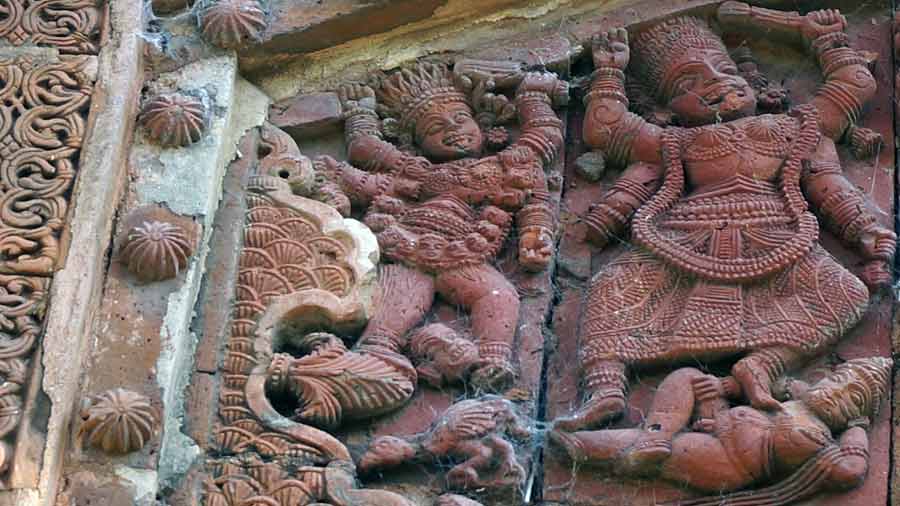 Terracotta plaque featuring Kali at a temple in Uchkaran, Birbhum.
Amitabha Gupta
The oldest terracotta temple worshipping Kali as its deity, is Dakshina Kali temple, built under the patronage of Gobindaram Ray in 1712 in Malancha, Kharagpur. Here, the terracotta figure of Kali standing over Shiva is similar to Professor Kinsley's version. However, this Kali wears a saree and headgear instead of a girdle of severed arms. Despite her protruding tongue, skull garland, and the bloodied cleaver and severed human head in her hands, her clothing makes her a more acceptable for household worship.
Figures and painting of Kali where she is either seen in association with another popular deity or created to emulate one, are another means by which her stark image was made homely. Depictions of her before the Mahavidyas show her standing on a corpse, but later, and most prevalent is the image of her stepping on Shiva.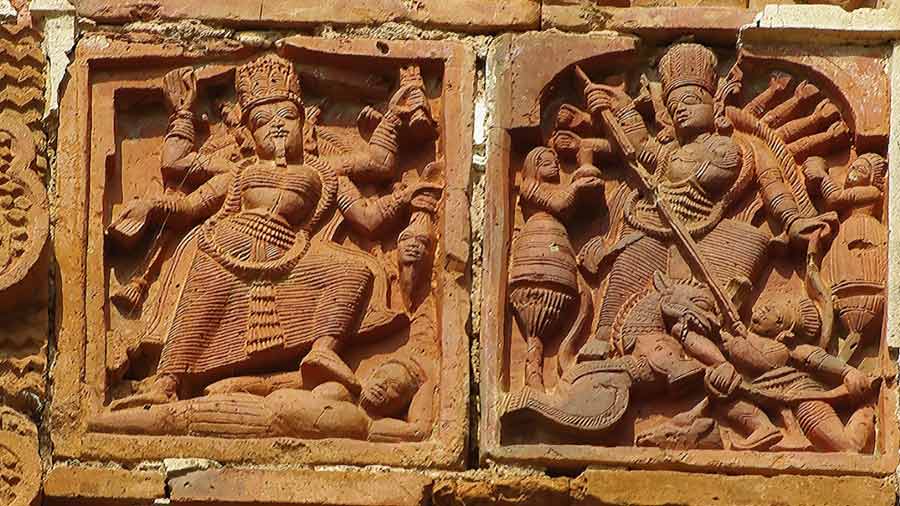 Saree-clad and bejewelled Kali beside Durga, Rajrajeshwar temple, Kotalpur, Hooghly
Amitabha Gupta
At the Rajrajeswari temple at Kotalpur, Hooghly, which was built in 1694, the figure of a saree-clad Kali is seen beside one of Durga. A further example of mellowing Kali's ferocity is the story of Krishna Kali, often told through Bengal. It is said that Krishna took the form Kali when Radha's older and indulgent husband, Ayan Ghosh, tried to catch his wife with her lover.
The terracotta figurines of Bengal's temples document the story of perhaps the land's most intriguing Hindu goddess. Through many transformations, Ma Kali became one of Bengal's beloved in her own way — patron goddess of dacoits and landlords alike, and worshipped in many forms from Shamshan Kali to Shyama.