Down the road from the Park Circus seven-point crossing, next to Haji Saheb Restaurant, at the corner of the block is a gated building with a signboard which reads Park Circus Institute. As the board informs you, it was established in 1948. What you won't immediately guess is that the logo of the sun rising above the water was made by Satyajit Ray.
"My husband, Rana Das, was one of the co-founders of the club. He and Satyajit Ray were in the same class at Ballygunge Government High School," says Jayanti Das, 94, one of the oldest members of the club. She still tries to attend meetings every Sunday — the club is both an old habit as well as a hub of old memories for her.
An absolutely non-political club with no religious leanings
The club was founded, the year after Independence, by Rana Das, Deben Chowdhury, Sushil Roy and Paresh Chandra Bhadra. "I've been a member since I was a boy and we've grown up on stories of the founders. We were told the objective of the club was to bring together people from all walks of life, in the aftermath of the 1946 riots and Partition. It was always supposed to be absolutely non-political with no religious leanings," says club president, Asim Dasgupta. 
Playing sports and distributing medicines for the neighbourhood became the club's primary purpose. "There used to be only one big chemist in Park Circus in the '50s, which didn't always store all medicines. That's when Park Circus Institute members would source medicines from New Market, for whoever needed it," says Dasgupta.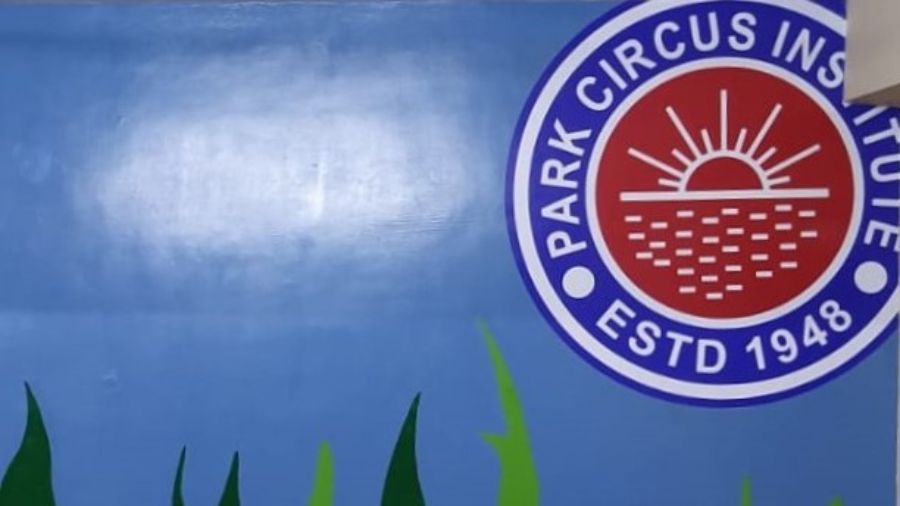 A wall inside the club which displays the logo by Satyajt Ray
Youngsters these days don't play the way we used to, but they are all experts…!
Members like Dasgupta grew up on stories of philanthropy and social work that their seniors immersed themselves in. And like most youth clubs of Bengal back then, Park Circus Institute also had a robust history of taking football and cricket very seriously, competing with other clubs such as Mudiali, in the South Calcutta League (a tournament which has now been discontinued for two decades).
"I don't think youngsters these days play the way we used to. But they are all experts on how to bat, field, score a goal!" says Dasgupta, wryly. Pointing to two cupboards of books, he assures us that the library was once better-stocked and well-used, but there are not many readers left anymore. 
150 members united by community service and Durga Puja
Despite the dwindling interest in reading and playing sports, the 150 members of Park Circus Institute are united on two fronts — Durga Puja and social service. The members raised Rs 70,000 from amongst themselves during Amphan. It is not the first time that the club has stepped up in the face of a natural disaster; funds were raised during both Kerala floods as well as Cyclone Yaas, when food and other necessities were arranged for "people below the poverty level" in affected areas which the traffic guard helped them identify. 
"We used to have a medical unit many years ago. Slum-dwellers in this area used to be able to avail of medicines and health check-ups, free of cost. We were forced to shut it down because we can no longer find doctors willing to give their time for this. But we do want to resurrect it," says Abhijit De, secretary of the club.
"We are more than just a para puja club. And we have no political leanings. We don't want to," insists Dasgupta, who goes on to list the many events for which they need to raise funds. It is the intention of the club to raise funds via theatrical and musical programmes, although this does not always ensure that they meet their targets. 
The Park Circus Institute keeps up a steady flow of community service. One of the primary activities is an annual event for children — Sit & Draw — which is usually held at Park Circus Maidan, in January. It often draws more than 700 children, who attend as much for the competition as for the magic show and the tiffin which is distributed. 
Entertainment for children at an orphanage or a children's hospital is another event on the club calendar. The members pooled together funds and distributed toys, cakes and essentials such as towels at the Institute of Child Health in Park Circus on November 14, Children's Day. This year they are contemplating a magic show there. 
Inside the club premises, one of the members of Park Circus Institute has offered to start tuition lessons for underprivileged students in the neighbourhood. The tuition will be held specifically for government school students of classes IX to XII, to help them with board exams.
Life in the club: rules, traditions and holidays
"If Park Circus Institute survives, the neighbourhood will survive," says Gurupada Mukhopadhyay, vice-president of the club. He describes how a member asked for club leaflets to be available at his wife's funeral, for other guests to be informed about the activities of the Park Circus Institute. "That's how committed we are," he says, with a hint of pride. 
The club usually opens its doors at 11am on Sunday. "If we don't come here on a Sunday, it feels as though we have missed out on something that week," says De.  
There exists an old-fashioned adherence to rules and tradition in the club. Some of the unwritten rules include no smoking in the club, even though many happen to be smokers. "We have always seen as children that everyone smoked outside the premises," explains Dasgupta. Bollywood songs are never played during Durga Puja. "I don't know why, it just never happened," says Dasgupta, firmly. And no one plays cards in the club; there was an assumption that it automatically leads to gambling, something the seniors did not want to encourage. 
During Durga Puja, which is held at the triangular park diagonally opposite the club, members convene for lunch during Saptami and Navami, while the Ashtami bhog is distributed in the nearby slum areas, irrespective of religion. After Puja, members of all age groups take off for an annual trip. Some 70-100 members at a time have holidayed in Puri, Digha and this year plans are being made to go to Santiniketan. "Those of course are entirely personal funds. The club funds are only used for work," explains Dasgupta.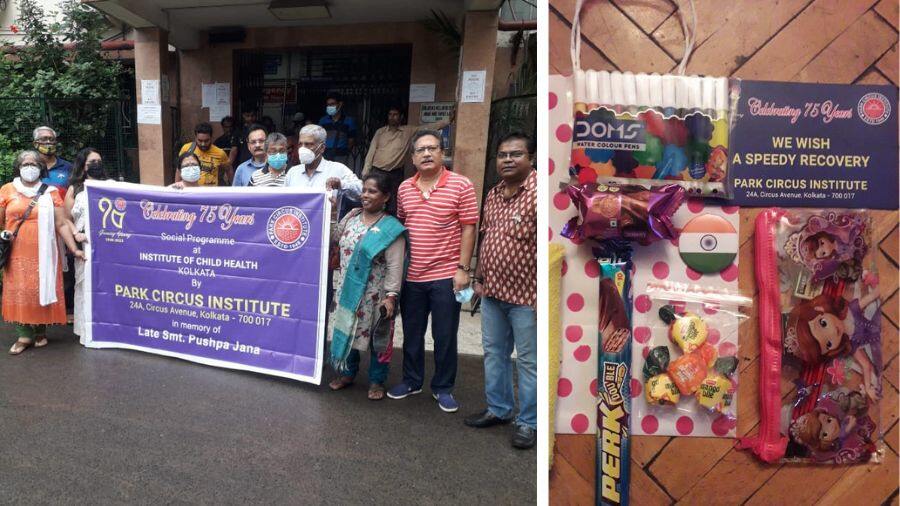 Park Circus Institute distributed Goodies for the kids at Institute of Child Health, on Independence Day this year