Yash Dasgupta likes to stay in the city during the Pujas. "The ambience changes. I have such fond Puja memories," smiles Yash. A candid chat....
What are your fave Puja memories?
I would come down to Calcutta from Bombay during the Pujas. And I would go out pandal-hopping at night. From Class VI to X, I remember doing that. We would all walk a lot, from one pandal to the next. We would eat outside and have a  lovely time. I would go back to Bombay after Pujas, and that would make me sad.
Would you watch the films that would release during Pujas?
Yes, we would all go out to watch mainstream films, from Dilwale Dulhania Le Jayenge to Kuch Kuch Hota Hai, in single screen theatres! We would have a great time soaking in the sights and sounds... of the audience breaking into huge rounds of applause. I loved the ambience there. It was electric. I remember going to Atindra cinema hall in Barrackpore.
Your debut film Gangster released on October 7 in 2016 and it completes five years....
I remember making a suggestion to shoot the film in Calcutta. I was coming from television to movies, and I wanted the budget of the film to be risk-free. Then a suggestion was made to shoot it in Dubai. Then Birsada (Dasgupta) suggested that we shoot the film in Turkey. It has amazing locations, and visually it would work wonders for the film. That's how it started. Of course the set-up was new to me and there were other big films releasing during that time... everything was new for me. Promoting the film was new for me... one goes out to promote a film in the hopes of making sure that there are packed houseful shows of their films. I was under pressure.
I am really proud of Gangster. I got an award for the film. I experienced the box office competition. It was a huge learning experience for me.
How was your shooting experience in Turkey?
What happened in Turkey, stays in Turkey!
There was a military coup in Turkey at that point of time.
Tanks had rolled out onto the streets! We were in Istanbul. All of us decided that we would stay put and finish shooting the film. We shot every day .... for 40 days. The travelling part was hectic for all of us. Physically I was drained by the end. We were all so determined, full of enthusiasm and zeal to put in our best. I have very fond memories of the shoot.
Massive changes have happened in the mainstream cinema space in the last five years.
The storytelling pattern has changed. We are focusing on content and characters. Things are more realistic now. Audience would like to watch different kinds of stories unfold on screen. Like we did in Cheene Badam recently. Masala films still have a separate fan base. But the technique, the recipe, the presentation needs to change. That's what a lot of directors are doing these days and it is working.
What were the lessons learnt in the last five years in the industry?
Nothing is permanent... dynamics change with time. We can maintain harmonious relationship with each other, and I have started to take things lightly. Earlier I used to get worked up about little things.
What changes are you making in terms of choosing a project now?
I have started surrendering myself to new directors.  That has changed with time. The director knows the character better than me. I'll try to give what the director is seeing. Makes things easier for me also.
How was your experience working in Cheene Badam?
I had a lovely experience. Shiladitya has done a fabulous job. He knows what he wants. I am very happy with the team. I really liked the story and the character. Shiladitya has nicely captured contrasts... It is about the app and friendship, and how relationships change once you achieve success easily. These contrasts can happen in day-to-day life.
Will you be exploring the television or web space soon?
Talks are on for non-fiction shows on television. For web, it depends on the content. OTT is the future. Of course the cinematic experience is irreplaceable. I am open to shows on OTT but for now I am focusing on films.
SOS Kolkata is streaming on Zee5 now. How do you look back on the film?
I am happy with the film. It will always remain close to my heart.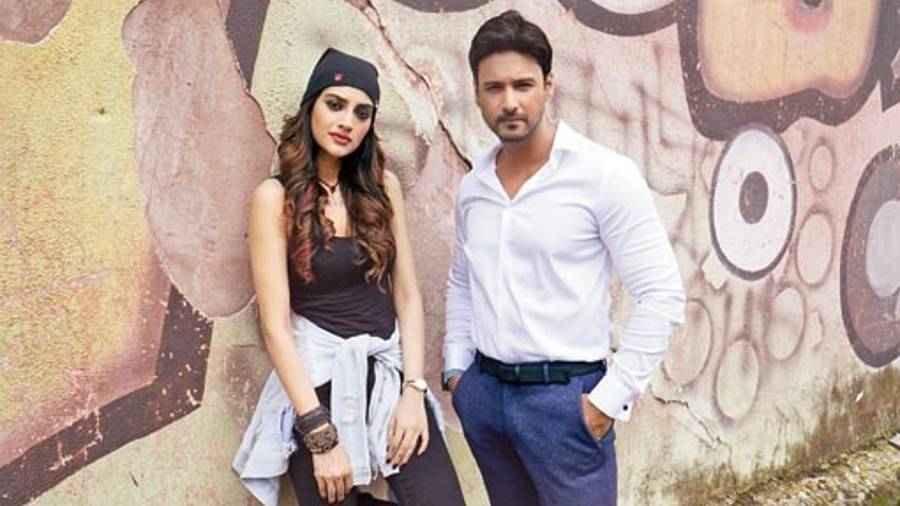 Nusrat and Yash on the sets of SOS Kolkata, streaming on Zee5 now
Sourced by the correspondent
Your personal life was under the scanner for the last one year almost. How did you deal with it?
I like to keep my personal life as personal. I am a private person. Only issue is, how people react. Stories were cooked up. When you see half the story, and start judging people, that's when things go wrong. After a point of time it does not really matter to you. You just move on. As long as you have a clear conscience, you are okay.
Did you feel vulnerable?
There were times when I felt that I should come out and talk about it. But then I understood nothing would come out of it. People will believe what they would like to believe in. They don't know the entire story. I have to deal with my life. I believe true fans will always support you. Your family never leaves you.
Have you stopped going on social media now?
Why? It is nothing like that. It is one thing to not talk about my personal life. But why should I hide? Someone's assumption cannot be my reality.
At times your life resembled an action thriller....
The way I was followed.... I had never seen that happen in this town. It was like a cat-and-mouse chase. We were taught in school that silence is the best answer. Now the meaning has changed somehow. Silence is being taken in a different way now. People who are sensible will understand my silence.
Tell us about your adda sessions with Nusrat? What is the main topic of conversation?
We talk a lot, it is very important to engage in conversations on various topics. We love to debate on various topics, from films, politics to food, anything. She is a strong independent woman, she has established herself in her own way, she never had a godfather. I like people who are self-made, I believe in that.
She strikes a perfect balance between being against patriarchy and not being a feminist to the extreme level.
Picture: Rashbehari Das
Wardrobe: Kiro
Styling: Kiara