New mommy dearest Nusrat Jahan might be sleep deprived, but she looks anything but jaded. She walks out of the car for this t2 Puja shoot at ITC Royal Bengal, with SOS Kolkata co-star Yash Dasgupta in tow, glowing and gorgeous. And, forever warm. Much like the soup she savours in her room, sitting cosy in a corner chair for hair and make-up, her smile and geniality making up for the lack of sunshine as it pours outside. Midway through her first hair and make-up look, she tells Yash to start his hair and make-up. The Gangster actor meanwhile starts playing all his favourite songs that sets the mood instantly. 
And, the shoot keeps rolling. Effortlessly. Yash and Nusrat laugh and joke with the team. The Dictionary actress makes loads of reels and gives inputs to the make-up artist. Yash suggests poses and executes with precision.
Finally, it is time to pack-up and our hearts are full. A great shoot which wouldn't have been possible without Yash and Nusrat squeezing time out to honour our request. Thank you, Nusrat and Yash! We'll definitely call for KFC next time! Promise.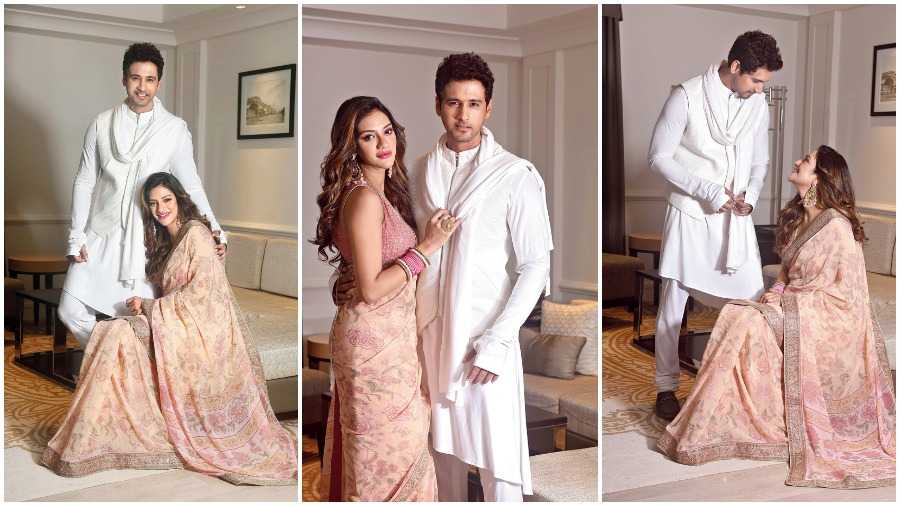 Happy and understated, Nusrat and Yash look garden-fresh in this look. While Yash looks handsome in an Arjan Dugal ensemble (available at Dapper, 10A&B Woodburn Park), Nusrat shines bright in a beautiful Ritu Kumar sari. The minimal make-up with a "dewy touch" adds to the glow. Pink eyes, "pop lips" and soft curls add to the romance.
Nusrat, tell us about your experience of working with Yash in a fashion shoot vs a film...
Nusrat: I have not known him as a co-star... I think he is better off, off work...
Yash: Kaaj e korte debe na toh tumi?!
Nusrat: Na, na... kaaj koro... baki lokeder shathe kaaj koro! (Laughs)
Yash: I think it's all the same... shob kichhutei (comfortable).
Nusrat: I think as a co-actor because he probably knows the number of retakes I give (laughs) and once he laughed at the number of retakes I give and then gave the similar number of retakes! (Laughs out loud) We haven't worked together much (looks at Yash).
Yash: As a co-actor, it is more fun working with her. Ei je bollo fumble part ta, you can pull her leg...
Nusrat: Also, he never rushes me at film shoots... aaj tumi tara dichhile (tells Yash)... that's why I am a better co-actor in films.
Yash: Aachha, okay.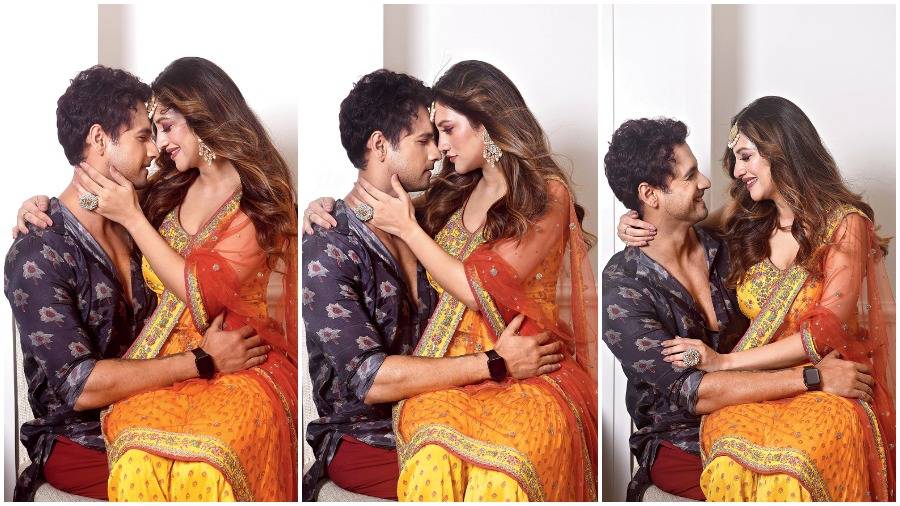 Yash's charcoal printed kurta set by Project Bandi (available at 85 Lansdowne) perfectly complements the bright Ritu Kumar ensemble on Nusrat, adding to the playful chemistry of the frame. Dramatic eye make-up is offset with nude lips. The statement jewellery adds the right amount of jazz.
Yash, Nusrat is a pro at fashion shoots. How comfortable are you at fashion shoots?
Yash: Till the time I am comfortable in my costume, I am fine with it. If you give me something that I am not comfortable with, it shows on my face.
Nusrat: And, to others!
Nusrat, what do you love about fashion shoots?
Nusrat: I love fashion shoots. The part that I love the most is getting ready. I am a girl. You can try so many looks.
Yash: With men, there aren't many options. Panchash bar chul change holo (looks at Nusrat) and I was roaming with the same hair that I woke up with.
What are you wearing this Puja?
Nusrat: You end up wearing saris and ethnicwear. We haven't had time to go shopping.
Yash: I have plans to go shopping. I am not much into traditionalwear and love fusionwear. I am better off in my ripped denims and...
White shirt?
Nusrat: Mostly!
Are you bored of seeing him in ripped jeans and white shirt?
Nusrat: No, I can never say that because this is a wardrobe classic.
What are Pujas like for you?
Yash: I stay indoors. I am not an outdoor kind of person and am fine with house parties and meeting friends. I have gone pandal hopping as a kid a lot... walking from one pandal to another. I loved it. The inaugurations we used to go for pre-pandemic, was a good way to connect with people and the darshan also used to be great.
Nusrat: You want to? Say yes, and we will do the same thing again. Pandal hopping, paaye hete?
Yash: Huh?!
(Nusrat laughs)
Yash: In a mask... the plus point of the pandemic is you can move around with the mask and nobody recognises you.
Nusrat: Tried and tested.
Yash: But I prefer mostly house parties. Also, spending time at the society Puja....
Nusrat: House parties are a nice way of chilling with friends in a comfort zone.
Yash: I like to go for night rides during Pujas. That's a different kind of fun and it's not just about the pandals. The city is lit up and there is music... a different feeling. That I'll do.
Nusrat: But it is not the same any more. Everything has become virtual and you do miss the feel of Pujas in a city like Calcutta.
Yash: We are optimistic of the old days returning where you can go to the pandal in droves.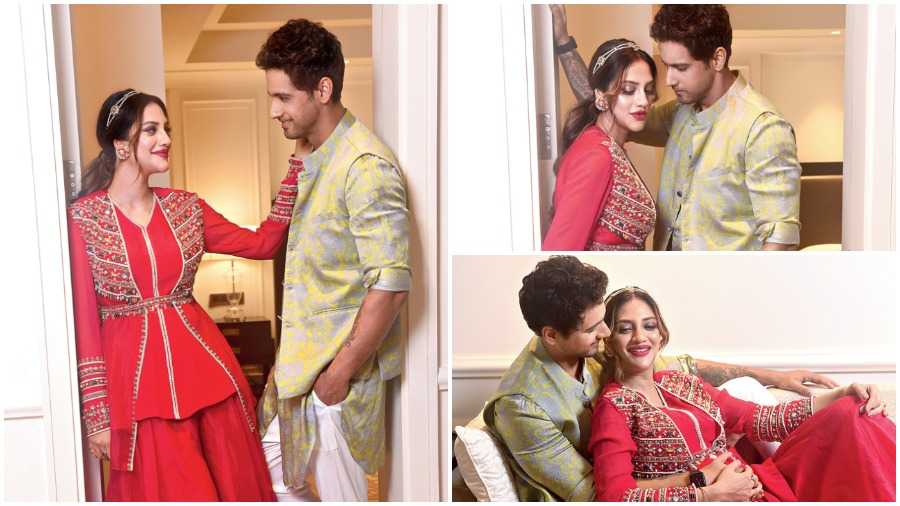 Nusrat looks like a princess in this Ridhi Mehra fuchsia georgette peplum with organza overlay jacket paired with organza sharara and embellished belt (available at 85 Lansdowne, 85B Sarat Bose Road). Glitter defined eyes, pink lips and the low ponytail accessorised with a Rajwada-style hairband enhances the princessy vibe. Yash's printed kurta set with a printed bundi by Project Bandi (available at 85 Lansdowne) is young and cool.
What about Puja binges? Yash ate nothing today! Is that the usual him?
Nusrat: That's a misconception!
Yash: I eat everything and especially love Bengali food and she knows that (looks at Nusrat). I have more Bengali food than she does. Every alternate day I tell her I want to have Bengali food. I love biryani.... If I am shooting... (I keep a check on what I eat). It's like prepping for exams.
Nusrat: Kothai porashona? Polishing off chocolates in the middle of the night!
What are you guys planning to cook this Puja?
Nusrat: He cooks pretty well!
Yash: I just cook one thing that I love to eat, which is kosha mangsho.
Nusrat: For two-and-a-half hours...
Yash: I don't like meat cooked in a pressure cooker.
Nusrat: Say things I cook for you and I do it on a regular basis. I make keema...
Yash: I love eating out during Pujas... from the street-side stalls... Mughlai....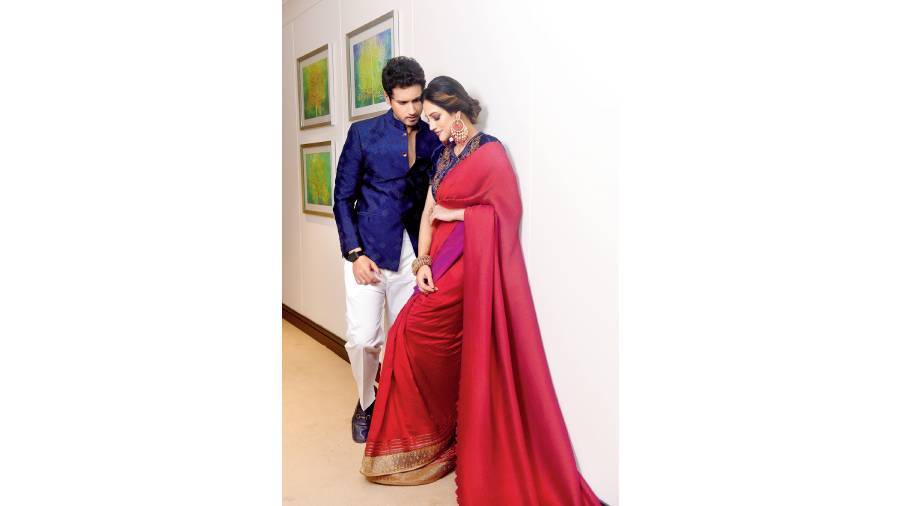 Nusrat looks stunning in this two-tone pleated sari by Kiran Uttam Ghosh (available at 85 Lansdowne), contrasted with a navy velvet embroidered blouse by Karuna Khaitan (available at 85 Lansdowne). The eyes are dramatic blue-smokey and the lips subtle. The messy bun and bold jewellery add to the allure. Yash looks red-carpet ready in an embroidered fine cotton silk bandhgala by Khanijo (available at Dapper, 10A&B Woodburn Park).
What are your wishes for each other?
Nusrat to Yash: I wish you peace and lots of sleep.
Yash to Nusrat: It's going to be a different Puja. I wish her all the patience and tolerance.
Nusrat: I'll get there soon! I am in the practice mode now.
Pictures: Pabitra Das
Styling: Kiara Sen
Make-up: Pritam Das; Hair: Amrapali (for Nusrat)
Hair and make-up for Yash: Abhijit Das
Location courtesy: ITC Royal Bengal