Imagine you are in charge of scripting the triumph that breaks the three-way tie at the summit of men's tennis. Roger Federer, Rafael Nadal and Novak Djokovic have each won 20 singles Grand Slam titles and you have the power to decide who gets to number 21 and how. You have two options.
Option one: An unvaccinated Djokovic is initially cleared to enter Melbourne for the Australian Open before being deported by an aggressive Australian government. Djokovic's legal team steps up in court and wins their client an exemption that allows him to compete at the year's opening Slam. Once on the court he prefers to attend, Djokovic cruises to the championship and becomes the first man to win 21 majors.
Option two: In the absence of a deported Djokovic and an injured Federer, Nadal, who has missed the last two Grand Slams due to a chronic foot problem (for which he had to undergo surgery in 2021), arrives in Melbourne dreaming of the impossible. A month after contracting Covid-19, the 35-year-old Nadal reaches the final of the Australian Open where he rallies back from two sets down against an opponent 10 years his junior to clinch the unlikeliest of Grand Slam victories.
If you like a riveting story (and unless you are a Djokovic supporter for life), there is only one option you can and should choose, even if that option rests more on fanciful hope than reasonable expectation.
Faced with the same dilemma, fate chose the second option, too. As Melbourne Park erupted into a frenzy on Sunday night, the world witnessed how reality can sometimes trump the imagination in scaling the odds, how sometimes one man in one arena holding one trophy just feels right.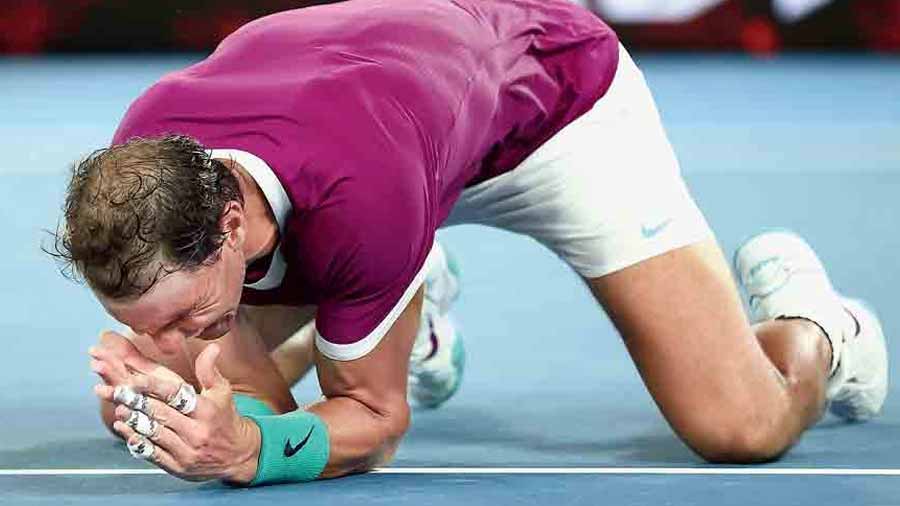 Australian Open 2022 is Nadal's first Grand Slam title since getting his hands on his customary French Open title in 2020
TT archives
The miracle in Melbourne
When Nadal went down 0-40 at 2-3 in the third set after losing the first two sets of Sunday's Australian Open final to Daniil Medvedev, the ghosts of past failures must have been lurking inside the Spaniard's head. Between 2012 and 2019, Nadal had been second best on four separate occasions in Melbourne, the latest of which — a comprehensive defeat in straight sets to Djokovic in 2019 — was the hardest to digest.
And yet, Nadal never flinched, but simply did what he has always done. He fought. Armed with his relentless rituals — the shirt tug, the hair tuck, the face wipe — Nadal was there to fight for every point, to make Medvedev earn his stripes every step of the way.
Once the decisive fifth set got underway, the pendulum had swung to Nadal's side. While Medvedev continued to have his moments — artistic lobs, exquisite backhands and ironic gestures towards a partisan crowd — the game was Nadal's to control.
After a gruelling 5 hours and 24 minutes, Nadal had a second opportunity to serve for the set, the title and his personal stamp on tennis history. Having squandered the first shot, he took the second. The miracle in Melbourne was complete.
Over the course of the second-longest final in Australia, Medvedev had been outrun, outgunned and outfought by a man whose force of will matched his indefatigable physique. No wonder the Russian asked Nadal at the end of the match, "Are you tired?"
In hindsight, there could not have been a more appropriate way for Nadal to become the first, and for the time being, only man to claim 21 Slams. None that was quintessentially more Nadal than the way in which he won. A comfortable win in three, even four, sets would have been just as significant for the numbers, but not as epic for the memories.
After all, the Nadal we all have come to know and love is the Nadal who has mastered the greatness of grinding. Whereas Djokovic is destined to defy and Federer designed to delight, the narrative that defines Nadal is one of digging deep, deeper than anybody else in the game, perhaps in all of sport.
The crown, a Djoker and justice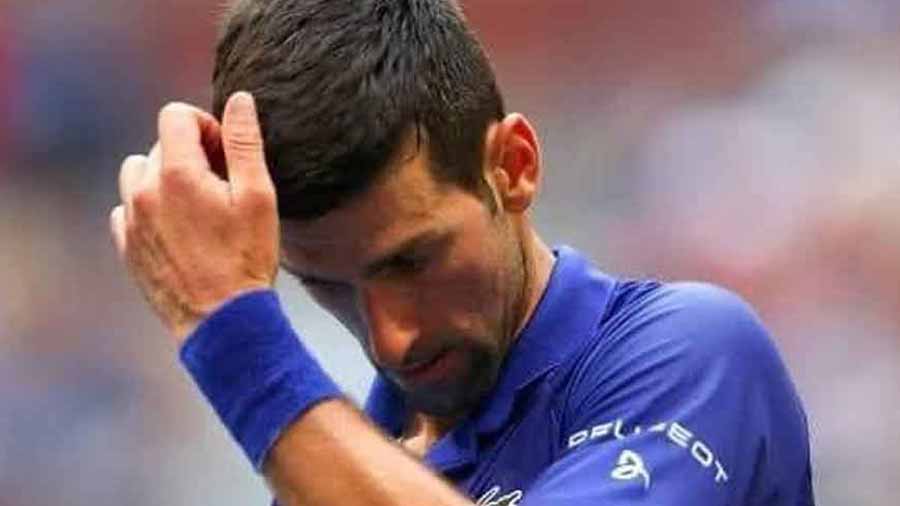 Djokovic and the Australian government were involved in a topsy-turvy conflict ahead of the Australian Open that ended with Djokovic being deported from Melbourne
TT archives
Considering the vaccination scandal and the chaos it created, a Djokovic coronation in Melbourne would have come with a moral asterisk. Yes, every individual has a right to decide what to inject in their bodies, but when you are a public figure, never mind the numero uno of a global sport, that right must be seen in the context of larger societal responsibilities.
Ever since he burst on to the tennis scene in the mid-2000s, Djokovic has never been easy to like. For a long time, he harnessed the image of a mischievous Djoker, someone who could get under your skin with needless acts (including impersonating Maria Sharapova) that were a far cry from the natural propriety that Federer and Nadal invariably exude.
The year 2011, however, proved to be a turning point, as Djokovic went from Djoker to king, turning himself into a gluten-free machine of tennis excellence, someone who was single-minded about his intentions and largely indifferent to everyone else's reactions.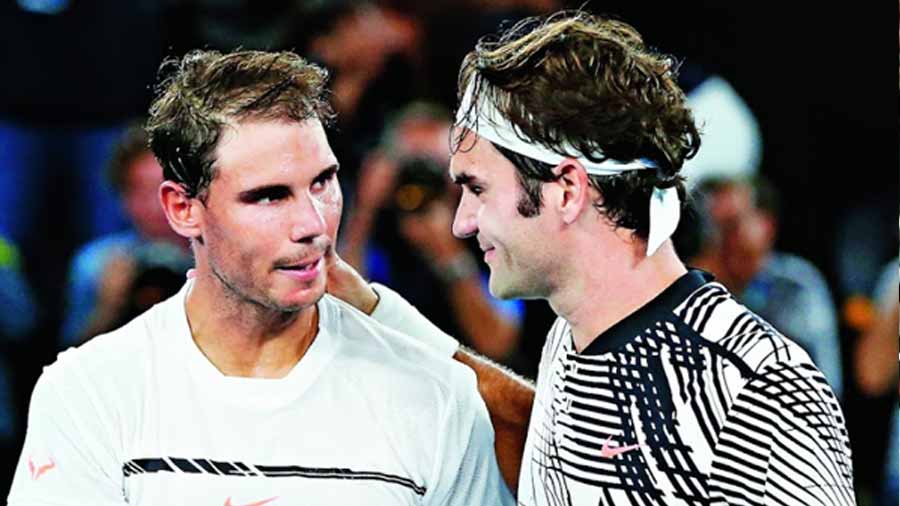 Nadal and Roger Federer following their monumental clash in the 2018 Australian Open final, which saw the Swiss come out on top
TT archives
When Djokovic showed his utter disdain for public opinion by organising a jamboree in the middle of the pandemic's first wave in 2020, it was clear that the Djoker in him was beginning to resurface. The man who wanted to do outlandish things, often for the sheer heck of it, was back.
This resurgent streak to outrage others, coupled with his anti-vaccination stance, made the perfect recipe for disruption. The Australian government added fuel to the fire by deciding to make an example out of Djokovic and double down on its pro-vaccination mandate ahead of the national elections. The theatre that ensued felt selfish, cheap and downright divisive.
To have rewritten the record books in the midst of such acrimony would have been a bizarre way for Djokovic to ascend the game's highest peak. All the better then that someone else beat him to it, someone whose pure dedication to his cause, whose undiluted focus on all things tennis created an uplifting story that does greater justice to a seminal juncture in tennis history than any polarising Djokovic victory would have. The fact that Nadal, not Djokovic, is the owner of 21 Slams right now is further proof of sport's ultimate maxim — play hard and play fair and the results (along with the stars) will align your way.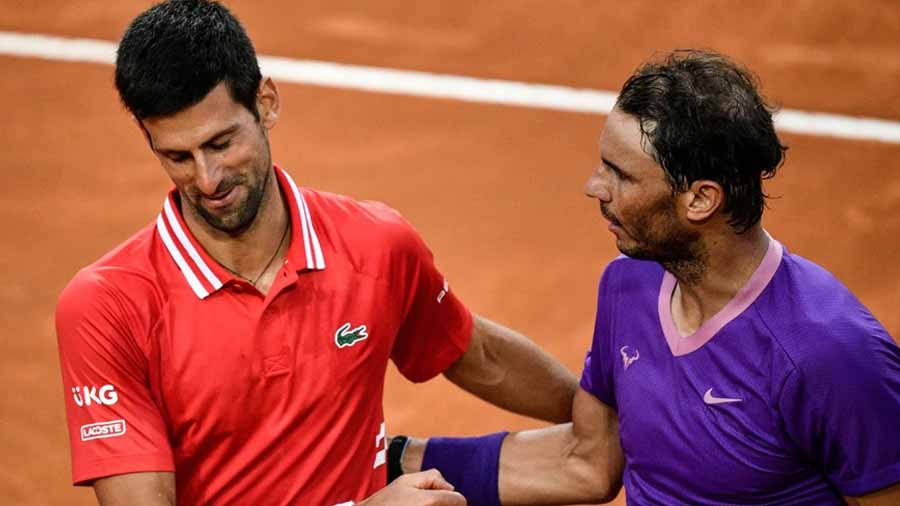 At 34, Djokovic has age, form and fitness on his side in his head-to-head with Nadal for Grand Slam supremacy
TT archives
Beyond 21
Djokovic's form and fitness mean that once the vaccination issue has been resolved, he should be favoruite to win whichever Slam he enters. For Nadal, a wounded body demands more care and calibration. When it is all said and done, it is difficult to bet against Djokovic leading the Grand Slam honours list, but for now, it is also naive to rule out Nadal altogether.
Back in January 2018, when Federer had reached the promised land of 20 Slams before anybody else, Nadal was still stuck on 16 while Djokovic was well behind with 12. The smart money was on Djokovic to have a go at Federer's tally someday, while Nadal, who had to retire in Melbourne in 2018, was described by many as done for, condemned to third place in the final standings of the GOAT race. And yet, here we are, and here is Nadal, topping the same standings for the first time in his illustrious career.
Resting on 21 or his laurels is not something Nadal will ever do. The march towards extending his legacy continues, for up next is Roland Garros, the hallowed Parisian clay where you know who already stands immortalised. While 21 Grand Slams is both historic and felicitous, what lies beyond may be greater still.