As I walk into the lobby of ITC Sonar, I spot Vijay Amritraj seated comfortably wearing track pants, a sports jacket and a cap, reading the newspaper. In Calcutta to celebrate the long standing success of his association with Grover Zampa, he is a picture of poise far removed from the aggressive, go-getter posters and pictures that would adorn countless pages and walls of a previous generation. The A from the famed A, B, C of tennis settles down for a t2oS chat about the game, starring in movies and his passions off the turf.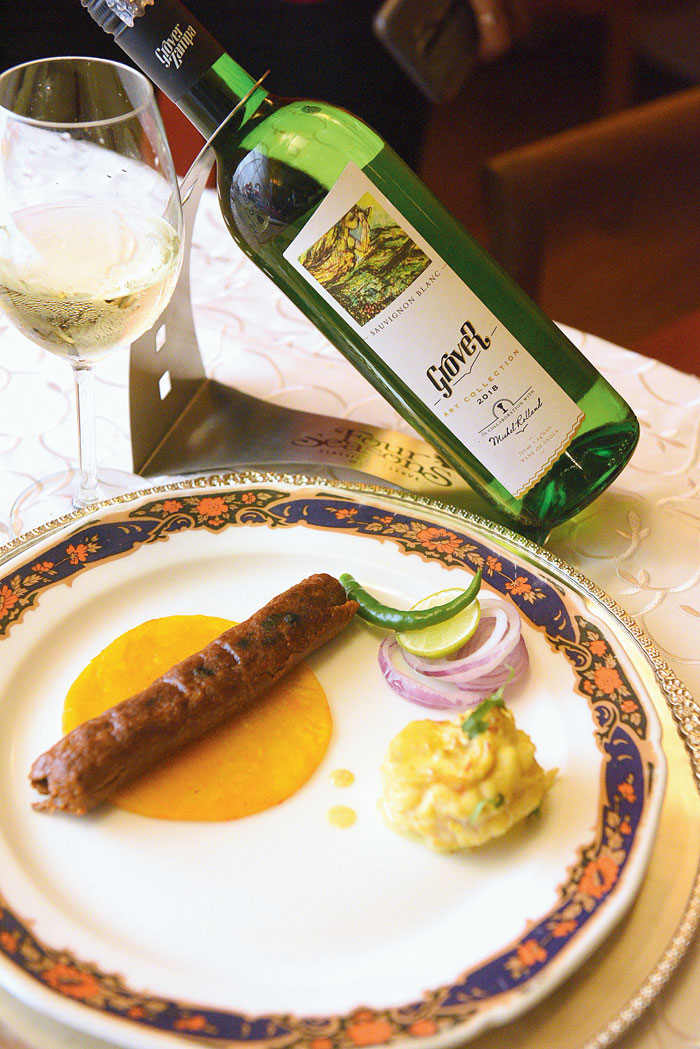 Vijay Amritraj's Reserve Collection wine from the house of Grover Zampa
Sourced by The Telegraph
Welcome to Calcutta. What are your favourite Calcutta memories?
When I was younger, I used to go to various places around the city. When I won my first national championship here, I was 18. It was a packed stadium... huge crowd, must be over 10,000 people... it was a big win. It was at South Club. I played Ramanathan Krishnan in the final before defeating Jaidip Mukerjea in the semis. I also attended a morning Mass at St. Xavier's, used to go to Park Street. I loved the famous rosogolla here. Watched old movies here. Plus, I have numerous friends here.
You are here for the launch of your wine — the Vijay Amritraj Reserve Collection from the house of Grover Zampa. Tell us about it...
Well... we have created a good product. The presentation's fantastic. The bottle looks premium. But then, the product has to stand on its own to succeed. I have been very involved with it. How do we get the message out that we have a wine of the highest quality? I do as much promotion as possible. We do events. I would like all major hotels to carry it... it doesn't have to be available in every nook and corner. The price point is extremely good. It's not a $200 wine bottle. It's a nice weekend wine. The combination of all this makes me stay involved on a regular basis.
The white wine is something you can have easily... even at lunch. With Indian food, it's fantastic. Both the red and the white wines are lighter than usual. From the quality perspective, I would rather have the VA White to a heavy French white. For me, the Chardonnay grape has been my fave. You can't grow a Chardonnay grape in India, so the Vinhao grape is close enough. It's a wonderful blend.
Other than your own, what wines do you like drinking?
I prefer the lighter wines... am not big on the heavy wines. For example, in a red wine I would like it closer to a Merlot as opposed to a Cab (Cabernet Sauvignon) from the weight of the wine. White I would say I have 70 per cent and the remaining 30 per cent is red wines for me. But red you tend to drink a bit during winter and white on a summer's day. My favourite grape is the Chardonnay variety so I tend to drink a lot of these Chardonnay-based wines. In California, Napa has a lot of good wines. The South African wines are really special. I was there recently... the El Molino winery there was fantastic.
This is the first wine label named after a sportsperson in India...
There is no tennis player that I know that has a wine with his/her name on it. There are some golfers — Greg Norman and Ernie Els — who have their labels. But what I really like is that I have worked closely with Grover Zampa to be able to develop this product. I don't like to call these things as endorsements. I like to term them partnerships because you are trying to develop a product of the highest quality.   
You have played against so many greats. Who has been your toughest opponent?
My era of players... in the 70s and 80s... it was very much Bjorn Borg and Jimmy Connors. When I came along they termed us the A, B and C of tennis. A few years later, John McEnroe came on board but these three were easily the best of our generation. 

Vijay Amritraj's toughest opponents
The Telegraph
Moving away from wines, how much has tennis evolved since your times, according to you?
From the 70s to today, the average height of the athlete has gone up. In my age, the average height was probably 5'9". Today it is 6'4" (Amritraj's height). So I was one of the tallest guys then, today I would be average. The rackets have become aerodynamic and bigger and the sweet spot has become bigger too. As the athletes became taller, it became more of a weapon in their hands. As the rackets got ahead of you, they ended up slowing down the balls and the courts. So the balls are much heavier and the courts are much slower. So it tends to favour the Europeans more. The game is more physical now.
So will an European player hold an edge against, for example, an Indian player if we talk about physicality?
The Indian athlete matures physically later and mentally sooner than his western counterpart. A westerner athlete at 18 is likely to have reached a maturity level that an Indian athlete would get at 24 if we are talking about physicality. Mentally, it's the other way round. I am generalising... this is not specific. An 18-year-old Indian boy is likely to be much more mentally sharper than a westerner of the same age. What has changed for the Indian athlete also is that the average height has gone up too. You look at Prajnesh (Gunneswaran), Ramkumar (Ramanathan) or Yuki (Bhambri)... these are big boys.
Looking back, which has been the best win in your life?
First was when I was 13-and-a-half where I played one of the biggest college tournaments in Chennai. The guy I played in the final was a 19-year-old medical student. I won in five sets but I was down with cramps and muscle pulls. People had written me off saying I was unhealthy. The second was in Calcutta playing Ramanathan Krishnan in the final at the national championships. I beat him in four sets. The following year, I beat Rod Laver twice. Later I led India to the final in 1974 in the Davis Cup... I beat (Bjorn) Borg at the US Open, I beat (Jimmy) Connors along the way.
We celebrate success, talk about it, cherish it. Tell me something we don't know... about your sacrifices...
The sacrifices I made were minuscule compared to that of my parents. When you take someone who is not physically great, mentally not that great in school, lots of drawbacks healthwise.... My parents gave me a life I could have never dreamt of. I have always said, it is their 98 per cent effort, especially my mom and a mere two per cent effort from my side. My greatest talent is being born to the right parents.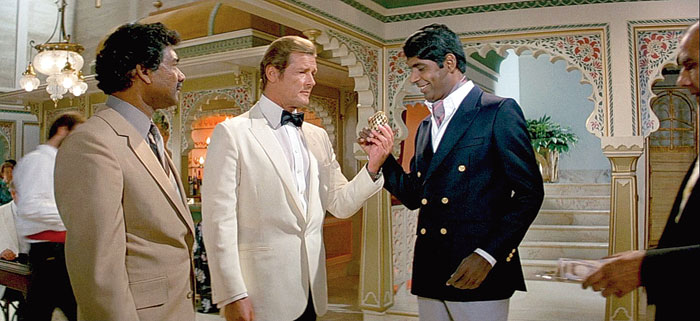 Amritraj with Roger Moore in a still from Octopussy
Still from the film
From being a sports icon, you became a movie star. How did that happen?
In 1981, when I was playing Wimbledon, the Bond movies producers Cubby (Albert R. Broccoli) and his daughter Barbara, who is the producer of the Bond movies now, saw me play. They told me about a Bond film that they were going to make and that it had a lot of Indian context. I went for a screen test. I said to myself, 'Worked at Pinewood in the morning, played at Wimbledon in the afternoon'... not even (Roger) Federer can say that (laughs). They signed me for 14 weeks. I met Roger Moore for the first time. It was shot in 1982 and released a year later. It was special as I was playing at The Queen's Club and it was the biggest movie at that time. Prince Charles and Diana were there at the royal premiere. Then, of course, I featured in Star Trek IV: The Voyage Home. I also became the first Indian to have my own TV series.
Since you have starred in a Bond movie, are you looking forward to No Time To Die that releases in April?
I have been invited to its royal premiere in London in March. I have also been associated with Aston Martin. I am also the guy who is supposed to have done something with six actors who have played James Bond. I have done charity events with Sean Connery, George Lazenby has played in a charity golf tournament for my event. Roger, I have known for a long time. I worked with Timothy Dalton for the British Consulate in the UK. I play golf with Pierce Brosnan. Daniel Craig and I have been to several events.
So who's your favourite Bond?
What Sean did with the character was unbelievable. Apparently Ian Fleming wanted Roger to be Bond first-up and Cubby wanted Sean. Sean went up first and Roger was still doing a TV series, The Saint. Roger then came along and did seven movies and to be able to still make it a success after Sean's portrayal is amazing. I worked with Roger again, as I served the UN as ambassador for peace, while he was appointed the Unicef Goodwill Ambassador.
Your biopic is in the works. Tell us about it.
I am not involved in it as much as my boys are. They will be doing the documentary first I think, which will be followed by the feature.
So is it being mounted for the big screen or the digital medium?
There are a lot of things that can be done simultaneously. It can be a docu that can be released on a web platform or it could hit the theatres as well.
Is it going to be bilingual?
I think it's going to be in English.
How soon are we going to see it?
It's a good question. I keep asking that myself (laughs).
There was a buzz that Cinestaan was producing it...
They originally bought the deal but I think there was a slight disagreement and my boys bought the rights back.
You are a sportsman, a movie star, a social worker all rolled into one. Is there anything more you would want to achieve in this remarkable life of yours?
Two things have been important for me. First, I want to be better tomorrow than what I am today. I am always on a learning curve. Second, is there a way I can put a smile on the face of someone that I don't know? It's important to put up your hand first as opposed to waiting for the other person to do it. My greatest satisfaction is that both my sons call me every day. Hopefully, I have been able to touch lives. I have an affinity for two kinds of people — kids who can't articulate well enough and the elderly, who have very little to offer now.
What is a typical day in your life like?
I try to squeeze in tennis if I am in California or Chennai. I try to play the game four-five days a week. In the second half, I play golf. My workday in California starts very early and ends early. My day starts around 4.30am and I am done by 3pm. After 3pm, I am free to play tennis or golf or hang out with friends. I can go to the pool or do my own stuff. I go to sleep by 8.30pm.
You like to travel. Where are you headed next?
I came from Dubai recently. I thought my travel would reduce dramatically after my playing career but it has increased three times. This year, we went to a safari in Kenya... the Tsavo National Park and we went to Masai Mara. And we also went to Johannesburg and Cape Town.