Aniruddha Chakladar has been synonymous with make-up, especially bridal make-up, for 28 years, but did you know he has taken lessons in dance? "I learned Rabindra Nritya and have performed on stage till class X," says Aniruddha. There are interviews and then there are interviews which take you by pleasant surprise. This adda with the veteran artist is one such. Nuggets of information that are fun and unravels newer sides of the interviewee you didn't know existed even though you might have known them for almost 15 years. Aniruddha speaks to The Telegraph joyfully about his love for designing looks in films, an avenue in his career which has gained definition and momentum in recent years and something he is enjoying to the hilt. We can all do with a piece of Aniruddha's penchant for the romance of the laid-back and that sense of confident contentment when he says: 'I have worked hard and by God's grace, reached a stage and now I will work in the direction, I enjoy most'.
Have you always had a passion for styling and designing looks?
See, honestly, I wouldn't have become a make-up artist. I would have become a stylist had this profession been prevalent at that point of time when I started. Styling wasn't given any individual attention back then. I understood much later that styling is a different thing altogether. It has nothing to do with costume designing. Now, I work more as a stylist, but now that I think about it, I think I have always been a stylist. Jama kapor ki porbe, ki bhabe boshbe, jewellery... I would decide everything. It has always been my passion.
So, after ruling in your profession for three decades, you have finally found your calling!
(Laughs) I think of a lot of things, but I am lazy. Hochhe, bhalo lagchhe, korchhi, hoye jachhe, chole jachhe... this is my life! (Laughs) I enjoy my work and there I don't want to 'achieve' anything! I also have no regrets. And, I want to stay like this. Aami life ta ektu easily niyechhi. Fortunately, in all these years, I have also earned while enjoying my work.
This took a concrete shape when you started designing looks for films...
Yes. Before that, it was an additional help.
Was there a feeling of stagnation in your profession?
I have always enjoyed bridals. Different people, a fresh face who doesn't know about make-up that much. That's a different passion altogether. Otherwise, I am bored with regular fashion shoots. I would rather like to create a look without using a single make-up item.
So, this was a conscious decision?
Nothing in my life is a conscious decision. Everything happened to me. I started my career as a make-up assistant for films. I first assisted Ananta Das for Babuda's (Sandip Ray) venture Uttoran. He was a renowned make-up artist and he did mostly all the films of Satyajit Ray's. Then I went to Bombay to assist Pandhari Juker. At that time he was working for Dilwale Dulhania Le Jayenge. I assisted him for the studio part of it. I saw Kajol dancing to Mere khwaabon mein jo aaye! (Laughs)
My first day was amazing. Pandhari Juker asked me to go to Filmistan studio. I was a day-dreaming young boy from Indore. So, this small-town inhibition was always in me. I wasn't aggressive and pushy and have never been comfortable sitting on the front row. When I read Karan Johar's An Unsuitable Boy, I felt so nostalgic. Karan running around with two Lucknow chikan kurtas and getting them approved from Aditya Chopra. He was an assistant director. At lunchtime, I entered the make-up room and froze. The core team used to have food in the make-up room and it would come from Yash Chopra's house. Pandharidada took me to that room only. A small-town boy with no knowledge of the glitz and glamour walked into the room and people sitting next to you and eating are Shah Rukh Khan, Kajol, Amrish Puri, Farida Jalal, Aditya Chopra... will you be able to eat?! (Laughs) I saw Aditya Chopra create Amrish Puri's look.
I always carry a sling bag, till date. On the sets too, I had that sling bag. Everybody thought I was a journalist! (Laughs)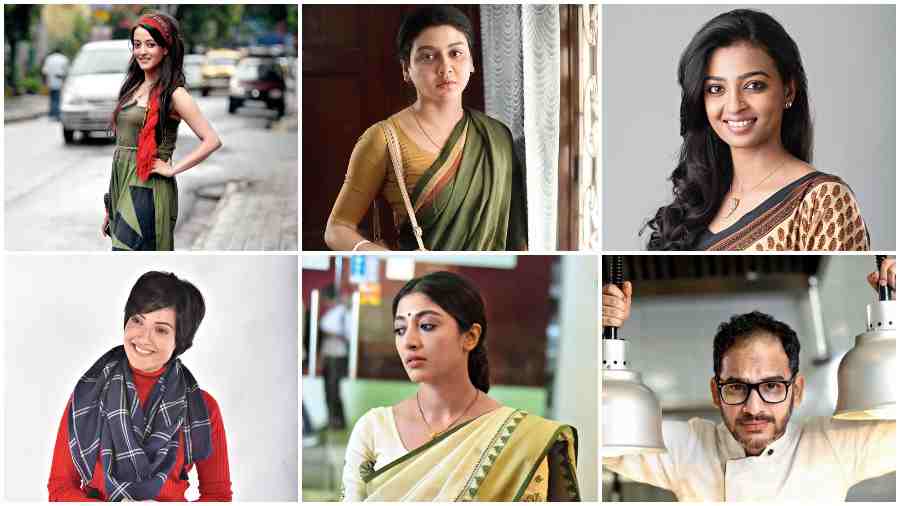 (Clockwise from left top) : Raima Sen in Maach Mishti & More, Jaya Ahsan in Binisutoy, Radhika Apte in Rupkatha Noy, Ritwick Chakraborty in Maacher Jhol, Paoli Dam in Maacher Jhol, Arpita in Abbar Kanchanjangha
What lovely memories!
At that point, I wasn't too fascinated by films. I wanted to do fashion. I came to Kolkata and started my career. Films took a back seat. Then one day I read that Sharmila Tagore and Rakhee were going to work in Rituparno Ghosh's Shubho Mahurat. I am a Sharmila Tagore fan. I was pleading with everyone to take me to the sets. I just wanted to see Sharmila Tagore. Then one day I got a call from Rituparno Ghosh saying: 'Ei shon, kal ke na Rinkudi'r look set ta holo, but aamar pochhondo hoyni... she plays a yester-year actress and there should be subtle glamour. Tui korbi?' I was like: 'Maane? Aami Sharmila Thakur'r make-up korbo?!' I went to the studio with all the make-up I had! (Laughs) Her car drove in and I was frozen.
You know I am blessed that thik shomoy aamar mukh theke thik katha ta beroy and that has helped me a lot in my life. This is not a conscious decision. It just comes to me. I told her at the outset that my gurus Pandhari Juker and Ananta Das had done her make-up and it was an honour to do her make-up. She said she was at ease then and just relaxed.... That was my first experience of working on a film.
I also worked on Satyanweshi, with Rituda. But then after Shubho Mahurat, there was again a gap. The one who actually turned me towards films almost by force was Tony (Aniruddha Roy Chowdhury). He said you cannot run away from films and that he knew my sensibility of creating characters. Then Antaheen (2009) happened. This was my first venture as look designer. I created and executed the looks for Aparna Sen, Sharmila Tagore and Radhika Apte. That changed my life. So, Tony and Indrani (Mukerjee) both played a part (in my new innings). I worked with him on Maya too, starring Abir Chatterjee and Padmapriya. Then Lost (starring Yami Gautam). I have also worked on Ekti Tarar Khonje, Arpita's comeback film.
Atanu Ghosh too. From Takhan Teish till Robibaar, I have designed the looks and styled all his films. I have done a couple of films with Mainak (Bhaumik) too, like Bedroom, Ami Aar Amaar Girlfriends, Maach Mishti & More. I worked on Bappaditya Bandopadhyay's Kagojer Bou. I started getting offers to design looks. Then I worked with Sujoy (Ghosh), starting with Ahalya, followed by Anukul and Bob Biswas. I would go back to work with Babuda once again in Hitlist, where I acted too. I have done Kaushik Ganguly's Waarish and the only commercial Bengali film I have done is Paran Jai Joliya Re. I have developed a strong connect with Pratim (D. Gupta). Barring Paanch Adhyay, I have done all his films. I have done Kadambari.
Recently, I worked on Abar Bochhor Koori Pore and Abbar Kanchanjangha and I am doing Paroma Neotia's Arjun.
So, it's been a steady flow.
What is your forte as a look designer?
I like using habitual elements to create a look. I read the script to understand the characters. I keenly observe. I am having super fun. Soumitra (Chatterjee) kaku had told me once to learn theatre make-up. He was doing Darpan E Sharat Shoshi at Tapan Theatre. Every Thursday, Saturday and Sunday, for three months, I went to watch it. He would do double shows and I would chat away with him in his room. When Paoli was doing Natoker Moto, that experience flashed back in my mind. I have learned a lot from Alida too.
What have you had to learn and unlearn?
I haven't had to unlearn anything, but I have had to learn a lot of things. I have a huge storage space. Rinkudi taught me the importance of eyebrows as it plays an important role in expressing through the eyes. 'If I try to look the way I used to in earlier times, my eyes won't speak the same language. I have to redefine the language of my face according to my age. Aamake abar notun kore nijeke bhabte hobe,' she had told me during Shubho Mahurat. That was a big learning. Aparna Sen and Sharmila Tagore are stalwarts. Rinkudi can blow-dry her hair, put rollers just like we do. Rinadi (Aparna Sen) also knows everything. I have also learned that ekta choritro nature diye hoy. Like never give an elderly woman a pair of heavy earrings. It pains to keep it on for a very long time. I have seen my mother. She doesn't want to wear them.
What is in the pipeline?
I just want to enjoy, relax and keep working. I have worked hard and by God's grace, reached a stage and now I will work in the direction I enjoy most.