Tota Roy Choudhury plays the role of the mysterious figure who gets sucked into a police investigation in the thriller Mukhosh, directed by Birsa Dasgupta.
We had a candid chat with the actor.
How is the feedback from Mukhosh?
I'm quite taken aback by the feedback, in fact! I had a feeling that the audience would like it, but had no inkling that they would like it to this extent! Goes to prove that an interesting and well-marketed film plus the big screen is an unbeatable combo.
What made you agree to the film?
Several factors. I had practically worked with everyone in the Dasgupta family - Rajada and Ribhu as directors and Chaitalidi and Bidipta as actors; except Birsa. Earlier he had offered me two films, which I couldn't do because I couldn't manage the dates. So I made sure there were no impediments this time. Birsa has a contemporary vision sans any intellectual pretensions and the experience of working with him was very fulfilling. Also it's been a decade since I worked with SVF. And the role offered was interesting and impactful.
Tell us about your character in Mukhosh....
Since the film is running, and splendidly, it wouldn't be appropriate to speak about my role. All I can say is that he is a highly educated and suave man and considered an authority in his field of work.
That you are a part of the film was revealed at the special preview. There was a shroud of secrecy around your character. How did you take all this in?
This was a first for me and the reactions that I am receiving is well worth it. I always feel that we talk about a film under production far more than we should. We are almost destroying the sense of discovery of the audience. As the proof of the pudding lies in its eating, the magic of the film lies in its viewing.
Tell us about your look?
My look in Mukhosh has been designed by Rammyanee and she has done quite a job going by the reactions I have been receiving. The look lends gravitas to the character but in a rakish sort of a way.
The scene where you and Anirban Bhattacharya talk about Feluda and Byomkesh, a homage to the characters both of you play, was thoroughly enjoyable....
It was a cheeky inside joke that we, the cast and crew along with the audience, thoroughly enjoyed. In every show the audience breaks into a chuckle when that scene is on screen.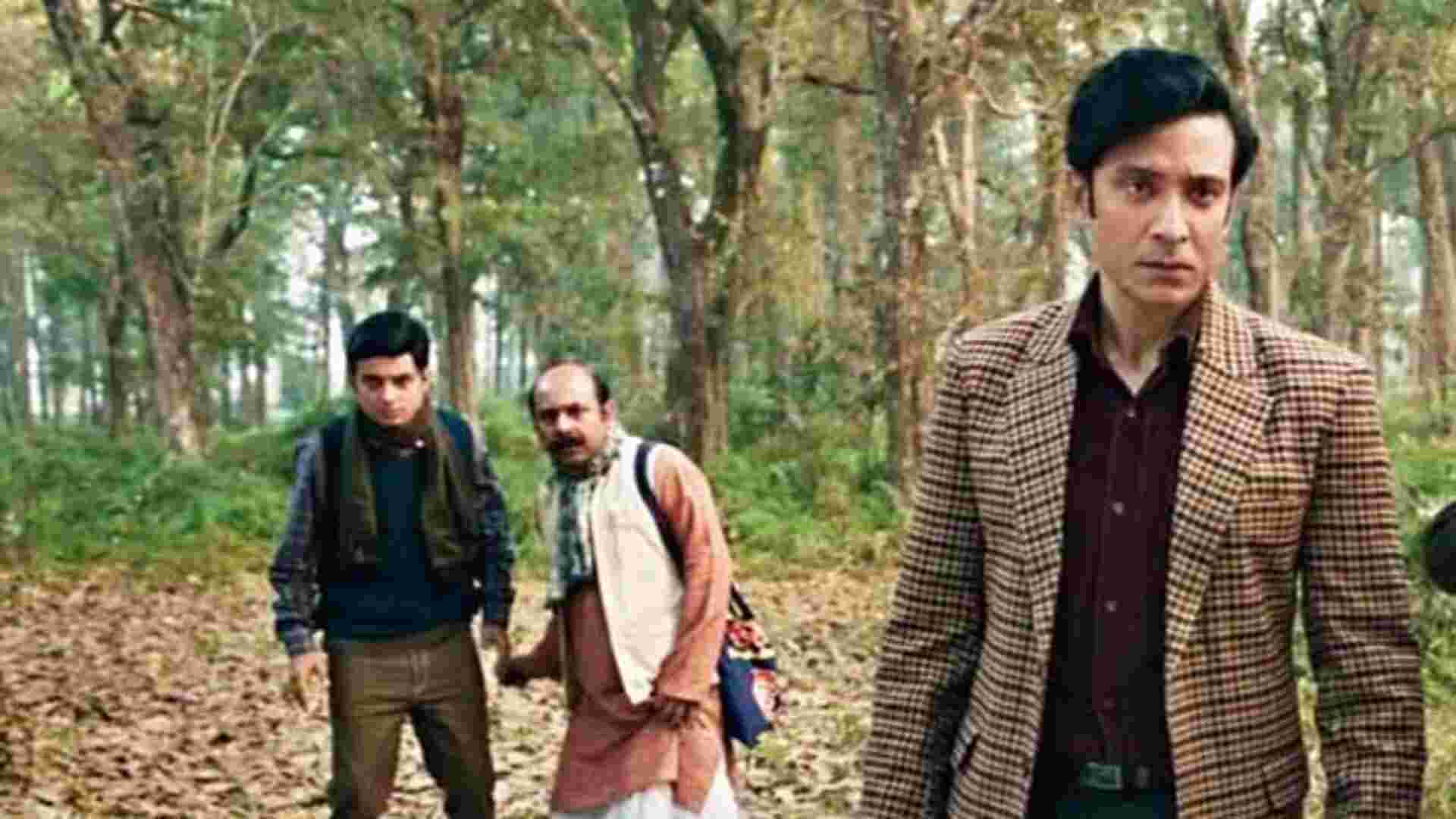 A moment from Chhinnomostar Obhishap
Sourced by the correspondent
When is the next Feluda series coming out?
I am told that Season 2 of Feluda Pherot, Jawto Kando Kathmandute, would be out by December.
Will there be another new Feluda series? Which one? When do you start shooting for it?
Srijit (Mukherji) definitely wants to start with Season 3 but he is inundated with offers from Bollywood, so it's really up to him. Earlier he had mentioned that he wanted to direct Gangtoke Gondogol, Darjeeling Jomjomaat or Hatyapuri, so in all probabilities it could be one of the three.
How excited are you about it?
Where Feluda is concerned, I am like a kid outside a candy shop, looking inside, nose pressed to the pane, waiting to lay my hands on the goodies! I can delay, postpone or leave any job at hand to play the legendary sleuth.
How did the Karan Johar film, Rocky Aur Rani Ki Prem Kahani, happen for you?
The renowned casting director Shanoo Sharma, who primarily casts for YRF and Dharma Productions, got in touch with me on a January Sunday evening. She wanted me to audition for a role though she wouldn't divulge the details, which was unlike her. Since I share a good rapport with her, I did the test and sent it across. Within an hour she called me up and said that Karan Johar loved my audition and that I am on. I was stunned. THE Karan Johar?! She said that I would be flown down to Mumbai to meet with Karan and finalise the deal. In my entire career, I have never been cast in any film at this speed and that too in a film by a mega-successful director. It was almost a fairy tale.
Why say yes to the film?
I had three things on my bucket list: sharing screen space with Shri Amitabh Bachchan... I have, in TE3N; play Feluda... I have...; and to work with Karan Johar. God has been extremely kind. Now I can tear that list and after the film's release I will have no regrets even if I kick the bucket!
When did you meet Karan? What happened at the meeting?
I met Karan in the first week of February. Believe me, I am yet to meet a person who is as courteous, impeccably mannered and as gracious as him. He is extremely well spoken and has a clear vision. His eyes actually shone when he was narrating the story. Regardless of his mammoth success both as a director and a producer, he is still as hungry as a first-time film-maker.
Tell us about your character?
All I can say is that I have never been offered a character in this space. My audience will find me in a new dimension.
Why did it take so long for you to announce that you are a part of the Karan Johar film? Why the secrecy?
We actually didn't want to announce my being in the film till its release but alas, people here got a whiff that I was in the film and some others spoke about the film with the Press, as well. The concerned authorities were displeased with the development and we decided that it would be best if I announce my participation to put an end to speculations.
What are your thoughts on the film?
That the audience will laugh a lot, cry a bit, be engulfed by myriad emotions and will come out with a warm, fuzzy feeling. Mark my words and hold me to them, it's going to be the biggest blockbuster of 2022!