The gritty lines of Bruce Springsteen have forever been crashing into themselves, drawing listeners into a narrative-driven structure that's meant to be conversations with his audience. He is The Boss. His songs are hailstorms politicians take shelter from. His are the working man's ramblings that wrap listeners in a warm embrace. Springsteen's music mirrored the frustrations of the working class back then as much as it does now, even on the new album, Letter To You, which is also the name of a new documentary on Apple TV+.
The New Jersey man's twentieth studio album instead of turning into an out-and-out lyrical bash up of Donald Trump, makes his presidency appear more of a footnote (and that too as an indirect reference) on one of the songs — House of a Thousand Guitars goes beyond the misery brought upon a nation by "the criminal clown" who has "stolen the throne", with the rock rebel asking people to come together: "Brother and sister wherever you are… we'll rise together till we find the spark/ We'll go where the music never ends/ From the stadiums to the small town bars/ We'll light up the house of a thousand guitars." Keeping the footnote alive is Rainmaker on which he sings about a conman who "says white's black and black's white".
A look at a life beyond the applause
The maturity heard on the album and seen in the documentary is, in a way, reflective of America where fiction has somewhat lost out to the nonfiction of the past four years. "The record is the first record that I've made where the subject is the music itself. It's about popular music. It's about being in a rock band, over the course of time. And it's also a direct conversation between me and my fans, at a level that I think they've come to expect over the years," the 71-year-old has told The New York Times.
The idea of togetherness has been central to Springsteen's life as he has enjoyed touring with the E Street Band for decades. It's amazing to see the man touch base with the band since 2014's High Hopes. Between the two albums has been his memoir, Born To Run, which went behind the heroic picture we associate him with, to talk about a life filled with the peaks and valleys depression brings, and then came the 2019 musical experiment, Western Stars.
Letter To You, recorded over four days last November at Springsteen's home studio, is a celebration of what drives a man to make music as much as it is a look at a life beyond applauses. Serving as bookends to the 12-track album are the songs One Minute You're Here and a journey into the unknown — I'll See You in My Dreams.
"Life is short but long. So obviously the older you get the shorter it seems, so I feel, hey, I'm just in the middle of it. I'm feeling good and the band is ripping and we're going through this crazy time period, but we're keeping our spirit and, given the circumstances of the day, we're getting along. So that triumvirate of family, that family work dynamic is always the trickiest thing to suss us out. It took me a long time, for me to get that straight," the man has told Zane Lowe on Apple Music 1.
Age hasn't diminished the vocal whiplash of Springsteen or his love for the E Street Band, which has been a tightly knit unit since 1972, three years before the Boss' breakthrough, Born To Run. Not just his love for the band but Springsteen's knack for words can be felt on Last Man Standing: Snakeskin vest and a sharkskin suit/ Cuban heels on your boots/ Kick in the band and side by side/ You take the crowd on their mystery ride. The song, in fact, goes beyond the group and celebrates Springsteen's first band, The Castiles, in which he played lead guitar.
By the time listeners wind their way through the 58-minute album, they can be assured that Springsteen has long got over the fear of ageing. While he has physically and emotionally aged well, the same cannot be said across the board when it comes to the US ballot. As time is running out, 74-year-old Trump is taking refuge in Village People's YMCA that kicks off telling a "young man" that "there's no need to feel down". Meanwhile, 77-year-old Joe Biden should be happy that the Democratic camp and Springsteen's songs have at least one thing in common — addressing the frustrations of that "young man".
Springsteen is a man who has never had to hide behind videos because of his never-fading connection with the audience. The triumphant quality of his songs clearly stems from his gritty lyrics; they remain an honest appraisal of the state of things.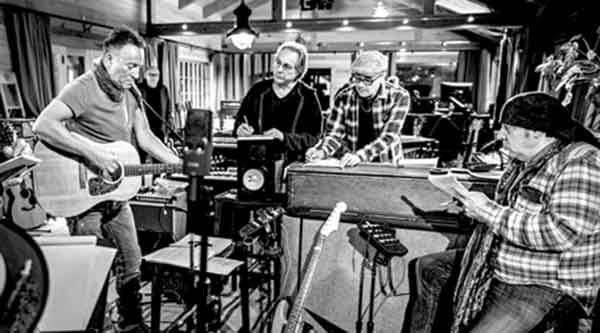 Bruce Springsteen with the E Street Band
The Boss Speaketh
Recently, Bruce Springsteen joined Zane Lowe on Apple Music 1 to discuss the album Letter To You. He spoke about recording the album with the E Street Band, how quickly the songs came together, and why it's a "modern revisitation" of Born To Run stylistically. Excerpts.
On the album, Letter To You
It was a great project for us, because I don't think we've ever played live together in the studio and then kept everything that we did on the full take, all the singing, all the playing. It's
The E Street Band really completely live. And I overdubbed a few solos and things, but it's really the band in one shot. We've played live in the studio before, but never kept everything, always gone back in and overdubbed a vocal or overdubbed, put other things on.
On the similarity to Born To Run stylistically
This is great material to play live. It's very painful to not be able to go out and play right now, because this is material that'll play incredible on stage. And so I was really just all in on one wanting to record to.... I wanted to go back to a style probably closest, you'd have to go back to maybe Born To Run, where I gave Roy (Bittan) free reign on the piano and the arrangements were... the songs fit those kinds of arrangements. And so it was a lovely, modern revisitation of that style.
On his creative process
There's like a garden, you seed it with experience and time, and then you wait, all right? And you don't know how long you're going to have to wait. Unfortunately, creativity does not work like the seasons do. If I knew I was going to get a batch of songs every winter, I'd be a lot happier or every summer, but you seed it. And then eventually something... there's an incident or an event or something in life just sort of sets it off. And they come. And when you're lucky as I was on this project, they come all at once, they come fast, the recordings come fast, fast is good.