Every Wednesday night, as the clock strikes 10, Someplace Else at The Park travels back in time to the good ol' days of classic rock with The Urban Monkz.
The Urban Monkz was born in 2016, when two broody musicians — Somodeep Sengupta and Rajdeep Basu — decided to step away from an existing ensemble and start a band that paid homage to the tunes that coloured their childhoods. Three more talented musicians joined them, and ever since, the five rockstars have garnered an impressive fan base in Kolkata, regaled audiences across the country and released a number of original compositions.
"It's been a wonderful journey! What we love the most is the amount of fun we have on stage and the happiness music brings us. We're majorly influenced by classic rock from the '60s, '70s and '80s, so our band's sound reflects that. We love covering the music of Pink Floyd, Guns N' Roses and Deep Purple," says Somodeep, vocalist of The Urban Monkz.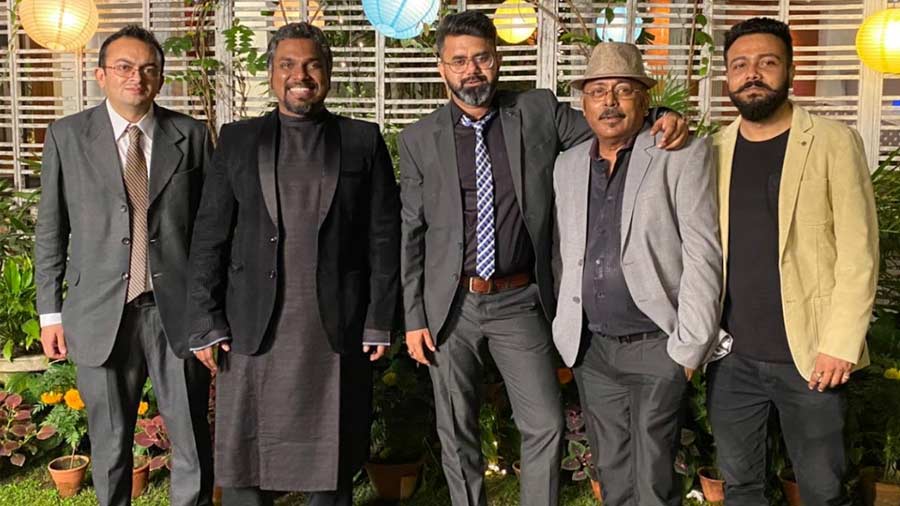 (L-R) Nikhil Sen, Vishal Iyer, Somodeep Sengupta, Jay Bhattacharya and Rajdeep Basu
Meet the 'Monkz'
The Urban Monkz comprises Somodeep 'Bucha' Sengupta on vocals, Rajdeep Basu on bass, Nikhil Sen and Vishal Iyer on guitar and Jay Bhattacharya on drums. Somodeep, 36, and Rajdeep, 33, are the two founding members of the band. Nikhil, 33, Vishal, 38, and Jay, 60, joined the troupe a few months after its inception.
Each member's interaction with music began at a very young age. Rajdeep and Somodeep have been playing together for close to 11 years. "I started my career as a teenager in 1994. Initially, I was into Indian classical music but gradually I shifted towards Western music which is how I met Rajdeep," says Somodeep. "I started playing bass guitar very early on and have never looked back. I've known and worked with Somodeep for a while now and experiencing our musical careers together has been great," says Rajdeep.
Jay's career, spanning six decades, began very early. "Most people know me as Tutul Da! I think I'm the oldest drummer in Calcutta right now," he says. "I started my career very early, maybe when I was seven or eight-years old. I come from a family of talented performers, so it's in my blood. I fell in love with the drums at the age of 10, when I snuck into a pub one night and I saw Clive Huges (a jazz drummer who played with Kolkata band Blue Fox) playing. I remember just standing beside him and saying 'Sir, I want to listen to you' and he said 'Okay, no problem'. And just like that, I started playing the drums." Jay didn't have access to a drum set, so he'd fashion a bass drum out of his tabla, cymbals out of an assortment of thalis and drum sticks out of knitting needles. Later, he'd hire drum sets at Rs 15 per month from Braganza and Co.
Nikhil and Vishal began their professional careers as solo artists. "I started playing 20 years ago as a Bengali solo artist, singing contemporary Bengali numbers. After a few years, I joined several bands, but none of them were as stable as I wanted them to be. In 2017, I met The Urban Monkz and the rest is history," says Vishal. Nikhil, an alum of St. Xavier's Collegiate School, says, "I started playing around 2006. I used to play in school and then later I would collaborate with bands when they would put up tributes to U2 or Queen and that's how I met The Urban Monkz!"
'We go from (Jimi) Hendrix to Hemanta (Mukherjee)'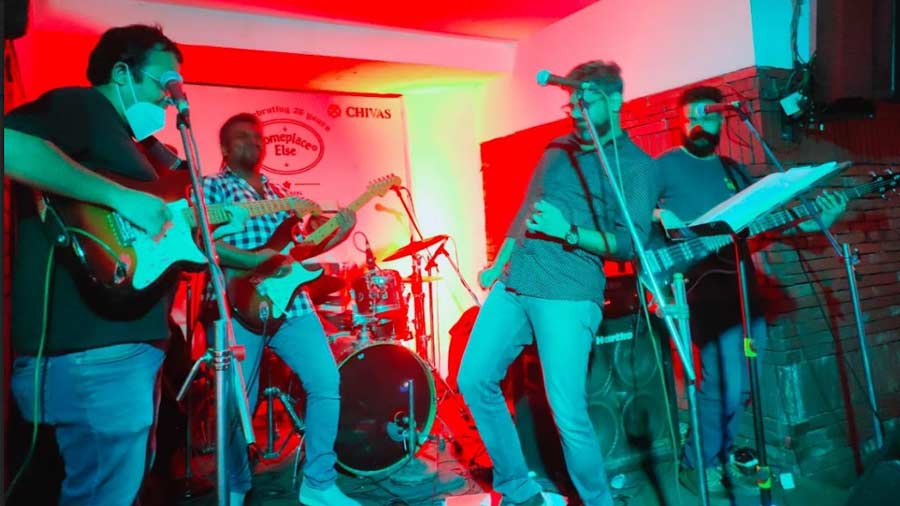 The Urban Monkz perform at Someplace Else
The Urban Monkz
The Urban Monkz specialise in classic rock. Deep Purple's Smoke On The Water, Pink Floyd's Coming Back To Life and Guns N' Roses' Sweet Child of Mine are regulars at any gig. "We are lucky to have two guitar players and a bass player, so we can do justice to rock. We love the genre and have grown up listening to it, so it's something that comes naturally to us and there's no other genre we'd be better at. Classic rock is our sound," says Nikhil.
Knowing that every now and then, Kolkata's audience loves a booming Bollywood number or an old-school Bengali tune, the band dabbles with regional and contemporary songs as well. "We play Hindi and Bengali songs as well, but we add a rock touch to it," says Jay. The Urban Monkz put a rock spin on the tunes of Bollywoods greats Arijit Singh, Sonu Nigam and A.R. Rahman, and pop sensations Ed Sheeran, Maroon 5 and Coldplay. We love giving the crowd what they want, but we have to stay true to our sound. We have a couple of renditions for each number and audiences respond to them well!" says Jay.
'Bhalobashbe Aaro' — The Urban Monkz's original composition
During the lockdown of 2020, The Urban Monkz released a few original compositions — For You, Bhalobashbe Aaro and I'm in Love — in English and Bengali. "We decided that since gigs are off, we'll try and make some music at home. The songs are written by Rajdeep and Somodeep and we all compose the music together," says Vishal. The band has a few more originals lined up to be released by the end of this year.
'Our favourite gigs are tributes'
The Urban Monkz tribute to U2 at Hard Rock Cafe on St. Patrick's Day 2022
The Urban Monkz have performed several tributes over the years to the superstars of rock — Queen, U2, Bon Jovi and Bryan Adams. "For the last three years we have been performing at Hard Rock Cafe Kolkata on St. Patrick's Day and it's always been a tribute to U2. We love tributes because it allows us to go back, listen to all our favourite songs on repeat and re-learn each song. It's always a great time," grins Somodeep.
The Urban Monkz's comfort playlist
Smoke On The Water by Deep Purple
Coming Back To Life by Pink Floyd
Sweet Child of Mine by Guns N' Roses
Leaving on a Jet Plane by John Denver
Wonderful Tonight by Eric Clapton
Zombie by The Cranberries
Blue Suede Shoes by Elvis Presley
Catch their live gigs every Wednesday night at Someplace Else, The Park, 10pm onwards.