Anand Pathwardhan's documentary Jai Bhim Comrade featured a young, radical performer named Sheetal Sathe. Saathe, formerly of the Kabir Kala Manch, is an anti-caste cultural activist and performer from Maharashtra. She, along with her husband Sachin Mali and other comrades had to go underground following repeated police threats. One of the songs that Saathe regularly performs on stage is Majhi Mai (My mother). She sings, "My mother goes hungry, but tells me to study, to become great like [...] Savitri Mai."
Patwardhan's documentary was released in 2011. Sathe has since come out of hiding, arrested, released and continues to perform across the country. Nine years down the line, pockets of resistance across the country are reverberating with the name of Savitri Mai, or Savitribai Phule, whose 122nd death anniversary was observed a couple of days ago.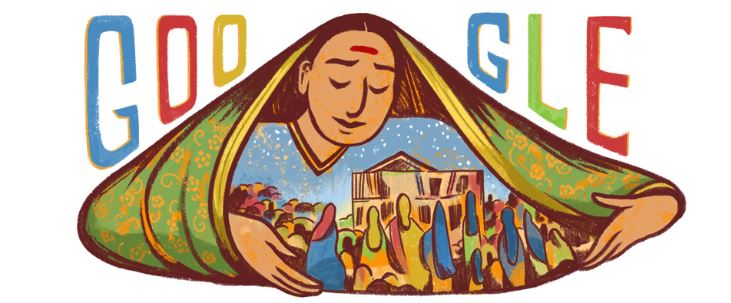 Google doodle released on January 3, 2017, marking Savitribai Phule's 186th Birthday
Screenshot
Savitribai Phule was born on January 3, 1831 in the village of Naigaon in Satara, Maharashtra. She was the eldest daughter of Lakshmi and Khandoji Neveshe Patil, both of whom belonged to the Mali Community. She had no formal education at the time of her marriage to the great social reformer and anti-caste extraoridinaire Mahatma Jyotiba Phule. According to government records, her husband educated her at home. She also enrolled in two teacher's training programs – at an institution run by American missionary, Cynthia Farrar in Ahmednagar, and later at the Normal School in Pune.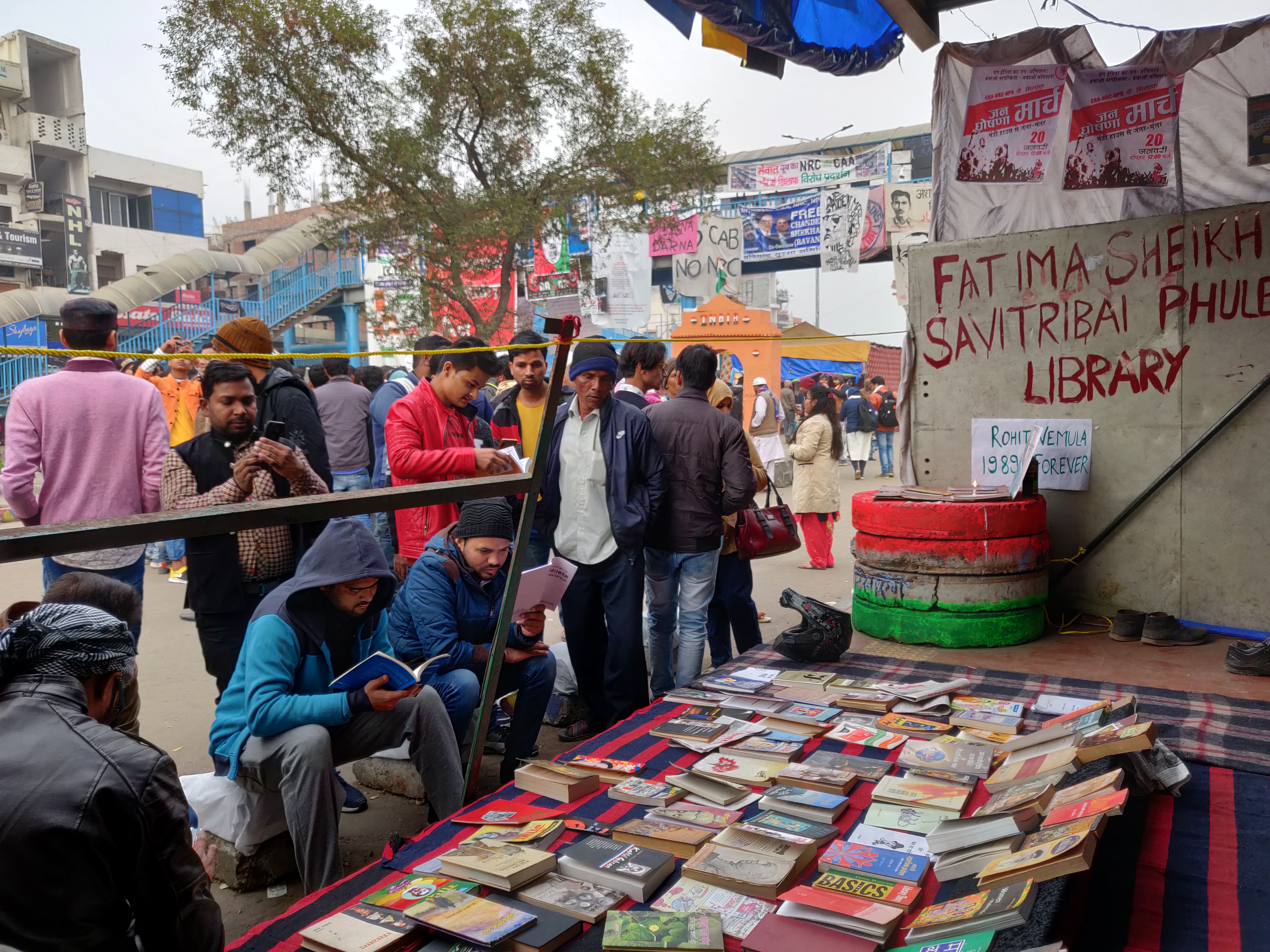 The open Library at Shaheen Bagh is named the Fatima Sheikh Savitribai Phule Library.
Furquaan Amin
From Shaheen Bagh in New Delhi to Park Circus Maidan in Kolkata, women have been spearheading anti-CAA protests for months now. Such sit-ins have now been organised all over the country, and their numbers keep increasing by the day. It seems, Savitribai Phule and Fatima Sheikh are at the helm of this women's movement. They are present in these demonstrations through their teaching, their revolutionary spirit, their iconography and their leadership. The open Library at Shaheen Bagh is named the Fatima Sheikh Savitribai Phule Library, in reverence to these great educators and reformers. Sheikh was a comrade of Jyotiba Phule and Savitribai Phule, and the sister of Mian Usman Sheikh, in whose house Jyotiba and Savitribai Phule took up residence. One of the first Muslim women teachers of modern India, she started educating Dalit children in Phule's school.
Though Savitribai is primarily known as an educator, she fought tirelessly against misogyny and patriarchy. In the mid-1800s, a widow who was arrested for killing her child born out of wedlock, a union she may have been forced into. Soon after, a concerned Savitribai set up a home for the welfare of widows and to ensure the safety of their children.
Savitribai also wrote poetry and became probably the first published Marathi woman writer when her Kavya Phule, an anthology of poetry, was published in 1854. In her writings, she encouraged dalits to get educated so that they could live a life of dignity and equality. She was among the first to understand the importance of the English language as a vehicle to emancipate the lower castes. In one of her Marathi poems, she urges her fellow beings to "Awake, arise and educate, Smash traditions-liberate." In another Marathi poem the title of which translates to Go, Get Education, she says, "Sit idle no more, go, get education, end the misery of the oppressed and forsaken. You've got a golden chance to learn, so learn and break the chains of caste."
Jyotiba Phule started the Satyashodhak Samaj on September 24, 1873 as a socio-spiritual movement with Savitribai. They were convinced that existing reform movements within Hinduism – the Brahmo Samaj, Prarthana Samaj and the Arya Samaj – continued to be the preserve of Brahminism and ritualism.
A few days ago a post did the rounds on Facebook. It was a photograph of Radhika Vemula and Fatima Nafees, captioned "Have you seen Savitri Maai and Fatima Sheikh? No? Here they are, salute them. Mothers, we are your children. Bless us! #March8 #Internationalworkingwomensday #WeareRohith! #BringBackNajeeb." Radhika is Rohith Vemula's mother, the HCU student who was abetted to suicide 4 years ago. Fatima's son Najeeeb Ahmed, a JNU student went missing after being allegedly thrashed by ABVP members, also 4 years ago.
Savitribai fought for the marginalised and the disenfranchised to develop a capacity for self determination, which forms the crux of her politics. We have talked about Shaheen Bagh and the numerous similar movements that have appeared across the Indian topography. For the first time, women, otherwise confined within domestic obscurities, have taken up leadership roles through organising their dissent. This self determination is the legacy of Savitribai Phule. Women at the helm of anti-CAA protests in India are active agential interlocutors who are converting a body civic into a body politic. A lot of these protesting women became familiar with Savitribai after they came out to protest. In discovering her, these women have found affirmation, that women can be facilitators of social change – a realisation that has not only altered their political consciousness, but also their everydayness.
She envisioned a society where equity and not just equal rights would cavalcade as the order of the day. During the 1897 plague epidemic in Pune, Savitribai tirelessly conducted relief work. She contracted the disease, and passed away on March 10, 1897.