The Bose family of east Calcutta's Beliaghata is one of the oldest aristocratic families settled there since the mid 19th century.
Even before the great mutiny happened in 1857, when East India Company was ruling India, one humble village boy named Chandi Charan Bose migrated from Belgharia village of North 24 Parganas to settle on the banks of Maratha ditch. The ditch was then fully navigable and its banks buzzing with many commercial activities, mainly the trading of material coming from eastern Bengal. Here, Chandi Bose made his fortune as a stockist of logs.
By 1855, Chandi Bose became a new-generation rich of new era Bengal. He, in partnership with one Balaram Dolui, took lease of water lands to start his fisheries. His success in the business prompted him to buy land in Charakdanga of Beliaghata Sura, where he built his house.
Soon, in 1880, he shifted his family Durga Puja to his new home in Beliaghata. Ever since, more than six generations of Boses have been performing the puja every year with as much dedication.
Oldest family Durga Puja in the eastern Kolkata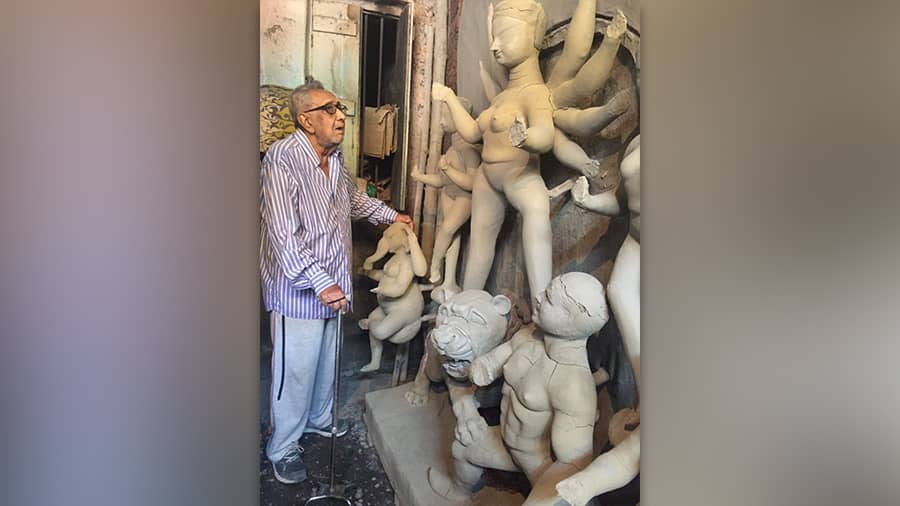 Dr Ashok Bose, 88 years old, is now the most senior member of the family
Oldest family Durga Puja in the eastern Kolkata
Though the exact record is not available anymore, it is assumed that when their puja started in Beliaghata, the other two rich families of the area, like Sarkars and Naskars, had not started their pujas yet. So it is assumed to be the oldest family Durga Puja in the eastern part of the city.
Dr Ashok Bose, 88 years old, is now the most senior member of the family. He is thrilled with the advent of Puja at home, when all family members settled across the world come over and spend a few days together. Dr Bose still recalls many things that he saw in his childhood. "I have seen Subhash Chandra Bose visiting our house and even saw him playing with gulal here," he reminisced.
His son, Bikram, is fifty plus, working in Bangalore. He travels the world all year round. "Wherever I go, I come back home during Puja," said Bikram, adding, "I am proud of my family puja because it offers a liberal face."
Puja is performed in Brihat Nandikeshwar style
The Bose family traditions have every woman participate in all the religious rituals, whether she is married, unmarried or a widow. "The puja is performed in Brihat Nandikeshwar style and Devi is offered fish as prasad, because many years ago the fish business gave this family whatever they have today. Once animal sacrifice was also a part of the puja but now that has stopped. There cannot be blood in the arena of festivity, right?" said Dr Bose.
The Puja of this family is a fine example of communal harmony. A friend of the family, Shekh Samiruddin recalled an event that took place nearly 38 years ago, when his father Shekh Muzaffar Ali, an employee of this family, was stuck and could not return home that night. He was allowed to sleep in the room where the idol was placed.
The incident created a huge uproar and protests among locals to see a Muslim being allowed to sleep in the same room where the Durga idol was placed. However the matriarch of the house, Shefalika Bose, did not care and allowed shelter to poor Ali. "Where in the world would I see a Durga bigger than her?" Samiruddin bows before Shefalika Bose.
Muslim employees of the house were given Hindu names during 1946-47 riots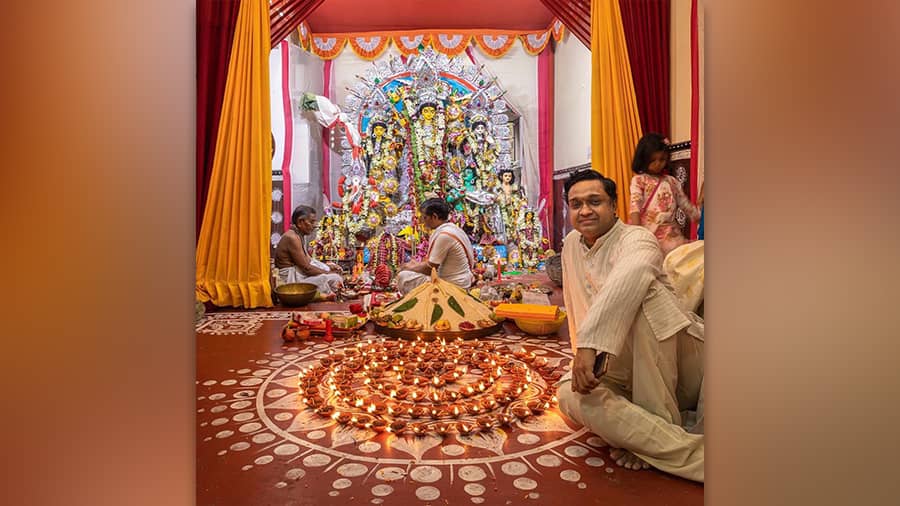 Bangalore-based Bikram Bose, Dr Ashok Bose's son, makes it a point to return home every Puja
Bikram recalled that during fratricidal riot of 1946-47, when Beliaghata was burning, the Muslim employees of the house were given Hindu names in order to protect their lives. " I never knew our family carpenter Khagen babu's real name was Khaleq," said Bikram with a smile.
Over the years, the Bose family got divided into many streams and many members now live in separate houses for practical reasons. But Durga Puja binds them all at least for one week in a year.
Importance of documenting local history
There is a road named after Chandi Bose in Beliaghata, but there is hardly any awareness among common locals about the heritage of Bose barir pujo. However Bikram is optimistic to see a new wave of awareness among people and he thinks everyone will understand the paramount importance of documenting local history soon.