At the 2021 Kazakhstan International Open last month, table tennis prodigy Prapti Sen added a silver medal to her already humongous medal tally, which comprises gold medals at the Junior National and Cadet National Championships, besides a silver in the Youth National Championships.
For the 20-year-old this was the first time competing at an international tournament in almost two years, and her first medal at the senior circuit. "I feel that the long international gap did affect my performance in the singles category, where I lost in the quarters despite dominating the first half of the tournament. However, I learnt a lot from it, and winning the silver in doubles with my childhood partner Kaushani Nath was a great experience," Sen shares.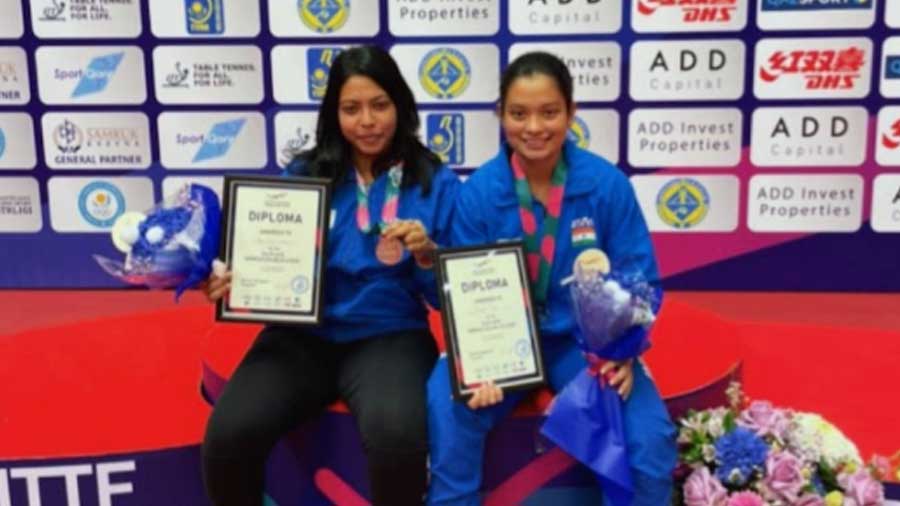 Last month, Prapti (right) bagged a silver medal at the 2021 Kazakhstan International Open with her doubles partner, Kaushani Nath
Sen's tryst with table tennis started when she was all of five, and her grandmother enrolled her into a local club in Behala. "No one from my family had pursued sport professionally. My parents had encouraged me to stick with table tennis as I wasn't exactly a fit child. Since they were both working, they wanted something to keep me occupied. However, my interest gradually grew, and when I was seven, my coach, Amlan Patra recognised my potential and asked me to consider the sport seriously," reminisces the athlete. 
Patra also introduced her to national champion Arup Basak, who would train her for four years. When Basak had to move to Mumbai, he introduced the young athlete to his own coach, Jayanta Pushilal, who has given Indian table tennis many gems during his years of coaching (it was at Pushilal's academy that Sen witnessed the training of her long-time inspiration, the Olympian Mouma Das). Sen swears by Pushilal's guidance and has been religiously training with him for close to a decade now. Last year, she even purchased a flat with her parents in Kankurgachi, to be closer to his academy. 
Sen's schedule is of course, relentless, as befits champions. The second-year English Hons. student from The Bhawanipur Education Society College juggles her coursework with close to six hours of gameplay training every day and a few more on honing her fitness.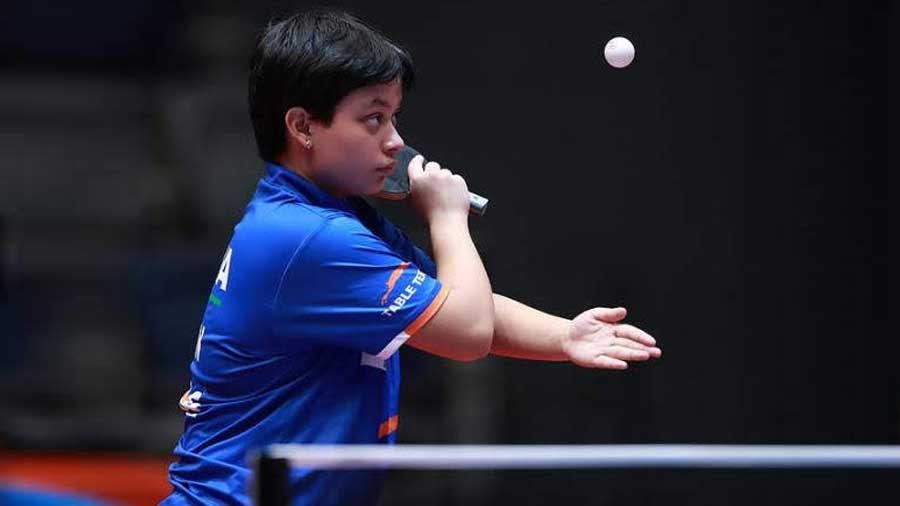 Prapti's dedication is noteworthy, and the sportswoman puts in six hours of gameplay training every day
Sen's tutors have expressed joy in her achievements. "This is a proud moment for the entire institute, and we extend our heartiest congratulations to Prapti on her achievement. She has our complete support, we hope she reaches the zenith of her career so that she can keep making India proud," says Rupesh Gandhi, sports officer at The Bhawanipur Education Society College.
Sen started representing India internationally in 2015 while she was still at school (Kendriya Vidyalaya IIM Joka). Besides her illustrious accolades at home, she also proved her mettle at prestigious events like the South Asian Games, Asian Games and the World Table Tennis Championships in the junior category.
The turning point, Sen feels, came in 2017. "I won the state championships simultaneously in 3 categories (junior, youth and women's) at the age of 16, and remained unbeaten throughout the tournament. This win made me believe that I had the potential to compete in senior categories and actually do well."
As impossible as it may seem, the athlete does manage to make time for other hobbies. "I'm a bookworm and love detective novels. J.K. Rowling is my favourite, and currently, I'm devouring the works of Satyajit Ray. I also enjoy listening to music and dancing," she says. She also credits the sport with influencing other aspects of her life. "I love the power of decision making that TT has granted me. While people talk about reflexes, the game also requires you to constantly think, and take decisions in a fraction of a second. This attribute has helped me in my life as well," adds Sen.
The nerves she encountered at Kazakhstan upon being back in the international circuit are gone now, and Sen is gearing up for a busy year-end schedule. "While competing in the ongoing state championships, I am also preparing for the National Ranking Tournament, which will be held at Panchkula from October 18. After that, I have international tournaments lined up in Tunisia, Ecuador and Slovenia," she reveals.
However, she's not just in it to win it; Sen isn't driven entirely by a yearning for trophies. "I do want to win medals for India in the Olympics, Commonwealth Games and World Table Tennis Championships as it feels exhilarating every time, but I don't play with a particular aim. I'm just going with the flow because I really enjoy playing the sport," Sen shares.