This year in June, I booked tickets for my wife Lakshmi, my three-old-daughter Gayatri and for myself to be in Calcutta from December 23, 2022, to January 2, 2023. There was only one reason why we decided to travel to Calcutta for New Year's. 
Naresh Kumar.
I wanted Naresh to bless our daughter just as he had bestowed affection and love on me for the last five decades. I wanted my wife to meet him yet again and see for herself the man he was and remained till the very end. 
Naresh had no mean bone in his body. He never competed with anyone. He only completed those who he came in touch with. His humour was sardonic and earthy Punjabi: he would serve you scones made at home with samosas from Kwality's Park Street: he swore by them. His New Year Eve parties were legendary and both he and Aunty Sunita were impeccable hosts: never to judge but only to love people. In this five-decade association there are a zillion anecdotes that one can share about Naresh, but where does one start and where does one finish?
Does one talk about his deep friendship with Russi Mody and M.F. Hussain or Aunty Sunita and her life-long friendship with Mother Teresa and the Dalai Lama? Does one talk about how he helped ball-boys at Calcutta South Club or how he injected transparency into the coal business?
Does one recall with gratitude how he would make it possible for one to see Wimbledon and also dress up in tails for Ascot? I have said this to as many people as I can count that in sum, Naresh represented what Calcutta was and what Calcutta should be. A city with pride but no prejudice and that is who he was. Not the arrogant kind of pride but the pride that one exudes when as Davis Cup Captain you see your boys and girls perform on the world stage. The pride he took in supporting causes big and small. The encouragement he served to those who needed a nudge or just some quiet gentle support. 
There will never be another Naresh Kumar because…
It remained, to the very end, a life of love and mirth; of merriment and empathy and one so anecdotally rich that he helped you laugh and forget the sorrows that could have easily engulfed one.
In the last 50-odd years, not one year went by when he didn't personally call me to invite me for New Year's Eve: in fact, I once told him that even if he didn't call I would still be there because I knew no better home nor better people to usher in the New Year with. We would dance to Harry Belafonte and Bappi Lahiri alike; the streamers would be all there as also the ubiquitous Calcutta whistle. And at the heart of it all were Aunty Sunita and Naresh: savouring the joys that their friends experienced and through that celebrating life.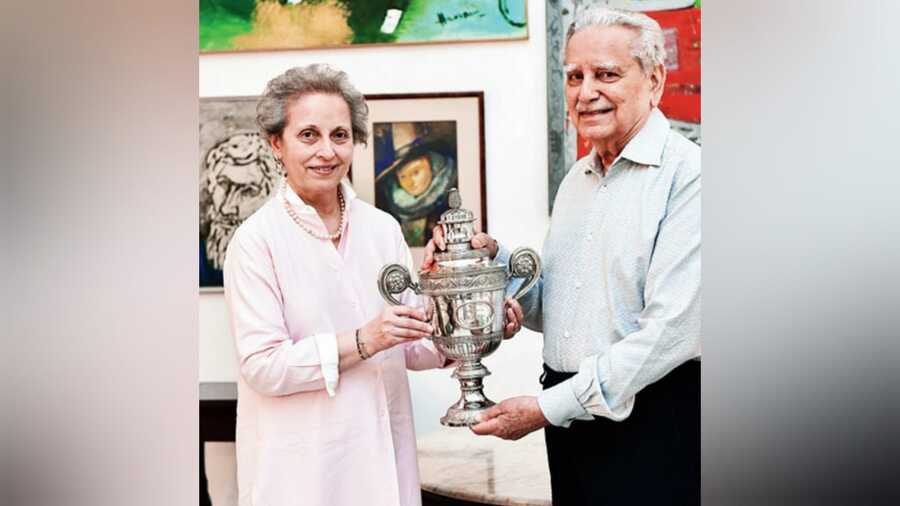 Naresh Kumar with his wife Sunita
TT Archives
Many years ago, I was at his home for lunch as was the Dalai Lama: from there both Aunty Sunita, Naresh, their daughter Gita and I accompanied the Dalai Lama to Mother's Home. While she was alive, the Dalai Lama hadn't been able to make it. When we all went there, you could see the joy on Aunty Sunita and Naresh's faces: they had made two kind kindred souls meet, even if one was not physically present.
But that is who Naresh was. A humanist with unimaginable humility. A kind-hearted man who only saw the good and never even fathomed the evil. A man who treated people alike regardless of their station or their stature. In every human being he saw innate potential and innate goodness. Which is why the heavens today will be a happier and joyous place. I can imagine his laugh; imagine his sardonic humour and above all imagine his goodness permeate and spread.
All we need to be grateful about is that we were privileged to know Naresh. And we must now celebrate the life he lived just as he would want us to. With joy; humanness and a little tipple.
Which is why he will always remain unmatched and unforgettable.