There is something so unalloyed about Sobia Ameen's hearty laugh. And she laughs a lot. Whether recollecting how she has been bullied in school for the colour of her skin or how her friend's date spoke about her following the release of Masaba Gupta's new campaign that features her chirpy self. "My friend said she was so proud," says Sobia when we caught up with the Dhaka-based architect-turned-"experimental" baker.
"I studied architecture in Sydney and left midway during my Masters because I was dealing with depression and I couldn't do it any more. It was too long a drag. I didn't take a break and it is a very stressful subject," says Sobia who came back to her homeland four-and-a-half years back. Candour is another of Sobia's traits that's so refreshing. Oh, and her wit! "I don't remember anything but I can beat someone up!" she laughs talking about the karate lessons she once took.
With Masaba's campaign, Sobia has lent her voice to a movement that is of crucial importance — accepting and loving yourself for exactly who you are.
Congratulations on a stunning campaign with the House of Masaba! What has been the response like?
I think it's been overwhelming. I thought it was unreal when I first got the offer, but I didn't expect all my idols to notice it.
Idols like?
Anoushka Shankar, Anaita Shroff (Adajania)... there's more!
We don't love ourselves enough. You have always loved yourself, right?
Maybe, I don't love myself enough (laughs), but I have come a very long way from where I started. As a child, I was always bullied for the colour of my skin. Though I was physically very active... swimming... and I also played everything... football, but I was always on the heavier side. I was struggling with my thyroid and insulin. It is a very common test now, but in my teens it wasn't, especially not here. Even if you get those things under control, like I do now... touch wood, I don't have any health issues... but I don't think you have to look like everyone else just to be accepted.
The society I grew up around is very critical of how you look, especially, I am not fair-skinned. I used to be even darker when I was in my teens because I used to spend so much time in the sun and the pool. I would train with the national champions, the only female in my school doing that.
Were you ever made to feel bad about yourself?
All the time. 'You should lose weight because you are a woman!' Why shouldn't a guy lose it too? The first time I went to get threading done, the lady who worked there smiled at me and said I was so beautiful, but what would make me more beautiful is if I were fair. I just stared at her! What?! That was like a big shock to me because my family, at least my maternal side, never commented on my skin. My mom was also strong about that. She never let anyone else comment about it. She is dark-skinned and has faced that all her life.
In school there were people who were darker than me and would call me 'kaali' and what not. I don't understand the concept of this! (Laughs out loud) That stems from their own insecurities and I understand that now. Even on social media people write a lot of horrible things to me, but when I go check their profiles, it's someone who has no picture or it is a fake account.
How did you deal with it?
When I used to get it first, I was so much younger. I didn't have boundaries that I would set. Now I think I have grown so much, I am proud of every milestone that I have crossed. Every year I look back at would I have done this differently and sometimes I think maybe, because I have grown and learnt from it. Now I wouldn't try explaining it to someone. I don't care enough! (Laughs) In my head, I am not the most beautiful person ever. I can be whatever in their head. As long as they are not coming to harm me, I don't care.
This campaign with Masaba is also a step in that direction, right? 'This is me and I am proud of myself'...
Yes and it is genuinely an expression of that because especially here in Bangladesh, I feel I am this poster of inclusivity instead of being an actual change to represent different forms of body. I don't mean plus size. It could be people who are a lot smaller than me or have other deformities. The plus size thing now is applauded, but even there we have to accept people regardless of their gender, race or anything that people may consider flaws.
Who are your icons?
Growing up, there were a lot of African-American women because I looked closest to them. I used to look up to Oprah (Winfrey) and Maya Angelou and Ella Fitzgerald. They changed that world for them. Suddenly I was exposed to the Indian fashion industry and Bollywood. For me it was unreal because I kept looking up to Masaba and then here I was doing her campaign. I think Sabyasachi (Mukherjee) as well when he championed the models, it was something to be applauded....
What is your message for all the girls reading this?
I think stop apologising for who you are. As women we are taught from a very young age to be shameful and apologetic. I hope everyone just learns to love themselves and be happy in their own skin.
What else do you want to explore?
I have recently taken up Bharatanatyam from November and I see the great difference in my body. When I started, hapiye kanna kati kortam the next day and would go for a massage after every class because I couldn't walk and now I do 30 toe jumps and I am still alive and it's just a warm up, right? I wish I had done it as a child because it is so much easier for your body to adjust. I am 28 and everything's downhill past 25 for your body (laughs). I really enjoy it and it is beautiful to watch people do it. I want to master it for myself. I have always wanted to know how to sing. I feel I am besura and I have had multiple cases of learning but it just doesn't happen! (Laughs) The most I can do is sing to my dogs.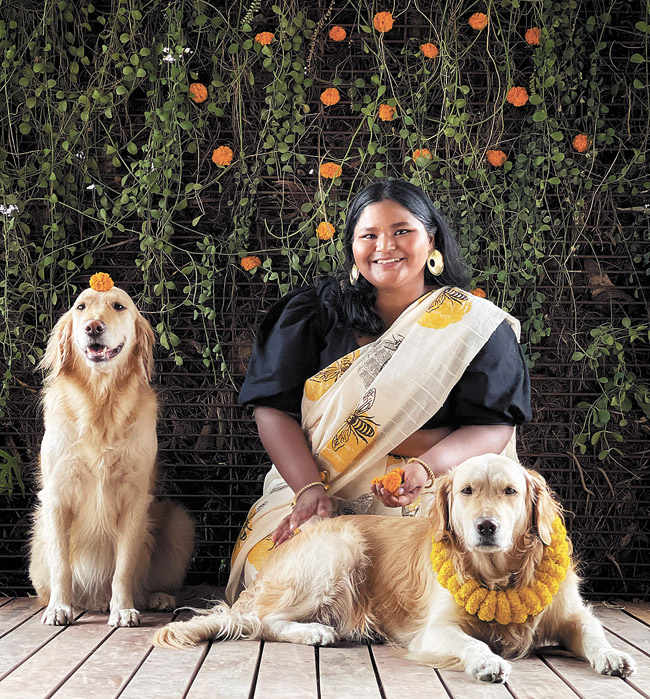 Sobia Ameen with her "Spice Dogs" Elachi and Darchini.
Picture: Tumpa Chism
You have three...
The golden retrievers are siblings. The recent one is a puppy who I adopted from a street next to my house.
​​​​​​​More about Sobia Ameen
Reading right now: I am reading just short stories written by Urdu writers, in translations, The Greatest Urdu Stories Ever Told. I equally enjoy all the Bangla stuff and I love Rabindranath Thakur. My favourite poem is Khachar Pakhi and my favourite book is the most basic one, Shesher Kobita (laughs).
Favourite Bengali actors: Uttam Kumar (laughs). I find Parambrata Chattopadhyay incredible and have been Konkana Sensharma's fan since I was a kid because of Mr. and Mrs. Iyer. It is one of my favourite movies. Their (Meenakshi played by Konkana and Raja played by Rahul Bose) relationship was so pure, melancholic and lovely. I love Rahul Bose. Also, Sabyasachi Chakrabarty. He has a lovely voice.
Calcutta memories: When I went to Calcutta for the first time, my dad took us to Coffee House (College Street). I still have a book that I bought from there... Thakumar Jhuli. I love spicy food, and raasta'r pani puri gula is so good! The secret is, I don't like sweets that much. I just make it! I took up baking to de-stress.