If Sawan Dutta's recent Pet Pujo London vlog song tickled your funnybones, there's plenty more where that came from. The composer and singer-songwriter fills us in on her recent and upcoming projects.  
How did you celebrate Durga Puja this year?
I was very happy to celebrate pujo this year with my near and dear ones. My favourite way of celebrating, always, is in the company of those I'm closest to, with whom I share unconditional love. 
As a Bengali who visits London frequently (your sister lives there), what is your relationship with the city like?
Well my little sister, my only sister, lives in London with my nephews, bro-in-law and his entire family. So YES, I go there as often as I can. She's a popular radio jockey with her own show on Sunrise Radio London, called The Shabnam Sahi Show. Let me share Bengali Aunty's Vlogs from her last trip there before the pandemic.
In fact I've used some common shots from that trip to establish a sort of continuity with this vlog, since she mostly grumbles her way through London there.
Bengali Aunty has been vlogging from many cities around the world but I must say that inside the London Underground is where she's felt completely at home! London in general, is such an immense melting pot of so many different kinds of people from so many ethnicities, that a monkey cap clad weirdo doing weird things draws no stares, no attention, no gawkers at all! Unlike say, Amsterdam, or Singapore, or Dunkirk or other parts of Europe.
When not vlogging, I think my favourite parts of London are the Monken Hadley forested area not too far from my sister's place, where I go for long long walks in the slanting autumn sunlight, gaping at the fall foliage all around, at the ponds, at the geese and ducks, which I try to take selfies with!
And I love some parts of Hyde Park. It's gorgeous when the cherry blossoms are in bloom, and it's great fun to feed the super friendly parrots that come and perch all over you and eat from your hands - as you can see in my vlog.
Your song vlog Pet Pujo London featuring the Chourangi restaurant has garnered 11K views. How important is creative freedom a part of your process?
There is the usual amount of back and forth throughout the creation process, which happens on all our collaborative ventures, which invariably results in something terrific! It's always a fantastic experience working with Anjan (Chatterjee) because apart from being the phenomenal entrepreneur that he is, he also understands the creative process so well, and has tremendous respect for an artiste's creative freedom. After we brainstorm and arrive at our initial concepts, he always gives me lots of freedom to take the concept wherever I want, and supports the process completely. And it was no different with Chourangi.
What was your dining experience at London's Chourangi restaurant like?
At Chourangi, I love some of the old favourites, like the Norwester (vodka cocktail) and the Godhuli (grenadine / mango / orange mocktail), which I hadn't tasted before, the Steamed Prawn and Crab Parcels, the Lotus Stem Sweet Potato Chaat and Mocha Croquettes — and the Sandesh Tart I thought was such a brilliant creation!
I was bowled over by Chourangi — but then I'm no less a fan of Oh! Calcutta, Mainland China, Asia Kitchen or Cafe Mezzuna — so the Chourangi experience wasn't exactly a surprise. Though it's wickedly satisfying to see this Bengali restaurant bang in the middle of the most bustling and happening part of London and people of all nationalities throng to eat here.
Do you write your own lyrics?
And oh yes, I always write all my own lyrics, especially when the song is in English.
Tell us about some of your recent projects… Among recent works — I'm very excited about our short musical travelogue that CB Arun Kumar (my husband and partner at The Metronome) made through the pandemic, called Bong With a Song: Musical Misadventures in Thailand, which has been winning a steady stream of international awards and laurels at festivals worldwide.
The film has just been acquired by Fox Corporation's OTT platform, TUBI, and is now streaming all over the USA, Canada, Australia and New Zealand. So this is the most recent and exciting production we've done.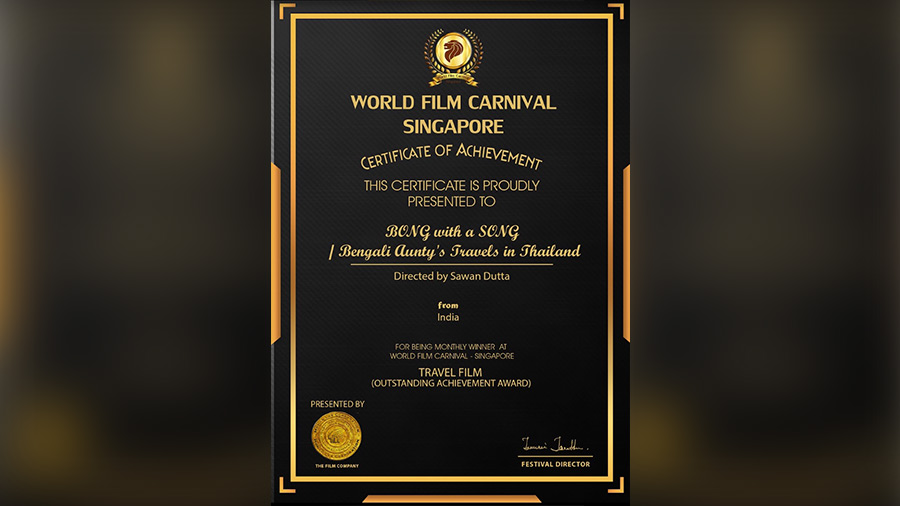 The award Sawan received at the World Film Carnival Singapore
The other vlog which has been very popular recently has been Bengaluru Bengali, which I made just after we moved our primary base from Mumbai to Bangalore. I had no idea that Bangalore has so many Bengalis. The video has been a roaring success, with some very heartwarming responses from the Bengali and non-Bengali community.
You were also part of a Japanese TV show called World Eccentric Kitchen?
Produced by TBS, Tokyo, the series features unusual chefs from around the world, and I represent India on this show, cooking Kosha Mangsho, Tomato Chutney and Mutta Roast, along with some of these crazy dudes from other parts of the world. In my episode I'm showcasing some Indian dishes along with my songs from The Metronome. The Japanese director of the show directed the shoot, and their crew who came to shoot me, on Zoom from Tokyo — so this was a very interesting experience!
What else are you working on?
I've also been creating music for other commercial productions, including TV shows like The Ultimate Sports Quiz hosted by Harsha Bhogle, which is about to start its second season on Sony soon.
Finally, is the Bangali chhele smarter or meye?
(Laughs) That will always depend on whom you ask and since you're asking me….