A girl who enjoyed swimming, karate and painting along with her studies got interested in shooting after watching "a Western film with a lot of gun firing" on television one day. Mehuli Ghosh is now an international shooter who is eyeing a gold in the Paris Olympics 2024.
The girl from Baidyabati, Hooghly, bagged gold for India in the 10-metre Air Rifle Mixed Team final at the International Shooting Sport Federation (ISSF) World Shooting Championship in South Korea recently. She was "happy, but not ecstatic" and celebrated with some Korean barbeque and shopping.
"This is my third trip to the country and I can't have enough of the local cuisine," the 22-year-old shooter told My Kolkata over phone.
Years of training have taught Mehuli not just to aim with precision but also to control emotions and thoughts. 
Back to the beginning
Born and raised in a Bengali middle-class family, Mehuli did not show any early signs of becoming a marksman. It was when Abhinav Bindra won an Olympic gold for India that she first learnt about shooting as a sport.
Mehuli was a student at Techno India Group Public School, Chinsurah, when she happened to be in the same class as shooter Ayushi Podder
"At the age of 13, Mehuli came in contact with shooter Ayushi Podder and learnt about shooting institutes and rifle clubs. We had no idea but Mehuli told us where to go and from where to purchase a rifle," said Mitali Ghosh, Mehuli's mother, whose phone has not stopped ringing since her daughter struck gold in Korea.
Mehuli has not had too many friends since childhood, but she is close to her cousin Swarnali Roy, also a national-level shooter. "Mehuli is also a good painter and dancer. Above all, she is fun to be with. We watch films and go shopping together. And yes, we love video games," Swarnali said. 
Mehuli enjoys watching action films but hardly finds time now.
Family support
Seeing Mehuli's enthusiasm about shooting, her parents Mitali and Nimai took her to the Serampore Rifle Club. But their dream was about to be shattered when they learnt about the expenses. Nimai, who has a clerical job, just could not afford it. 
"My maternal grandparents came to our rescue. My grandmother bought me my first rifle and there was no looking back after that. In 2014, a basic rifle cost around Rs 75,000 (now it is around Rs 90,000). Since I had a basic rifle, I had to concentrate and work more on my technique," Mehuli said, adding that the family took loan against ancestral jewellery to ensure that she could pursue the sport.
But fate had other plans. An accident during practice that injured a man led to 14-year-old Mehuli being banned by the Serampore Rifle Club. "It was a low time in her life. She had stopped practising for almost two months. Then then my husband and I went to meet shooter and coach Joydeep Karmakar," Mitali said.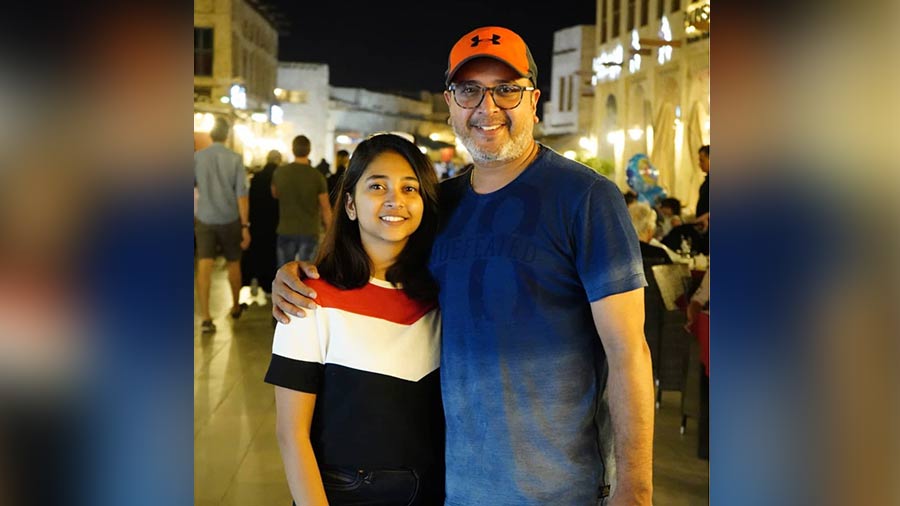 Mehuli Ghosh with her coach Joydeep Karmakar.
Instagram
A new beginning
Karmakar agreed to take Mehuli under his wings when she was down and out. "To be honest, I took Mehuli under my wings primarily because many people had told her she was not fit for the sport, that she couldn't do it. I took it as a challenge. But after a few days of training, I realised that she was a natural. Extremely intelligent and unlike many others, she could clearly understand my intentions behind an exercise," said Karmakar, the chief national rifle coach of India.
In 2015, Karmakar accepted Mehuli as his student. Besides techniques and fitness, she was taught to perform consistently, control her emotions, handle success and to stay away from social media. "I have always taught her to chase the bigger dream and aim for senior tournaments," Karmakar said.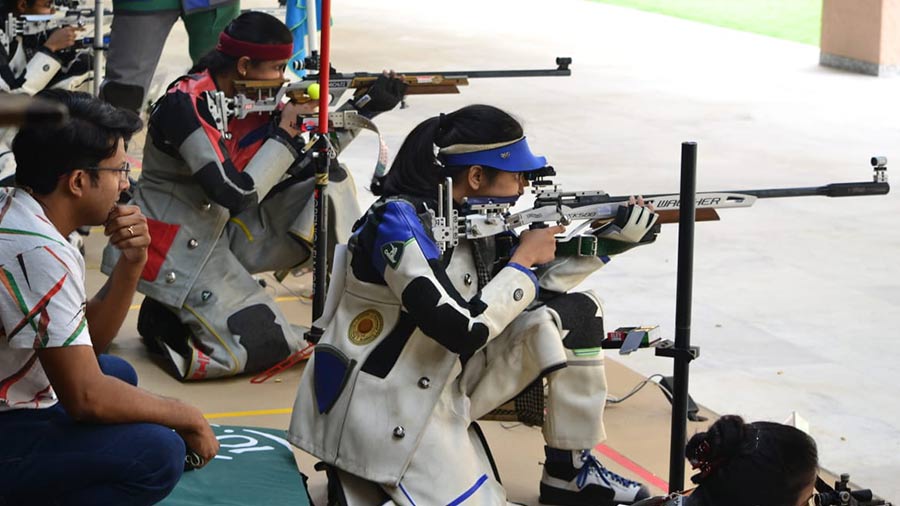 Mehuli in action.
Coach Bibaswan Ganguly
Balancing studies and shooting
Mehuli started shooting when she was in Class VIII. Initially, she would practise on weekends for two hours a day. As she grew more interested and started training under Karmakar, she started practising four days a week.
"It used to take two hours to reach the institute in Salt Lake. After hours of practice, I would attend coaching classes and reach home after 10pm," Mehuli said.
Mehuli scored more than 80 per cent in her Class X board examinations in 2015. "The exam was in March and in February Mehuli and I were in Kerala for Indian team selection trials. She carried all the books along and studied there. She balanced her life nicely," Mitali said.
Mehuli's hard work paid off. She finished seventh in the preparatory junior shooting championship in Czech Republic in 2017. The same year she became Asian Champion in Japan. In 2018, she became one of the youngest competitors from India to win two World Cup medals at the ISSF World Cup.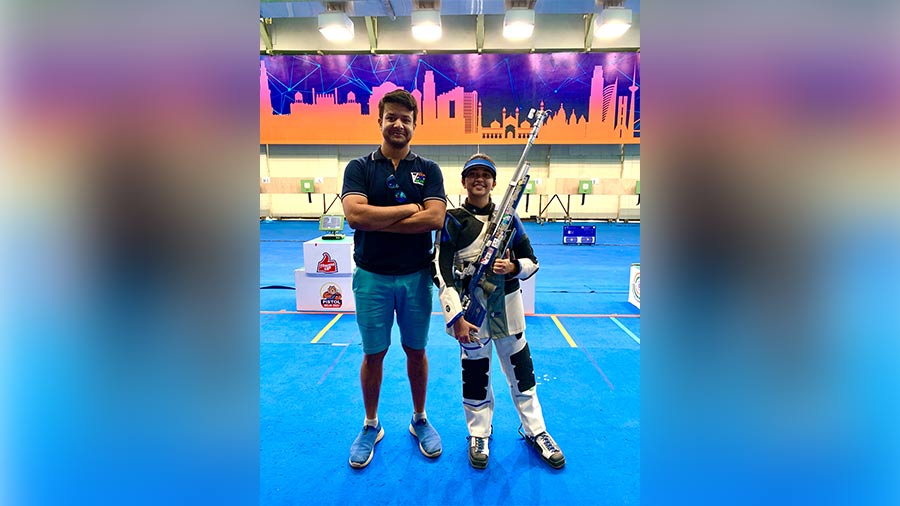 Mehuli Ghosh with coach Bibaswan Ganguly.
Coach Bibaswan Ganguly
Pandemic challenges
Like every other sporting activity, shooting tournaments were also called off during the pandemic and that affected Mehuli deeply.
With almost a year and a half without any big match, Mehuli's physical and mental fitness took a beating and she could not qualify for the 2020 Tokyo Olympics. The next year, Mehuli decided to go to Hyderabad to train with infrastructure and started practising under coach Bibaswan Ganguly.
"It was a new journey for her. She had developed some technical faults and one by one we eliminated them. She had also injured her knee (befor the pandemic) and we had to travel to several cities in the country for treatment. But not for a single day have I seen Mehuli leaving the range before 10 hours of practice," Ganguly said.
One indulgence Mehuli allows herself once in a while is to taste the cuisine of the many countries she visits. "Sea food is my favourite and I had the best food in Peru," said the young shooter, whose diet keeps changing every two to three months according to her body weight and nutritional needs.
Both coaches agreed that Mehuli is ready for the Paris Olympics 2024. As cousin and shooter Swarnali summed up: "I have never seen a person more passionate than her."