Shashi Tharoor's latest book Ambedkar: A Life is a biographical read centring around BR Ambedkar, also known as the Father of the Indian Constitution, and arrives at a time when the spirit of the su-preme rulebook is constantly being threatened. And though there are multiple accounts of the feisty leader, the latest one under the authorship of the eloquent MP is much more concise, making it easy to pick up and read. "The truthis many people don't have timeto digest all the weighty volumeson Ambedkar, especially today'sTikTok generation as they have ashorter attention span and focus.I wanted to write something thath as a chance of really being read by people who are too busy to sink into a large fat book. This is meant to be a book you can pick up for a long flight or finish in one evening," said Tharoor who was in the city for the launch and a talk organised by Prabha Khaitan Foundation, at ITC Sonar recently. A free-flowing chat with the wordsmith. Excerpts:
What is it that made you zero in on Ambedkar for your book?
So, the first thing is that I think people have not realised that Ambedkar is perhaps the most significant figure whose reputation has grown after his death. Today he is probably one Indian with the most number of statues across the length and breadth of the country,at least as much as or possibly more than Mahatma Gandhi. He has achieved the status that no one couldhave imagined during his lifetime when he was a controversial figure. He had as many critics as he has admirers and he had lost more elections than he had won. So, he was not somebody who would be seen as this unchallengeable icon of today's India. He lived only till the age of 65 and now it has been 65 years since his death so it seemed almost a perfect point to look backon his life, see the impact and understand the legacy.
What is it that marks this book from the scores of books written on Ambedkar?
There are thousands of pages of printed material on Ambedkar but there is no short biography that covers the whole gamut of the person's life and legacy. So, I thought, as I did with my Nehru biography, let me do a short but comprehensive summary of themain incidents of his life.
Since it's a concise version, how challenging was it to make it compact given there's so much on Ambedkar out there?
So the interesting challenge in writing a short biography is what to leave out. Normally you write a lot and then condense, I did it the otherway around. I read a lot of stuff, far more than I knew I could use and then I decided what in my view illustrated aspects of his life most importantly.
You've already done a biography on Nehru. So how is writing a biography different from other genres and which one did you enjoy more?
I've done very different kinds of books. I've done three novels, a collection of short stories, non-fiction and edited volumes. I enjoy writing because writing for me is a pleasurable escape from the dailypressures of my life. So I take it as an opportunity to explore in my own mind various things that interest me, and that go beyond the daily concerns of my life.So, to that degree, the biographies were fun, but I've only done two biographies out of my 24 books and I don't want to be known principally as a biographer.
Is there anything new that you learnt about Ambedkar while writing the book?
Oh, yeah! One of the mostinteresting things I learned is that he was arguably India's first feminist. He really was extraordinarily liberal-minded when it comes to issues of women'srights. And some of the things he said in speeches in the 1930s would sound progressive today like urging women to stand up to their husbands and be equals in marriage, urging them to delay marriage, delay pregnancy and more.
And is there anything that you didn't like about him?
I felt that on many of the issues that he disagreed with Gandhi ji his disagreement was legitimate and could be considered totally an honest political opinion. What I challenged and regretted was the ungracious manner in which he expressed it, particularly in the time of the aftermath of Gandhi's assassination. Once the man is dead and gone, it was not necessary to say some of the churlish thingsthat he said.
Since he was fiercely critical of Gandhi do you think that made him less popular among the majority?
My own view on this is that you have to understand the context in which Ambedkar was operating,where he felt that he did not want to replace the social oppression of upper-caste Hindus with the political domination of upper-class Hindus. He wanted a society that was transformed in the process of becoming free from the British. So if temporarily they're involved in collaborating with British institutions in order to improve conditions for his people, he was prepared to do that. Now you can call it anti-national if you like. Bu the would say that he believed very much in India's freedom and India's nationhood.
Do you think if he would have been alive now, he would be languishing in jail?
Probably he would not have done anything to get himself into jail because he is somebody who in his famous speech, The Grammar of Anarchy, said 'All these demonstrations, dharna and strikes make sense in a context where you are actually trying to overthrow foreign rule'. But nowthat the foreign rule is over and we've instituted a democracy, he said, 'We absolutely must avoid such techniques because that would only be the grammar of anarchy'. So he would not have been in favour of breaking of the law. But he would have fought within the law and made powerful speeches in Parliament and outside.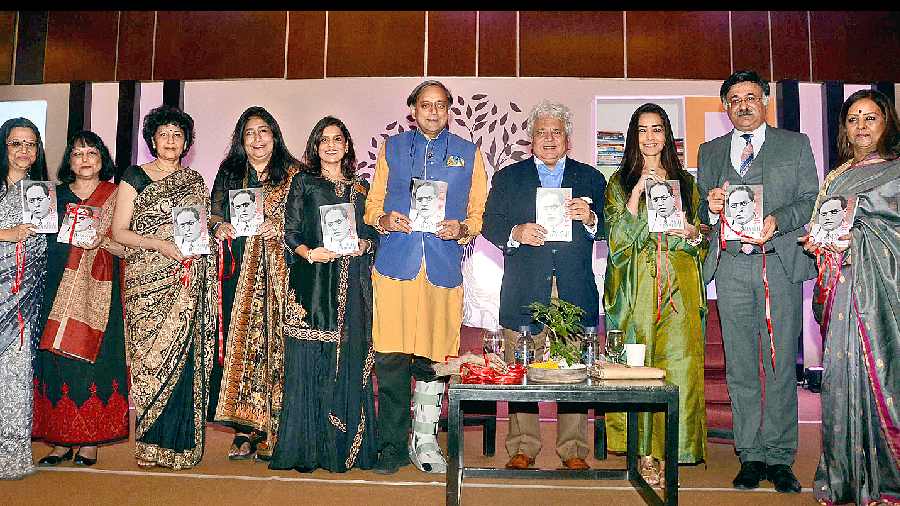 (L-R) Anindita Chatterjee, executive trustee of Prabha Khaitan Foundation;Basabi Fraser, Prabha Khaitan Foundation (PKF) overseas associate;Madhuri Halwasiya, Ehsaas Woman of Lucknow; Malika Varma, Ehsaas Woman of Calcutta; Shradha Saraf, chairperson FICCI Flo; Shashi Tharoor; Suhel Seth; Esha Dutta, Ehsaas Woman of Calcutta; Nitin Bahl, GM, ITC Sonar; and Sangeeta Datta, Ehsaas Woman of London, at the launch of Ambedkar A Life at ITC Sonar. "Kitaab by Prabha Khaitan Foundation with Shashi Tharoor was quite a meeting of minds as Dr Tharoor engaged with Suhel Seth and enlightened the audience with solemn thoughts on the life and political ideologies of Baba Saheb Ambedkar," said Anindita Chatterjee
What are you working on next?
We have an election coming so I am going to focus there. However,writing is part of my life and I will keep doing it. But it would be crazy now to embark on a whole new book.
Do you have parliamentarians with whom you exchange books?
The one parliamentarian withwhom I've discussed books the most is Rahul Gandhi. He is an exceptionally well-read politician.