Over the last few decades, Shailja Kejriwal has been a name to reckon with in shaping, creating and influencing Indian media and entertainment. Currently the Chief Creative Officer, Zee Entertainment Enterprise Limited, Special Projects, the Calcutta girl — Shailja studied at Modern High School for Girls and Jadavpur University — has been the driving force behind Zindagi, the entertainment platform that has brought Pakistani content to Indian screens for almost a decade. The Telegraph chatted with Shailja on the changing role of women on screen and behind it, how Kolkata shaped her creative mind and what project Zindagi means to her.
How have you seen the representation of women in positions of power and influence in Indian entertainment change over the years?
People always look at what changes have taken place at the top. For me, what is far more important is what is happening at the entry-level rather than how many have broken the glass ceiling. That's because the real change is going to come from below.
I have been in this business for decades now and I see this whole change in three stages. My generation had to fight to work full-time. Because we had fought and come in, there was always that pressure to prove that you deserved to be here. The next generation of women was told that it was okay to work, but they also had to look after the house. They were constantly told that if it came to a choice between babies and work, it would always have to be babies first.
The newer lot that is coming in now doesn't have to fight to work. I am talking about the middle class, of course. Today, if a girl doesn't work, she is considered to be an exception. We are like, 'What are you doing with your life?!' That change in mindset, for me, is important.
Today on set, one can see so many more women than what it was even a few years ago. And that is encouraging because this new lot will be in positions of power and decision-making a couple of years from now. Nowadays, women are generally not asked if they can work long hours. That, for me, is the bigger change because that signals a wave which will be more sustainable and long-lasting in normalising men and women working equally.
Would you say that a lot more women in entertainment are breaking into what have traditionally been male-dominated bastions?
The creative part has always been looked at as the 'nurturing', 'softer' part wherein women are coming into their own. There may have been four women cinematographers earlier and there are 10 now, so of course there is a change.
But when you come to the business part, look at who the CEOs and CFOs are... the money is still in the hands of men. Very rarely will you see women heading the business aspect. And no matter how much we try to disguise it, the decisions get made from the money... it's a capital-intensive art form.
What about the agency of women on screen now, given that they are headlining shows and films and more roles of variety and importance are being written for women?
I do think that we have made considerable progress in this regard. In films, we always had men headlining... there has been a little bit of a shift in the last few years. There is a growing visibility of women and there are more women-centric roles being written now. But if you look at it in terms of ratio, it isn't much. But yes, the fact is that a woman headlining a project becomes a topic of conversation and hence it gets highlighted a lot more than a project being led by a man. It definitely is more than what it was in the '80s or '90s and the graph is going in the right direction.
Where television is concerned, it was always women headlining projects because that was supposed to be a woman's medium. The good part about OTT is that it is always open to experimentation and I hope these experiments continue.
Whenever a new medium starts, there is a lot of euphoria. When the TV boom happened, we were like, 'Let's do this, let's do that'. The first two-three years are the honeymoon period where every creative person is allowed to experiment... and that is what is happening with OTT now. Once that gets over, one starts looking at the profit and loss aspect and that's when the suits step in and say, 'Okay, you have had your party... now let's sit and evaluate'. In the first few years, it is a garden; after that, it becomes a factory. If roses sell, grow roses... if tulips sell, then grow tulips.
We are now getting into that phase of OTT where there will be a lot of reliance on data, a lot of, 'This is what works so let's make a lot more of this'. So we will have to see what works and what doesn't because that's the order that will remain for the next five-seven years, at least. Different content will keep coming up every now and then, but an order will be set.
I remember making content with Irrfan and Kay Kay in the 'euphoria' stage of TV, but when shows like Kyunki Saas Bhi Kabhi Bahu Thi and Kahaani Ghar Ghar Ki worked, it became the norm that on TV, women have to be the protagonists. Hopefully, OTT will not become as standardised as films and TV became. We have to become more inclusive.
Did being brought up in Kolkata fuel the creative side of you more?
Totally! I will never ever tire of reiterating how much growing up in Kolkata has shaped my mind, the kind of storytelling that I do and how it has influenced what I say about inclusivity and diversity and the fearlessness of creating content. Studying at Modern High School for Girls taught me discipline and what kind of hard work goes into being able to make choices in life.
And studying comparative literature at Jadavpur University really made me who I am today. I was a research fellow at Jadavpur for a while, and I got to understand so much text and context there. Being taught by stalwarts like Nabaneeta Dev Sen and Manabendra Bandyopadhyay were major influences on me. I consider myself so fortunate and I cannot say it enough.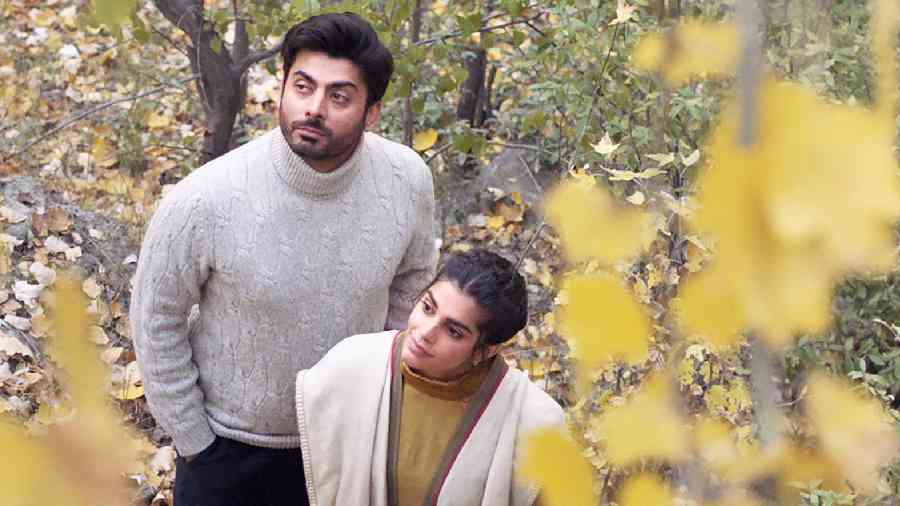 Fawad Khan and Sanam Saeed in Zindagi's Barzakh
Over the decades, you have created and led many projects. With Zindagi, what powered the vision of getting content from Pakistan into Indian living rooms?
In comparative literature, you are taught about how text travels. Once you are armed with that tool for decoding texts, you start looking at content in terms of whether it can travel and how far. After working in the industry for so long, it made me wonder whether creating content was just for vacuous entertainment. Can there be more purpose to it? We know that literature, music and the arts are the soft power which has the capability of influencing thought.
At Jadavpur, I did my research fellowship on women's studies and on Hindi, Urdu and Bangla literature. Right from my college days, I was interested in the depiction of women in Pakistan, Bangladesh and India.
With Zindagi, my interest was to sort of change the narrative that exists between India and Pakistan only in the form of news channels. A narrative which is aggressive and which is about war-mongering. I wanted to place an alternative narrative in people's homes and let them decide what to watch.
Given the times we live in, that must not have been an easy path to walk on...
Yes, it has been choppy. Personally, I was prepared for that. And honestly, I wouldn't have been able to do it if Punit Goenka (CEO of Zee Entertainment Enterprises) hadn't supported me. He continues to back it to this day. Now we are co-producing Pakistani content, and I probably know that industry as well as I know our industry...in 2024, it will be 10 years of me working with artistes, directors and writers from Pakistan.
But I was always cognisant of the fact that it will be two steps ahead and one step back with this venture. If you do anything out of the box, you have to be prepared for reactions. Zindagi has survived 10 years and I feel very happy about it. We are making content with Pakistan, we are going and winning awards together... it's unbelievable.
Awards for sure, but you sure are getting the blessings of millions of women in India for bringing Fawad Khan back on our screens with Barzakh! And it was, of course, the only South Asian selection at this year's Series Mania in France...
Ya! (Laughs) Fawad Khan is a national favourite. I just feel very emotional. The team feels validated that it has not been in vain. That we are being recognised and are winning awards outside... no one is looking at where the content is from, which religion the creators belong to... they are just looking at good content.
Zindagi was banned in Pakistan because of our inclusivity of the LGBTQ community which they weren't happy about. But the creators in Pakistan have been brave in expressing what they want to talk about. It is liberating, it is a validation and it is emotional more than anything else.