A footballer-turned librarian with knowledge of sports administration has been talent spotting in the tribal communities around Bolpur and grooming the boys to be footballers. Koushik Ghosh, senior assistant librarian at Visva-Bharati Central Library, founded the Santiniketan Tribal Academy on August 28, 2021. 
A resident of Bolpur and a member of Bolpur Town Club, where he served as secretary for two terms, bought some land in the Pearson Palli-Kaliganj area in 2001. His visits to these neighbourhoods allowed him to observe the sporting talents of the tribal boys. And thus the seed of Santiniketan Tribal Academy was laid. 
Ghosh, now fifty years old, funds the academy from his salary. He is no stranger to altruism, for he has grown up on stories of his grandfather, a zamindar of Khujutipara who donated land for the establishment of colleges, schools, post offices, community halls and libraries. He tells us that his great- grandfather had established a tradition of Durga puja in their ancestral hometown and his father now devotes a lot of time to the welfare work of the Ramakrishna Mission. Ghosh dreams of setting up a residential tribal game village, which will offer education, expert training and sports opportunities free of cost. 
My Kolkata caught up with the librarian and football enthusiast in between his book-and-ball responsibilities. 
My Kolkata: What, in your eyes, makes the tribal boys stand out? 
Koushik Ghosh: The tribal community has immense inborn talent, You might have noticed that tribal footballers have been gaining prominence across the football clubs in Bengal. These clubs include big names like Mohammedan Sporting, United Sports Club and even representatives in East Bengal and Mohun Bagan clubs. Most of them are star players!
The players I am working with now come from the surrounding areas of Santiniketan — Kaliganj, Pearson Palli, Balipara and Baganpara. We are based out of grounds of a primary school at Pearson Palli — Suhrid Santal Junior Basic School. The players from the four villages are divided into three categories: sub- junior, junior and senior. We have 30 enlisted senior players and 18 players each for the remaining categories. The sub-junior category is for kids below 10 years of age; the junior category is for those below 15-16 years of age. While there's no age limit for the seniors, the players' ages range from 19- 21 years because they can only play till they are about 25 years of age. However we don't have any female footballers because of paucity of space.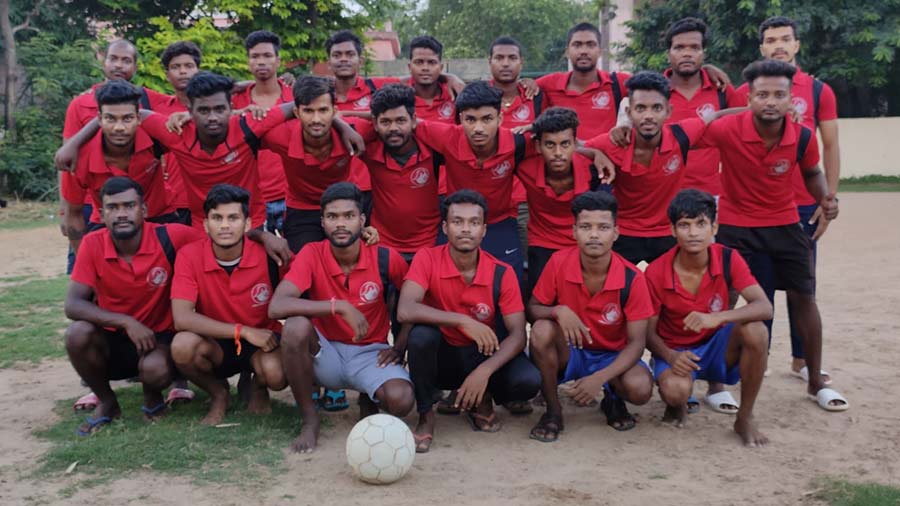 The senior team
Take us through the journey of the academy
We have affiliated our team to Birbhum District Sports Association and Sub-District Sports Association. After three years we will get an IFA Association which will help us play in tournaments. We provide coaching facilities to the players enlisted with us. Since this is a social initiative the people associated with us also provide free coaching. These include SAI Football's former coach, Amit Mukherjee; Visva Bharati's former professor of Physical Education & Sports Science, Ashok Goon; Physical Education school teacher Subir Das and former Bengal footballer Sandip Sinha who is known as Bapi.
I also want to organise a blood donation camp and a medical camp for the boys to get involved in.
Who else has championed your cause, on this journey?
I have received a lot of encouragement, especially Shilton Paul, former Mohun Bagan captain and goalkeeper. He even sent a full jersey set! I also have support from Sankarlal Chakraborty, former Mohun Bagan coach, who has promised to coach for two days and help us practise. Dipendu Biswas, secretary of Mohammedan Sporting Club and former national footballer, is committed to helping us. Nabab Bhattacharya, director of United Sports Club, and its CEO Arnab Bhowmik have also been very encouraging.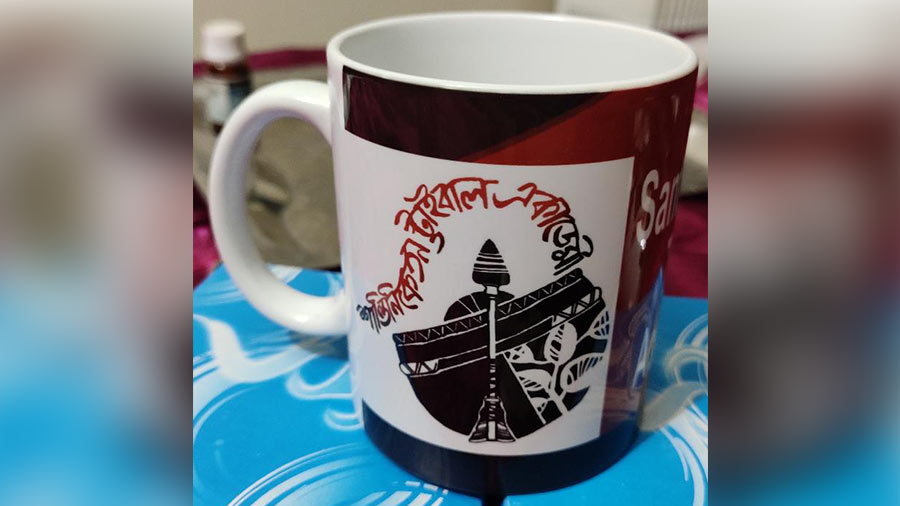 A memento with the Santiniketan Tribal Academy logo designed by professor Sisir Sahana, Kala Bhavana, Visva-Bharati
To improve bonding and attachment among the players, we have often arranged picnics. A few weeks ago we put 75 boys in the same uniform and took them to Gitanjali cinema to see the Bengali film, Iskabon. The producer arranged for all of this absolutely free of cost.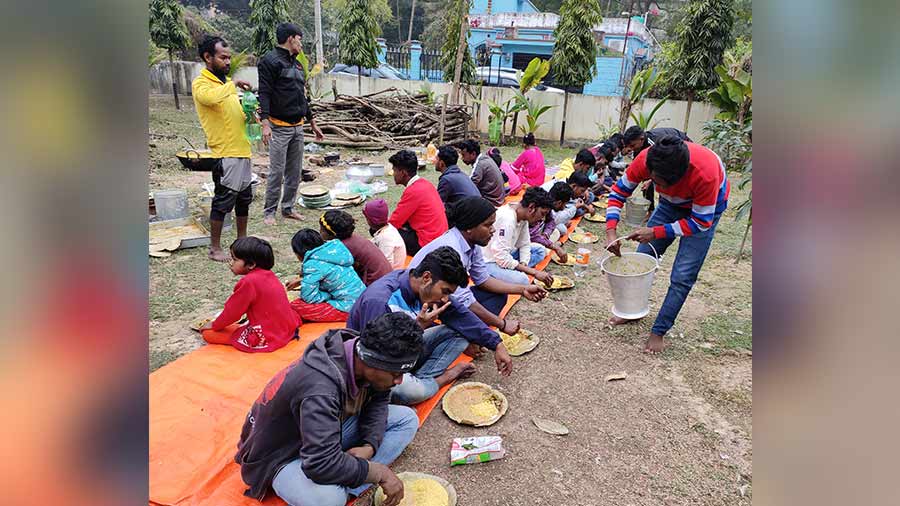 It's a picnic!
What are some of the common hurdles faced by your players?
These tribal footballers are not cared for enough — they belong to an extremely poor community and are not provided with good coaching or food because The parents of these players don't want them to play. These kids usually drop out of school, and the parents usually want them to work so that they can bring in some money, especially for the seniors. There's no money to be gained by engaging in sports. I have managed to arrange jobs for some of the players. We have been lucky that the parents of our players have so far not caused any problems. But many of the players are daily-wage labourers. We have divided our practice sessions into two categories. The ones who work during the day have been assigned a morning practice session. The others practice in the evening. We provide them basic nutritious snacking food such as chickpeas and jaggery. On match days I provide the players with bananas, biscuits or cake and boiled eggs that I prepare myself. I haven't been able to find a funding agency yet, so I am currently keeping a part of my salary aside for the academy. We are, however, searching for a funding agency.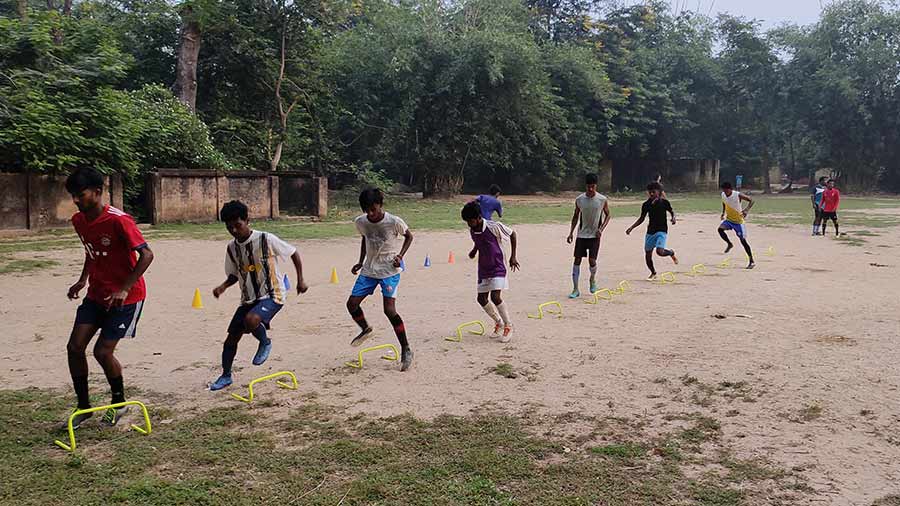 A practice session in progress
What were the highlights of the first year of the Santiniketan Tribal Academy?
In the course of our first year, we have been invited to several tournaments, and have managed to rank in all of them, due to intensive coaching. Some tournaments offer prize money that we distribute among the players for encouragement.
Another massive achievement for us was that United Sports Club recognised STA (Santiniketan Tribal Academy) as an associate academy. Our target is to nurture the tribal talent and establish them in various Kolkata clubs, so that our villages can gain fame for their players. In fact, United Sports Club boasts of four or five excellent tribal football players. Players like Subhendu Mandi are the reason their hometowns are well-known. It is my dream to do the same; that would be my achievement. The aim of the club is to help put tribal footballers in the spotlight.
We are working towards a publication, Suhriti, which features stories from famous Bengal athletes. In the coming days, under the banner of the Santiniketan Tribal Academy, we intend to continue this publication as a multidisciplinary, multilingual, UGC journal that will have two editions every year.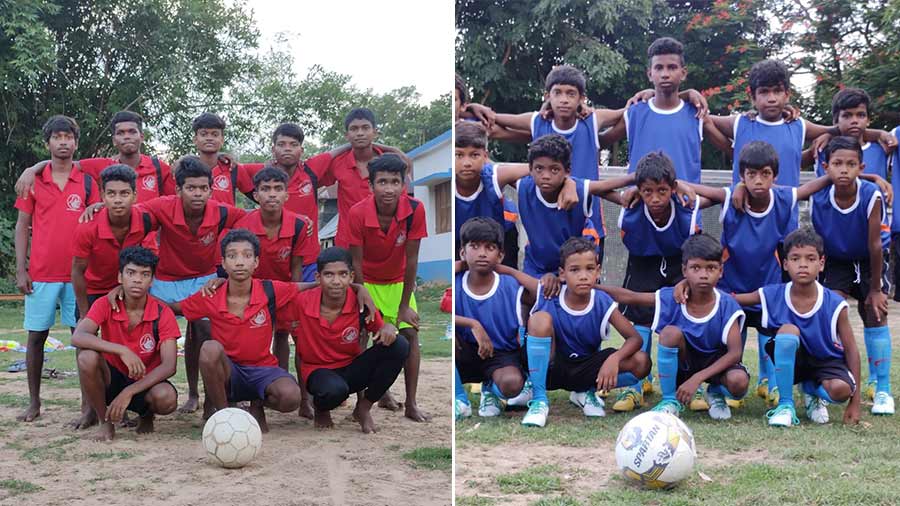 The junior team (left) and sub-junior team (right)
What were some of your memorable matches?
The United Sports Club has invited us to play exhibition matches with their senior and junior teams at Kalyani Stadium, which houses the I- League matches. This will be directly telecast, and if United is impressed by any of our players, the players will be selected. This is a dream for us. In fact, United Sports Club will be organising a trial camp very soon on our grounds, to select players.
We also participated in the Chandrashekhar Memorial Football Tournament (which is nearly 50 years old) at Raipur in Birbhum. 16 teams were chosen for a knockout tournament which played out over one-and-a-half months. We won three consecutive matches and made it through to the finals on September 11, with an audience of more than 5000 people. Although we finished as runner-up, our players played a splendid game. The winners were Chandanpur, another tribal team. This makes it clear that tribal players are all set to rule the football world in coming days.
However, we won the Championship Trophy of 1st Monosa Hansda Memorial Knockout Football Tournament at Dhannyosara, Birbhum. And now we are all set to participate in the Bolpur Sub-division Football league organised by SDSA (Sub-divisional Sports Association), Bolpur.
Since you are so interested in football, what led you to becoming a librarian?
I was a footballer myself, and have played at both the district and state levels. I also played during my days as a student at Burdwan University, engaging especially in long jump, high jump and short-distance running. I have an MSc degree in Geology but there was a job crunch when I graduated, so I impatiently enrolled in Library Science. I went on to get MLIS and M.Phil degrees and then a PhD in multi-discipline concepts from Cultural Studies, Rabindra Bhavana, Visva-Bharati. I still play the senior division football matches at the university, practising on the weekends.
When we celebrated Foundation Day at Santiniketan Tribal Academy, the veteran team played an exhibition match with the junior team. I played on the veteran team, which won. We cut a cake and gifted a mango tree to every player.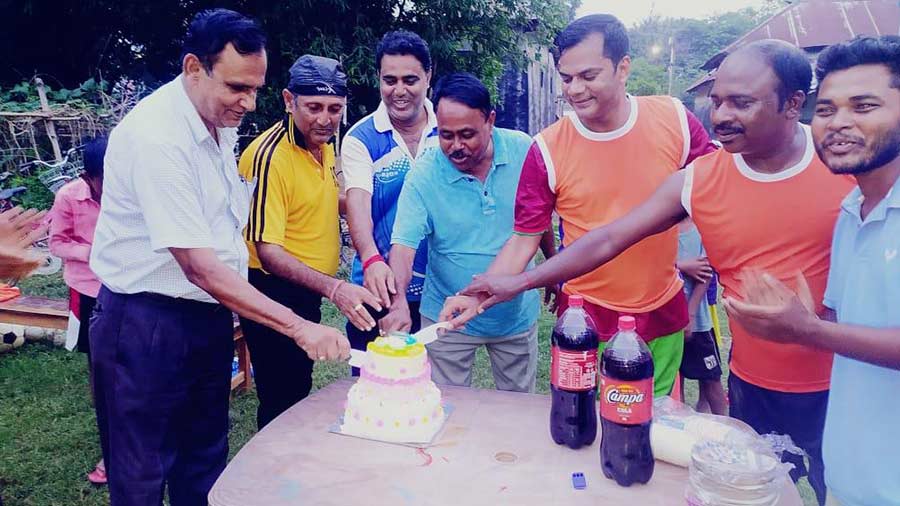 Foundation Day celebrations (Ghosh third from right)