It's International Women's Day! Tollywood A-listers like Rituparna Sengupta, Mimi Chakraborty and Prosenjit Chatterjee took to social media to cheer women everywhere. Stars like Swastika Mukherjee and Ritabhari Chakraborty shared a glimpse of their projects. which are themed around women's upliftment and breaking stereotypes. Here are the best International Women's Day posts from Tollywood:
Rituparna Sengupta
The National Award-winning actor shared a montage featuring her many accomplishments, from her noteworthy roles to her work as a philanthropist. "Being a woman itself is a superpower. Celebrate that. Happy International Women's Day," she wrote.
Prosenjit Chatterjee
Prosenjit posted an open letter to women on Instagram in which he expressed his appreciation for all women. "Not just today but everyday is yours!" he wrote.
Mimi Chakraborty
Addressing stigmas and stereotypes, MP and actor Mimi Chakraborty voiced her opinion on breaking barriers.
Swastika Mukherjee
Swastika dropped the teaser of her Netflix show Her Kahaani Hai Zaroori. The motion poster showed the actor in a Raw Mango saree, posing alongside some extraordi-naaris, such as Neena Gupta, Shefali Shah, Madhuri Dixit Nene, Masaba Gupta and Tapsee Pannu.
Nusrat Jahan
Nusrat shared a video with her stylist Kiara Sen and blogger Himadri Bhattacharya to celebrate womanhood. "Celebrating womanhood everyday… celebrating womanhood as a mindset… celebrating the soul of being a woman," Nusrat wrote alongside her video.
Ridhima Ghosh
Ridhima shared a candid reel, shot and edited by her husband, actor Gaurav Chakrabarty. The Rang Milanti actor's reel featured moments from her day and was set to the tune of the popular Alessia Cara number Scars to Your Beautiful.
Sahana Bajpaie
Sahana Bajpaie's Instagram story on International Women's Day, sent a strong message about motherhood, solidarity and transcending borders. The academician and singer shared a photo of strollers at a train station, that have been left behind by Polish mothers for migrating Ukrainian mothers, for when they arrive in Poland with their children.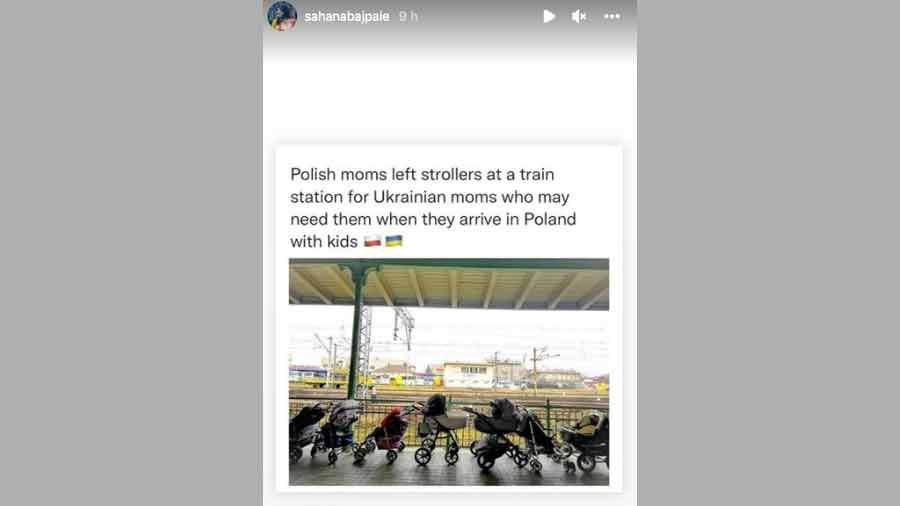 Ritabhari Chakraborty
Ritabhari took to Instagram to announce her next film, Fatafati, which tells the story of a plus-size model and addresses misogynist norms. "Let's break all stereotypes around how a woman's body should look," she wrote alongside the snippet.
Arjun Chakrabarty
Cheering for the 'superwomen' out there, Arjun Chakrabarty penned a few words on his Instagram story today.