Govindan Aravindan did it differently. For example, it was his affinity with the mystical that led him to create a universe which was not confined with the regional and ethnic boundaries. This, I think, speaks considerably for his engagement with the cinema above any considerations. That is where I felt closeness with him which I think he also did,' Mani Kaul—the film-maker who spearheaded the 'new wave' of films along with a group of other film-makers of 1970s — wrote in his obituary for Govindan Aravindan.
Aravindan (January 21, 1935–March 15, 1991) was an iconoclast film-maker who was deeply rooted in Indian culture, the Malayalam sub milieu of Indian arts and aesthetics of film, painting, music and theatre. While he was famous as a film-maker across India, for Keralites he was also a well-known cartoonist, painter and a prominent figure in Malayali theatre who explored the traditional theatre form, presenting it in a contemporary style. His establishment of thanathu natakavedi (original/own theatre) transformed the Ibsenesque theatre of Kerala and his cartoon series—which were on the last pages of the Mathrubhumi weekly — turned him into one of the most noted commentators on contemporary Malayali social life, much before he entered film-making. Aravindan was a combination of tradition and modernity — a unique cultural trait of his times, and indeed, did it all differently.
The 11 films Aravindan directed form only a small part of his contribution. He also made 10 documentaries and was a musician and a prolific painter, which added to his unique stature in the field of visual and related arts. 
The Cinema of Inner Life
Talking about Thampu, Mani Kaul wrote that 'it was a beautifully realised film, especially on account of its leisurely pace'. The film was admired by not just the 'new wave' directors, but also pioneers such as Satyajit Ray and Chidananda Das Gupta (India's first film theoretician). 'Wordless observation is also the forte of G. Aravindan's Thampu (The Tent, 1978) but by pushing the realism to its logical, unstructured, conclusion, the director makes his fascinating style somewhat untenable for a full length feature', Das Gupta wrote in his essay on Indian films in the American journal Film Quarterly in 1980. The same journal while reviewing his mystic film Esthappan wrote that Aravindan's films 'constitute India's cinema of the inner life'.
With almost all of his films bagging a national or a state award, Aravindan along with Gopalakrishnan and John Abraham was part of the triumvirate of Malayalam films. These three globally acclaimed film-makers represented different styles, rather than streams of Malayalam cinema, which no one has matched or excelled even today. Interestingly, among the three, Aravindan was the only film-maker who wasn't professionally trained, but he is still counted with the FTII-trained film-makers and hailed by 'new wave' film-makers such as Mani Kaul.
The writer Satti Khanna remarked that 'Like Rembrandt's etchings, the films of the Indian director Aravindan guide the eye through the external event to the dreams and hopes people carry within themselves; along with the work of Mani Kaul and Kumar Shahani, Aravindan's films constitute India's cinema of inner life'.
This Saha Sutra article is based on 'G. Aravindan: The Malayalam Film Maker' on www.sahapedia.org.

V.K. Cherian is a senior media professional and film society activist, and author of India's Film Society Movement: The Journey and its Impact' (Sage, 2017)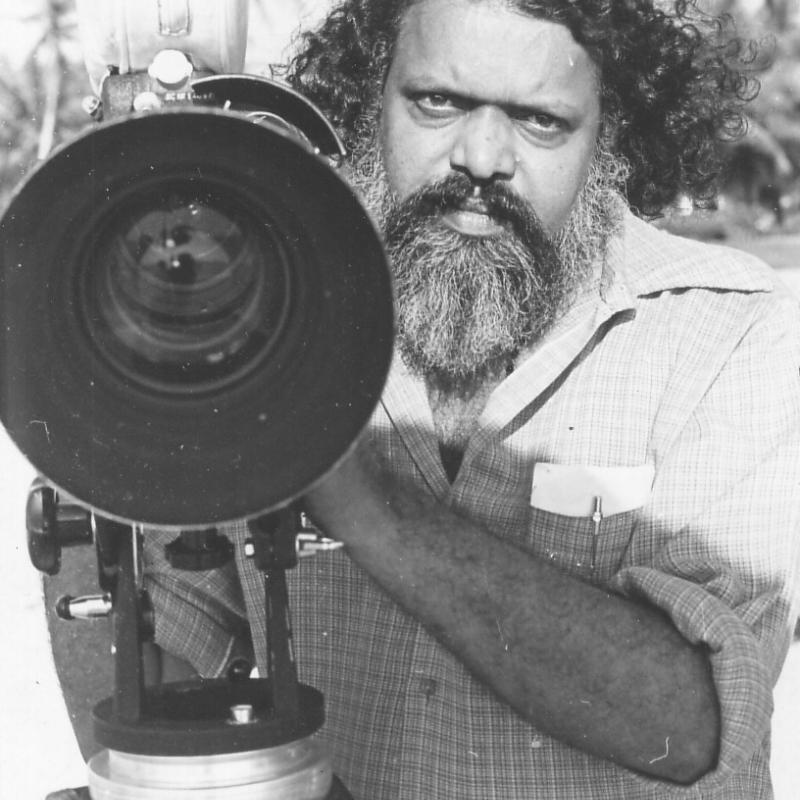 Aravindan wasn't professionally trained, but he is still counted with the FTII-trained film-makers and hailed by 'new wave' film-makers such as Mani Kaul
Sahapedia.org
Aravindan, the Film-maker
The Kerala of the 1970s was different from today. New writings focused on existential philosophy, the film society movement was born and the Keralites who voted for the first communist government were surprised to see the landless getting land across the state. By the early 1970s, a 'new wave' of films had also hit the cultural scene of India. Empowered by the training and education received at the Film and Television Institute of India (FTII), film-makers such as Mani Kaul, Kumar Shahani and Adoor Gopalakrishnan disrupted the scenario, and stood apart from even the likes of Satyajit Ray, Ritwik Ghatak and Mrinal Sen. Aravindan, a keen observer of the cultural scene of the country, was also drawn into the world of films.
As a creative person from an artistic background, his interests lay in using emerging art forms such as film-making — which were in tune with the sensibilities of his painting, music and theatre. Mankada Ravi Varma, the cinematographer of his first film Uttarayanam (1975), wrote in an article that the shooting set was also a festival of the men of culture, and they all celebrated it by visiting the set as a new work of Aravindan in a new medium. The film bagged the Special Jury Prize at the National Film Festival.
The cultural awakening of 1970s in Kerala also saw a cashew exporter and producer, Ravindranathan Nair, patronising both Aravindan and Adoor Gopalakrishnan. The most memorable and remarkable films by Aravindan and Gopalakrishnan were produced by Nair. Most of Aravindan's films, including Kachana Sita (1977), Thampu (1978), Kummatty (1979), Esthappan (1980) and the unique musical Pokkuveyil (1982),were all funded by the generous producer.