Zakhmee (1975)
Though he stepped into the world of Hindi film music in 1973, it was Zakhmee two years later that catapulted Bappi Lahiri into the spotlight. The highlight of the album was Jalta hai jiya mera bheegi bheegi raaton mein, sung memorably by Asha Bhosle and Kishore Kumar, Lahiri's maternal uncle who he referred to as "Kishore maama".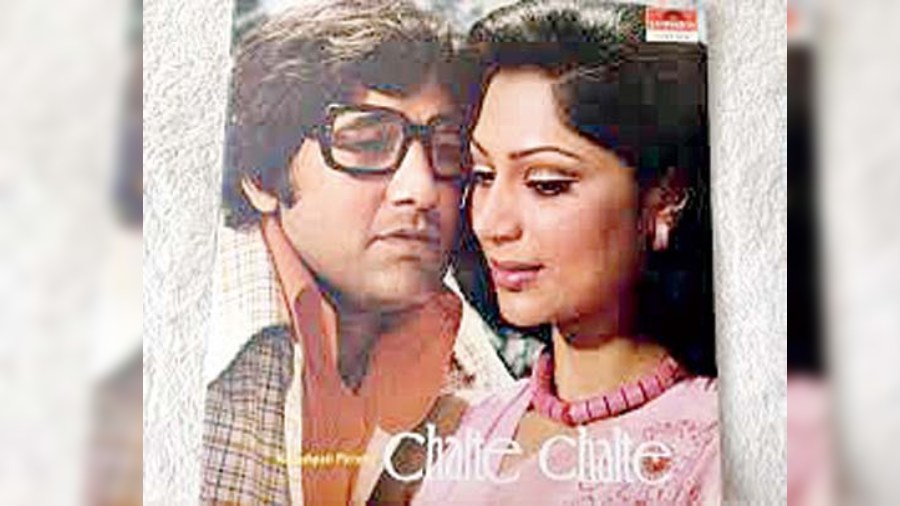 Chalte Chalte
Chalte Chalte (1976)
The musical romantic thriller had a clutch of memorable numbers, but it is the title track — picturised on Vishal Anand and Simi Garewal and sung by Kishore Kumar — that endures. Chalte chalte mere yeh geet yaad rakhna/ Kabhi alvida na kehna....
Aap Ki Khatir (1977)
Bambai se aaya mera dost, sung by Bappi Lahiri himself in his trademark inimitable style, was the highlight of the soundtrack of this 1977 film. Only Bappida could pull off lines like, Meethi hai musambi toh, kadwa hai karela/ Mashooq tere andar tu tu tu bahar khadela. Three decades and a bit later, the man reprised the number as India se aaya mera dost for the Akshay Kumar starrer Chandni Chowk to China.
Surakksha (1979)
Mausam hain gaane ka was an early glimpse into Bappida the disco king, with the infectious beats of the Surakksha song reminding one of many a similar number scored by R.D. Burman. That Bappi Lahiri was the voice of the number lifted it several notches.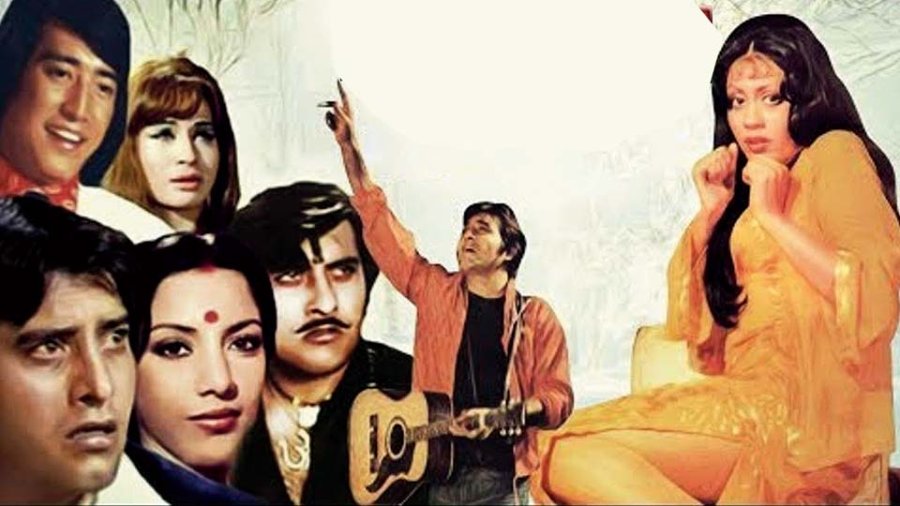 Lahu Ke Do Rang
Lahu Ke Do Rang (1979)
Pyaaaar.... pyaar, pyaar, pyaar, pyaar, pyaar! Kishore Kumar had a blast singing Chahiye thoda pyaar, composed by Bappi Lahiri, from this 1979 box-office hit. A handsome Vinod Khanna in bell-bottoms, Kishore's versatile voice and Bappi's pulsating music... what's not to love?
Wardat (1981)
The second film in the Gunmaster G9 series after Surakksha — with Mithun Chakraborty in the title role — was one of the earliest collaborations between the music man and the actor who went on to deliver a string of hits through the 1980s. Wardat's eclectic OST had Tu mujhe jaan se, with Bappi Lahiri teaming up with Usha Uthup behind the mic, as a standout.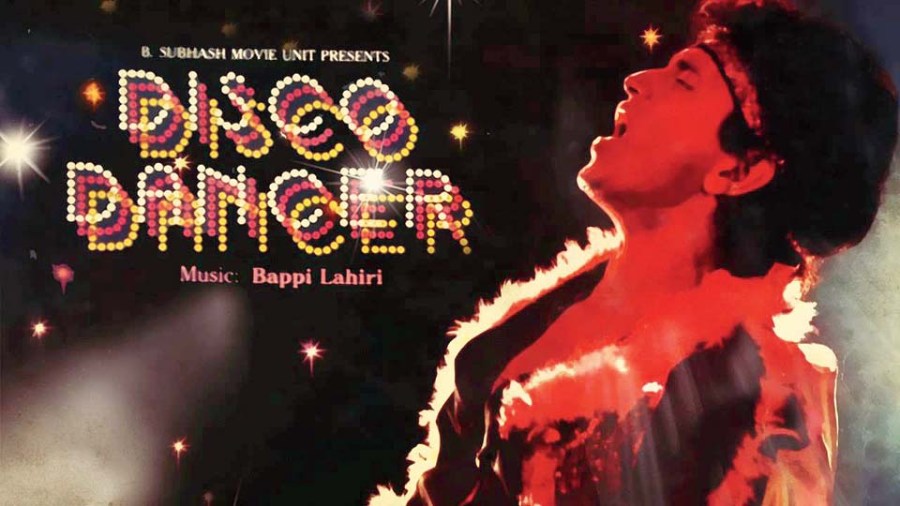 Disco Dancer
Disco Dancer (1982)
The film that established Bappi Lahiri as the undisputed 'Disco King'. Disco Dancer was a blockbuster hit, thanks in no small measure to Bappida's gem of an album, that ensured that the film not only had long legs in theatres all over the world, but also made Mithun an overnight star. From the title track to Jimmy Jimmy Jimmy aaja aaja aaja, from Krishna dharti pe to Goron ki na kaalon ki, from Yaad aa raha hai to Koi yahan naache naache, this is an OST punctuated by some of the best of '80s Bollywood music. One which established itself firmly in pop culture and still lives on, both in its original and reprised versions.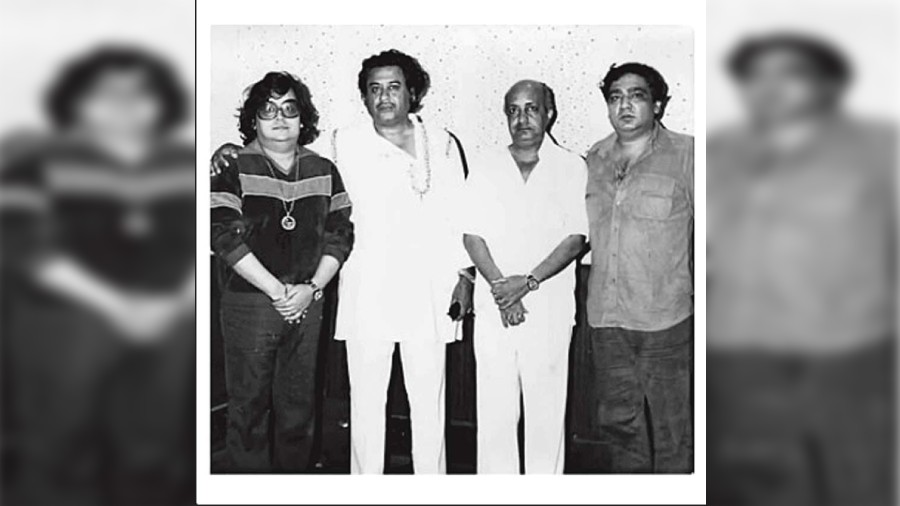 A young Bappi Lahiri (left) with Kishore Kumar
Namak Halaal (1982)
Another etched-in-the-Bolly annals soundtrack that had Bappida in top form. Namak Halaal was an apt showcase for the man's versatility. Raat baaki and Jawaani janeman are still gold, with Thodi si jo peeli hai and Aaj rapat jaaye bringing up the rear. And then, of course, is Kishore Kumar behind the mic and Amitabh Bachchan on screen in the evergreen Pag ghungroo....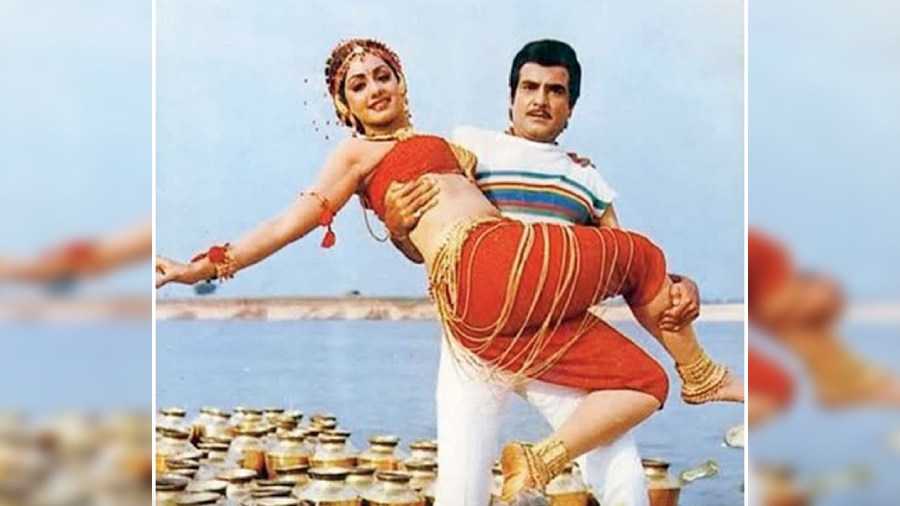 Himmatwala
Himmatwala (1983)
Kishore Kumar, Lata Mangeshkar and Asha Bhosle in a Bappi Lahiri album featuring Jeetendra and Sridevi. Just the opening beats of Ta thaiya ta thaiya in Nainon mein sapna are enough to get us grooving, even close to four decades later. And few can match up to Kishoreda going Taki o taki o taki taki taki re, jab se tu aankh mein jhaanki....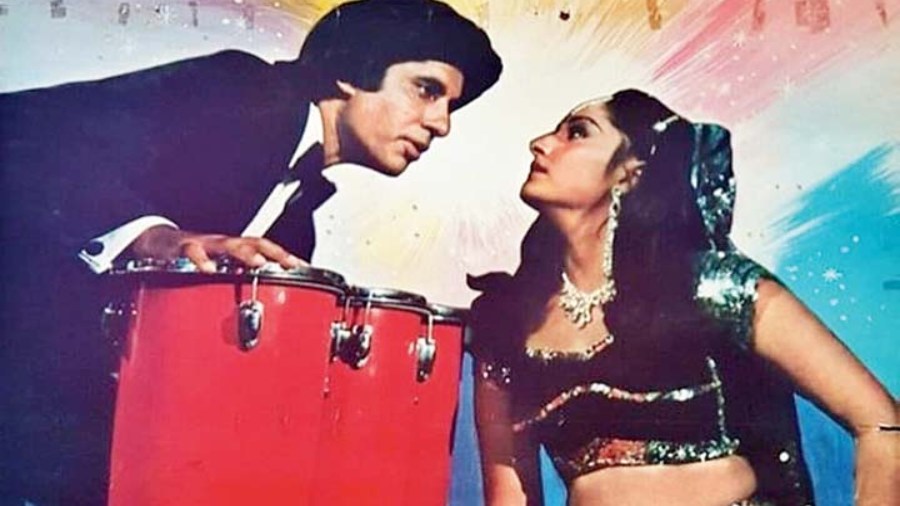 Sharaabi
Sharaabi (1984)
Another historic album that reinforced Bappi Lahiri's ability to switch easily from soulful to sprightly. An out-and-out Kishore Kumar album, Sharaabi boasts indelible winners like Jahan chaar yaar mil jaaye, De de pyaar de, Inteha ho gayi and Thodi si jo pee li hain. Our favourite? A sublime Kishore Kumar in Manzilein apni jagah hain.
Aitbaar (1985)
With a string of hits marking Bappi Lahiri's domination in the genre of party anthems, the music man threw a curveball with Aitbaar. The romantic thriller is an anytime listen, with our pick being Kisi nazar ko tera, rendered with feel by Bhupinder Singh and Asha Bhosle. Kisi nazar ko tera intezar aaj bhi hai/ Kahaan ho tum ke yeh dil bekarar aaj bhi hai... a soothing balm for the star-crossed soul.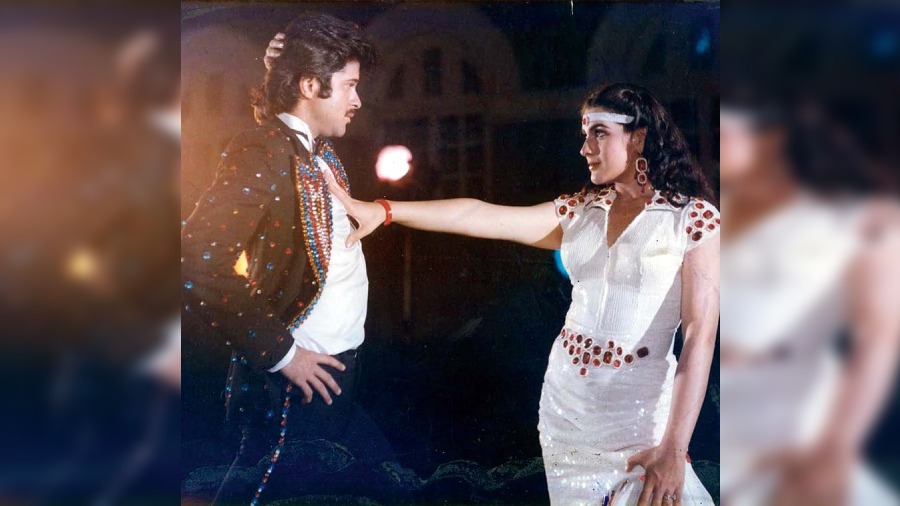 Saaheb
Saaheb (1985)
Accent to attitude, feel to flair, Bappida owned every bit of the generational hit Yaar bina chain kahan re, scored and sung only in the way the man could. Several decades later, the song got a reboot in Shubh Mangal Zyaada Saavdhan, with Bappida himself, in his trademark no-holds-barred style, making an appearance.
Geraftaar (1985)
Kishore Kumar, Asha Bhosle for company, brought a special something to Dhoop mein nikla na karo roop ki rani from this Amitabh Bachchan-Kamal Haasan blockbuster. We can just picture the mood and madness in the recording studio when Kishoreda went, Mast mast aankhon se chalakao na madiraa/ Madhushaalaa mein taala na pad jaaye.
Adventures of Tarzan (1985)
Bappi Lahiri had the innate ability to shift between sounds and genres. Even within the limited scope of an adventure/fantasy film like Adventures of Tarzan, the man churned out a superhit album, that meshed desi beats with international sounds. Whether it was Mere paas aaoge mere saath naachoge, Tarzan o my Tarzan or Jee le le jee le le.
Dance Dance (1987)
This out-and-out dance film directed by B. Subhash gave Bappi Lahiri the opportunity to go all out, and the man did that... and how! Bappida derived more than a tinge of inspiration from Modern Talking's Brother Louie for Zoobie zoobie, but he mixed things up well in the album, oscillating seamlessly between Dil mera todo na and Dance with pa pa pa, Halwa waala aagaya and Aapke saamne pehli baar, Zindagi meri dance dance and Yaar mera kho gaya, Romeo and Super dancer.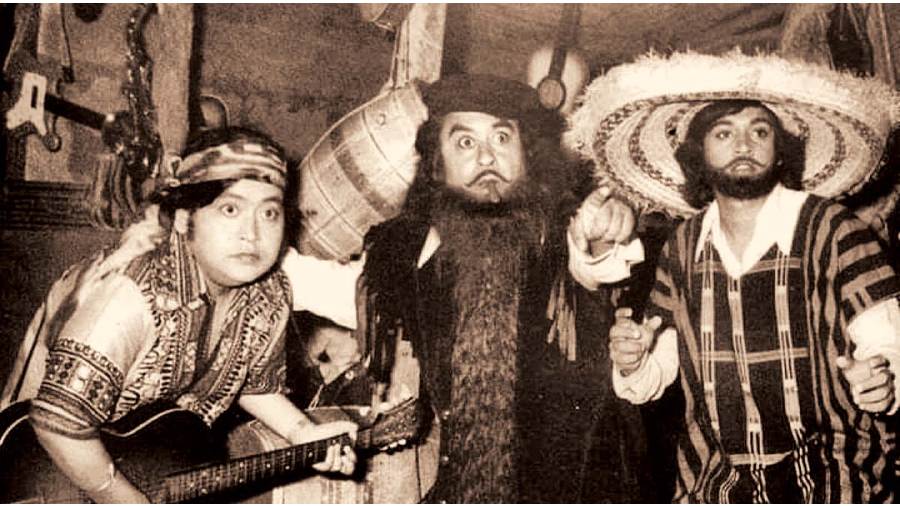 Bappi Lahiri (left) made his action debut in Kishor Kumar's(right) Badhti Ka Naam Dadhi
Satyamev Jayate (1987)
Who can forget Bappida going Dil mein ho tum aankhon mein tum/ Bolo tumhein kaise chahoon/ Pooja karoon sajda karoon/ Jaise kaho waise chahoon? A gem that has stood the test of time.
Prem Pratigyaa (1989)
Bappida at his emotional, romantic, soulful best, with Pyar kabhi kum nahin karna, in which he teamed up behind the mic with old favourite Asha Bhosle, proving to be the standout of the Prem Pratigyaa album.
Ghayal (1990)
At least one crowd-pleasing number from this 1990 Sunny Deol hit was tinged by whispers of plagiarism, but the rest of the Ghayal album is worth a listen. For us, Pyar tum mujhse karti ho — unmistakably stamped by Bappida's trademark fusion beats and brought to life by Amit Kumar and S. Janaki — is the winner of Ghayal.
Aaj Ka Arjun (1990)
This quintessentially '90s album in a typically '90s film had a clear winner in Gori hain kalaiyaan, with the mellifluous voice of Lata Mangeshkar, along with Shabbir Kumar, lending tone and texture, energy and emotion to this Bappi Lahiri-scored number.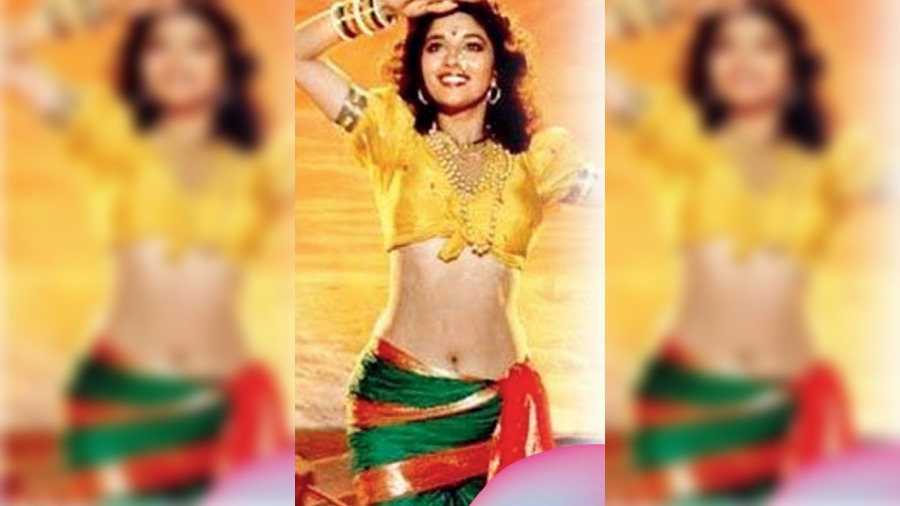 Sailaab
Sailaab (1990)
Would the image of Madhuri Dixit in a Koli outfit be as compelling if it wasn't backed by the sensuous beats of Humko aajkal? A song that has stood the test of time, and in fact, gets better with every hearing, this was Bappida at his best, with Anupama Deshpande bringing alive the number. For us, another winner of the Sailaab OST is Amit Kumar and Kavita Krishnamurthy going Palkon ke taley, trademarked by that clap beat that perhaps only Bappida (after R.D. Burman) could pull off in a composition.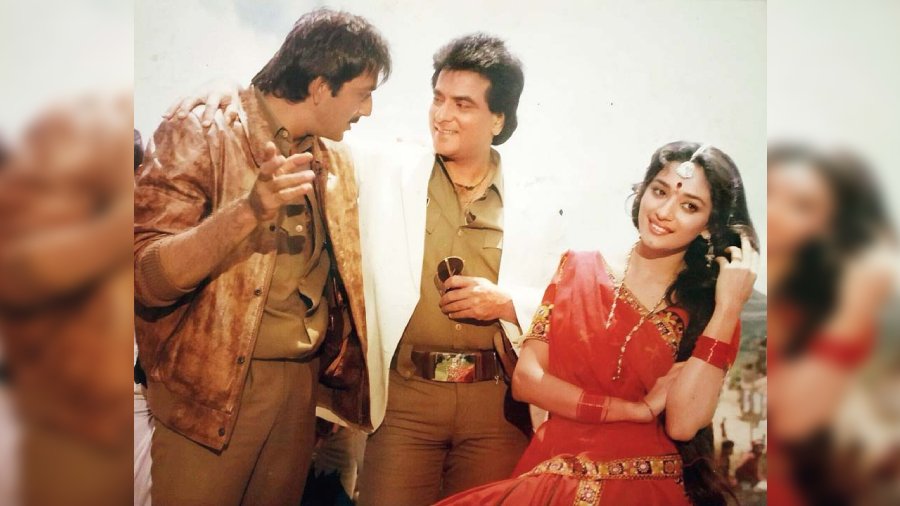 Thanedaar
Thanedaar (1990)
Tamma tamma loge may not have been an original, but even up against the twin-sounding Jumma chumma de de, Bappida managed to make this party hit — which was revived in Badrinath Ki Dulhania close to three decades later, retaining the man's original voice — his own.
Dushman Devta (1991)
Usha Uthup had us at Uri uri baba in Dushman Devta, that had Bappi Lahiri himself voicing a number that went Bubbala bu!
Afsana Pyar Ka (1991)
Clearly emerging as a Bappida favourite after his father Kishore, Amit Kumar's sonorous voice made Tip tip tip tip baarish — picturised on Aamir Khan wooing Neelam — a superhit, Asha Bhosle for company. The title track, sung by Udit Narayan and Asha Bhosle, is another memorable track from this album.
Shola Aur Shabnam (1992)
A soundtrack in which Bappi Lahiri seems to be having an absolute blast yielded memorable tracks like Bole bole dil mera bole, Jaane de jaaane de and Tu paagal premi awara. Vintage Bappida.
Zindagi Ek Juaa (1992)
Asha Bhosle was a hoot in the title number of this film, picturised on an effervescent Madhuri Dixit, with Bappi Lahiri scoring equally with the slow and soulful Dil toh dil hai.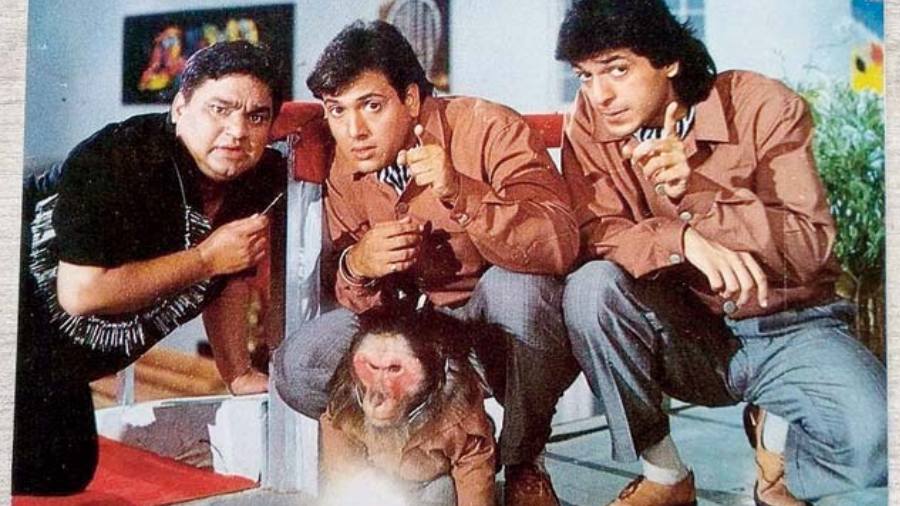 Aankhen
Aankhen (1993)
Bappi Lahiri's music had a huge part to play in the super success of this David Dhawan comedy. Even today, we can't stop grooving to O laal dupatte waali, Angna mein baba and Bade kaam ka bandar. So much fun!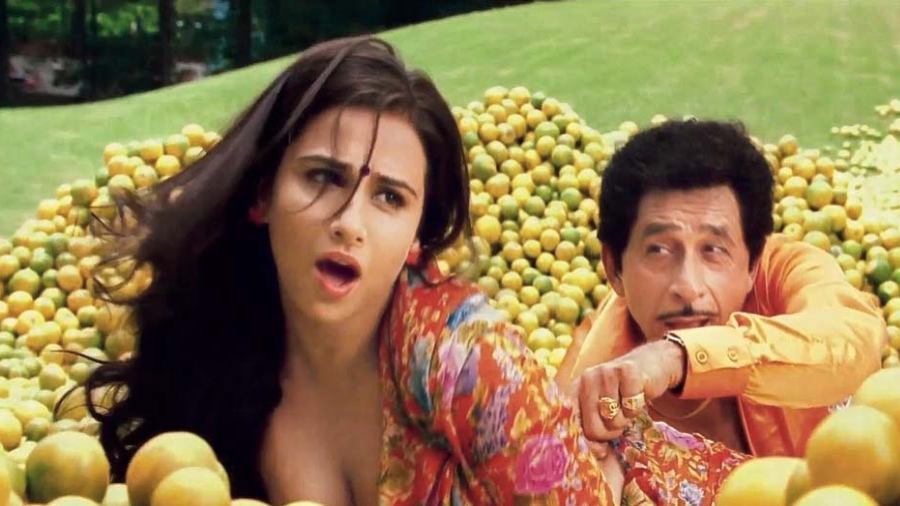 The Dirty Picture
The Dirty Picture (2011)
After making him lend his voice to Bumbai nagariya in the 2006 film Taxi No 9211, Vishal-Shekhar brought back the Bappida we all knew and loved in the no-holds-barred Ooh la la. The familiar voice going Chhedenge hum tujhko/ Ladki tu hai badi bombaat hit differently, illustrating just why Bappida was evergreen and ageless.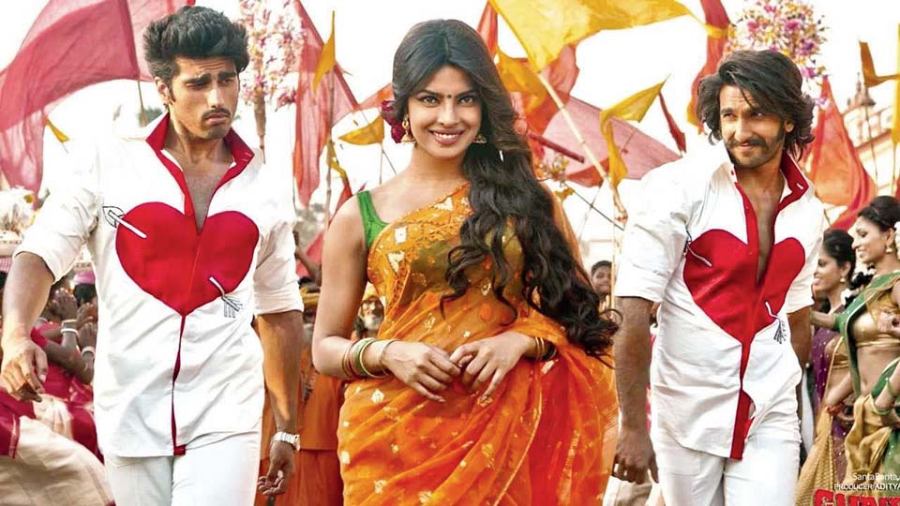 Gunday
Gunday (2014)
Three years later, the man was back with the peppy and pulsating Tune maari entriyaan, his voice effortlessly matching the energy of the film's actors Ranveer Singh and Arjun Kapoor. Bappida also chipped in, Neha Bhasin for company, in the film's '80s-styled number Asalaam-e-ishqum... and well and truly elevated it.