When Pratap, one of our Jungle Crows, suggested we cycle to Bhubaneswar to support India's Under-18 girls' rugby team who were training in the city, I thought he was kidding. The plan was to deliver an India flag to the team to show how much we were supporting and in solidarity with them.
I'd not long been part of what I'd thought was quite a serious ride of 600km to Jharkhand and back via Santiniketan. But this was on a whole other scale involving two days of 250km+ rides and the return.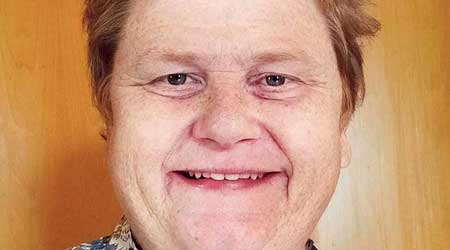 Paul Walsh
"Yes yes Pratap, we'll think about that, very interesting," for those not familiar with British English, 'very interesting' in this context means 'are you mad!'
But not long after we were getting kitted up and preparing for what would turn out to be a 1,000km round trip. Usual declaration here, I was in the support vehicle since I am too unfit to even contemplate this, and b) I had managed to pick up a small fracture in my leg while attempting to reignite my rugby career with some children in Siliguri.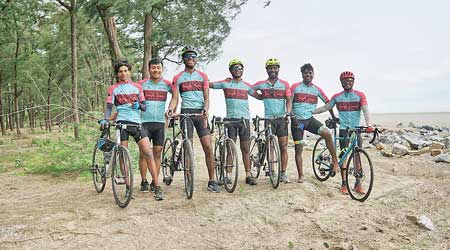 At Chandipur
Pictures by the author
Seven riders and the car set off, one early September morning. Having the car along may seem like cheating to some but it makes pushing out long distances achievable and much safer. In the car we are the soigneurs, carrying water, extra food and a host of repair kit and spares.
While Google has made much of our life easier it still does manage to take us to places we never intended. Thus it was that our stop on Day One took us not to Baripada as I'd searched for but to a lodge to the north and on the edge of the Similipal National Park. Oh well, just an extra 30km on the journey, sorry about that team.
We took the national highway from Calcutta to Kharagpur, about 140km or so, not too bad without any terrible traffic. The road then climbed ever so gently for about 100km towards Bangriposi. The long straight road and the gentle climb, almost imperceptible in a car, reappearing over each crest was tough in the afternoon heat and the team was grateful for the support car.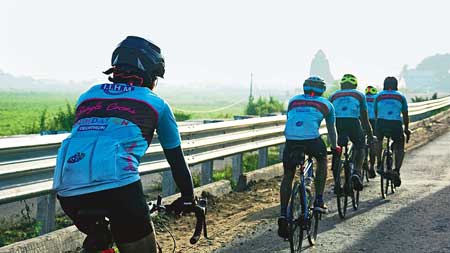 Cyclists reach Odisha
Pictures by the author
Bangriposi meant good food, sleep and another early start, long before dawn with front and rear lights all blinking. This early morning was the toughest leg, for sure the longest but also where we lost a cycle. Though we had bright lights on the bikes and the car, potholes and bumps in the road caused our first and worst accident as everyone piled into Shakti, who had been our second-placed rider and who lost control hitting a hole. Poor old Shakti crumpled on the road. Pratik following close behind swerved and we saw his blinking lights and luminous vest disappear down a bank. Our initial alarm turned to relieved laughter as he reappeared with a couple of small bruises and some foliage clinging to his body. One bike was unrepairable so it was hooked on the back of the car and we carried on.
The accident did make us all realise how fragile we are out on the road. Figures show we have 328 deaths on the road each day, this is a shocking statistic. We were keenly aware accidents can happen and don't need to involve other vehicles. In travelling 1,000km on the road over the four days, it was interesting to see how different road users deal with cyclists. In my reckoning, truck drivers actually came out with the best marks, mainly moving into an outside lane to overtake. Motorbikes and car drivers are generally in too much of a hurry and don't even notice cyclists, especially on the highway, cars in a hurry, cutting into the inside lane to get past a slower vehicle are deadly. Please give distance to cycle riders. Buses, well least said about their crazy antics the better.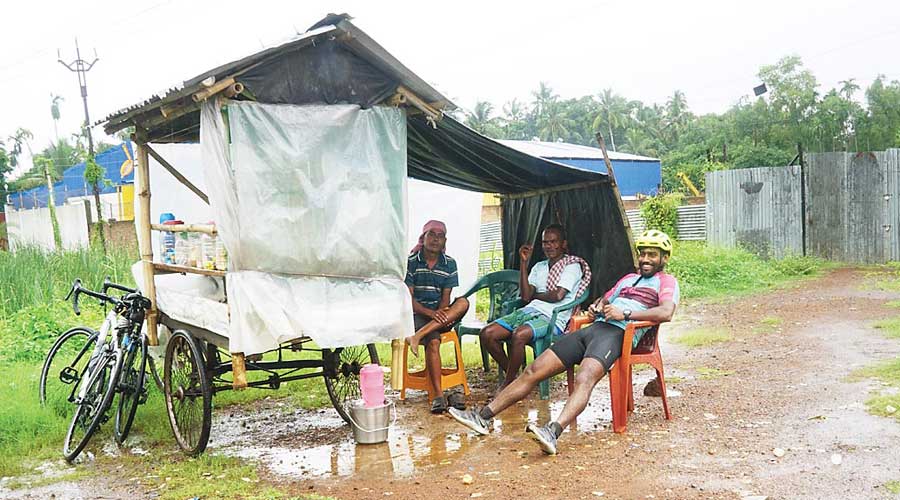 Hectic cycling calls for a tea break
Pictures by the author
Day Two to Bhubaneswar topped off at 311km and a very tired team didn't appreciate my further fail at navigation to find the guest house. When it is absolutely needed, yes I can be relied on to make a mess of reading a map.
I've had a great relationship with the twin institutes of Kalinga Institute of Social Sciences (KISS) and Kalinga Institute of Industrial Technology (KIIT) almost since I've lived in India. And a friendly KIIT guest house was just the ticket, even if I'd struggled to find it.
Next day we had an appointment with the India Under-18 Women's Rugby team to say hello and present them with an India flag. Our team had all been vaccinated to ensure we didn't present any extra risk to them and we didn't stay long. It was incredible to meet these superb young women athletes who are making us all so proud. The girls will play in the Asia 7s in Tashkent and having had a month's camp together in the excellent KIIT facilities, they have a real chance of doing well. Two of our own Jungle Crows had been selected in the squad and one of our players, Sandhya, was assisting with the coaching so it was nice to catch up with them all. World rugby uses the hashtag #Unstoppables for much of its women's rugby content and I can assure you India's rugby women at all levels are totally unstoppable. Stop Press: India won silver!
After a busy rest day, it was again an early start with the target destination of Chandipur sea beach. Another classy piece of navigation saw us roll up to the gates of DRDO Chandipur. The armed guards were friendly but clearly not ready to welcome guests and we diverted back and around.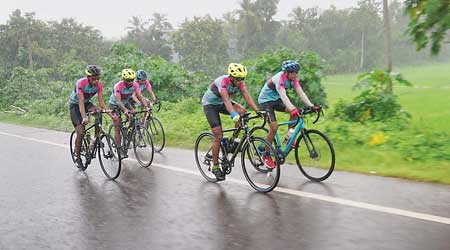 The team cycles through rain
Pictures by the author
Chandipur has an incredible beach. The tide goes out almost as fast as you can walk, as much as 5km, and since it stays shallow, it's great fun. While the riders splashed about in the distance, I took the chance to relax and get thoroughly burnt by the sun — painful. Clearly the resort can't quite keep up with its popularity right now so I do hope it is on the agenda for a tidy-up. An amazing place to rest up.
And finally home to Calcutta via heavy monsoon rain mixed in with a packed tummy highway dhaba feast. The team stuck at it, when sitting comfortably in the car it seemed too much at times. But these are resilient cyclists, they are Jungle Crows, it takes more than rain to knock them off their path.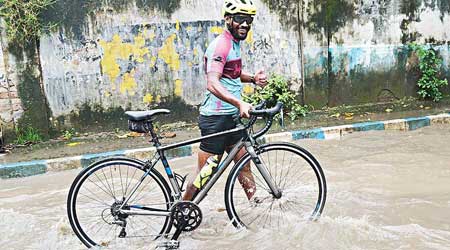 Pratap walks his cycle through a waterlogged area
Pictures by the author
The cycling journey had been more than 1,000km. Sunny, Abhishek, Vicky, Pratik, Shakti, Sukumar and Pratap managed the ride, not all of them will be clamouring to join a long-distance ride again but they all achieved something special. Roni and Nanda kept the whole thing moving with plenty of songs and support from the car.
It's a passion of the Crows to make sports accessible, "democratisation of sport" — a friend recently called it. The possibility of achieving national honours drives many of our players in rugby. Cycling is something new for us, but becoming quite the cult among all the kids, let's see where this adventure leads.
The author is the founder of Jungle Crows