The National Institute of Design admission test (NID M. Des Mains 2022) topper is a boy from Kolkata. The promise of a bright future now burns bright for Debarshi Roy, a former student of Rahara Ramakrishna Mission.
My Kolkata recently caught up with Debarshi, 22, to talk about his passion, favourite designer and mantra for success. Here are some bits of the north Kolkata boy's life in his own words.
Falling for fashion
I have always taken a keen interest in the history and mythology of fashion. It's really fascinating! Though I never joined drawing classes as a child, I enjoyed drawing at school with other kids. Sketching and making designs came naturally to me. I still remember my first artwork — it was far from great but it will always stay special to me.
It was my dream to study Design Studies at one of the top institutes of India. Having said that, I never expected to top the NID admission test! But more than topping the exam, I'm really excited about being able to pursue my passion from one of the biggest institutes in India.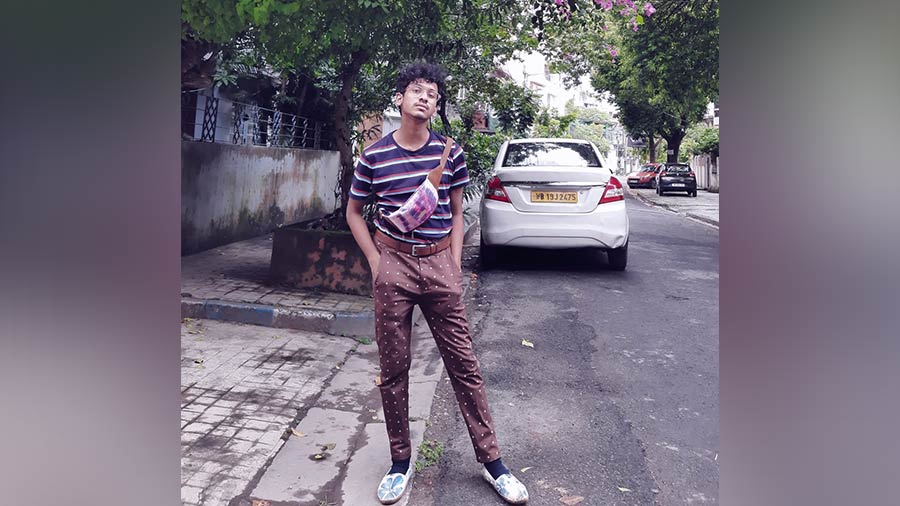 Inspirations and future plans
I believe that every artist and designer has an identity. The label 'Raw Mango' and the designer Gaurang Shah inspire me a lot. I consider Frida Kahlo as my idol as her life and works give me courage and motivate me to move forward. Apart from that, any work inspired by mythology and history draws my attention. Classical mythology is often used by artists as a backdrop to express their view of different social and political events.
I have already launched a small sustainable brand called 'Gulmohar Calcutta'. We are promoting authentic handloom jamdani through exhibitions and social media. I would love to work more on this and also try to create a legacy with sustainable handloom.
Secret of success
After graduating from the International Institute of Fashion Designing (INIFD) Salt Lake, I started preparing for the NID admission test. I studied for not more than two to three hours a day and mostly devoted my time to practising and revising lessons. Study materials helped me a lot while I was preparing for my exam.
I am really thankful to the Academy of Fashion & Arts (AFA) for providing me with updated study materials. I will also mention the support of family without which I would not have made it here.
Rooted in heritage
Bengal has been a rich source of folk art since time immemorial. Local forms of art like Kalighat patachitra and baul gaan have survived in communities. The preservation of such varied heritage inspires me and drives me forward.