Their countries are neighbours in Europe and they are neighbours at Park Mansion where their offices are housed in the same premises with gates next door to each other's. Astrid Wege and Nicolas Facino, directors of Goethe Institut and Alliance Française du Bengale, respectively, sat down for a chat with The Telegraph.

Which parts of your country do you come from?
Nicolas Facino: I come from Marseilles in south of France. I had the opportunity to work a bit in Paris and interned in London and then in Alliance Française, Rosario.

That's the city of Diego Maradona.
Nicolas: Yes. Marseilles also has a strong connection with football. The city has varied culture. There are immigrants — Armenians, Italians and countries from the north of Africa. It is open-minded to other cultures.
Astrid Wege: I was born in Munich, in the south of Germany, and grew up there. Now we have a base in Cologne.

Astrid, you have been in Calcutta for a year now.
Astrid: Yes. I took up my position on November 1. It was an intense year. It was a special year characterised by the pandemic.

And you, Nicolas, have arrived recently.
Nicolas: I came three weeks ago.

When did you first meet?
Astrid: He arrived a day before the launch of our Hooghly heritage hub project, a cooperation of the Delhi and Kolkata clusters of the European National Institutes of Culture. This is a project on the cultural heritage of the settlements along the Hooghly river. He was on the boat with us in the evening and could immediately network with our Indian and European partners, which is something I couldn't do as things were still locked down when I came. Kolkata was still very welcoming to me. This is a great quality of the city.

What are your memories of the boat trip?
Nicolas: I was a part of the preparation for the project as I attended meetings online while I was waiting for my visa. We had a part called A Slice of France for which a fashion designer (Abhishek Dutta) had integrated French motifs with local ones on textiles from Chandernagore and the rest of Bengal. The boat trip was a chance for me to meet everyone.
Astrid: Colleagues came from Delhi. We had a wonderful concert with a Portuguese singer from Goa and a baul singer from Bengal. It was one of our first physical events.

What were your earlier postings?
Nicolas: I spent four years in Ukraine, in a city near the Polish border. This is my second posting.
Astrid: I joined Goethe Institut in 2014. Before that, I was a curator for contemporary art. I used to do a lot of work with Goethe Institut. So when there was a call for people from the cultural field, I applied. The last seven years I have been in Moscow, which has the largest Goethe Institut abroad. (Turning to Nicolas) I have traveled to Ukraine too as it was part of my regional responsibility. When the time came to apply for a new posting I applied for Kolkata.

What idea did you have of Kolkata when you applied?
Nicolas: I was in south India five years ago when I was doing my executive MBA. We were visiting the main companies of the Silicon Valley of India. I have sweet memories of that trip of Bangalore, Pondicherry and Chennai. A colleague had spent many years in India and he told me that Kolkata was the cultural capital of India.
Astrid: I have been in Kolkata and Delhi in 2019. But my interest in India spans much longer. My husband has an Indian father and Irish mother. He was born in Kolkata and spent his first six months here, after which they moved to Mumbai. He grew up in the UK before moving to Germany where we met.
I started to read a lot of Indian history and literature. I like Kolkata. It is a vibrant city. It has a long tradition in culture. Our challenge is to create interesting projects with our Indian partners. We are holding an exhibition on Bauhaus in our first collaboration with Indian Museum. Bauhaus is one of the most important art design and architecture movements in the 20th century in Germany. We made the connection in a parallel approach in the art school in Santiniketan. Tagore and his family had similar ideas in art education. We invited Indian artists to create an installation. The exhibition is on till end-January (shut till January 15).

Nicolas, what is your first impression of the city?
Nicolas: Kolkata has many faces. It's not an easy city. You could take time to understand and appreciate the city. Alliance Française here is 80 years old and the friendship between India and France is also very old. We will organise Bonjour India (Festival of France in India) this year. As a part of that, along with concerts and other events, we will have an exhibition at the Indian Museum on the points of view on India of French photographers, like Henri Cartier-Bresson. India has always fascinated French artists. I spoke to some famous electro musicians before coming. They are very interested to come for an artistic residency and experience India and be influenced.

The residency programme could not take place last year, I believe.
Astrid: Yes. We transferred the residency to a digital one this year. The residency started in September. We provided a lot of material. What happens in a residency? People come together. They have their individual work but they also meet in the kitchen or the drawing room, meet local artists and people from the cultural field. This is the first time we are holding this digitally. Recently, we had a presentation of the results so far of the artists' projects. They also integrated in their work. On December 10, we opened an online exhibition (ieresidencykolkata.com/exhibition2021). But we hope to have a physical exhibition also. We have five artists, one each from France, Germany, the UK and Italy, and one Indian.

What kind of work are they doing?
Astrid: Our artist Irma Blumstock is working on impressions of the city, doing drawings and digital collages which might be translated back to physical collages. I come from contemporary visual arts and I was impressed by the quality of all the projects.
Nicolas: I discovered Kolkata from the photographs of their projects. The creative team made a small video about Kolkata, which is on the website.
Astrid: On December 10, the digital residency ends officially but we plan to do some physical presentations in 2022. We learnt a lot in these two years of transforming programmes to the digital space. Of course, we want people to come here but we will continue to use the material we produced for the digital residency. It is a great way to get people prepared for their arrival. Nicolas has mentioned the city walks video. You can also click on music to listen to different types of music from Bengal or read up the categories on history of Bengal and India or on literature.  

Is this rare or common for the French and the German cultural institutes to occupy space in the same premises?
Astrid: It's a lucky chance we are neighbours, isn't it?
Nicolas: Yes.
Astrid: France and Germany have a close relationship. There is a treaty on French-German cooperation and co-location. There are some places across the world where Institut Français or Alliance Française and Goethe Institut share a building. I think Alliance Française being in the building is one of the reasons for Goethe Institut to be here.
Nicolas: We share many common cultural programmes supported and financed by the European Union. It is a chance for two friends to work together.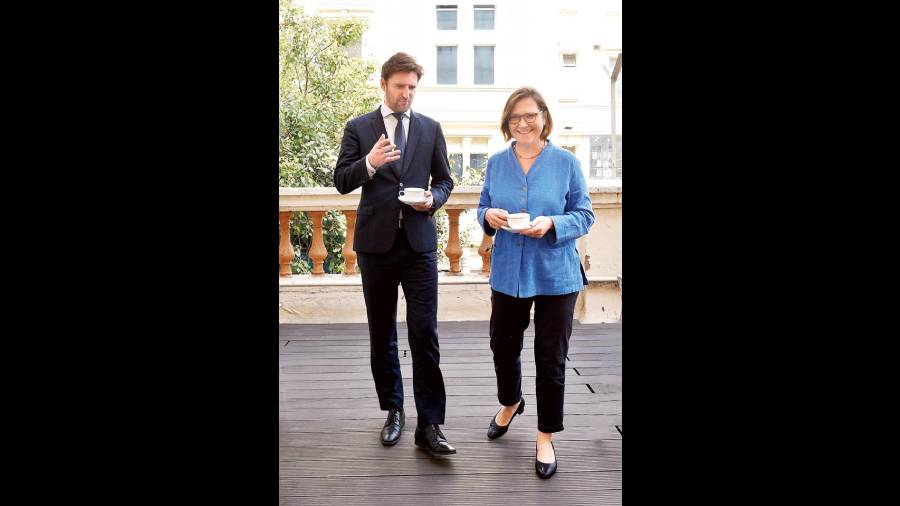 Nicolas and Astrid take a stroll with a cup of tea.
How has the pandemic affected the way the institutes function?
Nicolas: We needed to adapt our model quickly. We have developed an e-learning application which is common to our 800 centres all over the world. Now we have developed a lot of ideas online also for a hybrid model when the students come back.
Astrid: It was similar for us. We quickly transformed our courses online, which has advantages as we have a larger outreach. We can offer our courses, both for languages and cultural field, fully to those who are not in Kolkata. We are integrating the online format in our programming too. We held a film festival where we were at a studio from where we were transmitting. We held a German teachers' meeting for which some joined online. Many students prefer online classes as they can do the course at their own pace.
Nicolas: There are some courses like conversation for which students prefer to have native speakers as teachers. We have three in our team and more will join. It becomes even easier to arrange that online.

What hobbies do you have?
Nicolas: I like watching movies, reading... I've started reading Tagore in French. He is so modern in his thoughts! It is a good point of our job that we have four years to try and catch some pieces of the mosaic of this incredible culture of Kolkata.
I also like running a little bit, good gastronomy and sports, especially tennis. I have already found a partner in Kolkata. He has promised me a court to play on near South City and a session.
Astrid: I love visual arts. I love going to exhibitions and museums. I enjoyed the archaeological exhibition at the Indian Museum. My husband and I love to sit on the verandah and read books or listen to music on Sundays. I like history books and I was recommended Romila Thapar. She is an excellent writer. The novels of Amitav Ghosh and his recent book on climate change, The Great Derangement, are very interesting. It is an analysis of literature and how we deal with the unthinkable. I also like walking. It's a great way to explore a city at a different velocity. Every morning, I also do qigong and tai chi.

What is your comfort food?
Nicolas: Fish soup and Blanquette de Veau (French veal stew). Also French wine and cheese. I also like to be surprised. I like dessert, I must confess. But I also need to play tennis or run for that. (Laughs)
Astrid: I like the 10,000 variations in which vegetable is prepared in India, especially Bengal. I like bekti and other fish. We eat Indian at home. Very rarely do we eat European cuisine. Only in the weekends when we are on our own do we make a nice pasta.