Neil Mukherjee has played on countless Bollywood and South film industry hits, composed advertising jingles for the biggest brands, won global accolades for his film scores, and performed across India and beyond. 
But the guitarist-composer, who also wrote the songs on the seminal Bangla rock album Poth Geche Beke, carries Kolkata with him wherever he goes.
"My formative years were here [Kolkata]," says Mukherjee, who lives in Mumbai and keeps coming back home to Kolkata. 
"As a Bengali who grew up in Kolkata in the '80s and '90s, a lot of my cultural background shaped and moulded me. We Bengalis carry a lot of musical, cultural and artistic heritage, which I find extremely profound and try to connect it with my work."
He grew up in a home where records and cassettes were always playing, and his earliest memories are of music and musicians. 
"I would constantly experiment with instruments on my own. While most grandmothers give their grandkids clothes and toys, mine gifted me a guitar when I was 11, and since then, the instrument has stuck with me," says Mukherjee.
Mukherjee, who is equally adept at playing everything from western classical on the nylon string to Carnatic ragas on his specially designed eight-string acoustic guitar to rocking out with an electric, had a diverse range of musical influences. 
"My parents would return from trips abroad with cassettes of Perry Como and Harry Belafonte. My elder sister was deeply into The Beatles and The Rolling Stones. My mother's family had a bunch of musicians. My maternal uncle, Gautam Chattopadhyay [of Mohiner Ghoraguli fame], trained me in the basics of finger-style guitar and had a huge influence on my musical life," he says. 
Later, he went on to create milestones in Bengali music with Chattopadhyay.
Although Mukherjee began indulging in music in school (South Point High School), it was at St. Xavier's College that he came into his own, playing at multiple college fests with his band, Grassroot, when he wasn't chilling at the green benches or at Arun da's canteen. Grassroot also had Surojit Chatterjee of Bhoomi. 
Neil Mukherjee performs one of his compositions on his specially designed eight-string guitar.
By the time he was in his 20s, Mukherjee was a regular on Kolkata's gigging scene. "My first paid gig was playing bass for Nondon da [Bagchi]," he reminisces. "Kolkata was extremely fascinating in those days and I got to see some amazing acts like Richie Havens and Wishbone Ash, along with local ones like Shiva, High and Airwave. These acts had a huge influence on what I did, especially for my next band, Krosswindz. The old auditorium at Max Mueller Bhavan was my favourite venue to perform at. The band had Dwight [Pattison] on bass, Tuki [Vikramjit Banerjee] on guitar with me, Robin [Lai] on bass, Chiro [Chiradeep Lahiri] on drums and Bonnie [Chakraborty] on vocals. We all basically grew up together."
It was at Krosswindz that Mukherjee wrote and composed Poth Geche Beke, an album regarded as a great leap forward for Bengali rock.
"While I feel an immense sense of satisfaction whenever I receive an award, nothing can replace the euphoria of performing live," Mukherjee says. "In 2007, I was performing at this rainy gig at Jadavpur University and when I played Poth Geche Beke, the crowd started singing along. I was awestruck at that moment and felt like I could truly die in peace without regrets."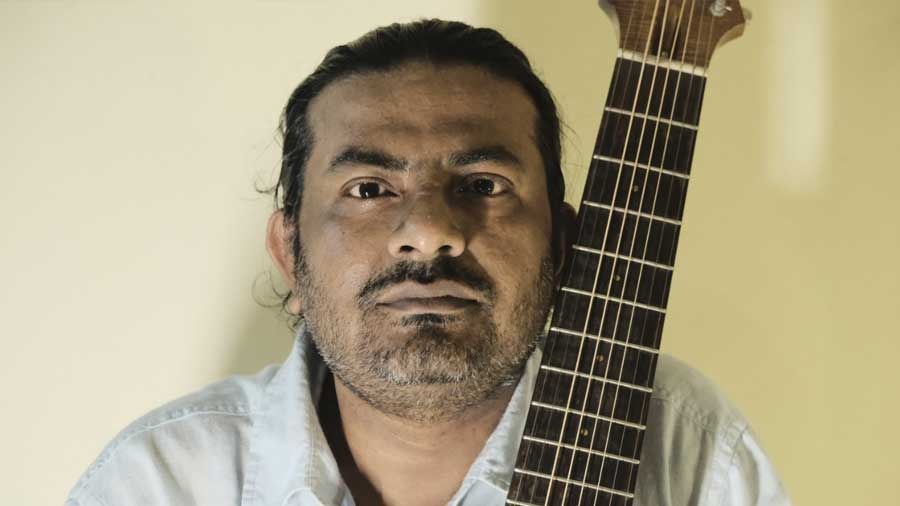 'My grandmother gifted me a guitar when I was 11, and since then, the instrument has stuck with me,' says Mukherjee
Courtesy: Neil Mukherjee
Among his other Kolkata collaborations, he looks back upon his work with Mohiner Ghoraguli with particular fondness as it provided him with an opportunity to work with his mama, Gautam Chattopadhyay, and Mukherjee in turn provided them with their iconic sound.
The success didn't stop Mukherjee from trying new things and he devoted his 20s to learning, completing a Grade Eight in classical guitar and music theory from Trinity College of Music, London, while training in the veena with A. Anantharaman Iyer in Kolkata, before foraying deeper into Carnatic music with Chitravina N. Ravikiran in Chennai.
In 1998, Mukherjee bid adieu to Kolkata, moving to Chennai. Soon enough, he was collaborating with the legendary A.R. Rahman. "There was a lot of uncertainty given that I was in a new city and working on Tamil songs and background scores with Rahman was a very educational experience for me," Mukherjee says. "It is extremely tough to find that kind of exposure early in your career."
Since then, Mukherjee has come a long way, including shifting cities once again. Now he lives in Mumbai, where he works with top names in the industry. Some of his work includes providing music for other composers and Mukherjee has worked as a featured guitarist on tracks such as Senorita from Zindagi Na Milegi Dobara, Ala Barfi! From Barfi! and Kay Sera Sera from Pukar, to name just a few.
Mukherjee's own score for the movie Meherjaan won him multiple awards on the festival circuit. Film scores, he says, have a lot of nuances.
"For me, a score is about the film and it should be a part of the storytelling. You have to understand what the film is about and the script should ideally include what the director is hearing. I need to understand what the music is trying to do in the film because it is a tool to take your story forward, as words are not enough to say everything," Mukherjee says.
Juggling the hats of a guitarist, songwriter and composer aren't easy, but Mukherjee makes it seem so.
"My thinking process is very different when I'm working with a composer in a studio from when I'm composing by myself," he says, chuckling. "My job is primarily to achieve their vision. Only a neuroscientist can tell you how song-writing works as it involves complex thought processes. I write songs, but I don't know myself [laughs]. Personally, I just try to dictate what I want to do. Human life is a miracle itself, and how we make music on top of it is something beyond my understanding."
Bringing it all back home
In 2018, another gig at Jadavpur University brought Mukherjee back to his roots emotionally. What was initially supposed to be a team-up with younger musicians just for the gig turned into a new collaboration, NeilMukho. which showcases both new and unreleased music written and composed by Mukherjee.
The group manages to keep making music despite the pandemic, despite Mukherjee staying in Mumbai and the other members — Koustav Dey on guitar, Ritoban Das on drums and Shamik Chatterjee on bass — based in Kolkata.
"Despite the pandemic striking months after we started, we decided to make music using technology to bridge the gap,"Mukherjee says. "One of the songs, Dyakh, which we produced remotely, is based on the same struggles. We would record our bits and send it across to get them mixed. However, there is nothing like playing together."
Mukherjee has recently completed background scores for two films, in addition to recording and releasing solo guitar tracks.
"Distance is a challenge, but the idea is to keep putting out content," he says. "We are lucky to be living with technology and we need to make the best of what we have."