Cultural entrepreneur Nandita Palchoudhuri is fusing the skills of Bengal craftsmen with her innovative ideas to create contemporary pieces of art that make them globally relevant. She has been working with shola, patachitra, pandal, Chandernagore lights and terracotta artists, broadening their horizons and taking Bengal's art to international destinations like London, New Zealand, Portugal and Germany, among others. Palchoudhuri has recently delivered a lecture at the Chhatrapati Shivaji Maharaj Vastu Sangrahalaya, Mumbai, originally known as the Prince of Wales Museum. "I spoke to the audience through the case studies of the work I have done and informed them how the different craft forms of Bengal – traditional and collaborative-- can be made viable today. For instance, the electric lights of Chandernagore. They are known for their spectacular display but these hugely talented artisans indulge in odd jobs in the non-season or the rest of the year after Durga Puja and Jagadhatri Puja. So, what I thought was let me find a way to create a design with their techniques, something that can be used by the rest of the world, beyond Durga Puja. I managed to get a commission from the mayor of London to make an 80ft showpiece which I then design as a bajra or The Peacock Boat and for the first time instead of making the lights flat we made them three-dimensional. It was like a boat and it went around the north and south banks of the Thames in 2003 with thousands of people watching it," she recollects. The mayor had noticed Palchoudhuri's exhibition on Chandernagore lights on Diwali at the The Naughton Gallery at Queen's in 2002. 
Giving due credit to the artisans that Palchoudhuri works closely with she says: "I give them the idea, work with them on a few projects and then I want them to handle themselves and explore the market and do business." She has worked with Crafts Council of Bengal for many years and tells us it's a learning process for her as well. "I learn more about the crafts, the technique and their viability in today's world. We devise new ways to contemporise heritage art. We cannot let the crafts die. The world has changed and its need has changed and art will have to reinvent itself to stay relevant," she says. 
A guiding light to artists like Dolon Kundu, Ashish Malakar and Sunil Halder, Palchoudhuri's other big projects include integrating the folk art of patachitra with the UN's Make Art/Stop Aids campaign, reinventing pandals and developing them as a portable unit and more. "In 2005 the issue of HIV was taken up in a big way across the world and actor Richard Gere was part of the campaign, Make Art/Stop AIDS, an awareness-through-art workshop mainly funded by the UN AIDS agency and the Gere Foundation India Trust. We collaborated by making patachitra in an organised manner, familiarising six patuas to doctors, to learn more about the disease. The patuas would sing and create awareness about AIDS and also the stigma attached to it. We later handed it over to the West Bengal government for an ancillary project involving Buladi dolls, spreading awareness about AIDS in Bengal," she says.
Palchoudhuri is working on a few international and national projects including making a customised flower chador made of shola for a client in Portugal.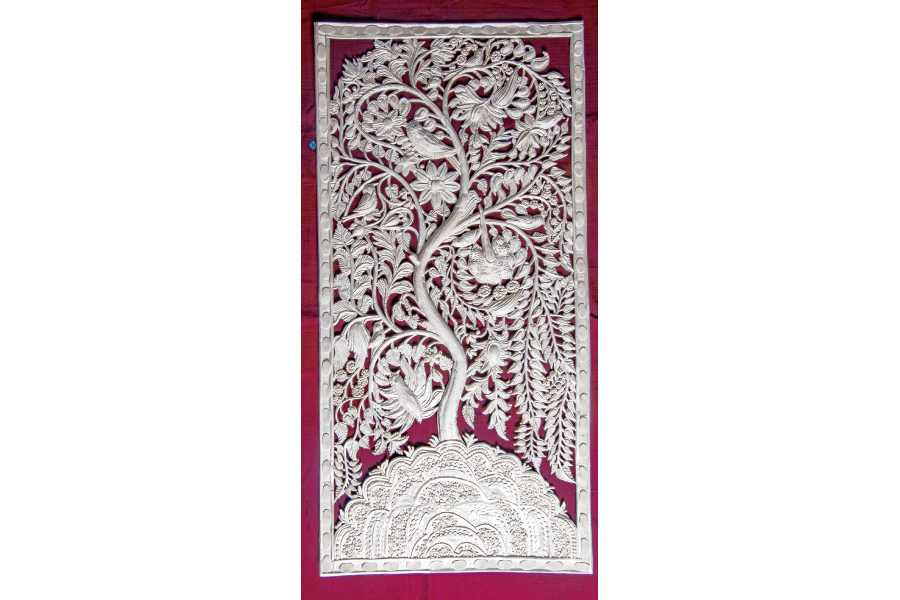 The sholapith sculptures designed by Palchoudhuri and crafted by shola artist Ashish Malakar.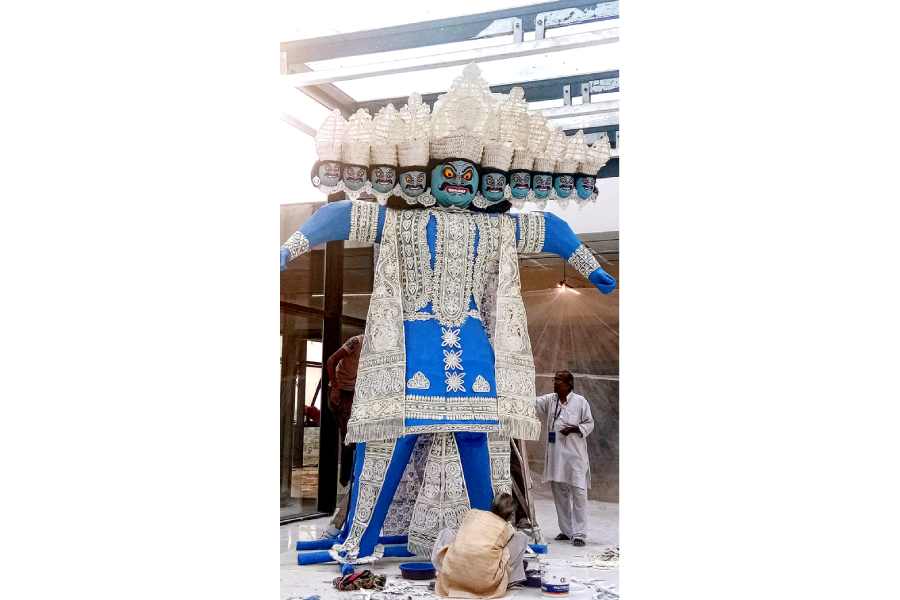 The 14ft Raavan was made in collaboration with Nepal Sutradhar (Chhau artist) and Modhumangal Malakar (tribal shola artist).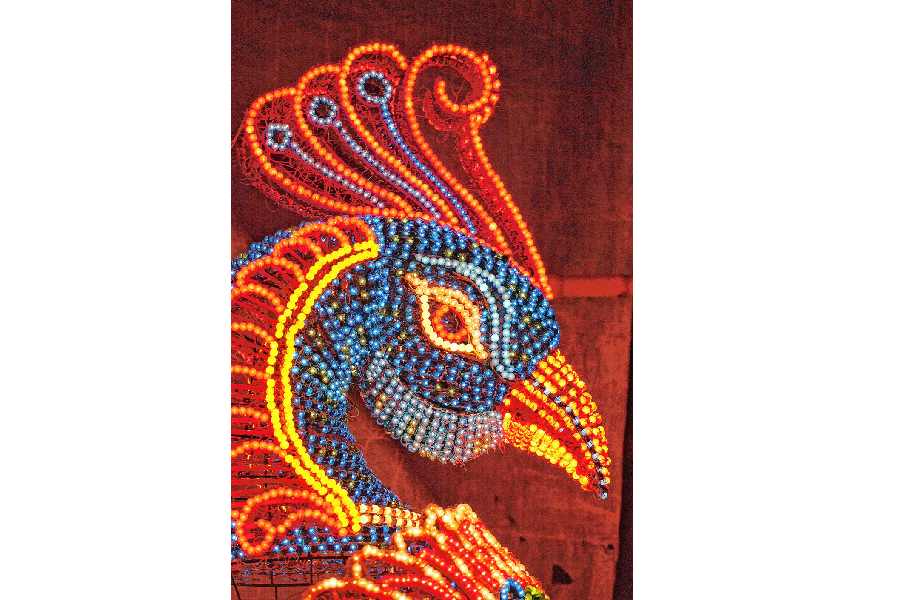 The peacock head, part of the bajra designed by Palchoudhuri and made by artist Sridhar Das, for the London festival in 2003.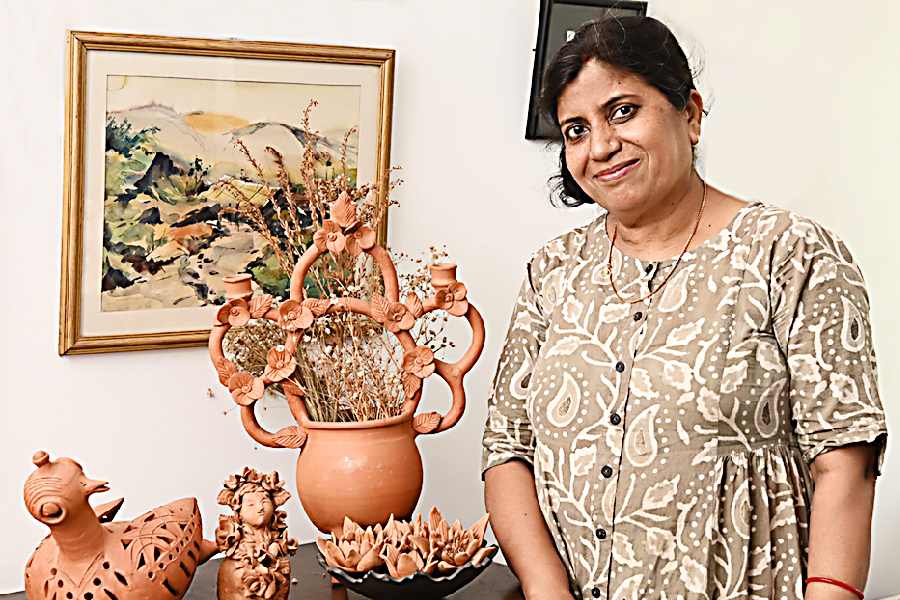 Dolon Kundu poses with her terracotta artwork. Kundu, who also leads 600 women in Burdwan, has travelled the world with Palchoudhuri and worked on several terracotta projects. "I have been making terracotta products from a very early age. And, my life changed when I met didi. She has not only taught me to be independent and more confident but also exposed me to new cultures and places that has only enriched my craft. Every project that I did with didi is special for me, whether it was in Mexico or in Mumbai," she smiles.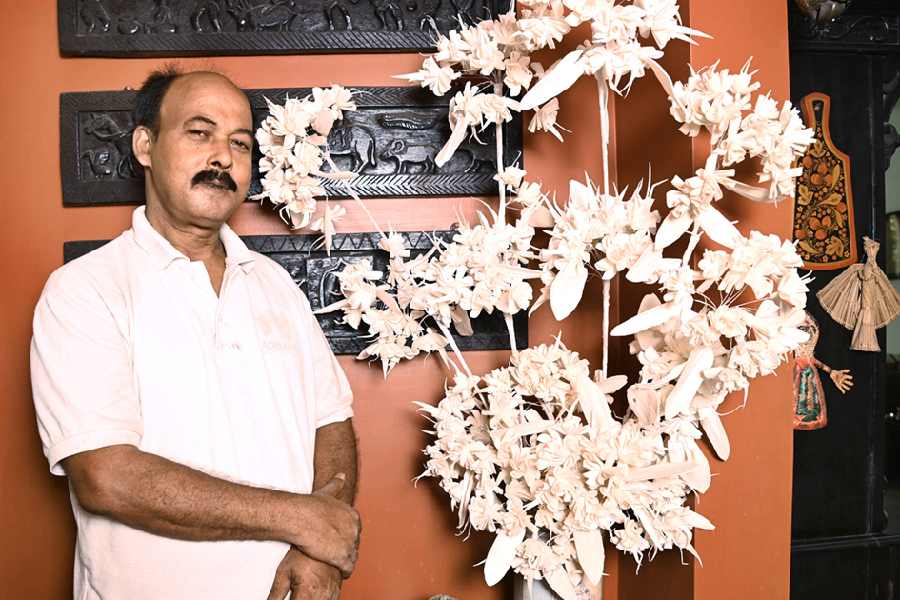 Sunil Halder poses with a bouquet of shola flowers. He started working with Palchoudhuri a few years back and aims to reinvent the art of shola. Currently, he is working on making a floral chador with shola for a client in Portugal and a central government project in Delhi. A relativelyshy person, Sunil says, "My family has been into shola art, so we have been practising this craft for generations, but what I have been doing for the last two-three years after meeting didi is very different. From traditional designs, I have moved to more contemporary and modern designs."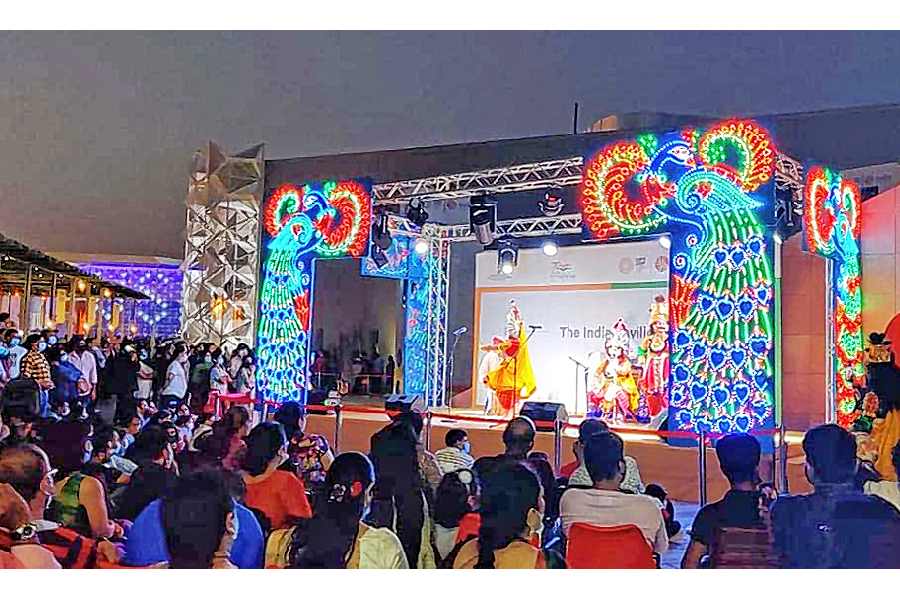 Chandannagore lights at the India Pavilion at Dubai Expo 2022, designed by Palchoudhuri and made by artist Asim Dey