His first work as composer for a Bangladeshi series (Shaaticup) is now streaming on Chorki, and music director Nabarun Bose is excited about it. In the process he has also collaborated with Rahul Ananda (frontman of popular Bangladeshi band Joler Gaan) for a song. A candid chat with Nabarun....
When were you approached to score the music of the web series Shaaticup? What was the hook for you?
I was contacted around early August by Najmus Saqib, Amit Rudra and the director Md Touqir Islam. They had heard my work in Tangra Blues and had decided that I would be the right person to approach in order to create the kind of soundscape they wanted to explore. They sent me a rough cut and I was very impressed with the direction, the cinematography and the acting. Also, I could see that there was room for experimentation with different kinds of sounds. That's what drove me in.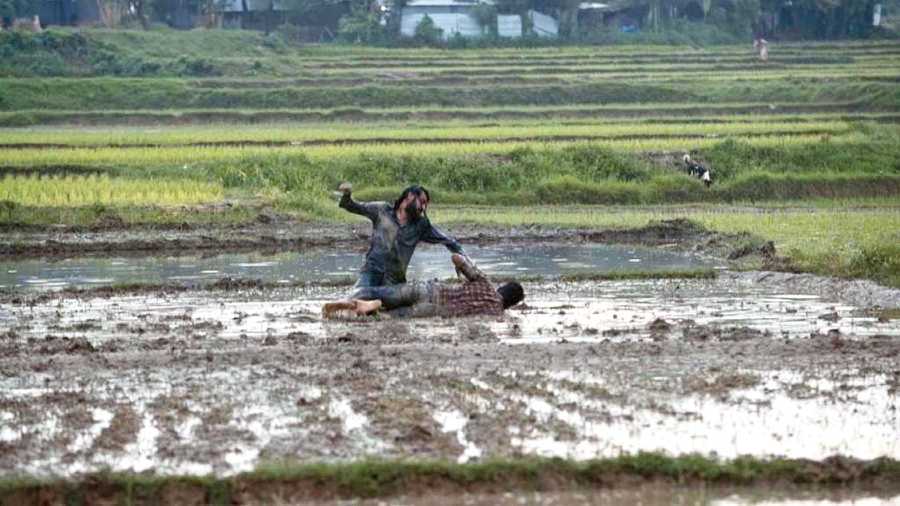 Moment from Shaaticup
What was the brief from them?
They wanted to keep the earthy sounds that adorn the lives of people from Rajshahi... at the same time they wanted the score to be completely unconventional in terms of soundscape. We began experimenting with extremes such as putting a khomok solo over a distortion riff, and making tracks that range from folk to heavy metal.
What is the storyline of Shaaticup?
It is narco-thriller presented as a dark comedy centering around lives of local people from Rajshahi.
How did you start working on the score keeping the story in mind?
The word 'shaaticup' means 'staying hidden' (ghapti mere thaka) in local Rajshahi language. I wanted to keep that essence in the music. The score creeps in and fades out and becomes a part of the larger sound design.
How would you describe the soundtrack?
I have extensively used percussion instruments, specially the khomok. There are wild experimental themes where a khomok grooves with beat-boxing, or a piece where a slap-bass groove locks with a khomok. Also lots of the themes involve dhol, dubki, djembe along with heavy riffs and funky basslines. On top of that guitars, banjo and dotara create a sense of thrill.
What are the themes of the songs?
There are three songs. One is a rap song sung by the actors and the filmmakers themselves in the Rajshahi dialect. I had a lot of fun making the music. It's a hard-hitting track designed over a thrilling chase sequence introducing the characters from Guripara Gang. The other song is an introduction of a character (Joynaal), which is a heavy metal rap track sung by Ratul Bhai (Shahriar Ratul) of the band Arshi from Bangladesh and composed by me. The third song is the most special one to me, as I got to collaborate with the amazing Rahul Ananda of Joler Gaan. It's a very earthy song where the characters and the premise is introduced through verses.
This is a web series from Rajshahi. How did it stand out in terms of content and style?
In Rajshahi the lives of many local people revolve around the river. They have shown that beautifully. The series holds up real locations with real people and presents reality in a way which is rarely seen in mainstream films. The dialect is quite different from the Bengali that we speak but that never becomes a problem in understanding the story. Since all the actors are fresh faces from Rajshahi, there is a sense of novelty and freshness in the narrative.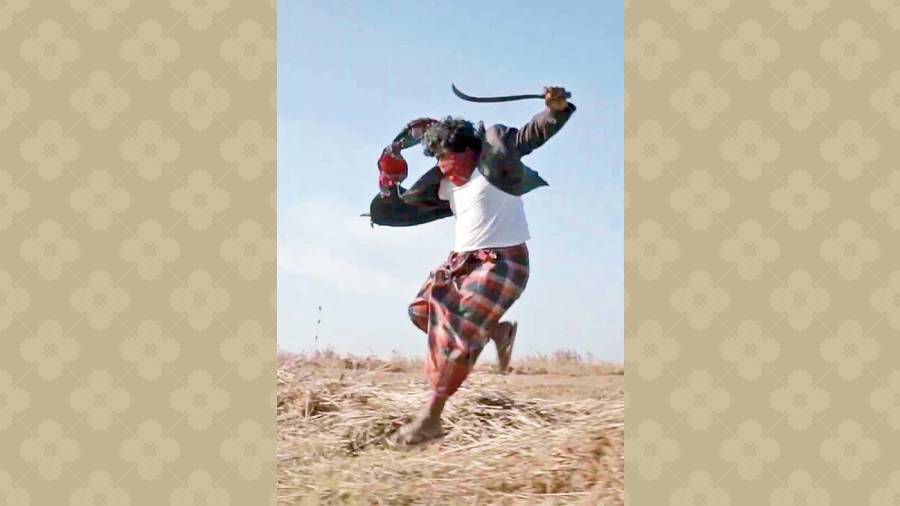 Moment from Shaaticup
What was your takeaway from your first work as composer for a Bangladeshi series?
I had spent a lot of time on video call with Touqir and the entire team over the last few months. We speak the same language, love the same films, love the same kinds of music but we need to cross borders in order to meet in person and that feels strange. They have been very open to new ideas and experimentation and that as a musician makes me happy.
Tell us about the collab with Rahul Ananda (frontman of popular Bangladeshi band Joler Gaan). How was the experience?
I have been a fan of Joler Gaan's music over the last few years and it was an honour collaborating with Rahul Ananda. We made a song in a very short span of time. We met over video call and it was lovely to meet him indeed. He is an amazing personality with lots of positive energy. He performed the song beautifully, sent me the tracks and I designed and produced the track. I hope to meet him in person soon.