Growing up in a Gujarati home full of entrepreneurs, Varsha Sheth has turned her own into a space for appreciating Indian classical music. For over two decades, Sheth, 58, has tried to inculcate a passion for music in people of all age groups. But the music teacher wears other hats too — that of an accomplished cartoonist, and theatre director and playwright. 
"I grew up around music. Initially, my father had our music teacher come home to train my two brothers, while my sister and I did not learn. Soon, he discovered that our brothers weren't really into it, so we sisters took over," says Sheth. 
Throughout her school and college life, Sheth kept up her training in classical music and she recalls getting the chance to play the tanpura on stage with Pandit Bhimsen Joshi. It was in college too, where a chance competition drew her to another passion. "I used to doodle a lot as a child. In college, I was pushed to take part in a cartooning competition at a fest and ended up coming second. When I saw the exhibit, I realised that more than a good illustration, a cartoonist needs to have a good idea and punchline. This experience boosted my confidence and I sent some cartoons to Femina India. Waah Behenji was my first published strip, in 1988," says Sheth.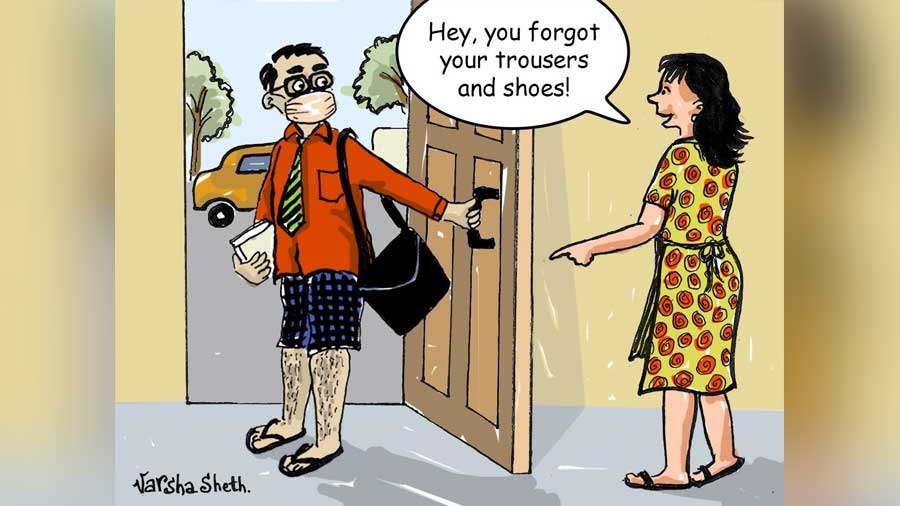 A work by Sheth, published in The Telegraph
Alongside this, she also carried on her musical education at Surer Maya Sangeet Samaj, affiliated to Rabindra Bharati University. "Bengali music was my first influence and a huge part of my training, be it Rajanikanta Sen or Rabindrasangeet or Bangla Ragpradhan," adds Sheth. She expanded her purview to Indian classical music under the tutelage of singer Jharna Banerjee, and a whole new world opened up for her. "Kolkata is a hub of Indian classical music. Since my husband is also interested in it, every winter, for the last 30 years, we attend concerts four days a week. This can only happen here," she says.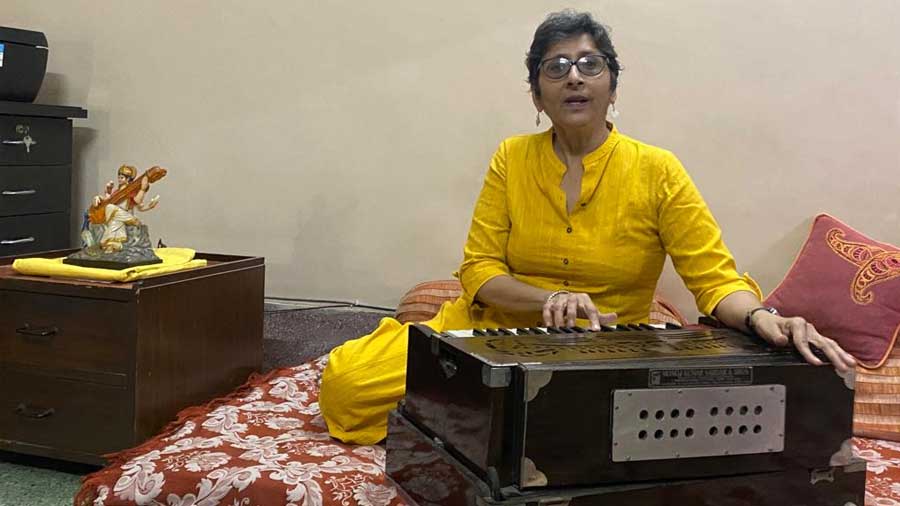 Sheth considers teaching music as her first profession
Courtesy: Varsha Sheth
After completing her musical education in 1986, she briefly taught at New Vista Academy before mentoring students at Divyayan Montessori, a stint that lasted 25 years. She has also written and composed school songs for Akshar School and JJ Ajmera High School. "My son studied at La Martiniere, so the teachers would call me to teach students vernacular songs for special occasions like Holi." 
Sheth has two albums, Wild About Animals and Animal Rhymes, revolving around care of animals, a cause extremely close to her heart. The albums led to collaborating with some of the city's more prolific musicians, including Usha Uthup, Amyt Datta, Gyan Singh, Jayashree Singh and Neel Adhikari. "Jivraj Singh, who is Jayashree and Gyan's son, and currently one half of music duo Parekh & Singh, also sang in the album when he was a child," she says.
A big break
Meanwhile, her career as a freelance cartoonist continued to bloom, with features in Telekids and other publications. "Since I started before the digital era, all my cartoons are hand-drawn, to the point where I use white ink to erase them. I got my big break with Tinkle Comics, where I was a regular contributor to their column, See and Smile, for 10 years. My cartoons don't have any malice, controversy or political commentary. The idea is to make people laugh at themselves."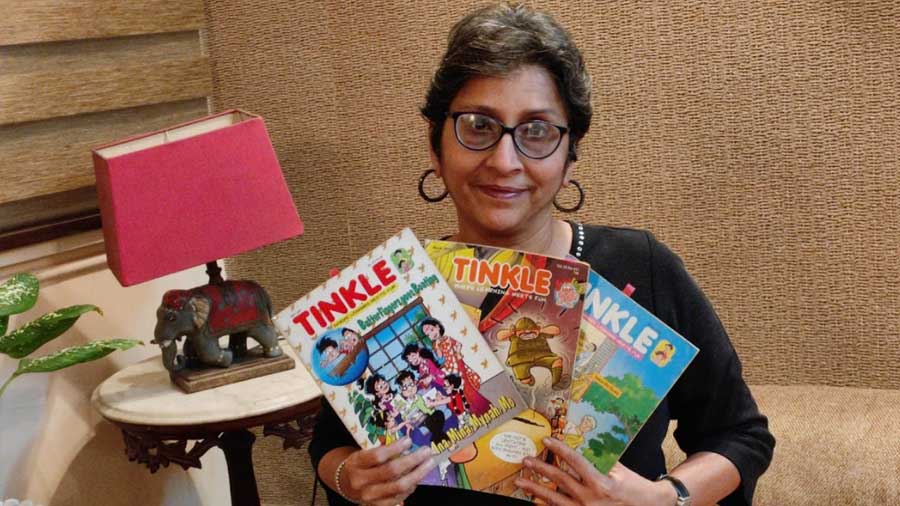 Sheth got her big break with Tinkle Comics, where she was a regular contributor for 10 years
Courtesy: Varsha Sheth
While Sheth considers teaching music as her first profession and cartooning her second, her involvement with theatre happened by accident. Her tryst with the art form started with Madhuwan Club, where she wrote and directed a members' show. The positive response earned her several calls from prominent city clubs. Her first major play was called Chameli ki Shaadi, for The Saturday Club. She followed it up with a play for Calcutta Swimming Club's annual concert. She also has a longstanding relationship with The Tollygunge Club and collaborates with them for singing and cartooning workshops during their summer camps.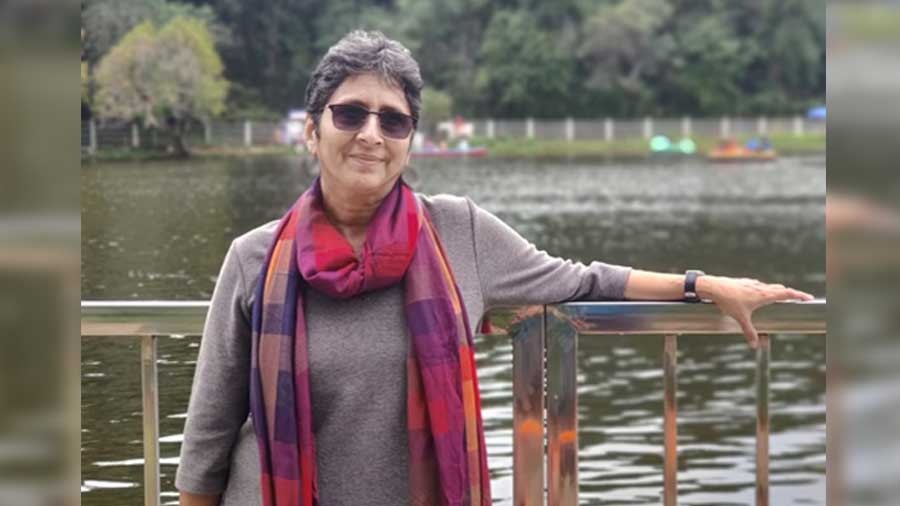 Sheth conducts online classes for students in Canada and California, besides those from Ahmedabad, Mumbai and Bangalore
@Varsha Mansata Sheth/Facebook
Sheth's longest relationship though, remains with tutoring pupils at her Swar Varsha Academy, which she has been running from her Bhowanipore home for the past 20 years.
Her repertoire is diverse and she has taught over 500 students in Gujarati, English, Hindi and Bengali. "My mission is to get my students to appreciate Indian classical music. Young people are moving away from it, so I try to bring my students to concerts where we sit and analyse the music. I hum the raag so that they can connect it with what I have taught them," she says.
Encouraging a passion
While children generally find a hobby or passion through their parents, Sheth's enthusiasm has turned the tables on that tradition. She has managed to encourage over 30 mothers of her students, and even two grandmothers, to join her classes.
Recently, the pandemic moved her to maintain a hybrid teaching model and online classes has led to many of her old students rejoining. "Many of my students, who moved out for work or college, have returned during the pandemic. I also conduct early morning classes for my students in Canada and California, besides teaching students from Ahmedabad, Mumbai and Bangalore," smiles Sheth. 
On the cartooning front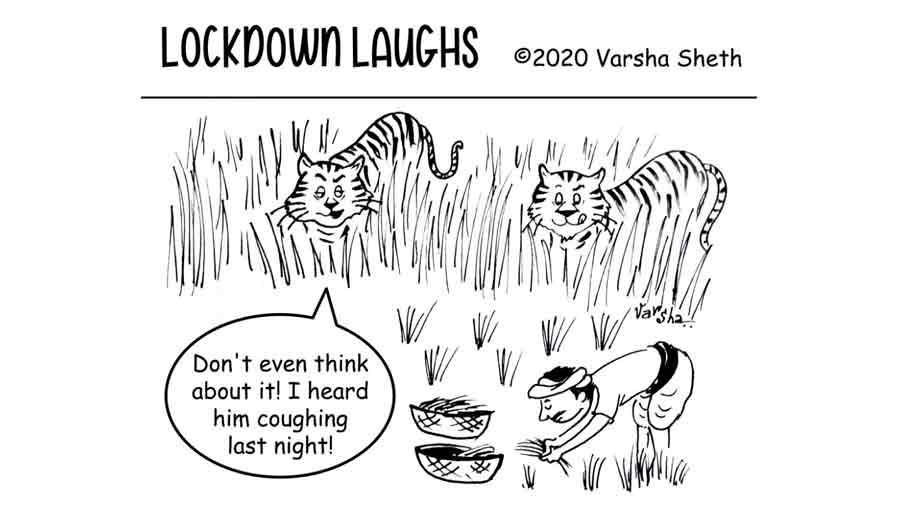 Lockdown Laughs — a recent series by Sheth
Courtesy: Varsha Sheth
Sheth's cartooning career has also blossomed during the pandemic. "I did a series called Lockdown Laughs based on general everyday observations. These cartoons went viral and I started receiving appreciation from everyone. Even Tinkle Comics shared it on social media!" she beams. The response led more opportunities pouring in. "The biggest surprise was a call from the then-Chief Election Commissioner Sunil Arora, asking me to do two cartoons for their magazine!"
Despite the expressions of acclaim, Sheth's pleasures remain simple. She still pledges her unwavering loyalty to Kolkata's muri-phuchka. And of course, Indian classical music.