At a time when our monotonous lives and work pressure often lead to feelings of worry, anxiety, and depression, you sometimes find light in unexpected places. Indian-Italian couple, Mango and Basil (@aamandbasil on Instagram) are one such content creator-duo, who light up our lives with laughs, sharing hilarious and heartwarming insights from their intercultural marriage. While Suprateek Banerjee, aka Mango, is a Bengali from Benaras; Daniela Barone, aka Basil, hails from Naples, Italy. The couple, for whom 'cultural exchange' is at the very centre of their love story, broke down the nuances of finding love, familiarity and hilarity over a video call with My Kolkata. Read on…
Love through language
Suprateek went to Germany 10 years ago for his post graduation. While studying for his PhD, he became proficient in German, and was looking for a new language to learn. After a short and unfulfilling stint with Spanish, he decided to try his hand at learning Italian in 2017, charmed by the region's culture and food. "I was instantly interested in how the language was full of passion and expression, but also realised that merely learning on an app wouldn't help, I would have to speak it."
This got him onto an app which had a 'tandem partner' concept, where people looking to learn a language would be paired with a partner who was offering to teach their language, and in turn they had to offer a language that their partner was interested in learning. He signed up, wanting to learn Italian, and offering to teach English. As fate would have it, he was paired with Daniela.
At the time, Daniela was done with her PhD and preparing for her IELTS exam, and wanted to brush up on her English. She recalled, "I could read and understand English, but the speaking part was difficult for me, and I needed to learn it properly if I wanted to apply for opportunities outside Italy." She told Suprateek that she would help him with Italian after her exams, and their chats started with him correcting her written English. "At the time, she was extremely shy and wasn't comfortable connecting over the phone, but we slowly became friends. Finally, after three months of chatting, she was comfortable meeting in person," said Suprateek.
Home away from home
For their first meeting, Suprateek flew down to Naples, and was immediately surprised by how similar Italian culture was to his own. "When I landed in Naples, it felt just like home, with the honking and screaming on the streets. German cities aren't like this. If I open my window and show you, you'll ask me where the people are (laughs)! But people in Naples, just like in Kolkata, are loud and expressive. The city isn't squeaky clean either, but has a soul." He also noticed a similarity in societal structure, with how Italian families have a tight bond, and children stay with parents for much longer than in other Western countries.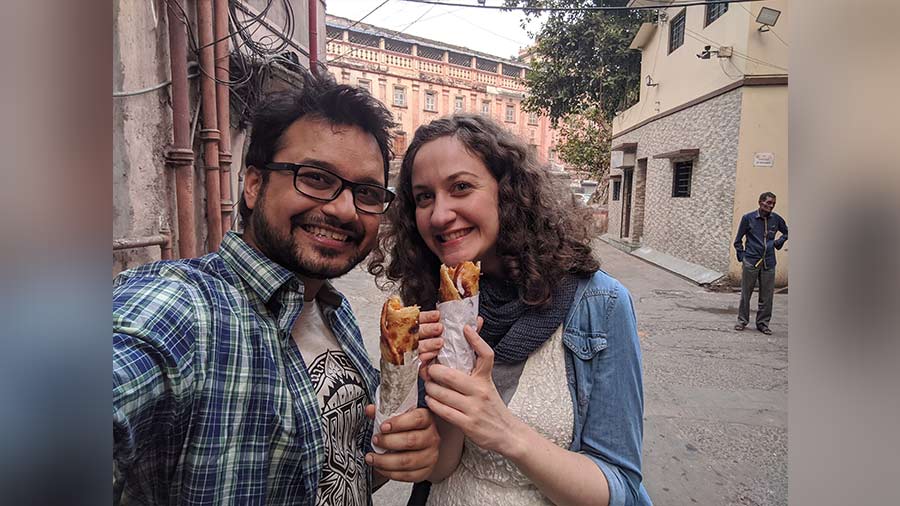 From her first Kolkata visit itself, Daniela was completely enamoured by the food
Despite having grown up thousands of kilometres away, Daniela also noticed an unparalleled bond. "I was amazed that despite never interacting with Indians before, there was no cultural clash or dissonance. Slowly, we understood that being Indian or Italian made no difference at all. At the core, we're very similar as human beings. We connect on an emotional level and the way we approach things is the same," said Daniela.
It was this deep connection that led to Daniela's first experience in Kolkata nearly mirroring Suprateek's first visit to Naples. Back in January 2020, her Indian friends in Ireland had spoken to her about India and that made her anxious about what she would find there. So, she stacked up on medicines for malaria and diarrhoea, and even consulted a doctor. But actually landing in Kolkata was a far more surreal experience than she had imagined. "I felt like I always belonged there. My only thought was that my two eyes aren't enough to truly discover the beauty of this country. It was a different reality, and I was pleasantly surprised. As soon as I landed, there was a smell that gripped me, it could be the food or the incense sticks, or a mix of everything," said Daniela. Thankfully the medicines expired, unused.
"My favourite thing about India was the people and their warmth. I was welcomed not just by Suprateek's family and friends, but random people on the streets. While walking or taking the auto, I would be fascinated by people who were washing their clothes in the river. When they saw me looking at them, they smiled back, which is something I hadn't experienced anywhere else. People in India are always ready to welcome you with a smile," she gushed.
In December 2021, the two decided to tie the knot. "We saw that big weddings generally aren't about the bride and the groom, but we wanted our wedding to be about us. So one morning, the two of us just went to Copenhagen, got married in five minutes with just signatures, without any customs," Suprateek reminisced, adding that the beauty of their relationship was in how culture never came in between. "We were two people born in different parts of the world, but once we found each other, we just knew this was it." Daniela agreed, saying, "The understanding is just amazing. We don't need to speak, we can feel what the other person is feeling."
Turning culture into content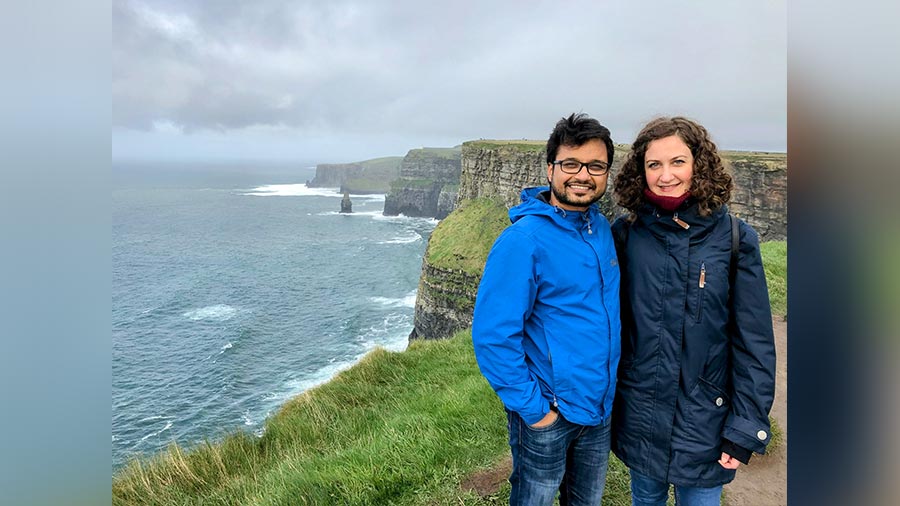 The duo's comedy sketches find hilarity amidst the similarity of their two cultures
But the pandemic brought a weird monotony to their routine. While Suprateek is an industrial automation engineer, Daniela is a biotechnologist. In the midst of their hectic work schedules they turned to binge-watching shows for entertainment, but found themselves slipping into a rut. "It was a weird loop where we would go to work, return home, and just go Ta-Dum (Netflix theme sound) in the evening. At the beginning it was very nice, but we got tired of just consuming content."
This prompted them to put on the creator's hat themselves, to make something they would like to watch themselves. Comedy came as a no-brainer to Suprateek. "I am very passionate about stand-up comedy and Daniela has an amazing comic brain and a knack of playing characters. The first time I met her family was for Christmas, in 2019. They were asking her to do various characters and voices from her childhood — and everyone was on the floor laughing. I was surprised, as I had no idea about this side of hers despite being together for over two years. When we went to India, I asked her to do the same for my parents and they were both dying laughing. I knew we had to do something around this."
Daniela added, "We are both shy but had this innate desire to entertain and express ourselves in unique ways. At the same time, we wanted to add value to the viewer, be it through a laugh or a learning, even if it's a 15 second video." While researching on the genre, they found a lot of couple-content on Instagram, but decided to stay away from stereotypical tropes — instead choosing to focus on showcasing their cultures through comedy.
'Mango and Basil'
The names, 'Mango and Basil', were chosen as a homage to India's beloved fruit and Italy's coveted herb. "It signifies our closeness to food. We also want to showcase a lot of the characters we encounter, and use mango names if they are inspired by me, and herb names if they are brought about by her," Suprateek said.
Their videos come from authentic innocent observations, like finding similar expressions in both their languages and incorporating them into their own language. "We mix languages all the time. Now, when Daniela tries a new dish that she really likes, her expression is," Suprateek paused, turning to Daniela. She closed her eyes and instinctively exclaimed, "Bah bah!" Both laughed. "I say this all the time, even at work, without realising that everyone isn't from Kolkata! I have even started saying 'Aree' with my parents, and they are utterly confused about what I'm saying," Daniela laughed. Suprateek similarly admitted to saying the Italian expression, 'Boh!' to everything. One of the most hilarious encounters though, happened between Daniela and Suprateek's father. "These two share a relationship where they are constantly pulling each other's leg. This one time, my father was roasting her, she just looked at him and said, 'beshi paka chele', and he almost fell from his chair laughing," Suprateek recalled with a smile.
Such nuggets form the backbone of their bite-sized episodic series on Instagram, How to be a Bengali/Neopolitan/Banarsi.
Their page also packs in several quintessential idiosyncrasies that are common to both cultures, like how, during her childhood, Basil's father told her that getting 9.5 out of 10 in a test was only half the job done! Food and the obsession over it became another theme. "Both our families stuff you till you burst. But this feeling goes beyond feeding, it is how they express love," Daniela said. Suprateek added,, "When our families see us after a while, the first remark they make is, 'You don't eat at all!'"
They launched their page this February, and have already received a tremendous response, with several videos notching a million views, and consistently clocking thousands of likes. Since Suprateek works with algorithms, he wanted to understand and crack them. But developing @aamandbasil taught him one thing: You can never predict how the algorithm works. "We have never been behind likes and followers, we are just passionate about creating. The only objective we have is to be a bit better with the next video," he said. And that reflects in their commitment, as they share how sometimes they have spent an entire day shooting a 7-second video, just to get it right. "To get things done is tough, because I take time to get into the part and always start laughing," Daniela chuckled.
At the heart of their videos though, is the message that we are all the same. "While making these jokes, we also wanted to show that you wouldn't expect the same things to happen in Italy and India, but they somehow do. At the same time, you don't need to be Indian or Italian to relate to them. Our favourites are the videos with minimal dialogue, so that everyone can understand them," Daniela explained.
Their emotion seems to have struck a chord with people around the world, and both their faces light up when they talk about the DMs they receive. One of the highlights was a collaboration post with the delegation of the European Union in India. "They reached out to us and said that our content shows how close the two cultures are, which is something they want to highlight too. It was a major privilege," smiled Suprateek. He also mentioned about a postcard they received from a man in Kerala, who told them how much he related to their content as he too has an IItalian partner. "This page has grounded and humbled us, it has changed the way we see people," Daniela said. In the future, the couple hope to bring even more nuances from their life to their page, including their exclusive recipes, and living as a mixed-race couple in Germany.
Funnily enough, the comedy is limited to Instagram, as their cultures effortlessly merge in real life. Infact, the duo make an effort to understand each other's cultures on a more intimate level. "I cannot forget my roots as a Bengali Banarsi, and she really keeps me grounded to them with her interest in my culture. Even before her first India trip, she insisted on seeing my school. We couldn't make it happen then because we only went to Kolkata. Last year, we went with my parents to Benaras too, and I showed her everything that has a significance to my childhood." The two have made it a point to spend whatever time they get off from work, visiting their families. "It's not easy to leave home. I left Italy for the first time at 27, and while it felt nice at the start, I slowly realised that a lot of things are missing from home. In the end, I miss the most simple parts of home, like the smell of coffee, and the sound of spoons tapping on coffee cups. Wherever you go, you will always take your roots with you," Daniela signed off.