Jojo was a 12-year-old bundle of cuteness. He was used to running around and playing with abandon in the lanes of Aundh, Pune. Every night at nine, his favourite human would come to feed him and his friends. He would possessively prance around her, getting a burst of energy if she brought his favourite dahi with her. It was a happy life.
One day, things changed. The bustle of his locality dwindled and he had to hunt for scraps. The face that smiled at Jojo and his friends, was veiled behind a mask, and the hands that petted him had gloves on. Two months into the pandemic, Jojo had a heatstroke and had to be rushed to a hospital. There, he gasped for life, for five long days. His favourite human braved the restrictions that came with living in a restricted zone, and went to meet him with his favourite dahi. But within an hour, Jojo was gone.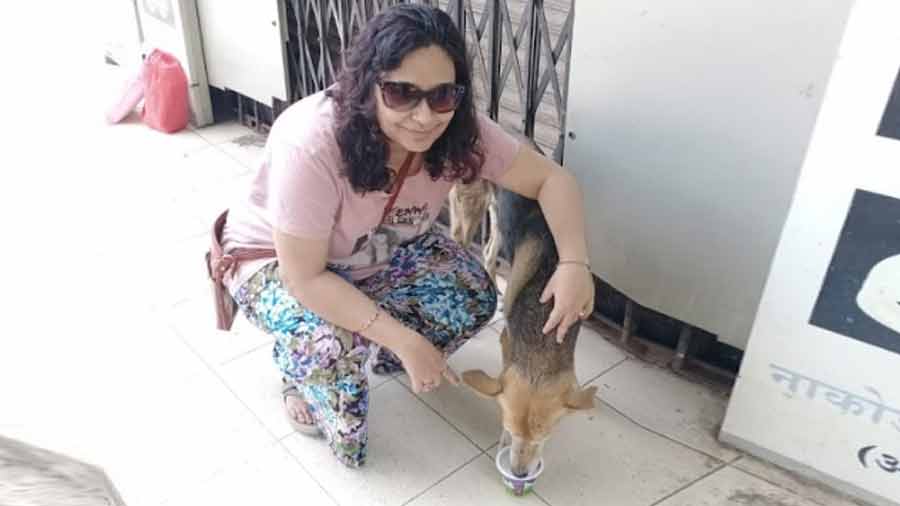 Chakraborti with Jojo
Mahua Chakraborti's story is a simple one, mirroring emotions that are quite universal. Like many others, she too experienced grave loss in the pandemic. Jojo was a piece of her heart, taken away far too soon. His loss drove her not only to care for all the strays with renewed vigour, but also led her to make a short film that brought attention to their problems.
Looking back…
Born and brought up in Howrah, Chakraborti studied jewellery design at Sawansukha Institute of Gemology and Jewellery Design and then went to Silpa-Sadana at Visva Bharati, Sriniketan. She has been a visiting faculty of jewellery design for over 15 years at institutes like INIFD Kolkata, INIFD Pimpri, INIFD Deccan, National Institute of Fashion Technology (NIFT) Kolkata and Good Shepherd Finishing School. Currently, she is a part of the geology department of Savitribai Phule Pune University. 
Her love for animals grew significantly after an incident at her farmhouse in Santiniketan. "Back in 2012, my ex-husband and I were running our farmhouse in Santiniketan as a homestay. One night, after all the staff had left, my ex-husband had allowed six youngsters to stay without any prior intimation. They got drunk and started creating a nuisance. We were scared, and the situation was getting out of control. When there was no one else to defend us, the stray dogs of the area saw the youngsters approaching and came to our rescue. They saved our lives that night," shares Chakraborti.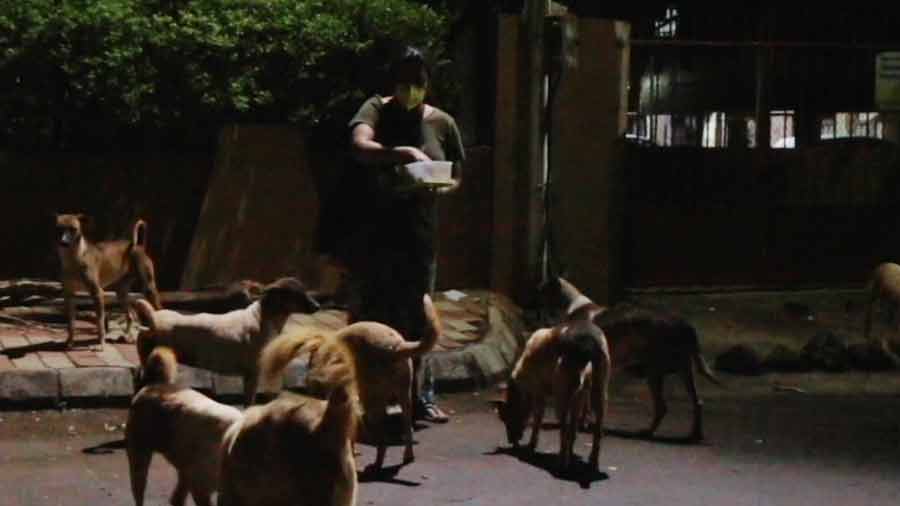 Chakraborti feeding the strays in her neighbourhood
Since then, her empathy for stray animals has only grown stronger. When she moved to Pune, she would make it a point to feed her landlady's pets and play with them every day after work. When she moved homes, she regularly fed 20 strays in her new locality. It was here that she met Jojo. "Whenever I would go to the local hospital for ECG scans, I would feel quite alone as I had no relatives in Pune. I don't know how Jojo understood me, but he would follow me and wait at the hospital for hours," she fondly remembers.
To have loved and lost…
Jojo's death was a major blow to her and a testament to the helplessness of strays during the pandemic-induced lockdowns. "Despite losing my job during the pandemic due to universities closing down, I kept feeding the 20 stray dogs in my locality with my savings. Soon, I started feeding 13 more dogs and even fostered an abandoned cat in my flat for over a month. I used my contacts in the local thana to obtain the necessary permissions to go out every night to feed strays. My plea to the municipality and NGOs fell mostly on deaf ears. Maneka Gandhi's People for Animals was an exception though," says Chakraborti, who also rescued a dog named Dimpi, along with her two puppies, and nursed them back to health in her flat, during the 2019 floods in Pune.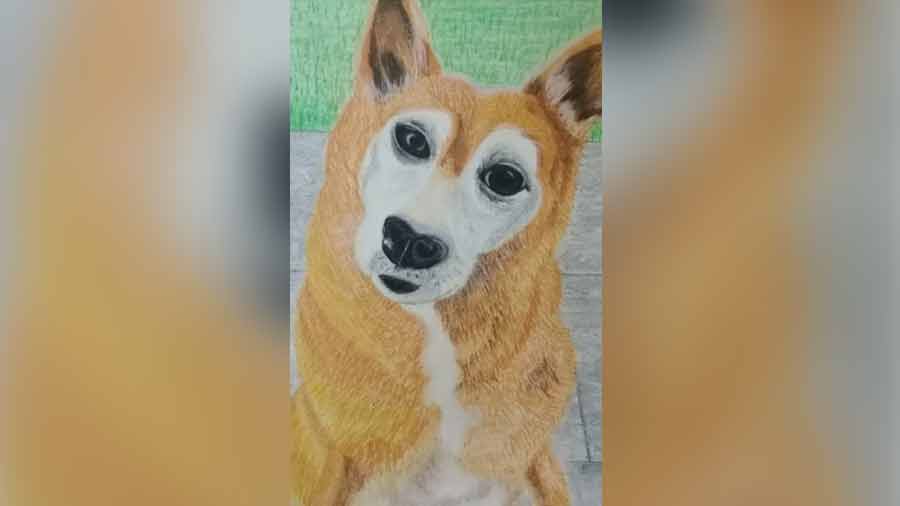 A painting by Chakraborti
Atman Mehta, a graduate of Symbiosis Institute of Media and Communication, who lived in her building, took note of Chakraborti's grief. Despite his fear of dogs, he approached her within a few days of Jojo's death with the idea of immortalising Jojo's story through a short film about the neglect of animals during the pandemic. Chakraborti, who was studying short film direction at the Institute of Moving Images, Pune, readily agreed. "These animals can't beg, so they are even more helpless than us. I have seen their tears and they also have a right to basic survival."
The duo shot the documentary on a shoestring budget in Chakraborti's flat. Atman directed and wrote the film, while she starred in it, and even wrote a shayari for the project. Dogs Howl Before They Die was shot roughly over 15 days, largely during the lockdown. Their labour of love has received widespread appreciation and made it to the Indo French International Film Festival, Luis Bunuel Memorial Awards and Calcutta International Cult Film Festival. "We are in the process of applying to other festivals too," Chakraborti smiles.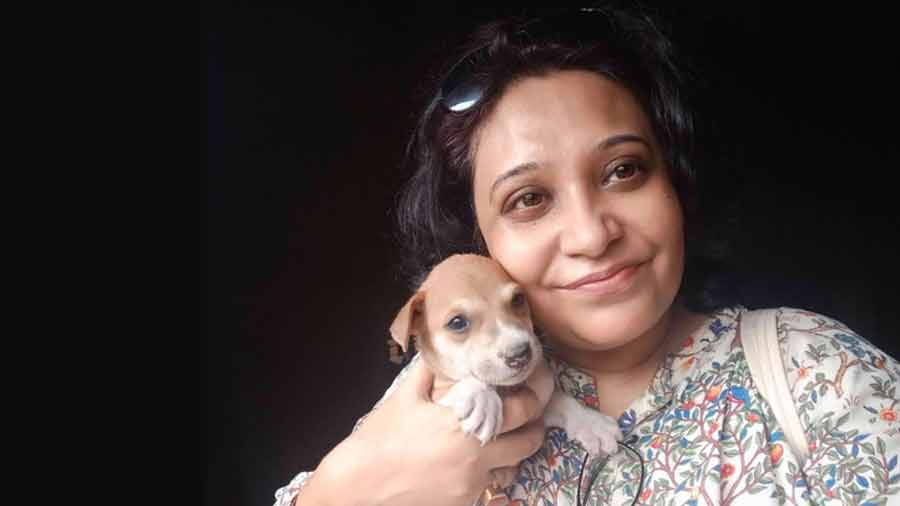 Chakraborti with a stray pup
The animal lover and director experienced another bereavement when she had to bid goodbye to her 30 furry buddies in October 2020, before moving back to Howrah, to care for her mum. Chakraborti tells us she continues to feed six dogs in her Shibpur locality every day. Apart from this, she helps sparrows and pigeons on her balcony with a drink of water. 
Her humane instincts, though, continue to worry about her dogs in Pune. "I'm planning to visit Pune soon to see my dogs. I'll keep looking after these animals till I am around," she tells us.