In some ways he was older too. He advised me when I became editor not to dwell too much on Sikkim. It might put off people, he warned, without achieving anything. The flame of Sikkim burned no less brightly for him because it burned in private by then. His maiden speech in the Rajya Sabha to which he was elected for two terms, 1988-1993 and 1994-2000, was a masterly exercise in bridge-building. Ever the realist, he did not deny that Indian statehood had brought wealth, opportunity and empowerment to the Sikkimese people. Even earlier, he recognized the limitations of geography. "We can never be independent in the true sense," Karma admitted, accepting that even a fully sovereign Sikkim would stand in relation to New Delhi like the Soviet republics vis-à-vis Moscow. Cultural cohesion mattered more. He was delighted when both his daughters met and married young men of Tibetan stock in distant New York.
A small incident revealed his practical sense. My mother was giving a dinner party on her lawn which had been arranged like a drawing room with carpets and sofas when unseasonable rainfall suddenly engulfed us. All the guests fled into the bungalow but not Karma. He at once set to rolling up the carpets, heaving them on his shoulder and carting them to safety inside before turning to give a hand with the furniture. "You've shown what you can do," he consoled my mother. "Let your guests now show if they can match it!"
It was a proud moment for him in 1979 to lead Sikkim's new ethnic Nepali chief minister, Nar Bahadur Bhandari, into the palace drawing room at the wedding of the Chogyal's daughter, Princess Yangchen. Bhandari made a respectful namaste to the Chogyal, bowed low, and presented a khada. The simple gesture was rich in meaning for only juniors offer the flowing white scarf symbolizing purity to their superiors. When reporters at Dum Dum airport asked where the fine silk khadas came from, Karma replied wryly that Sikkim received everything, from khadas to Constitutions, ready-made from India. New Delhi was then trying to pressure the Chogyal into passing off an Indian-drafted Constitution as his own spontaneous handiwork.
Sikkim's first and previous chief minister, Kazi Lendhup Dorji, a Bhutiya-Lepcha nobleman, had determinedly ignored, insulted and humiliated the monarch. Bhandari made the wedding almost a State occasion, letting it be known that the dethroned and dispossessed king remained the "first gentleman of Sikkim". When the Chogyal died in 1982, the state assembly mourned the man who had "lost his kingdom but gained a martyr's halo". In Kazi's time legislators (nicknamed the Batisey Chor, 32 Thieves) had churlishly refused to acknowledge Crown Prince Tenzing's tragic death in the full bloom of youth. Karma's influence may have had something to do with the change. As a journalist I had to insist on seeing the chief minister alone. Otherwise, in those early days an unsure Bhandari turned to Karma (his secretary from 1980 to 1987) for answers to every question.
Jaswant Singh in New Delhi was another politician who appreciated Karma's ability and integrity. As external affairs minister (1998-2002) he sent Karma as ambassador to Mongolia. It can't have been easy following in the footsteps of the 19th Kushok Bakula Rinpoche whom Mongolians venerated as an emanation of the Buddha. But Karma persuaded Mongolia to support India for permanent membership of the United Nations Security Council.
He was always an ambitious achiever. At St Joseph's School in Darjeeling, Karma earned the rare distinction of a "White Coat" as an all-rounder in sports (football) and studies was termed. The Chogyal entrusted him with delicate diplomatic missions. When he was absorbed in the Indian Administrative Service, a senior civil servant from New Delhi offered to chalk out his career path with challenging assignments all over the country. Karma listened in polite silence. He wasn't interested in all-India experience. He wasn't really interested in the bureaucracy. When he took early retirement from the IAS, it was to join the ruling Sikkim Sangram Parishad. Twelve years later, he was president of the Sikkim Pradesh Congress Committee. Politics was his métier.
Criticism was inevitable. Older establishment figures from Sikkim's landed aristocracy resented the rising young officer whom the Chogyal trusted. Kazi's intriguing European wife denounced "the despised and loathed Karma Topden and Captain Roland Chhetri" (the Chogyal's aide de camp and staunch supporter) as "opportunists, deceivers, illiterate and crude". Kalimpong's Himalayan Observer dubbed him "Tikka Topden" after Pakistan's notorious General Tikka Khan whom Time magazine called "Butcher of Bengal". Those who accused him of disloyalty to the Chogyal for accepting the post of Sikkim's resident commissioner in Calcutta didn't know the time and effort he spent on mobilizing Sikkimese students in the city, lobbying decision-makers and writing letters to newspapers.
Although Karma held the ruler in affectionate respect, his ambivalence towards the durbar hierarchy owed something to his mother who was as independent as his father was acquiescent. Deki Choden Topden had brushed against the kazi-pazi syndrome - as class conflict was called - early in her husband's career. Being married to an important politician, she was invited to accompany the Chogyal's mother, the Gyalum, to Lhasa for a double royal event: to bring back the Chogyal's bride and deliver one of his sisters to her Tibetan spouse. Refusing to accept the protocol that condemned her to follow the entourage on foot, Mrs Topden broke away from the Gyalum's party, hired a horse privately and braved the hazards of riding alone to Lhasa. Karma would chuckle over childhood memories of being served tea in a cup without a saucer, the full complement being reserved for those of higher birth, when visiting kazi homes as a boy.
Some of the causes to which he devoted his closing years are still pending. Nepali is in the Eighth Schedule of the Constitution and the old India-China trade route through Nathu-la is open for business. But 11 Sikkim Nepalese communities are waiting for scheduled tribe status. And Ogyen Trinley Dorje, the 17th Gyalwang Karmapa Lama and head of the Karma Kagyu sect of Tibetan Buddhism, is waiting for New Delhi's full recognition. Karma would have been pleased that His Holiness sent Cherry his condolences from New York saying her husband had been "a constant source of support and advice" to him. But the last mission of his eventful life will remain unfinished until the Karmapa is restored to his inheritance at Rumtek monastery near Gangtok.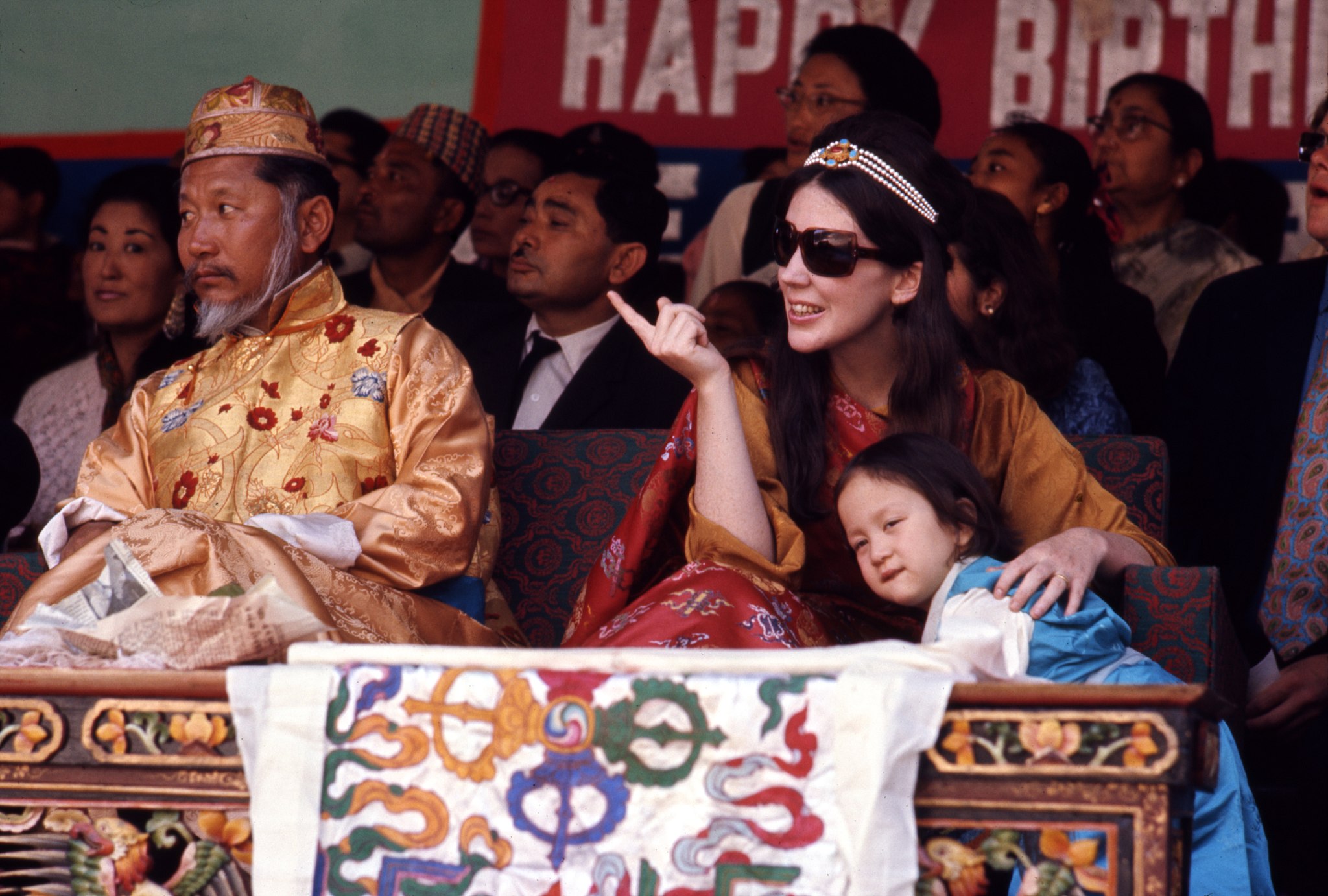 Palden Thondup Namgyal was the 12th and last Chogyal or king of Sikkim
Wikimedia Commons
One of the last links with the lost kingdom of Sikkim and, more specifically, with its last king, Chogyal Palden Thondup Namgyal, ended with Karma Topden's cremation recently. Karma's political and emotional involvement with the Chogyal went far beyond any ordinary bond between monarch and loyal subject. Although the Chogyal was long dead and Karma himself moved many years ago out of Gangtok's enclosed world into national politics and international diplomacy, Sikkim remained his ultimate reality.
Our first meeting was on the palace lawn in Gangtok. 'You know this character?' the Chogyal said in fond banter as Karma went through the three full-length prostrations, the ko-tow of Manchu ritual called dhokin Sikkimese, that he performed meticulously. Karma asked me to dinner in the government bungalow he enjoyed as the Chogyal's deputy secretary. There I met Cherry, his English wife, a solicitor who had done her internship in Cambridge where she shared lodgings with Sonia Maino. Showing me out afterwards, Karma pounced on my scarf which I had left in the hall with my coat and gloves and ran back into the sitting room, yelling 'Cherry, Cherry, why is my university scarf lying here' It turned out we had been to the same university in England, though some years apart. Karma was younger. I shouldn't be writing this at all.