Five years ago, a typical day for Shukti Singh Roy meant sitting in her air-conditioned cabin at a private bank, fretting over numbers on computer screens from morning till late in the evening. Today, she spends most of her time with lumps of clay, moulding it into elegant shapes that take a life of their own.
The founder of the Orikiad Ceramic Studio chatted with My Kolkata on her journey from banking to pottery.
An artist by nature
Shukti remembers being included towards art right from her school days in Assam. "I would keep drawing in my notebooks even while writing notes. In Class IX, while submitting an assignment to my teacher, I mistakenly gave up a piece of paper where I had drawn her caricature. Later, she called me and the moment I entered her room, the book was flung at my face," she chuckled. 
After completing her education — graduation in economics followed by postgraduation in management with specialisation in finance — she spent a year in advertising and then embarked on a 25-year-long journey in banking. "For the first 10 years, I was with Citibank. After that I worked at ABN AMRO Bank, followed by the Royal Bank of Scotland. I ended my time with foreign banks by joining RBL Bank," Shukti said.
Despite her profession, she stayed in touch with her artistic side, making sure to visit museums every time she went abroad, a habit that she feels has strongly influenced her creations. Her passion for travelling, shared by her husband, also led them to pick up ceramic souvenirs from each of their destinations and the tokens adorn each corner of their house.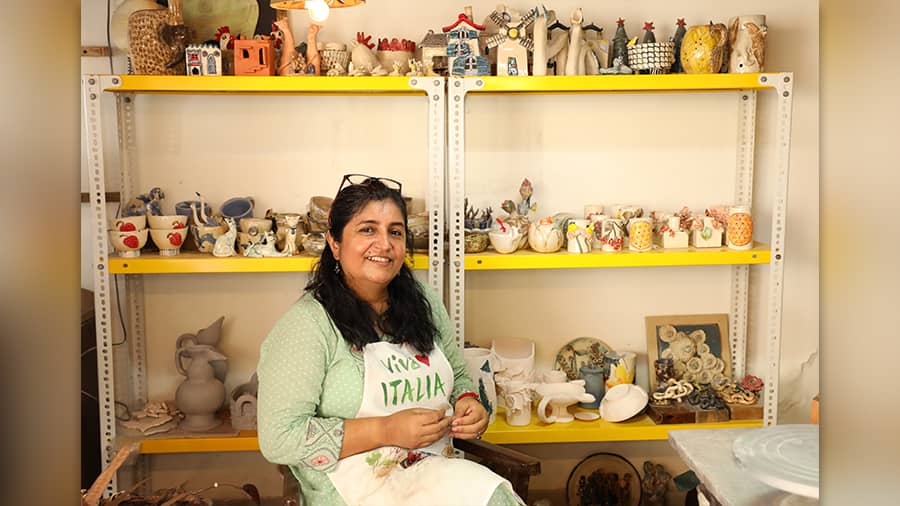 Shukti at her home studio, in front of her creations
Challenges of giving up corporate life
Professionally, Shukti was ticking all the right boxes and achieving success but she kept feeling something was missing. 
"When I was working, I didn't have time for art at all. It was a very high-pressure job that kept me in the office from 9am to 9pm and the only thing we focused on were targets. Suddenly, it dawned upon me that I had hardly given any time to my children and they just grew up by themselves. I couldn't accept that for a while, and decided to quit," recalled the mother of two. Her son and daughter are now 24 and 20 years old, respectively.
But even quitting wasn't as linear a decision as it initially seemed. Besides being a stakeholder in the company, Roy's experience led to constant attempts by people to coax her into rejoining. Battling a constant internal tussle about what she should do, it was a chance encounter that helped Shukti make up her mind. 
"One Sunday, I went to the Buddhist temple in Dhakuria (Nipponzan Myohoji Buddhist Temple) and met a monk. He told me about his experiences, starting with how he told his mom about wanting to become a monk when he was 16. His mom advised him to first see the world, deal with people and experience life. He went on to become a chef with Hyatt before joining the temple. The monk reassured me that my calling would come to me at the right time. Within two months, I quit my job," Shukti said.
Shukti's decision to leave the corporate world and pursue her passion has led to many people seeking her mentorship, too. When she is not making pottery, she counsels mid-level managers, particularly women, on important decision-making around a career change. "I always tell people not to quit until they are clear on what they want to do next. If you have a family and responsibilities, you must ensure that you can take your passion to profitability before taking the leap," she said.
In keeping with her mantra, Shukti likes to cultivate hobbies other than ceramics as well and loves watching international shows on Netflix. "I particularly like watching shows on history because they give me perspective about how things are." She admits that she can't switch off her inner ceramist, and instantly thinks about creating something similar when she spots an interesting pot in the frame.
The biggest challenge
The challenges didn't end with quitting her job. Shukti admits that letting go of a steady paycheck was very hard. "It was a very sound decision that I took after much discussion with my children. I told them that with a revised budget, they would not have whatever they wanted whenever they wanted it, and they were very adjusting." The offers to rejoin also kept her conflicted but her biggest challenge was within. "The biggest challenge was to accept myself as a potter and for a long time I never introduced myself to the rest of the world as one. Since this is a solo journey and I didn't have a degree in art, I would hold myself back. " 
Having quit her job in January 2018, Shukti started participating in shows by November. The response made her realise how important it was to embrace her new identity. "Others wouldn't accept me if I didn't accept myself first and unless I brought pride to my work, I would never be able to present it to people, let alone make them purchase it. In my shows, I was very clear about the hard work that had gone into my creations. I recognised the importance of my time, and why it deserved to be compensated for." The acceptance from people was visible in her first show at Birla Academy of Art & Culture. Shukti managed to sell 25 of the 28 items she had displayed.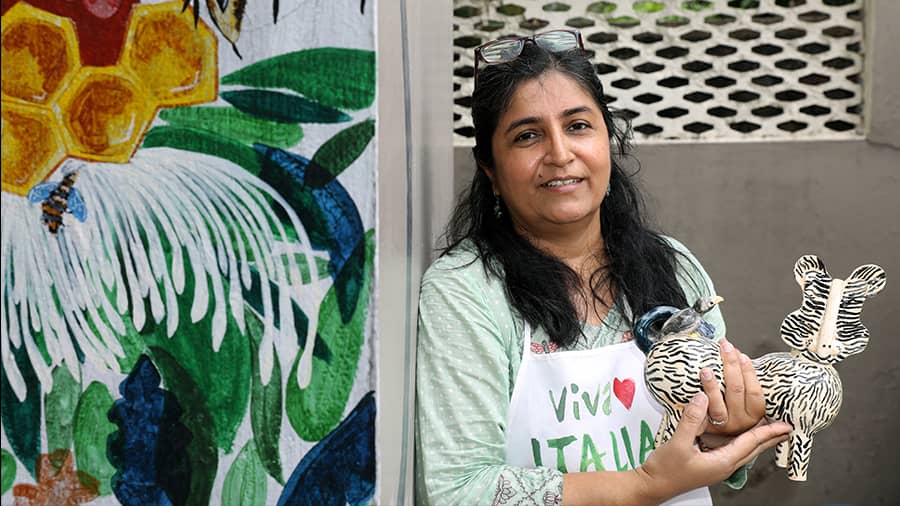 Shukti with her favourite piece, a tiger and a bird in front of a wall painted by her daughter. 'It's a reflection of the symbiotic relationship that exists in nature-based mutualism,' the potter said
Finding joy in clay
Shukti's love for ceramics is apparent in how she philosophises it. "Pottery is therapeutic and every piece has an unyielding simplicity to it. I use art as a medium of expression, to provoke thought and talk about the things on my mind. I actually get a lot of my ideas from newspapers," she said. 
Her ideas seem to have struck a chord with people across demographics. Shukti is the most grateful to people who come to her with personalised requests since these always have an emotional attachment to them. "A woman wanted me to make a man on a motorbike, for her husband who is in the army. Another lady from the US said that she had seen me make flowers and asked if I could create a remembrance piece for her late father, based on the flowers he had planted in their garden. This is why pottery is my life. There are so many stories it allows me to explore and tell." 
Shukti's voice takes on a note of childlike wonder when she describes how she spends every afternoon in her studio, often working till late at night. "Sometimes I am so engrossed in a piece that I don't even see the time until I finish it. It is a unique state of flow."
It is the vision that has allowed her to persist without being perturbed by the logistics. When she started off, Shukti didn't have any space or equipment. She would go to artist Ashish Choudhury's studio in Behala to work there. "He not only gave us his space, but also helped us with our doubts. While I have my own space now, I still like going there sometimes because it is a great platform for artists to exchange ideas."
Committing to ceramics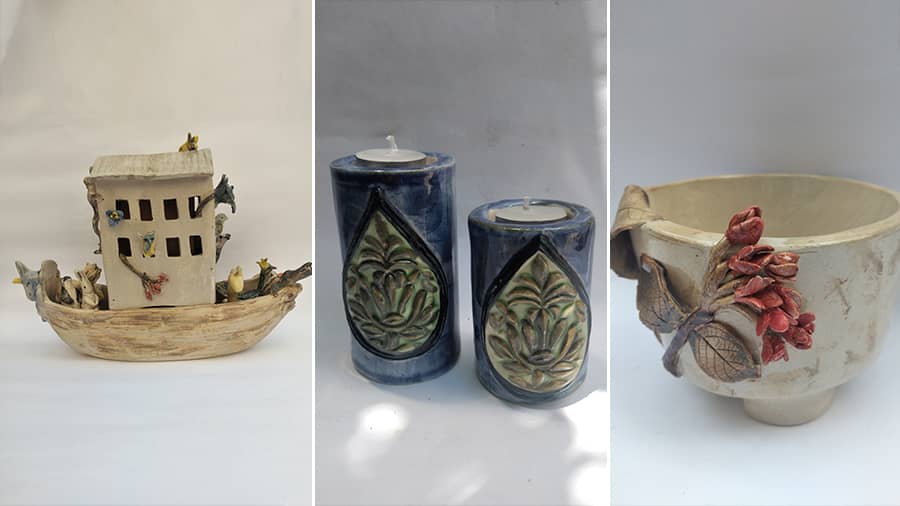 Three ceramic pieces by Shukti
The studio in what was once a garage is Shukti's haven and she shares a special bond with it. "Our garage was very small, ideal for our first car, a Maruti 800. Since it had a commercial licence, we thought of utilising it for business. My husband is passionate about travel, so we initially opened an agency. COVID halted travel and I had ordered my pottery equipment around that time, so turning the garage into a studio was a natural process. While I do like it for now, I hope to make a better studio in the future, which is larger and more airy."
The pandemic also encouraged Shukti to learn and she completed over 50 online courses on pottery during the lockdown. "Potters from around the world would show their studios, how they worked and share stories from their lives. It was like Rabindranath Tagore telling you about himself. It really helped to have access to people with such vast and diverse experience, as pottery in India is still limited, with a lot of people sticking to cups and plates. Thankfully, things are changing and people are experimenting more." 
Shukti attributed some of the changes to Bollywood and Hollywood stars taking to pottery. "People are starting to see it differently. Nowadays, almost all cafes in Kolkata are using ceramics for plating, recognising that it is sustainable and aesthetic," she said.
Lessons from banking
The banking background has also influenced Shukti's art, she feels. "My banking life has taught me to be structured. I am very process-oriented, even in my studio. From Day I, I maintain a profit-and-loss statement, even though I don't have to pay GST yet." At the same time, there is a clear line between the person she was in the corporate world, and the person she is today. "Shukti the banker was a people's person and her doors were always open. Shukti the ceramist is on a solo journey, where she is in her own world. At times, I do like company, but when I've had my share of it I prefer going back to my own space and working quietly," she laughs. 
As much as she likes solitude in her art, Shukti feels that societal support is also important. "In India, ceramics is still not considered to be mainline art. The industry can really grow if people give it the attention they do to other art forms. People go for factory-made pieces because it's cheaper. While I understand that, it is important to remember that factories can churn out 10,000 pieces in a day with machines, but lack any human effort, pain or value. If you're looking for studio pottery and want to drink your coffee from something handmade, there is a price that you have to pay for our sweat. People constantly want studio pieces at prices that can compete with items sold at Gariahat. Ceramics is a tradition and by paying the right price, you're keeping it alive."