It was 1960 when Brother Brendan MacCarthaigh landed in Kolkata from Dublin. For the next 62 years, the eleventh son of a not-too-well-to-do Irish family worked relentlessly to improve the education system. With time, he earned many names for his work — some call him The Brother, some The Inspiration and some The Teacher. But to everyone who knows him, he is their beloved Brother Mac.
On the eve of his departure from Kolkata, Brother Mac received a warm send-off from past pupils and admirers. Organised by St. Joseph's College Old Boys Association, the programme saw former students sharing fond memories of their teacher.
"I cannot tell in how many ways Brother Mac has inspired me. I couldn't believe it when I heard about him leaving. While a part of me doesn't want this to happen, the other part wishes him all the very best for his future endeavours," said Satnam Aluwalia, a businessman and a former student.
A special video made by Brother Mac's students who live outside India was played, while some students expressed their gratitude with songs. All evening, MacCarthaigh sat in a corner of the stage, smiling, sometimes clapping or bowing to the crowd.
My Kolkata caught up with Brother Mac for a chat amid all the handshakes, book signing and requests for selfies.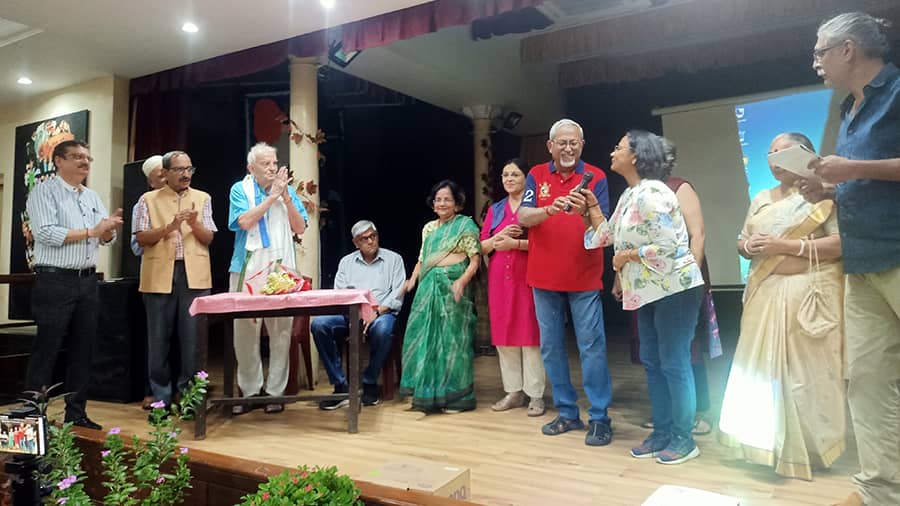 The farewell and felicitation ceremony was organised by the St. Joseph's College Old Boys Association on Saturday evening
Bishwabijoy Mitra
My Kolkata: How has Kolkata changed from when you first arrived here to the present times?
Brendan MacCarthaigh: There is much less hatred. When I first came to India, the British Raj had just ended and there was a general hatred among people against goras. People would often punch me in the stomach or kick my legs while I was trying to get off a crowded double-decker bus. I understood what they felt and I also understood that they didn't hate me. They hated the British and as I happened to have white skin, they acted like that. Now, the city is much more tolerant and full of love.
Another thing I have noticed is that Kolkata is much more organised than Calcutta. The traffic is well-behaved and the streets are cleaner. Otherwise, it's the same. Kolkata has always been a place where something or the other is happening or going to happen.
MK: Won't you feel sad after leaving the city?
BM: I will. The city has given me many things, including some great friends. They will stay forever with me.
MK: What's your plan in Dublin?
BM: Nothing at all. I will sit back and rest. I am planning to do nothing. However, now I am in someone (God) else's hands. If he wants me to do something, I will. I will continue to spread love and the importance of love in someone's life. That's my main gospel nowadays. I will try to remember that religion, all religions, is meaningless without love. We have made the mistake of personifying God. There is no person called God. All religion talks about God being up there and so on. It's all garbage. If God is anywhere it's in the trees, flowers and in us. That's how God says that he loves us. Being a Hindu if you hate Muslims or being a Catholic if you hate Muslims all your devotion is meaningless.
MK: Why did you move to Chandigarh from Kolkata?
BM: I was teaching in Dum Dum and soon there was a feeling of discontent. Besides I needed a place to rest, after all I was not getting any younger. Chandigarh is a restful place, with trees, flowers, birds and a beautiful campus. I finally could breathe a little.
MK: What's your opinion about online education?
BM: I have been involved in it because of my age. However, a teacher in a classroom is an important element in an education system. But, I am an old man and my approach towards my profession is probably old too, so I would tread cautiously here before giving an opinion about the present education system.
MK: Do you think classroom communication has a different impact on the students?
BM: Well, I would like to talk about and see the system doing more about education in relationships. Families are breaking up, children are looking at their mobile phones all day and parents are worried about how their children would react if they say 'no' to something. For the first time, I am seeing parents afraid of their own children and this is happening because of the lack of communication.
Then from an early age children start to believe they are independent of their parents and go on their own and take a number of wrong steps. During the lockdown, a teenage student called me up to say his sister wanted to have sex with him and if was it okay or not to do it. You see, such complications start with lack of communication. In a classroom, a student communicates with 50 other students and learns the art of communication. When they are unable to do that, their system collapse. Solitary confinement is one of the highest forms of punishment and the children have gone through that during the lockdown. This is serious.