October 9, 2021 saw one of Aishwarya Biswas's cherished dreams come true. The young entrepreneur who became one quite by accident, had always harboured dreams of being on Shark Tank even when the word 'entrepreneur' wasn't a part of her universe. The iconic reality show sees hundreds of 'aspiring entrepreneurs from around the world pitch their business models to a panel of investors and persuade them to invest money in their idea'. This time when Shark Tank came to our part of the world, with Shark Tank India on Sony, Aishwarya got a chance to pitch her five-year-old wellness brand Auli of which she is the founder and MD. She felt like a "superhero", saving her best for this moment of her life. And, having bowled over the judges with her bindaas "attitude", the Salt Lake girl has returned funded. "A big win for us girls. Life has changed after Shark Tank India. I haven't got so many congratulatory messages five birthdays put together," she told us. The pretty Aishwarya went on to chat with us about her experience on the show and her takeaways.

Congratulations for Shark Tank India! What was your first reaction when you got to know that you would be on the show?
Thank you! The first reaction was really funny! It was a long process which started in August where we got a mail from Goldman Sachs, with whom I was already enrolled, saying that we could apply and we applied on the last day. I think I had fever and didn't feel like applying but somehow I put myself together and applied. I think Shark Tank was in my destiny.
Then we auditioned in Delhi end-August. I think there were 65,000 entries out of which 15,000 auditioned and then from that 200 start-ups were shortlisted. We were the sole women-led team from Calcutta. It was a great feeling. I was in Goa end-September, on the beach, packing in some souvenirs for my team when I got the call. I still remember that moment and went running to my friends! Even then we didn't know if we were going to get aired. I was told to reach Bombay by October 6 for my shoot on October 9. I say it is destiny because I was supposed to be in Dubai for a beauty expo at that time but due to an expired passport I couldn't go.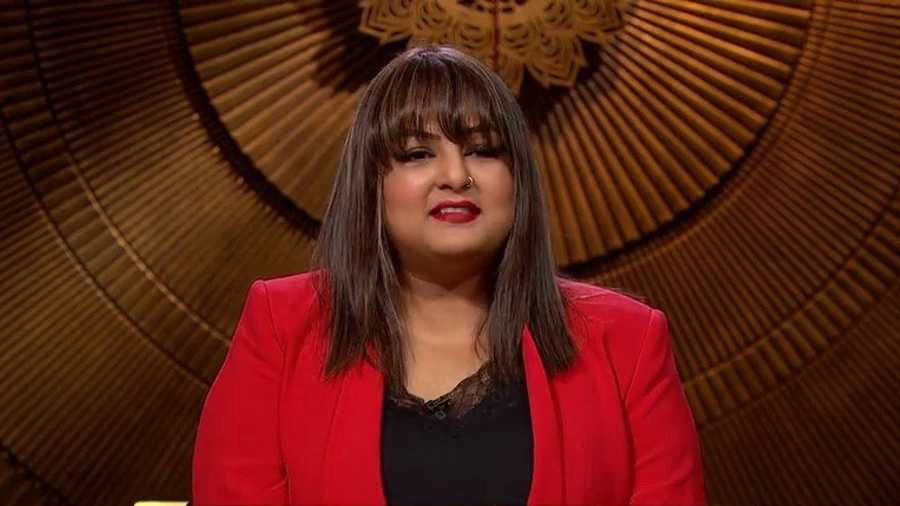 "I have been funded many times before, but this time, I feel I met someone whose soul matches mine. Namita Thapar is phenomenal. She is grounded, emotional, thinks with her heart, amazing flair and personality. Our vibes matched. She is in pharma, an heiress and most importantly, a skincare junkie as she calls herself and the right person to give me advice," said Aishwarya.
Twitter/@sharktankindia
Did you prep?
I just had a seven-day window to prep and in the middle was my birthday (September 30). So, lots of partying! (Laughs) Starting October 1 to 6, I prepped really hard. Shark Tank is very competitive and serious. You need to know your deal and just can't go on wrong.
I got a lot of help from the team and existing shareholders. We did a lot of number crunching and market study to understand our vision for Auli.

What was the experience like?
The experience was phenomenal to say the least. The shooting happened in batches of 15, in Mumbai. We were in Filmcity, Mumbai and were put up in a bio bubble. On the sets, it was great and it was next to KBC (Kaun Banega Crorepati). We had to make it a bit dramatic too and our pitches needed to be interesting. You just get that two-three minutes to make your impact. I was in charge of tea and coffee for everyone! I think we became a family and we call ourselves the Shark Tank survivors and some of us even call ourselves 'tankers'! More than anything, we met like-minded people who have had really interesting journeys in their lives and we shared notes. I'll never forget Vipinji, who is 70, who kept calling me Aishwarya and himself Abhishek! Then there were these 20-21-year-olds who gave me major FOMO about why I didn't start earlier. I was missing my family, but then everyone kept saying, "Tum akeli hi sau pe bhari ho!"

Were you nervous?
I was very nervous! And, I am usually not. The sheer size of the set and the hugeness of it, was something else. I have done a lot of pitches, but this was different. Imagine the 'sharks' in my episode (the likes of Anupam Mittal, founder, People Group; Aman Gupta, co-founder, boAt; Namita Thapar, executive director, Emcure Pharma and Peyush Bansal, co-founder and CEO, Lenskart)! For our ecosystem, the start-up fraternity, they are the Shah Rukh Khans and Aamir Khans. So, for us, those people staring at us and asking us questions, the thought itself was unnerving. They went easy on us, at least on me, knowing that we would be nervous. But I turned my fear into positive energy and I made them laugh. The minute I made them laugh, it kind of loosened me up too. What you saw on TV was just 15 minutes, but the actual pitch was for an hour and 15 minutes.
The nervousness came back steadily when the negotiations started. They are the big daddies. They know what they are doing. I knew kya bolna hai and what I had achieved so far and where we wanted to go, but questions like what's your market size and saying those numbers in INR when you have prepared everything in millions and billions of dollars... it would be a little unnerving to do all the mathematical calculations with those many lights and cameras and with those 'sharks' looking at you.

What was your biggest learning?
One is that, you may have done a lot of things well, there are still so many more things to do, so many things to achieve that even if there is failure in some form, it's okay. We can't go hard on ourselves. I went in, saying I wanted the mentorship more than anything else.
Whenever you feel you are alone in a scary situation, you look around and pick up from the people around you and they will come to your rescue. I also learnt that asking for help is not a bad thing. I know I always did it and in the tank I was told, it's fine. For me, it was auditioning in front of Marlon Brando! How would you describe that?!
I have been funded many times before, but this time, I feel I met someone whose soul matches mine. Namita Thapar is phenomenal. She is grounded, emotional, thinks with her heart, amazing flair and personality. Our vibes matched. She is in pharma, an heiress and most importantly, a skincare junkie as she calls herself and the right person to give me advice.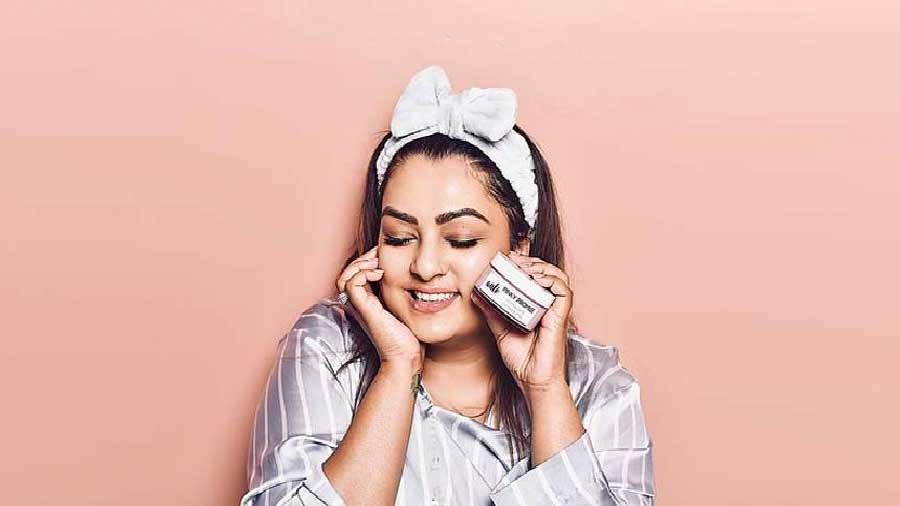 Aishwarya with her product from Auli.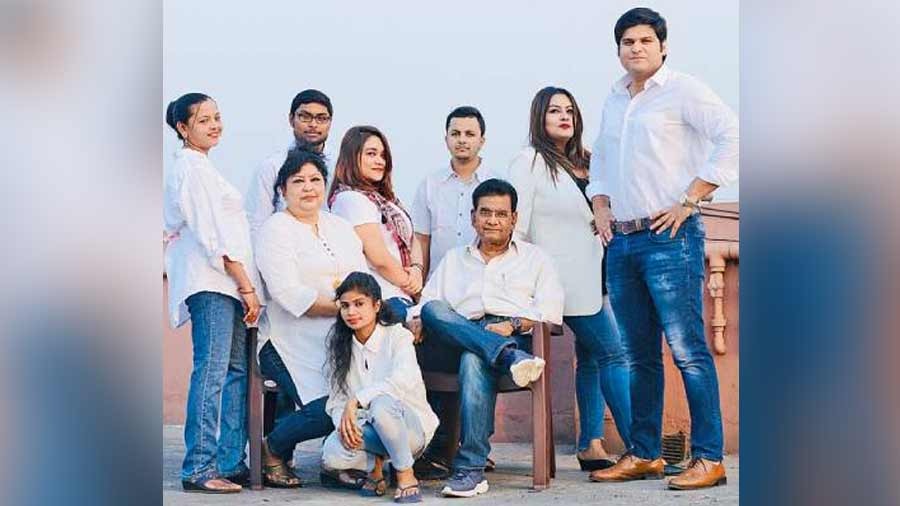 Aishwarya with her team.
What has been the reaction back home like?
My mother's gone wild (laughs). She can't stop crying! She is screaming, dancing... she is watching the episode every half-an-hour (since it was aired on January 4)! My father's gone quiet out of pride (laughs). Samir (Khan; partner) and I don't know what to do with this kind of reaction. So, we are just soaking it in. I think we got the craziest sale in the last five days! The team celebrated by working harder. My friends are excited. My relatives who did not like me too much (before) can't have enough of me or Auli! 'We always believed!' they are saying....!' (Laughs)

What is the next step for you?
The only step is to work harder. We are getting Namita Thapar on board. She will open up so many new doors.... We will do a lot of great work in terms of product development and step out of the shadow of the east and take it to the world. My vision is that every girl should know why skincare is as important as brushing.

What is your entrepreneurial resolution for 2022?
I want to ensure that the vision is met. I also want to mentor women entrepreneurs. I am open to collaborations. I also want to pledge to do whatever it takes to nurture the environment. I want to make my city proud and also all the women entrepreneurs who face so much in their lives, but still keep going. When you have nothing to lose, the only way is onwards and upwards.