When My Kolkata caught up with Supriya Newar on a windy evening, the author was tucked into a comfy reading chair, surrounded by books and cassettes, with Lata Mangeshkar playing in the background. She had a cup of black coffee by her side and a copy of Kolkata Classics, her latest ode to her hometown. While her previous book, Kalkatta Chronicles explored growing up in 1970s Calcutta, Kolkata Classics depicts the simpler aspects of the city through a collection of 24 verses. Her conversation with My Kolkata ranged from her creative process to the vibrance of Kolkata and a poetry appreciation session…
Sweet nostalgia
Newar credits her upbringing as a driving force behind her writing. The Modern High School for Girls alum grew up in a joint family in her Girish Park home and her childhood experiences from the '70s are what shaped her first book, Kalkatta Chronicles.
"The '70s are known as Amitabh Bachchan's 'angry young man' era, but there wasn't a lot of representation of the way common people lived. People living in different cities and communities shared similar challenges during pre-liberalisation. The economy in India changed overnight and the way children were growing up in Indian families also changed. The key transition was the shift from joint to nuclear families," the author shares.
Newar prioritised common, shared experiences, like covering notebooks with brown paper, the eccentricities of the family telephone, and the ever-present liftman who would know more about the goings-on in the building than the residents in Kalkatta Chronicles. "It is a very simple book where I haven't used verbose language. My objective was not to compare the past to the present or to talk down to millennials, but to write about my personal experiences," she adds.
Multiple identities
Newar also points out something poignant about the multitude of identities that the city harbours. "Just like Hindustan, Bharat and India are not the same country; Calcutta, Kolkata and Kalkatta are not the same city. However, living in silos will never make us happy, we must learn to borrow, and if we discard something, we must do so with grace. 'Calcutta' has always been the older brother owing to the colonial hangover and 'Kolkata' has been the most popular because of the language, but 'Kalkatta' just disappeared," the poet ventures.
"Most Hindi films, along with Vividh Bharati and satellite television, used to refer to the city as 'Kalkatta' till the new millennia. I find this 'Kalkatta' to be a hybrid creature, because it has borrowed heavily from both Calcutta and Kolkata, but has added its own migrant flavours from different regions. Kalkatta is your dukaandaar, mistri, kiranewala and coolie. I wanted to tell the story of this city, where we waited our entire lives for Vilayat Khan sahab to play one concert at Mahajati Sadan because we didn't have access to online music," she tells us.
Verses for a city
Her latest book, Kolkata Classics, is a love letter to the city's most indelible elements that give it life without drawing attention to itself. "The poetry isn't supposed to be esoteric or layered, but fun. The poems are about simple things that we talk about and see all the time, but don't pay attention to, like jhalmuri, boi mela and Feluda," the author reveals.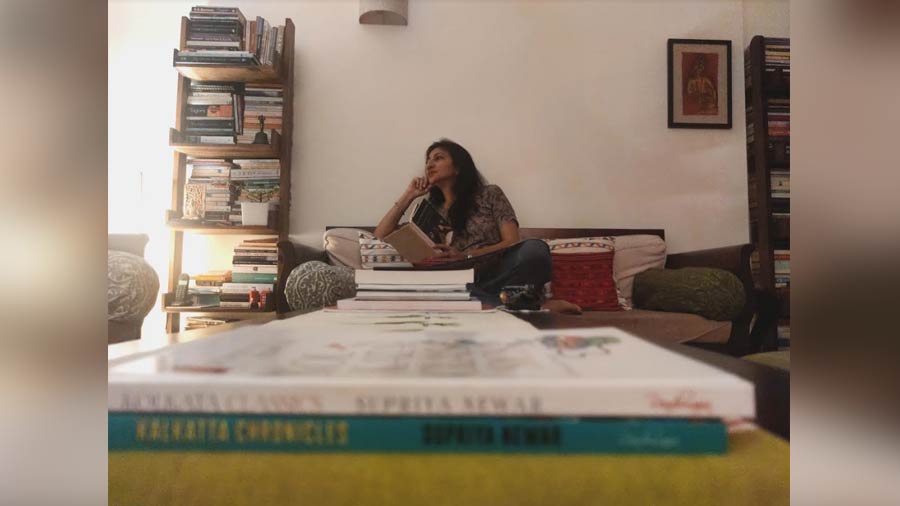 'Kalkatta' is a hybrid creature… it has borrowed heavily from both Calcutta and Kolkata, but has added its own migrant flavours from different regions
Vedant Karia
The roots of the book started in the aftermath of an adda session long ago when Newar felt the urge to write a poem on adda. For a while, it just lay on her computer along with her other unpublished verses. "After last year's Puja, the Omicron threat grew and there were a lot of cases in my complex. There was no scope for socialising and living alone made my confinement even tougher. One day, I was sitting in my writing room and heard the call of the pheriwalas. While I heard them every day, the lack of movement and silent bylanes allowed me to hear them more clearly than before." She wrote a poem about them and felt a surge of release after.
Ordinary things that lead to extraordinary experiences
This prompted her to look at other personal elements that kept her grounded, and she realised that they weren't luxuries, but ordinary things that led to extraordinary experiences. "I felt that this could turn into something and sent it to my publisher, who loved it. The thing with writing is that once you are gripped by an idea, be it banal, bizarre, plebian or profound, you don't have to chase it. That idea chases you and doesn't let you sleep. With poetry too, once it is brewed, it's like a Kalbaisakhi, it has to come out. I started scribbling furiously, and the book was ready by January 2022!"
One of the earliest reviews came from Usha Uthup, who penned a glowing afterword to the book. The book's cover carries an illustration of the ghoti gorom vendor's bell, which has a distinct harmonic ring. Newar adds that it represents the spirit of the city, where a vendor carries warm coals with him to provide the crispiest chanachur.
Evolution of a writer
Newar notes that people often assume that she is just beginning to write, even though she has been doing so since her days at St. Xavier's College. 
"In college, I was doing three other courses on the side, so I didn't get time to work full-time. Since I was from a Marwari family, no girl in my family had studied in a co-ed college and no one had worked for anyone else. I didn't want to accept the blueprint of getting married by 23 and having my first kid by 25. I swam against the tide — not because I was trying to rebel, but because I was trying to find my calling," she reminisces.
She remembers writing feature articles with a fountain pen in turquoise ink, neatly packing them in an envelope and dropping it off at publication houses across the city. She chuckles that her parents often reprimanded her for spending more on faxing articles than she got back as payment for them. 
"My parents would be overjoyed when they saw my name in print, even if they didn't read the article. I would have a byline on a newspaper or magazine every week, and the publication would add a note with the cheque. I have kept some of the notes even today," she says.
Best of both worlds
In keeping with her mantra, she started working barely a week after completing her post-graduation from Jadavpur University in 1999. Her journey in corporate communications started with 123greetings.com, and after helping some of the country's top brands scale up their content for over two decades, she finally left her full-time job in 2014. She attributes the decision to a mix of factors including her mother's passing after a long illness and her desire to leave behind gruelling 14-hour workdays.
Since then she has authored several coffee table books, along with books on Seth Govind Das and Girija Devi. She also got to revisit her love for sports and travel. Today, she represents the Dalhousie Institute in table tennis and badminton. She has also undertaken over 10 solo trips and been on 15 safaris since 2014. 
"I love getting lost in the hills and finding my way back. I'm hoping that my next piece will have a Himalayan touch!"
But despite her career as a writer and poet, she describes music as her first love. "I'm a trained vocalist in Hindustani Classical, although I don't practice anymore. I love Indian music, be it classical, folk, retro Hindi film music or Urdu ghazals. Since 2014, I've also conducted many folk music workshops with artists of Rajasthan and they treat me as a sister there," she smiles. 
Next, Newar wants to explore writing lyrics for Hindi songs and reveals a desire to write a book on Rajasthani folk music, focusing on the words, ethos and cultural mapping. "I value authenticity. I'm not saying that mine is the finest experience, but I am saying that it is my experience."