As one of contemporary India's most iconic personalities, Mahendra Singh Dhoni has spent over two decades under intense scrutiny. And yet, through a combination of choice, chance and character, he has somehow managed to remain inscrutable. Besides being India's most successful limited-overs captain in men's international cricket and the personification of calmness on the field, not much is known about Dhoni the person or how and why he became the phenomenon he was. A new book aspires to fill that gap.
Just like the cricketing techniques of its protagonist, Do Different: The Untold Dhoni (published by Penguin Random House), by Joy Bhattacharjya and Amit Sinha, is anything but conventional. The aim of the book is not to celebrate or critique Dhoni. Nor is it to assess Dhoni's relative greatness among the pantheon of Indian cricketing legends. Instead, the book wishes to do something far harder. It tries to understand Dhoni and everything he entails.
My Kolkata caught up with Joy and Amit to dive into the book, reminisce about golden Dhoni moments, assess his captaincy and more. Edited excerpts from the conversation follow. 
Since there are so many different Dhonis, there had to be different approaches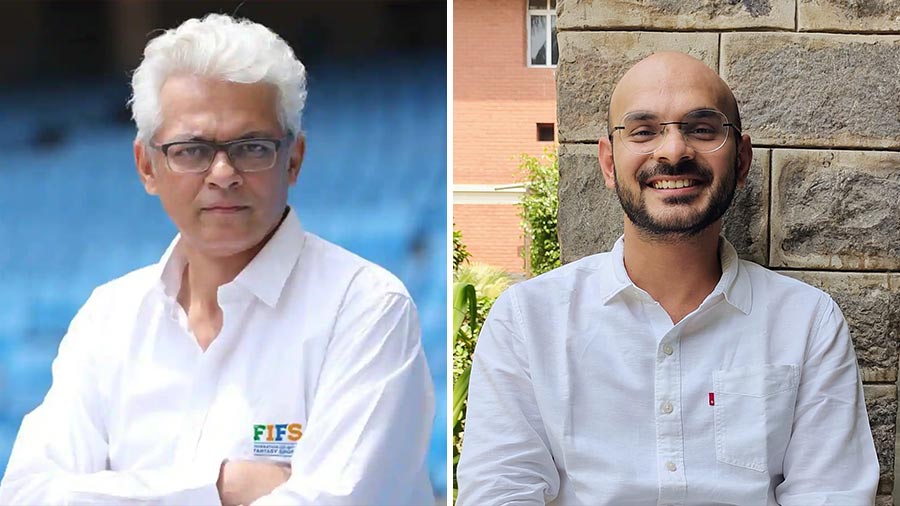 Joy Bhattacharjya (left) and Amit Sinha managed to incorporate multiple perspectives in their book to analyse what made Dhoni what he is
Joy Bhattacharjya; Amit Sinha
My Kolkata: Instead of opting for an in-depth biography, which has already been attempted numerous times on Dhoni, you chose to focus on Dhoni's journey and legend through a variety of perspectives, themes and storytellers. What made you settle on this approach?
Joy Bhattacharjya (JB): Since there are so many different Dhonis, there had to be different approaches. For instance, if you're trying to understand Dhoni the brand, then you've to take a different approach. Obviously, those working with Dhoni right now won't talk, but Jeet Banerjee, who has seen Dhoni's brand journey from the beginning, was the perfect choice. Then we were looking at players and wondering who's played with Dhoni, under Dhoni and also worked with him as part of the management. That's where Laxmipathy Balaji came in. From the journalistic perspective, we chose Sharda Ugra, because she had a different perspective on Dhoni and it's not all positive, either. Deep Dasgupta features because he's practically bookmarked Dhoni's career from his days of competing with Dhoni for the wicketkeeper slot to commentating while Dhoni was still playing.
Amit Sinha (AS): Our approach was also decided on the basis of whatever literature existed previously. There's already a biography of Dhoni by Bharat Sundaresan, so obviously we didn't want to do another biography. We also wanted the book to have two distinct parts. One which looks at his cricket, not just in terms of picking his most memorable knocks, but contextualising them and underlining their importance for him and the team. And the other part, which was designed to look at Dhoni off the pitch and explain the phenomenon he became. With greats like Dhoni, we always tend to become myopic and just look at him as the captain who won us two World Cups and the Champions Trophy. But there's a lot more to his story in terms of the often overlooked moments that eventually shaped who he became. That's the story we wanted to tell.
The way Dhoni put Ranchi on the map, nobody else could replicate it with their own city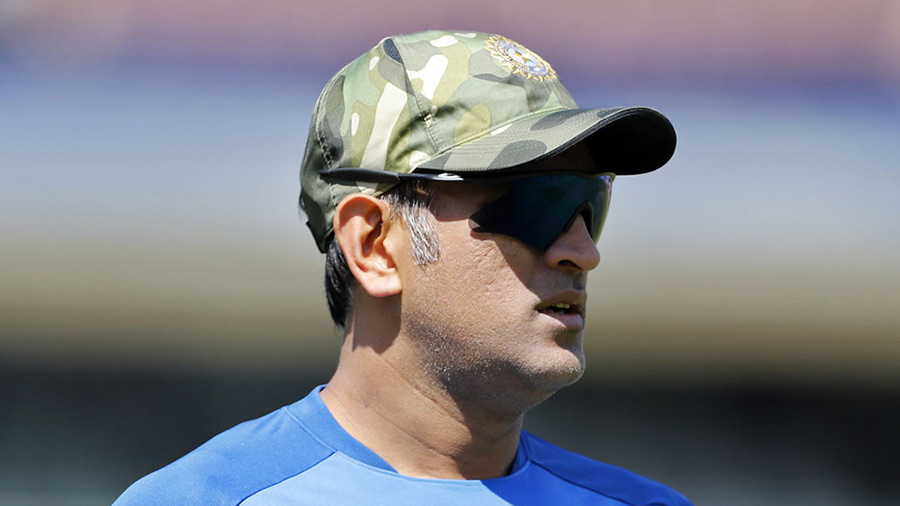 Dhoni's remarkable ascent from the cricketing backwaters of Ranchi was unexpected, if not unprecedented
TT archives
How did Dhoni's rise from Ranchi change the geography of Indian cricket? Was his the journey that proved that cricket had well and truly been democratised in India?
AS: There were people before Dhoni who came from small towns and played for India. Kapil Dev (from Chandigarh) would be the most prominent example. During the early 2000s, under Sourav's captaincy, India saw an influx of players from all parts of India — Irfan and Yusuf Pathan, Parthiv Patel, Zaheer Khan, just to name a few. So, the decentralisation of Indian cricket had already begun. However, nobody took over Indian cricket quite like Dhoni. The way he put Ranchi on the map, nobody else could replicate it with their own city.
JB: I'd just like to add that when Dhoni became captain, he already had so many senior players in the dressing room that he realised he can't follow the conventional model of team meetings. I mean, how do you even talk when you've got the likes of Sourav, Anil Kumble, Rahul Dravid and Sachin Tendulkar sitting in front of you? Dhoni, quite smartly, moved a lot of the cricket talk into his own room, which practically became an open house for anyone and everyone to come in and talk strategy, relax or have some tea. That helped a lot of the younger players in the squad to feel at ease. So, Dhoni didn't just democratise Indian cricket in terms of geography, he also democratised it in terms of power and access within the Indian team.
I don't think Test cricket came naturally to Dhoni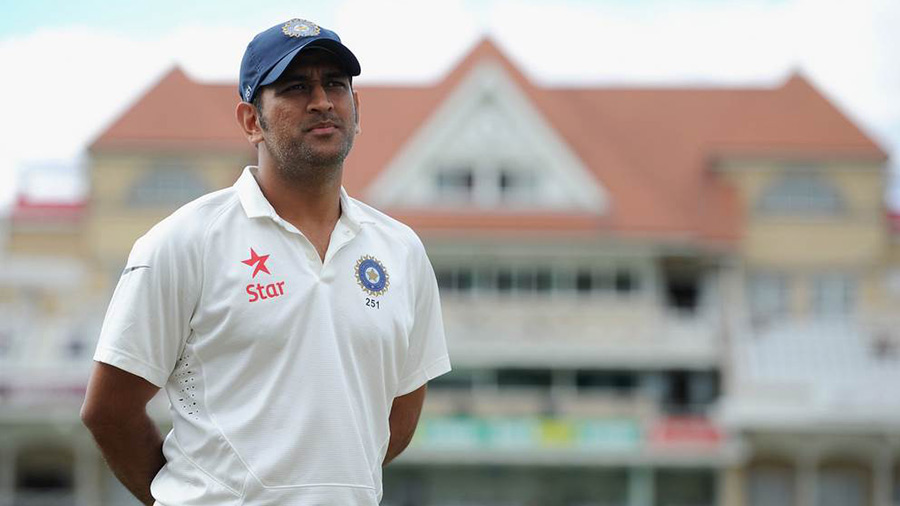 As Test captain, Dhoni struggled to match his success in limited-overs cricket, especially in overseas conditions
BCCI
During Dhoni's captaincy, we often saw very different versions of leadership in white-ball and red-ball cricket. In limited overs, Dhoni, the captain, was bold, intuitive and a calculated risk-taker. But in Tests, he would frequently become too defensive, predictable, even unimaginative. How do you explain this contrast?
JB: For me, Dhoni's never been a great Test captain. I don't think Test cricket came naturally to him. He's a fantastic leader of men who understood the limited-overs game really well. In Tests, Dhoni's early years as captain also saw a mass exodus of greats, which obviously made the team vulnerable. Dhoni was India's best T20 captain and one of India's greatest ODI captains, but he wouldn't rank among India's greatest Test captains for sure.
AS: Before 2011, Dhoni's record as a Test captain was phenomenal, too. And as poorly as India played in England (where they lost the Test series 4-0 in 2011), they kept losing players to injuries as well. For him, it would've been very difficult to stick to a game plan as captain. The scrutiny on his Test captaincy also became greater because he had been elevated to a different status in the sport after the World Cup triumph at home in 2011.
Dhoni is one of the finest game readers India has ever had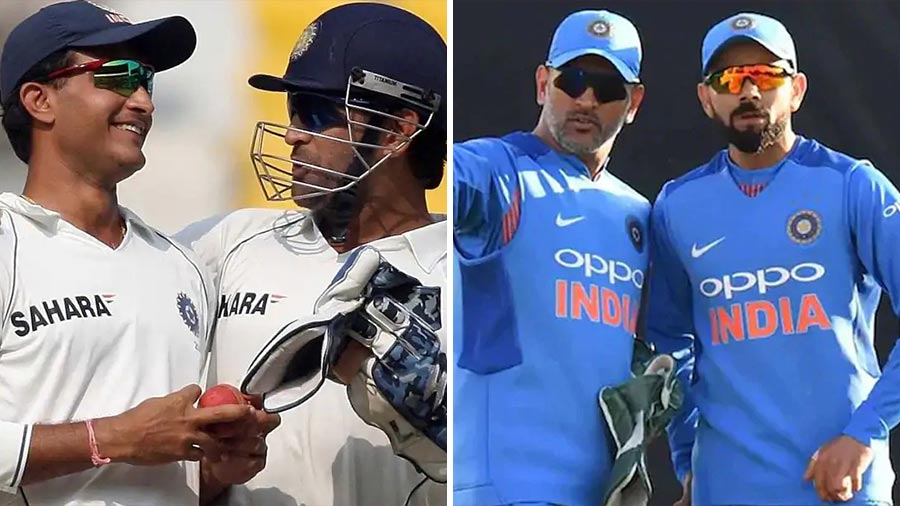 Dhoni has both played under and captained Sourav Ganguly and Virat Kohli
BCCI
Between them, Sourav Ganguly, Dhoni and Virat Kohli have led India in more than 70 per cent of international matches this century. How would you assess their defining legacies as leaders in Indian cricket?
AS: Sourav helped pioneer a generation of tearaway fast bowlers, some brilliant young fielders and many genuine match winners. He also took the pressure off senior players like Tendulkar and Dravid, allowing them to play more of their natural game. Several of the talents nurtured by Sourav reached their peak under Dhoni, who took the team to the next level. Dhoni knew how to get the best out of the young players, especially under pressure in knockout games. Kohli's legacy, on the other hand, will mainly be in the red-ball format — developing India's pace trio of Ishant Sharma, Mohammed Shami and Jasprit Bumrah and reinvigorating the self-belief required to consistently win on foreign soil.
JB: If you apply the trimurti analogy to these captains in Tests, then Sourav would be the Brahma who discovered talents and effectively created match winners out of them. Dhoni would be the preserver who optimised these talents. And Kohli would be the one who brought that extra aggression, especially, as Amit mentioned, in the pace attack. In ODIs, we wouldn't finish matches or tournaments as well under Sourav as we began to do under Dhoni. That's because Dhoni is one of the finest game readers India has ever had. Even under Kohli, we did quite well in international tournaments but were knocked out in crunch games, which Dhoni had always found a way to win.
CSK are very much comfortable being called Team Dhoni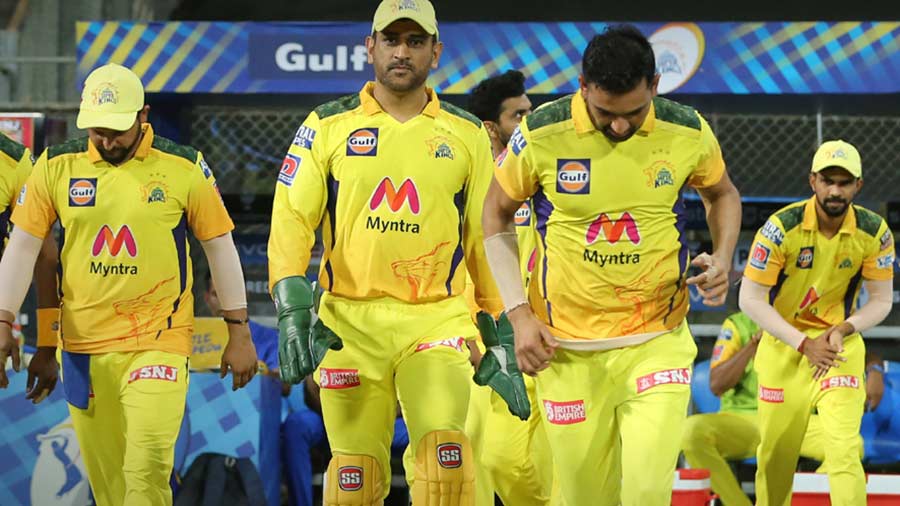 At 234 games, Dhoni has played more IPL matches than anyone else
BCCI
How much of the IPL's success can be attributed to Dhoni and what he has achieved with the Chennai Super Kings (CSK)? Would it be accurate to call him the IPL's most influential cricketer?
AS: I'd definitely call him the most influential cricketer in IPL history. There's no bigger brand within the IPL than Dhoni. He happened to be at the right place at the right time in terms of the IPL starting just after he led India to the T20 World Cup win and the tournament's formative years coinciding with his peak. Most of the other icons at other franchises were fading stars, but Dhoni was performing as keeper, batter and captain. The way Dhoni built the team at CSK made him and his brand synonymous with the franchise. Over the years of the IPL, teams have inevitably moved away from revolving around one player. All teams except CSK, who are very much comfortable being called Team Dhoni. Even at 41, he's still getting it done at CSK.
JB: Chris Gayle may be the Bradman of T20 cricket, but how many IPLs has he won? Zero. So, no doubt for me either about Dhoni being the most influential IPL cricketer. And it's not just about what he did on the field. It was the fear that teams felt going up against Dhoni's CSK, even before the match began, which spoke volumes about his impact. No team can play well or win consistently, but under Dhoni the number of ugly wins that CSK have eked out isn't funny. In a close contest, Dhoni was able to get CSK over the line more often than not. To know how much Dhoni means to CSK, you just have to hear how they talk about him. They say that if he wants to play for CSK till he's 55, he'll play for CSK till he's 55. If Dhoni asks them to jump, everyone at CSK asks: "How high?"
Dhoni was actually quite open to the media early on in his career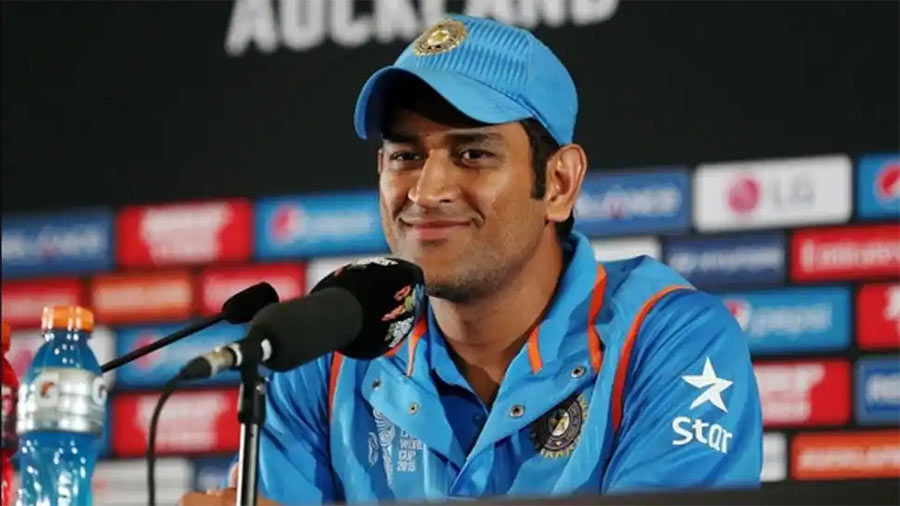 As captain, Dhoni kept the media at arm's length from the team
BCCI
As two people who have been in the media industry in several capacities for so long, can you help us understand how Dhoni transformed the relationship between Indian cricket and the Indian media? Would it be fair to say that his general scepticism towards the media created a wall between Indian cricketers and journalists?
JB: Dhoni was quite pragmatic about what he did. If journalists asked him about his life story, his approach was: "If I tell you my life story, what am I going to write about in my autobiography?!" As the media started becoming more intrusive, Dhoni realised that a lot of the younger players won't have the wherewithal to manage what they said and how they said it. So Dhoni let them follow his lead, wherein he spoke of very little beyond what happened in the match. If you go back to old-school journalists like Sharda, she'll tell you that you need access to cricketers. But Dhoni wasn't there to serve the sport of cricket by providing that access. He wanted to do what he could to win games and he never compromised on that approach, be it in dealing with the media or anything else.
AS: Dhoni was actually quite open to the media early on in his career. Between 2005 and 2007, he was giving interviews left, right and centre. But the aftermath of India's early exit at the 2007 World Cup in the West Indies was a turning point. The way the media reacted in general to the Indian team and particularly to Dhoni made him re-evaluate his relationship with the media. When he became captain, he understood that a lot of the media exposure affects the team in a negative way, so he did what he had to. But he was never at war with the media. People in the media still have the highest regard for Dhoni and how he treats everyone. It's just that he stopped all leaks, stories and information beyond the match facts from percolating to the media.
Dhoni always keeps you guessing, keeps you on your toes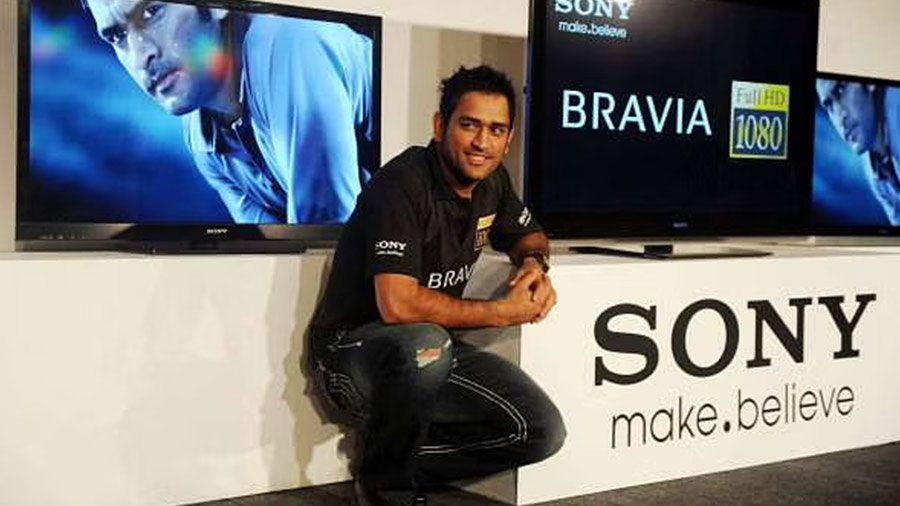 Dhoni's brand value has gone up since his international retirement, with Mahi currently endorsing 35 separate brands
Sony
Dhoni was not the first Indian cricketer to be a brand icon. That was already achieved by Sachin Tendulkar. But how did Dhoni's personality change the endorsement industry? What did he bring to the commercial table that was different?
JB: Dhoni is a winner and that's something that never goes away. He's unapologetically Indian, unapologetically patriotic, has a great sense of humour and his sense of messaging is extremely strong. There's also this enigma around him that you know everything about him, and yet, you know nothing about him. He always keeps you guessing, keeps you on your toes. Even the CSK team, with whom he was training ahead of IPL 2020, found out about his retirement from international cricket (on August 15, 2020) from social media. That kind of enigma always sells. For somebody who's not trained, he's also a surprisingly good actor and a natural in front of the camera, unlike, say, Gautam Gambhir, who used to suffer his way through his shoots with the Kolkata Knight Riders (KKR).
Whether as BCCI president or CSK supremo, Srinivasan has always had a lot of faith in Dhoni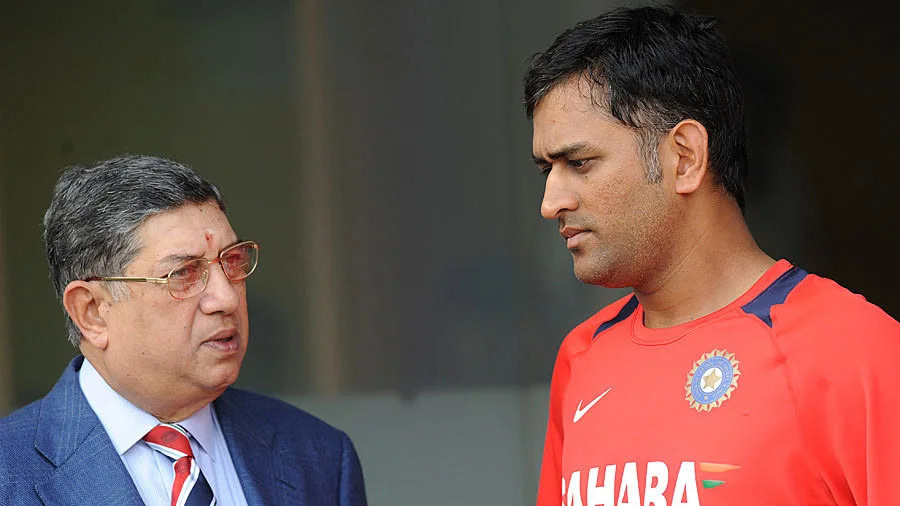 The relationship between Dhoni and N. Srinivasan defined Indian cricket for the best part of the 2010s
BCCI
Dhoni and N. Srinivasan (former BCCI President and ICC Chairman) had a compelling and controversial relationship with respect to the Indian team as well as CSK. Would you say that this relationship tainted Dhoni's image somewhat, especially in light of the betting scandal where Srinivasan's son-in-law, Gurunath Meiyappan, was involved?
JB: For all the things that are said and speculated, I've never seen N. Srinivasan anywhere close to a CSK team meeting. In fact, you'd hardly ever see Srinivasan and Dhoni in the same space. There's a lot of trust from Srinivasan towards Dhoni, which is why CSK is run the way Dhoni sees fit. Srinivasan has been smart enough to let Dhoni be. People keep talking about a nexus (between Dhoni and Srinivasan), but from what I know, there's been no hushed phone calls, no interference and no power struggle between those two.
AS: Even after CSK had a disastrous IPL in 2020 (where they finished second from bottom, failing to qualify for the playoffs for the first time), Dhoni still continued as captain. Why? Because that's the amount of faith Srinivasan has in Dhoni. Whether as BCCI president or CSK supremo, Srinivasan has always had a lot of faith in Dhoni. That faith can be interpreted in many ways and you can always ask whether it's done more harm than good to Indian cricket, but you can't doubt that it's faith that has defined the relationship between Srinivasan and Dhoni.
What are each of your favourite Dhoni innings that may or may not feature in the book?
JB: My Favourite innings would be his 148 against Pakistan in Vizag in 2005, because of how he destroyed the Pakistan attack and also because there was a lot on the line for him personally. I also want to mention the innings for CSK against the Kings XI Punjab (KXIP) in Dharamshala in 2010, where he tore into Irfan Pathan. We were watching the match and were hopeful that KKR would go through (to the playoffs) once CSK had fallen short. But then someone in the KKR camp said, "Dhoni's there" and we were all consigned to our fate.
AS: Mine has to be Dhoni's 91 not out in the 2011 World Cup final on the biggest day for Indian cricket since the 1983 World Cup final. I was 18 back then, and it was the happiest day of my life till that point. There's also another knock that I'd like to mention, one that goes under the radar. It's his 45 against South Africa in very bouncy conditions in the 2007 World T20 at Durban, a match India had to win to stay alive in the competition.
Dhoni is far better being a mentor for young cricketers instead of being the coach of the Indian team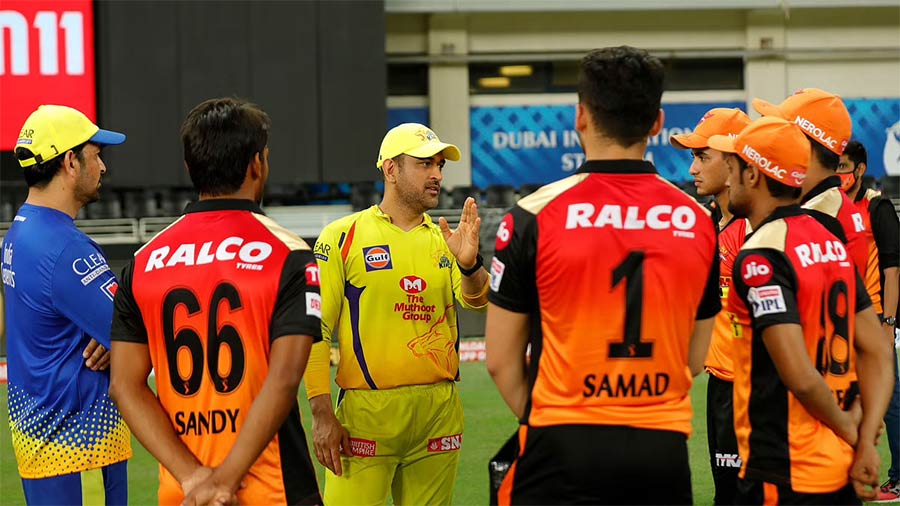 Dhoni offering advice to youngsters after an IPL match between CSK and the Sunrisers Hyderabad (SRH)
BCCI
Dhoni has made it a habit of surprising India time and again. So, we will not ask you to predict what he will actually do once he is done playing cricket. Rather, we want to know what you would like him to do post-cricket.
AS: He's a great person for young cricketers to learn from, so I'd like to see him be the head of the National Cricket Academy (NCA), where he can groom and nurture young talent.
JB: I agree. The way I see it, Dhoni is far better being a mentor for young cricketers instead of being the coach of the Indian team. Because in the dressing room, there can only be one boss. And as coach, Dhoni would always be that boss and that could create friction if there happens to be a captain with a strong personality, as we saw in the case of Kohli and Kumble.