Isharya, known for its contemporary cool jewellery, now has its first flagship store in Bengaluru. Pastels and geometry, the latter synonymous with Isharya's designs over the years, defines the store's interiors. Their new collection Modern Maharani V has also launched and is marked by statement yet sleek aesthetics. The Telegraph caught up with Gauri Tandon, co-founder of Isharya, on the new launches and the brand's two-decade journey.
What is the mood of Modern Maharani V?
Modern Maharani has become an Isharya icon for anyone familiar with the brand. It is the most opulent collection of the year, fit for royalty. With its fifth reprise, we invite you into a magical fort where glamour is de rigueur. You can be exactly who you want to be, the bigger the better!
Can you pick some looks of the season for us...
1. Royalty-infused pieces with vibrant reds and greens, and stunning black enamel work.
2. Dopamine-doused earrings and wristwear from our Poppin' collections in bright blue, green, and pink of our signature Isharya coloured plating.
3. Any and all of the mirror beauties from our cult-favourite bestsellers.
4. Complete crystal stacks from our vivacious Bright Young Things collection. The mismatched stones and edgy designs make for such youthful accessories.
Congratulations on the Bangalore store. Can you walk our readers through the store?
Thank you! We're incredibly grateful to house our creations in a prime location like Lavelle Road. This flagship store is really an extension of Isharya, and its beauty lies in the nuances. Working closely with designer and friend Tejal (Mathur) was a cathartic process. It allowed us time to reflect on the brand's evolution through the years, and appreciate the journey that brought us here. We wanted to give our clients a space where they felt most comfortable and beautiful — something of a glamorous dressing room! A personal favourite to explore was the eclectic feature wall, bringing together elements of cultural relevance with something to make you linger just a bit longer.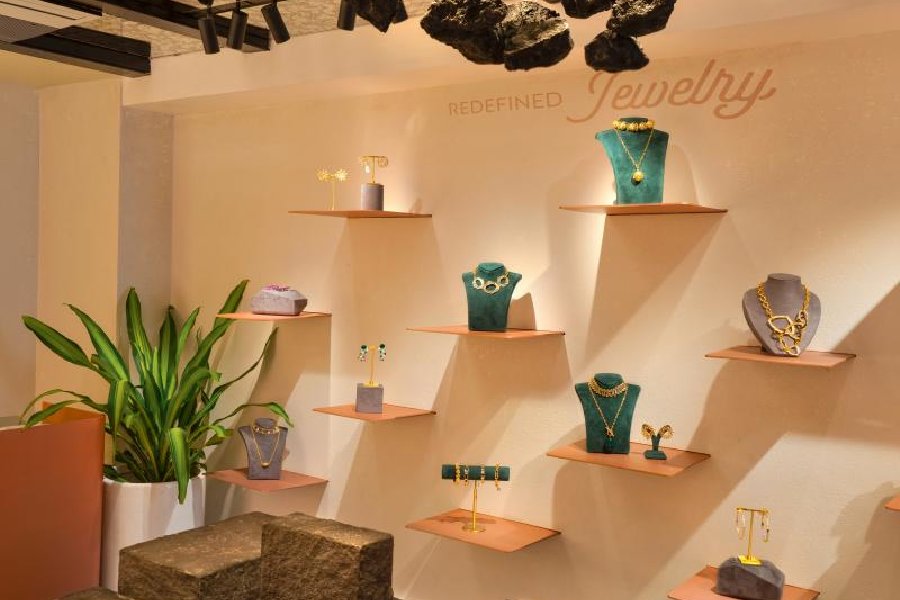 A glimpse of Isharya's flagship store in Bangalore
How many stores does Isharya have at present? How have you charted the brand's expansion plan?
Eight stores, with our newest flagship on Lavelle Road, Bengaluru, and a brand-new one in Ambience Mall, Gurugram that has launched just this month.
We're thrilled to announce that not one but two new lines of jewellery are in the works and will be launching later this year. These lines are unlike anything we've ever done before, and we're confident that our customers will love them. They've been specially crafted based on feedback we've received from our loyal community, and we can't wait for them to experience the magic of Isharya in a whole new way.
We're passionate about our brand values and staying true to our roots, but we're also excited to explore new horizons and push the boundaries of what's possible.
Isharya turns 20 next year. Congratulations! How has the brand's language changed?
As we approach our 20th anniversary, we are proud to have evolved over the years to stay current with trends and continue to appeal to our audience. One significant shift has been our usual embrace of traditional Indian aesthetics and techniques, melded with modern silhouettes which has helped us create a unique identity that sets us apart.
Our ability to invent new design concepts has also been a hallmark that we continue to build on. For example, our use of the uncut polki technique, traditionally used in Indian jewellery, has become a signature element of our mirror pieces. At Isharya, we are committed to striking a balance between traditional and modern elements in our work. Through this journey, we have created a brand that is both timeless and contemporary.
How different were the jewellery-buying habits back then?
Over the years, the world of jewellery has undergone some fascinating changes, and it's important to take note of the shifts in customer perspective. In the past, people were primarily interested in fine jewellery as a serious investment. Today, people are focused on enjoying their jewellery as a fun and fashionable accessory.
As fashion trends have evolved, the lines between costume and fine jewellery have blurred. We love seeing our community mixing and matching different types of pieces to create unique and expressive looks. This is great news for fashion lovers, allowing for more personalisation and creative expression than ever before. Overall, a new realm of possibilities has opened up for us as a brand. We are excited to continue exploring new trends and styles and to create jewellery that truly speaks to our customers' fashion sensibilities.
How much have the women and their choice of jewellery evolved?
Women today want more options, and they're changing their jewellery daily to reflect their mood and personality. Jewellery is no longer just an investment kept in a locker, but it's now an essential part of their look and wardrobe, serving as a confidence booster. It's not just about following trends any more, it's about making a statement through their unique personal style.
What do you think have been the major contributors to that?
We think that the focus on self-care post-Covid has led women to pay attention to and spend more time on feeling and looking their best. This is indicative of how we as a society feel post multiple lockdowns and a reminder that little things are often the most delightful.
What have been your bestsellers over the years?
Time and again, we see our tribe reaching out for sparkling mirrors and CZ-encrusted pieces. Whether it's pearlescent workwear or eye-catching statement pieces for nights out, they can't seem to have enough of the bling!
Who does Isharya want to design for in the coming years?
Ultimately, our goal is to design jewellery that makes women feel great. We believe that jewellery has the power to transform and give women a little boost of confidence to take on the world. So, if you're a fashionable, bold go-getter who loves to express herself through personal style, we're designing for you.
Pictures courtesy: the brand