A member of the Under-19 World Cup-winning Indian team in 2018 with four wickets in the final against Pakistan, a star for his state side soon after and a net bowler for the senior Indian Test squad in Australia, Ishan Porel had made a brisk start in his cricketing career. Even an IPL deal was sealed, although he did not get to play a lot for Kings XI Punjab.
Then came the downslide. Injury and illness ruled him out of the Bengal side. Imagine. An India prospect who had just turned 20 suddenly cannot get a game. Porel missed the national T20 and 50-over championships this season. He was nowhere. One of those early bloomers who had failed to live up to the promise, many would have thought.
But Porel has proved them wrong. At least for the time being. Now 24, he was one of the heroes of Bengal's come-from-behind win in the season's first Ranji Trophy match against Uttar Pradesh, which ended at the Eden Gardens on Friday. He was Man of the Match after returning figures of 5/35 and 2/70. Mainly due to him, Bengal bundled out the visiting side for 198 on the first day. It was a struggle for the team still, as it got shot out for 169 before clawing back to eventually seal a six-wicket win. Several other players chipped in, but Porel was deemed the most valuable player of the match.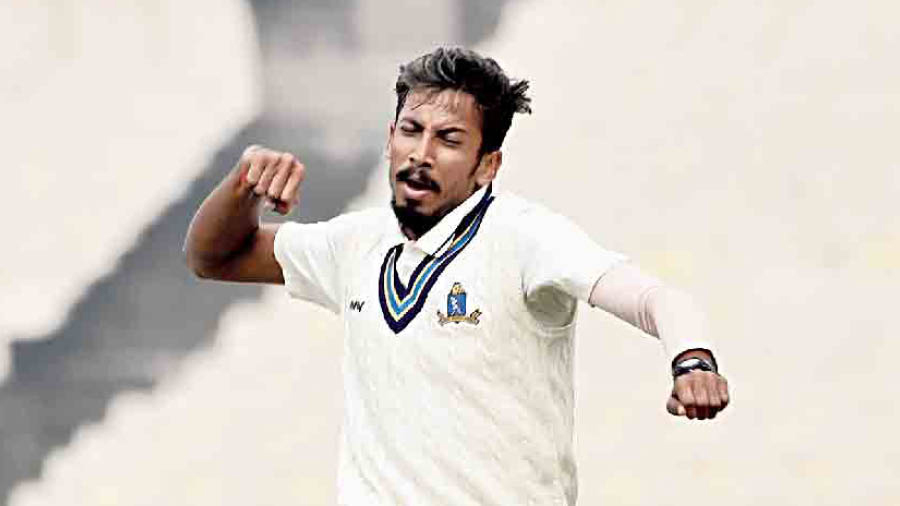 Porel was deemed the most valuable player of the match against Uttar Pradesh
TT archives
Porel was quick to admit that it was not easy because he was playing for Bengal after a fairly long forced break. "The first day, during the first few overs, I was nervous. I had butterflies in my stomach. But once I got a few wickets, it became easier," the bowler from Chandernagore said after the match. "The wickets I took are the outcome of a process and I am happy with the process. I worked on my fitness. The team management was of great help. A couple of club games I played before this match gave me confidence."
Hailed as a prodigy by former Bengal players before he played for Under-19 India, Porel was predominantly a bowler who brought the ball in. Tall and lanky, he operates at a decent pace but is not express. From early in his career, he has had good control over swing, often moving the ball just enough to keep batters guessing. What he lacked was variation. He could not get the ball to leave the right-handers or even get them to straighten at least and that made him predictable.
Porel believes he has managed to bring in that much-needed variation to his repertoire. "Dismissing Uttar Pradesh skipper Karan Sharma (in the first innings) was special. I bowled a couple of away going deliveries before sneaking one in. He left the ball and was bowled. In the second innings, getting Priyam Garg out for no score was crucial as he was in fine form."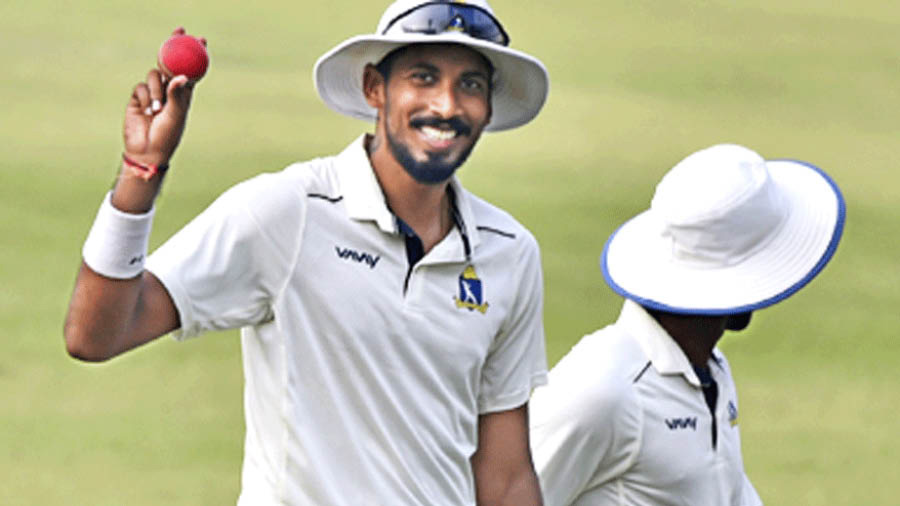 Porel believes he has managed to bring in that much-needed variation, which was lacking in his early career, to his repertoire
TT archives
Bengal's assistant coach Saurasish Lahiri attests to the addition to Porel's armoury. "He is basically a seam bowler, more than swing. His strength used to be the incoming one. These days, he has added that other one to his repertoire, one that goes out, especially when he bowls at Eden. He is getting the ball to move both ways. And that makes him a much more dangerous guy to contend with."
Bengal have had a battery of quality quick bowlers for quite some time. Laxmi Ratan Shukla, Ranadeb Bose and Shib Sankar Paul all either played for India or came very close. Then came Ashok Dinda and Mohammad Shami, who both played for India. Now, Porel, Mukesh Kumar and Akash Deep are carrying the legacy forward. Mukesh has played for India A already. Even a year ago, Porel was regarded as the pick of the current lot. After a few months in oblivion, he has made a grand comeback. This might turn out to be his breakthrough season.