Masaba Gupta is elusive. Just when you think you've managed to get her to chat with you, her busy calendar might just come in the way. When she does give you time, she is all ears and heart though. The multi-hyphenate Masaba chatted with The Telegraph about the partnership with Aditya Birla Fashion and Retail and why she has "more mindspace to think about the things" she wants to do.
What is your average response time now?
Oh man! Don't ask. I don't know how to respond to my WhatsApps. The thing is you feel like 'I am going to respond to somebody now' and the next thing you know it's been three days and you haven't had the time. I am a bit overwhelmed right now, but it's fine.
You had told us last year that you have big plans for the brand. Were you talking about this partnership?
Yeah... actually you are right. In fact, you were one of the few people who wrote to me and I said just wait and I'll have something better to give you later. This was definitely one of the things. Honestly, if not this, we were anyway going for a fundraise, but I knew that the plan is to really do a lot more as a brand as opposed to just constantly doing collaborations. This was the end-goal and I am glad it happened especially with the partner I admire. I think there are many partners that you can find even as financial investors but there are few with great work culture. So, I have to say that I am happy.
What is the plan?
I am not going to speak too much in detail just for the sake of some newness when we actually do what we do. The plan always was I didn't see myself as just a clothing label. I wanted to actually get a hold and get into people's lives. If a young girl is opening up her bag, I want her to be using my lipstick, my sunglass case, but I also want her to be wearing one of my dresses and when she is going for her yoga class, I want her to be wearing Masaba as well. That is the kind of plan that you can't really achieve without somebody like an Aditya Birla. The idea that the brand should become a 360-degree lifestyle brand, that is what we really wanted to do.
I have been saying this for about six years that I want to do this and that and everywhere I went, I was told 'you are just trying to do too much'. But you know, I am not even thinking of the West, because I think we give the West too much importance, but why can't I be the first brand out of India that does that? Why can't we aspire to be a staple in an 18-year-old's wardrobe as well as in a 60-year-old woman's wardrobe? Traditionally, we have always been a bridal-led industry and somehow you have to be a bridal designer in order to be taken seriously, but I think the fact of the matter was that we were never a serious brand. We are a fun brand, a lifestyle. You are not buying a print because it's such a nice motif, you are buying it because you like the idea and the aesthetic and the world that the print takes you into. That is what I really wanted to do. That's who we are actually going to become. The same girl who is coming back from her dance class is going to walk into a home decor set designed by the House of Masaba. That's what it is. It's actually going to become a house now (laughs).
The more the merrier! You were also telling us you are focusing on growing the business now and cut out the clutter and just create. This is a step in that direction too... 
Yeah absolutely. What happens is when you are young and excited, you think 'I want to do this' and 'I want to do that'. The thing is human beings have a bandwidth for very few things. My bandwidth is now completely absorbed by the fact that we are a house of prints and anything that can come from this house of prints is going to become a part of the Masaba ecosystem. I have also become extremely selfish with my brand. I am somebody who has decided that a collaboration (will happen) if it's actually meaningful or it makes monetary sense. I don't think I ever weighed the options with so many of the collabs. While some were great, I don't think I ever weighed the pros and cons, but now I actually sit down and think 'fine, you want me to do something, but can you do something for me?' We are very internal. Whatever we want to do, we'll do it ourselves if we must do it.
Everything still goes by you...
I am still the creative head and, of course, we will build a strong team from hereon. We will carefully pick the people who will form the next generation of the House of Masaba. At the same time, I have always been somebody who has had a design/marketing role in my own company. So, I will retain that. The way I see it is that when you have a large corporate that is backing you, it's a great marriage. You do things you are great at and they do things they are great at and magic happens.
You have been your own boss from a young age. Have you made peace that now some decisions might not be yours?
Money is something anybody can give you. You have to be able to see eye to eye, agree with the ideology, work ethics of each other. There is a lot of trust I have in the group. They, I would hope, also trust me. I will do exactly what I have been doing all my life. We only become stronger from hereon. I don't think anything changes. I would say I have a lot more support in terms of what is the right thing to really do and I see it as support. When you run your business, you are very biased after a point. It is interesting to have an outsider's view on it. There is no peace to be made. This is the most ideal situation for anyone.
Also, practical...
Around three years back when I first had this thought that maybe we want to get somebody to take a majority stake in the company, I was clear that it should be a strategic partner. By that we mean a partner who has understanding in retail and fashion, one who comes from that ecosystem. I remember somebody asking me why I want to do this. I said because I would be robbing the brand of its potential if I don't do it. Creative people are driven by their egos sometimes and honestly, I also have a creative ego. It's both a blessing and a curse. I was clear that if I don't drop this ego and decide that I cannot be the sole force running this and that I have to join hands with somebody.... You have to constantly work with people who are better than you, who know more than you, who you think highly of and have created more than you.
Five years back I dropped my creative ego and decided that I am going to hire people who are 10 times better than me at what they do. Even my design team today are far more skilled than I am, well-read, understanding of the technicalities of design.... You can do so much as a group and so little as one.
That's so mature. Does it also come from Neena ma'am (Gupta, actress and Masaba's mother)?
Humility is the greatest sign of intelligence. I say this when I see my mother or somebody like Falguni Nayar (CEO, Nykaa), such a force at Nykaa. I see it with Mr Birla (Kumar Mangalam) himself in the way he has been running this business for so many years. I think humility is their biggest strength and reason for success.... What's the point if you are no fun to be with in the same room?
Honestly, the first six months of 2020 were a huge change in my life and I don't think I am the same person since then. It was a very tough period. You are on a treadmill, not really analysing 'Is my health okay?', 'Is my business okay?', 'Is my family okay?' When I sat down and went into the details of things, we were like some businesses can be so fragile. I think that's what we realised in 2020, that life can be fragile. My whole perspective of everything changed. I had to make tough decisions but those decisions and because I have never had to make those decisions in the last 12 years, that made the brand what it is today. The brand is literally at its best... we have never seen these kinds of numbers, engagement, acknowledgment. It's because we decided that we are going to hold on. It was a learning period.
You know me. I have never sat on the fence. The idea of giving up doesn't agree with me and being lazy doesn't exist in my DNA. That is also a genetic problem! (Laughs) You have to shake yourself, shock yourself every once in a while. I never settle. I will always give something one last shot, one last try. It was a great period. I learnt how to speak my mind and ask for what I really believe I deserve.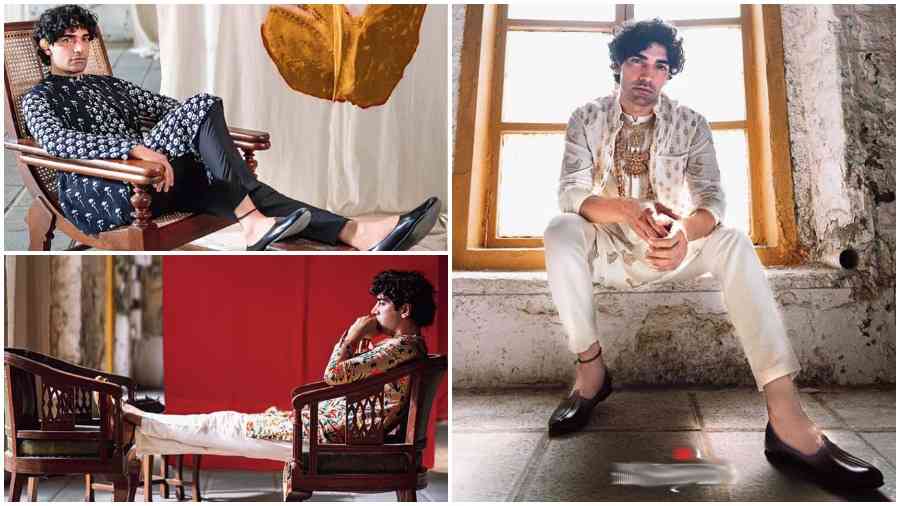 Masaba's menswear
Sourced by the correspondent
Tell us about your menswear...
Menswear was something we were always doing, but in small capsules, but it was only because we didn't have the bandwidth to go ahead with a full-fledged menswear line... womenswear just takes up so much of your time. Also as a company, we are hugely driven by data. So, I take the feedback and work on it. We took the data of the last couple of years that we have done menswear and not really promoted it. All the data suggested that men are becoming experimental, they love a quirky print and love some colour and want a simple silhouette that they know will fit and they have to go through the hassle of returning. Men are simple shoppers. If they like something, they will buy it in four colours. So, this is the first time it featured in a campaign.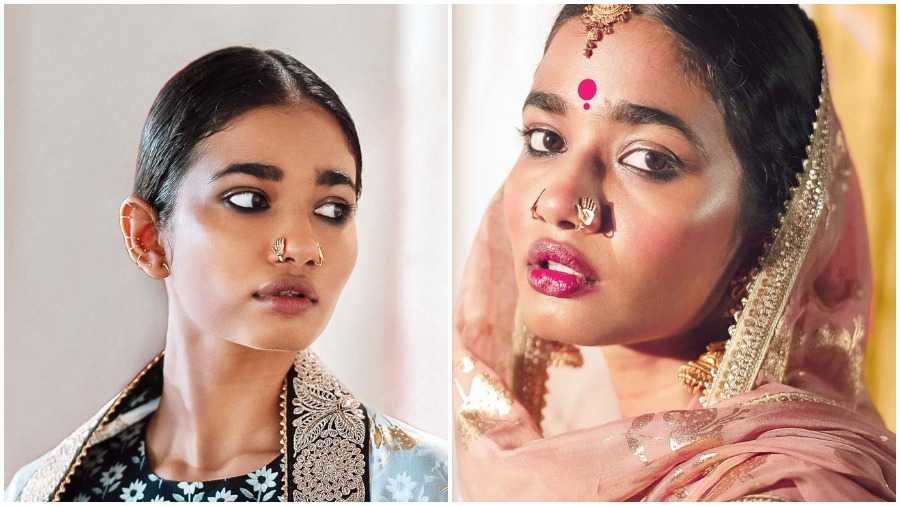 Masaba's jewellery edit
How you have paired the jewellery with the menswear is striking. Are you also delving into jewellery in a big way?
Yes, that's also one of the plans that we have. While we have launched one capsule which is our own, we have always done collaborations with Amrapali.... This time we have done a small selection of mathapattis, chokers, nosepins and rings. We will slowly diversify into necklaces and earrings, but the idea is that it is for a destination wedding. That is a big market for us.
We know when we open Instagram, there will be plenty of cool announcements from you, but what can you tell us about what you are working on right now?
(Laughs) I am working on a fun, new brand but I can't tell you anything about it. It's going to come out in the summer. It's a fun brand that is going to be aimed at tweens as well as older women. We are also working on the new summer collection. At the moment, I am busy strengthening what we have. I am clear about what I want to do now. The next few years will be incredible for fashion.
We can't wait to watch Masaba Masaba, season 2!
You are telling me! I can't wait! It's should be coming out in summer and I have seen it and I am excited is all I am going to say!
Tell us about your YouTube venture...
It's called YouTube Shorts. A lot of people were asking about my beauty, fitness and travel tips and wellness hacks and you will see why I am doing it... there is a reason. You will see it later on in the year....
When you are running your own business, you are involved in every aspect. With this partnership, we are assuming a lot of it will be off your back. How are you planning to utilise that and maximise it?
I've actually only been working harder and I want to voluntarily work harder. Nothing interests me in life apart from work. Now what's happening is I have a lot more mindspace to think about the things I want to do. Also, it's become so much more simplified to execute them. I want to spend my time creating and making the brand a beautiful, global brand that is resortwear, chic, affordable and aspirational at the same time. I want to do a lot more. I don't think I have done enough.