The works of artist Narayan Sinha are stark, visually powerful and thought provoking. A science graduate turned sculptor, Narayan displayed a creative bent of mind from a very young age and knew that he wanted to be an artist when he grew up. He spent his childhood in the suffocating, polluting and deeply masculine environs of an automobile factory owned by his father Dole Gobinda Sinha. Though this environment in no way helped develop his taste for the arts or the aesthetic, strangely enough, the objects that he became acquainted with during his growing-up years became the ingredients and medium of his artistic endeavours.
Though his immediate environment was industrial, he took inspiration from the natural surroundings of Nalhati in Birbhum where he grew up. He also ascribes his love for the aesthetic to his upbringing and his family value system.
His initial works obviously reflected a craving for beauty and a better life away from the dust, grime and cacophony of factories and machines. Over the years, he attempted to understand his own language of expression through his creations. As he travelled across the world, he discovered his artistic identity as someone rooted to his origins yet free to express his art in a way that appealed to the sensitivities of a global audience. All this culminated in Firelight, a solo show that crystallised his understanding of himself and his artistic expressions.
For this exhibition, which was put up in 2021, he took old and damaged parts of different kinds of automobiles and put them together to create astounding works that spoke a language hitherto unknown or unheard. More than 150 sculptures, installations, watercolours and other forms of art were exhibited in an old, abandoned bungalow in the heart of Kolkata, at Queen's Park, that was almost in ruins. Placed in this unusual, innovative art space, Narayan's works spoke of the eternal conflict between nature and humans and how nature rises above its subjugation by man to create more beauty and power. They also conveyed the idea that humans upset the balance of nature in the name of progress. Some of the works emphasised a giving up of the materialistic way of life and a surrender to spirituality and minimalism.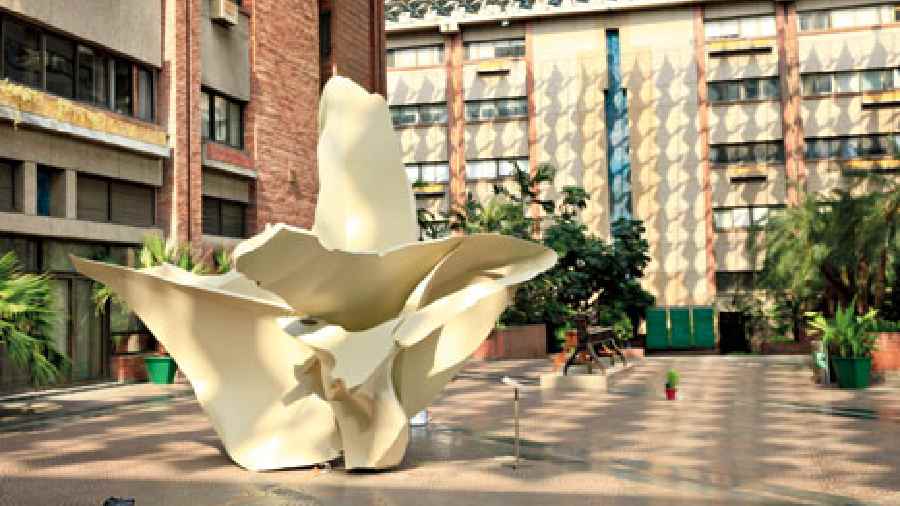 Carnation, one of the largest exhibits in Imbue, the solo show at India Habitat Centre, Delhi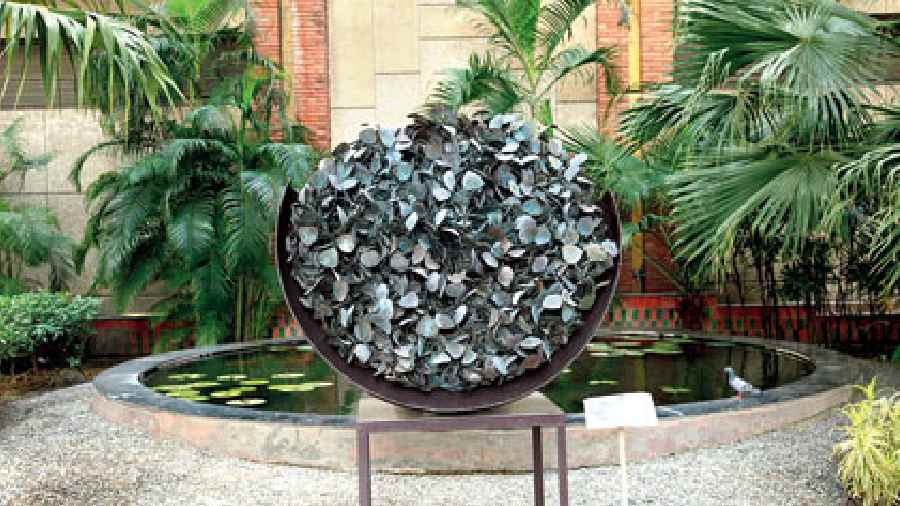 'Arise unsoiled by the earth' from Imbue, Narayan Sinha's solo show at India Habitat Centre, Delhi
Receiving global acceptance for his efforts in Firelight was overwhelming for Narayan as he realised that he had finally gained control over his unique artistic language. At present, secure in the knowledge that he can create anything that his mind can conceive, he is confident about representing India internationally as an artist.
The pandemic in 2020 was another turning point in his journey as an artist. His personal experiences of fear, anxiety and loss made him realise that human beings are insignificant, "temporary guests of the planet and there is a limited time for all of us". This led to a two-fold vision that one should act responsibly and that they should embrace who they are instead of being self-critical. These realisations enabled him to gain a better understanding of himself and create exactly what his heart told him to. According to Narayan, his father's death earlier this year brought about a deeper connectivity with his own self, and has actually empowered him to tell his story better, free of any extraneous concerns of practicality or profitability. To be "blessed with love" has also been an important influence in Narayan's growth as an artist. He feels that his daughter's birth has anchored him as a person. He now describes his own experience of creation as "powerful" and "liberating", which he believes is derived from a sense of personal fulfilment.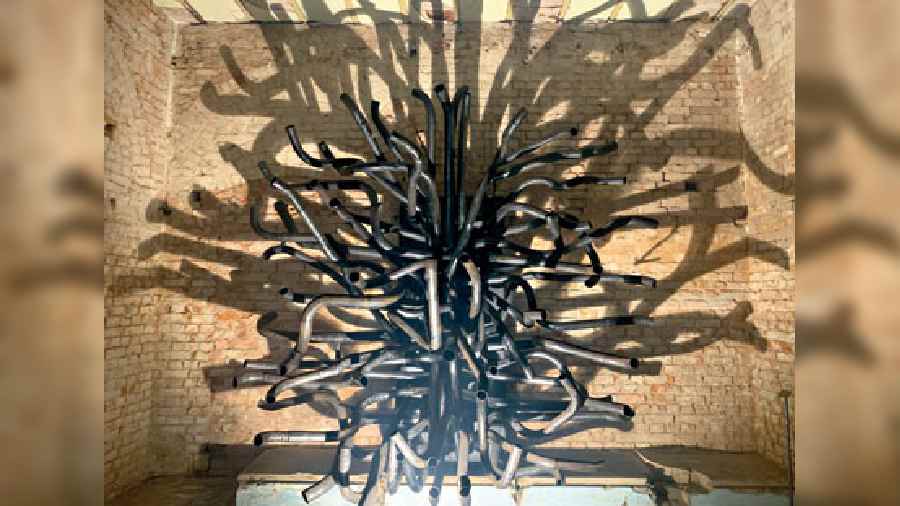 Engulf from the exhibition Firelight
This year has been a particularly busy one for the artist. In April, India Habitat Centre in Delhi hosted an outdoor show of 45 sculptures by him, featuring installations and sculptures made from iron, brass, copper, ceramic and sandstone. Invited to join Iram Art's artists community by curator Noelle Kadar, he represented India on behalf of Iram Art at the Basel Volta Art Fair in Switzerland in June 2022, which was a greatly acclaimed and commercially successful exhibition. His works, made from recycled and upcycled waste matter, underlined his concept that nothing in the universe goes waste. Critics described his works as lyrical, like "poetry in a raw and rugged format". After the show, he was flooded with offers for public installations and of course more international shows. In September, he exhibited his works at another prestigious show in Istanbul. The works displayed at this show were inspired by a heap of organic and inorganic waste matter like rubber, plastic, rusted metal along with dead leaves and branches that he encountered while taking a walk near his native home in Birbhum. Through his creations, he depicted the chaos generated by human activity which he believes is more than that caused by any natural calamity.
In all these shows, Narayan's exhibits explored the relationships among man, machine and nature. His works conveyed his desire of a return to nature, though, contradictorily, they were expressed through the medium of machine scraps and parts. These works also symbolised the articulation of a personal connect for him. They were his way of establishing a bond with his father's industrial world of machines, auto parts, grease, nuts, bolts and so on. The fact that his father passed away just before he departed for the Basel Art Fair, made the connection more poignant although it served as the artist's tribute to his father through his art. For Narayan, the show in Switzerland was as much of a ritual in his father's memory as the one which he performed at home later.
At present, he is looking forward to showcasing his art at the Scope Miami Modus in Miami, USA, to be held from November 29 to December 4. The upcoming show in Miami finds him focused on interactive artworks made with scrap and waste objects. They explore themes of connecting with the self and embracing relationships. This show has a series of 90 masks that explores his own mental states. The series is also an attempt to study the mindscapes of people and the politics of human beings as he tries to get behind the façade of their faces and uncover the layers of emotions hidden within. After this show, Narayan will get busy preparing for India Art Fair in Delhi in February 2023, as a representative of Iram Art.
Though busy with showcasing his art around the world, Narayan remains acutely aware of his origins and hopes to make an artistic contribution to Kolkata, the city he has called home for nearly two decades. His vision is to create public art installations at several locations in the city, using scrap materials lying forgotten in junkyards or from houses that are in ruins or that are being pulled down for other reasons. He also has plans of building an open-amphitheatre with waste objects. He also wishes to honour his identity as an Indian by redesigning ancient cities like Vrindavan, Benaras or Khajuraho in tune with their historical and cultural heritage. Besides this, he also plans to proudly represent to the world India's rich traditions in weaving, design and craftsmanship.