If you had a chance to go back and shoot something, what would that be?
I'd like to shoot Pandit (Jawaharlal) Nehru, Mahatma Gandhi, Rabindranath Tagore…
And among those you have already photographed?
Na, something that I have already shot, I am done with it. When I look at these guys, I think they must have been grand guys for photographers. Like Gurudev was a magnificent man. Bapu was another unique person. Mother, I have photographed with so much love and passion. Indira Gandhi too. So it's done and over. What I got, I got, what I didn't, I didn't; it doesn't belong to me.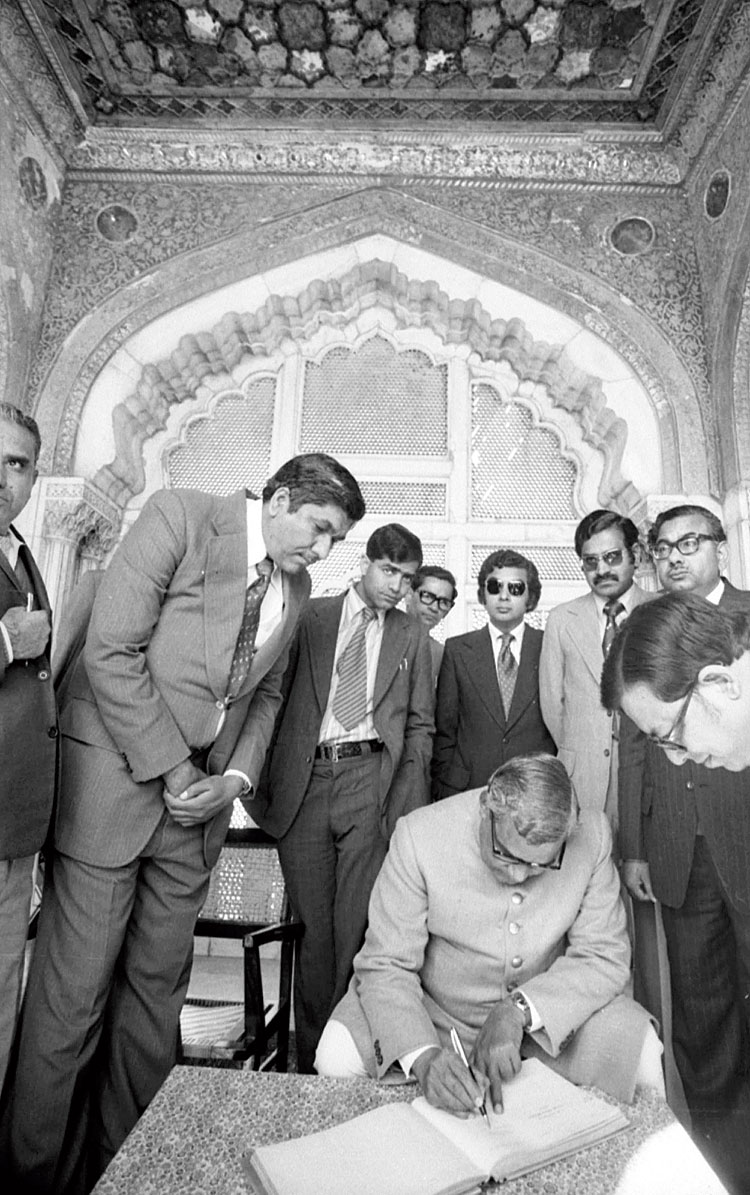 Rai recorded former Prime Minister Atal Behari Vajpayee's trip to Pakistan
Image: The Telegraph file picture
What have you been shooting in Calcutta now?
Well, I have been shooting for 55 years and thanks to digital technology I have digitised all my important work. And I have got so much work on so many subjects. My next book is going to be on the Pujas — from Kumartuli to the homes to visarjan. What a celebration Bengalis have, it's unbelievable.
Apart from Mother, what was the most memorable subject you shot in Calcutta?
Dadu. Oh, you don't know dadu? (Laughs) Satyajit Ray. We used to call him Manikda, and people used to call him Dada. But he was not dada, he was dadu. The difference is that there can be many dadas but there's just one dadu, a dadu is a grand guy.
He was a wonderful human being. People talk about other filmmakers, but even if you put all of these guys together to make a film, they cannot match dadu. (Chuckles) His sensitivity and insight was something else.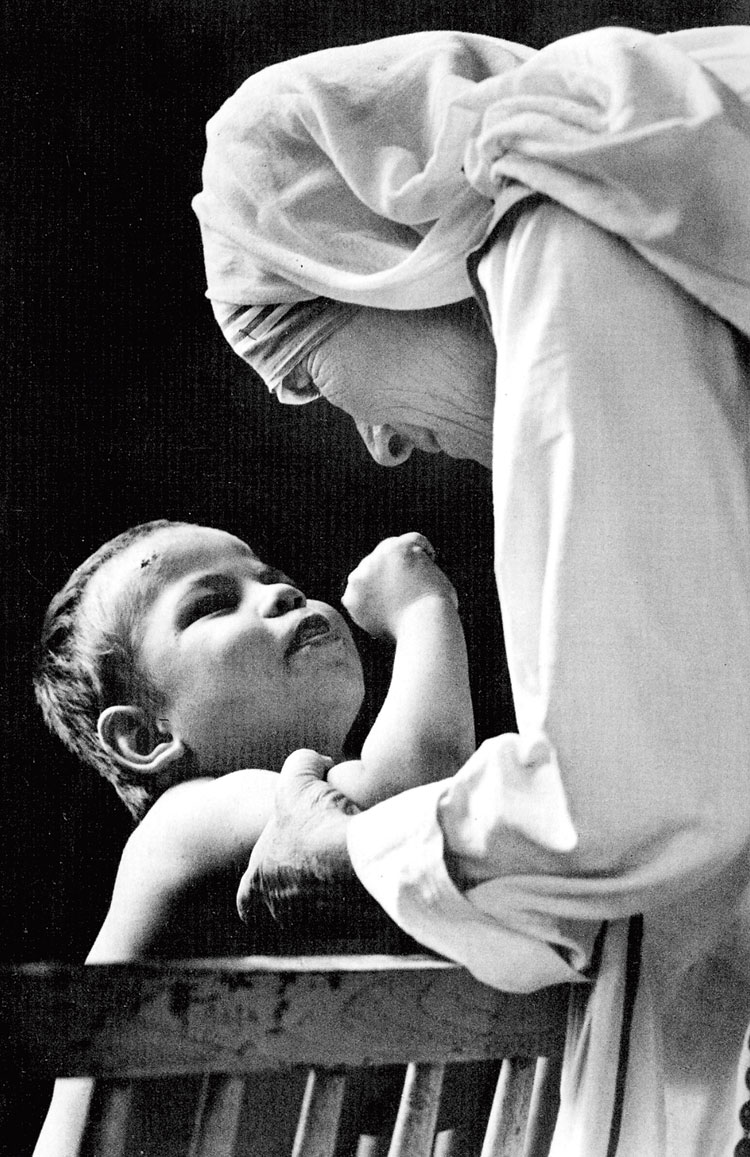 For Rai, Mother Teresa is one of the two most memorable people he has photographed in Calcutta
Image: The Telegraph file picture
If I'm not alive and I am living in the past, then I must be a dead man. Creativity never pulls you back into old things and thoughts
Raghu Rai
For five-and-a-half decades, Raghu Rai has been capturing moods and moments and creating definitive impressions of India, for both those within the country as well as outside it. In Calcutta for the Camarena Academy Photography Awards And Exhibition recently, Rai spoke with us about topics ranging from Mother Teresa and Satyajit Ray to selfies and Instagram. Excerpts.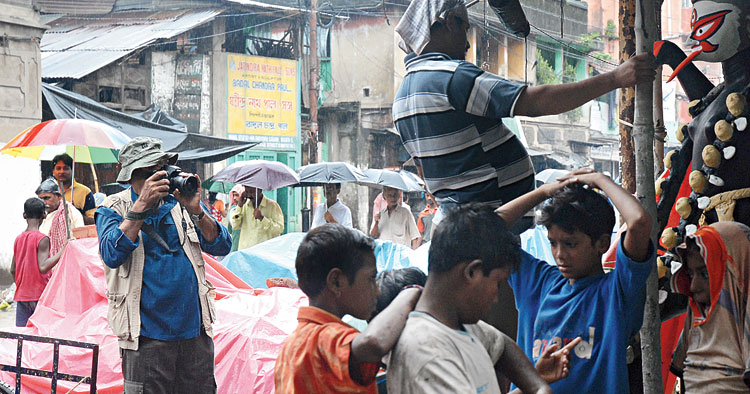 Rai photographing idol makers in Kumartuli, Calcutta
Image: The Telegraph, file picture
Do you remember the first camera that you used?
Yes, my brother gave me an Agfa Super Silette, a small camera with a fixed lens. I had told him — he was a photographer too — that 'everyone is taking pictures, give me a camera, I will take pictures too'. So he put a film in it, told me how to handle it. Off I went to a village. I took a picture of a baby donkey and when the film was processed, my brother saw it and said: "Oh, very good picture." I said: "Yeah?" So he took the picture and sent it to The Times, London. They used to carry a weekend picture, half page, of something funny, something strange, something unique. So my first picture was published in The Times, London, half page, with my name. That was in 1965 or so. So everybody said: "Raghu, this is great." I did not know what was so great. I was in Delhi even then and had no plans of becoming a photographer. So when everybody started telling me this, I told my brother, 'Then you give me a proper camera'. So he gave me a Nikon and I started shooting with the Nikon F.
You've been coming to Calcutta and shooting the city for years. What do you think has changed over time?
The city is coming back to life again. And many parts look so modern — the highways and the malls and everything. The city is comparable with other metro cities today. The bulk of the city, the old city especially, is very precious to me. There life goes on. That part is very special to Calcutta.
What do you find unique about that part?
Somehow, the British have left a beautiful heritage for you guys to inherit. Along with that is the Bengali ethos and the Bengali culture. There is life even on the footpaths and the city's overflowing with human expression. Bengalis are a very emotional people, and where there is emotion, there is expression. So there is overflowing expression in Calcutta.
Whose works have you looked up to?
Henri Cartier-Bresson because this man was so intuitive. He was not doing it as a profession, he was connecting with the divine energies emanating from any person, any place, and capturing them — who we are, why we are and where we are. He was an extraordinary man. There are many other photographers also. Ansel Adams' landscapes, Josef Koudelka's photography, there was one guy called Arthur Tress, another guy called Jerry Uelsmann who used to mix two-three pictures — if you look at his pictures now, you will say 'My god, at that time!'. It's as if it had been done digitally. Such perfection! So all kinds. I'm not stranded or struck by this kind of photography or that kind. Anything which has the magic power of the moment.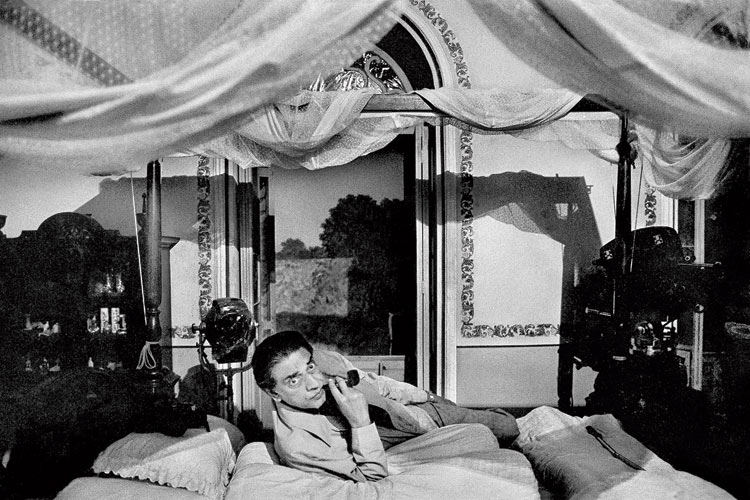 Ragu Rai's portrait of filmmaker Satyajit Ray
Image: Raghu Rai
Over time you have changed the way you have been shooting...

I have changed the technology, the medium is the same. Initially, it was black-and-white because the '60s and the '70s were black-and-white. Then came the colour film and we started carrying two cameras, one for colour and one for black-and-white. And now comes the digital technology where you don't have to carry two cameras. You shoot with one camera, and if you think a picture doesn't work well with colour, you convert it into black-and-white. So digital technology has made photography far more accessible, easier. Today, you put your camera on auto focus and auto exposure and point and shoot and a flawlessly well-exposed photograph appears. You see it and you say 'very good'. Only the soul is missing.
Do you think the care that people would take to expose frames when all they had were 36 shots is missing now?
That is also there. But you see, the thing is that even with digital technology, specially people like us who used film, we still do it very carefully. But we shoot a lot because once you put a card inside the camera you can go on. But overshooting is like eating too much food and having indigestion.
Maybe it's because it's convenient to carry a mobile phone.

What is more important, tapasya or convenience? Do you want to be a tapaswi who is doing meditation, or just want to take a happy-snappy picture and put it on Instagram? Instagram is a disease.
But you have an Instagram account.
The way it is being used by most of the people, that is a disease. Sometimes my daughter puts my pictures on Instagram. I never indulge. I don't even see it.
What do you think of the selfie?
Oh, this is a disease because everybody is doing selfies. Even in the most serious places — religious places, pious places, sad places, they are doing selfies. Showing self-love. And the second thing is that the lenses that there are in the phones are wide-angle lenses. So they distort your face. It's an ugly thing unless you can do it very imaginatively.
Now that DSLRs are available at such reasonable prices, do you think that is making a difference to the quality of pictures people are producing?
Let me tell you that the technical quality of the pictures is superb.
And in terms of aesthetics?
People are experimenting because digital technology gives you freedom to do so much more than film. With digital technology you can photograph under the sea, you can photograph under a pole lamp on the street in the middle of the night. Light is not a problem, you can colour-correct it. You can do so many things with digital. And when you go to the computer, you can process it again.
What is your take on post-processing? Some people say changing the picture after it has been taken is not photography.
If you are doing documentary photography and recording things, then you cannot plant something which was not there. All you can do is light, dark, shade, colour correction, depth and details, which you used to do in the dark room. But if you are doing experimental, then you can be doing anything. But you cannot tailor and implant something which wasn't there, which does not have its connection and meaning with the situation because photojournalism and documentary photography is the essence of photography. Of course, sincere portraiture and meaningful landscape photography is also part of that. Also industrial photography, fashion — but in fashion people manipulate a lot. It's okay because they are making things look very pretty; it's a different ball game.
What has been your most memorable shoot ever?
The next one I'll do. If I'm not alive and I am living in the past, then I must be a dead man. Creativity never pulls you back into old things and thoughts. Something unique has to come from the skies, and it's never short of that. Life and nature have many surprises, even today. Otherwise you won't be writing, they won't be taking pictures, someone else will not be creating music, because already so much has been done. And still there is no end to these things. There is an endless source that you connect with.
How can one use the mobile phone camera — that's the most commonly used camera nowadays — to shoot imaginatively?

It is one thing to compulsorily go on shooting, and another thing to do something with feeling, when something has touched you and you say, "Ah, that is something", and when you record that, it becomes rich. If you click compulsorily, then you are a boring man.
Do you have any tips for people who are shooting with mobile phone cameras?
Please, if you can afford a proper camera, buy a proper camera. The quality is so bad... how can they do this?
What do you mean by quality in this case?
The quality of the picture, the pixels, is not good enough for exhibition prints and big-sized prints. If you want to become a serious photographer, you cannot shoot with a mobile phone. Some of the mobile phones have cameras of good quality, but why? These days cameras are cheaper than mobile phones.
What are you shooting right now?
I am shooting anything and everything that has life so that it becomes dead when it gets captured. (Laughs) I've been shooting skies, I've been shooting rocks, I've been shooting nudes, I've been shooting landscapes, I've been shooting anything…
Over the years you have photographed various subjects — landscapes, cityscapes, nature, people, and so on. Is there anything that you still want to do... something you still haven't gotten around to doing?
Aap Hindi samajhtey hain? Kehte hain, "Hazaron khwaishein aisi ki har khwaish pe dam nikle, bahut nikley mere armaan lekin phir bhi kam nikle." Life is ever-changing. Life and nature are always changing and challenging. The change is inevitable and the challenge goes on. And there is no end to these challenges.
You have worked with various magazines. How has that aspect of your journey been?

I was never bound by editorial needs. I was responding to the social and political situations as they spoke to me. I did not carry any editorial agenda for anybody. That's why my work has shown truthfulness and a sense of exploration. I do not get stuck with any agenda because the purpose of photography is to capture the inner truth of things. So, whether I am doing photojournalism or I am doing it for myself, that is what I keep doing.
When I met Mother (Teresa) for the first time, I went click, click, click, click, click, click. And she was like: "Kya aadmi hain, how many more times will you click?" And I asked: "Mother, how many more times will you pray?" I said: "Mother, this is my way of praying and discovering life." And she said: "All right."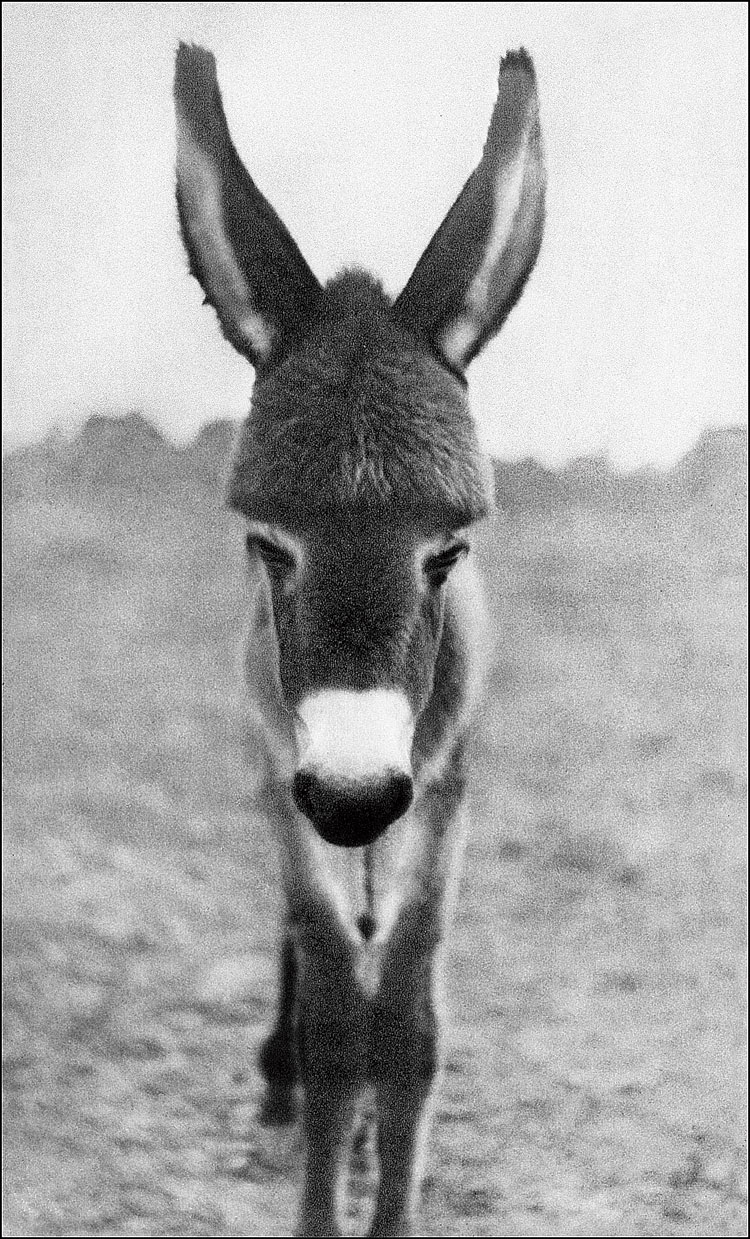 Rai's first picture was that of a baby donkey
Image: Raghu Rai