There is a 400-year-old puja in Barasat that is often referred to as 'Jodhabai's Durga Puja', but the family which hosts the puja does not give the name much importance. Since there is no documented history that connects this puja with queen Jodhabai, the present family members refuse to buy into this legend.
In the history of Bengal's cultural awakening, Barasat is famous for having India's first free school for girls, established in 1847. But that was not the first milestone on the road to emancipation of women.
Much before that, in the early 17th century, a Hindu man returning from Agra after being taken prisoner by the Mughals, started a Durga Puja here to celebrate womanhood in a non-traditional form. Here, his family introduced unique rituals by women that were iconoclastic.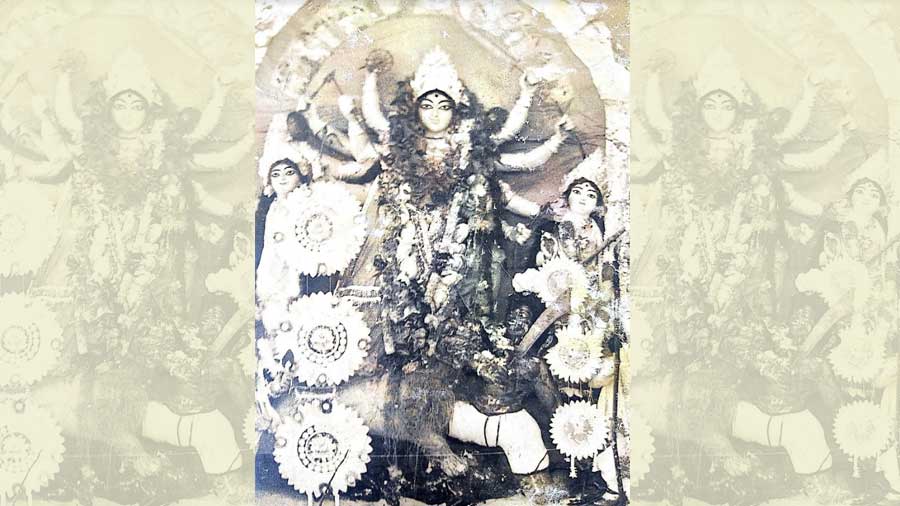 An old photograph of the family idol taken several years ago
From the Chatterjee family album
Now known as 'Dakshinpara Shiber Kota Chatterjee barir pujo', this centuries-old puja is laden with amazing legends.
Like with most old family pujas of Bengal, not much is known about the early history of this puja. This gap is history has been filled in by myth and folklore that have grown out of proportion.
Legend has it that one Shankar Chattopadhyaya was a family priest of King Pratapaditya of Jessore when Man Singh's Mughal army attacked Bengal and vanquished Pratapaditya. It is said that Shankar, a captive in the hands of the Mughals, was dispatched to Agra, where after a few years he was freed by Jahangir under the instruction of Jodhabai.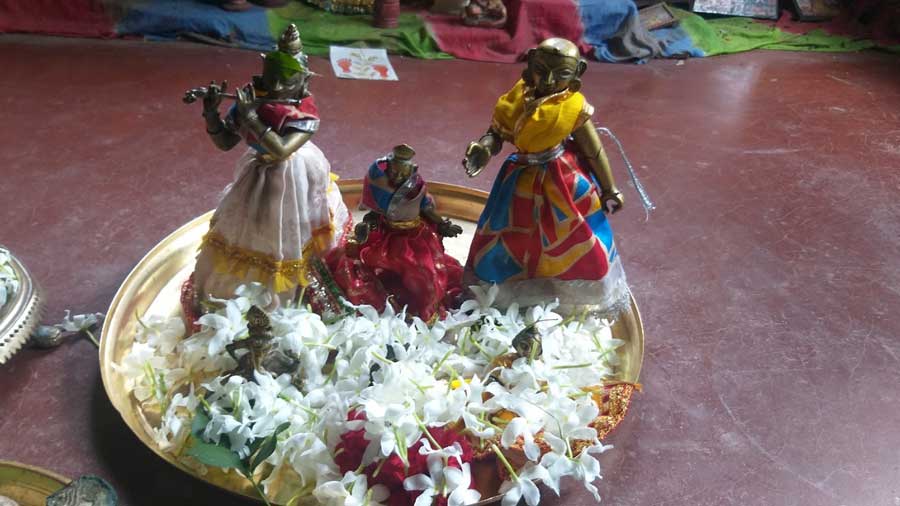 The 'Bidhoba Radha' idol. 'Bidhoba Radha Puja' is an indispensable part of the Chatterjee family puja rituals
From the Chatterjee family album
Shankar, a shakta by faith, would soon return to his native Bengal and settle in Barasat, where he would start a Durga puja. It is also said that Jodhabai was so influenced by Shankar's devotion, that she used to send offerings to this puja during her lifetime.
But the present Chatterjee family members beg to differ with all that is a part of a legend. They are annoyed to see baseless glorification posts related to this puja circulating on social media.
The present generation says Shankar was not a priest but one of the commanders of Pratapaditya, who was held captive by Man Singh. The unsupported glorification of the Mughal empress does not impress any of them either — rather they are proud of the heritage of the unique rituals followed in this puja.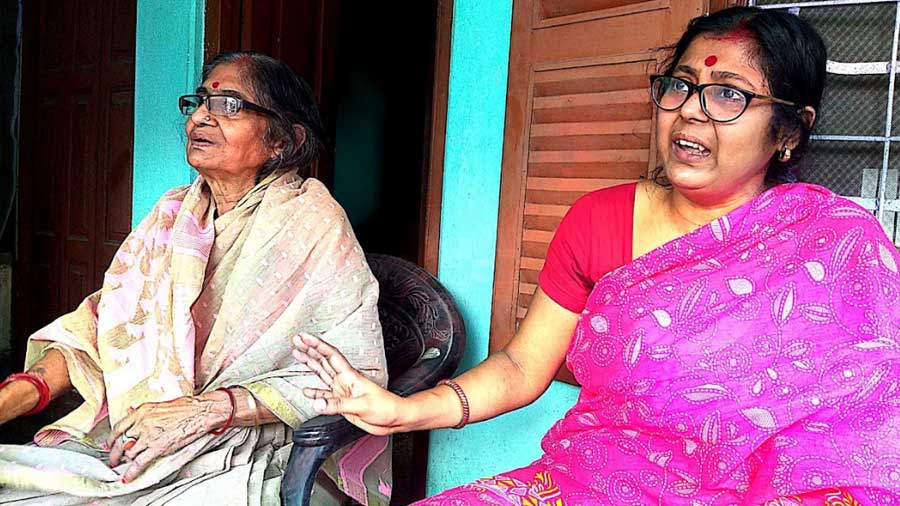 Bharati and Sraboni Chatterjee talk about their puja
Somen Sengupta
As per Sraboni Chatterjee and Tumpa Banerjee, two daughters of the family, this puja claims credit for giving women their dignity several centuries back.
Tumpa goes on to tell the story of 'Bidhoba Radha Puja', an indispensable part of their family puja.
According to her, Shankar carried a small metal Radha and Krishna idols while coming from Agra to Jessore. While taking a bath in the Jamuna, the Krishna idol was swept away by accident and a heart-broken Shankar returned to Barasat with only the Radha idol.
Here, instead of making a new Krishna figure, he decided to celebrate Radha's solitary existence in his family temple by worshipping her as 'Bidhoba Radha' or widow Radha.
This idol is still with the family and is placed alongside the Durga idol during all five days of the puja.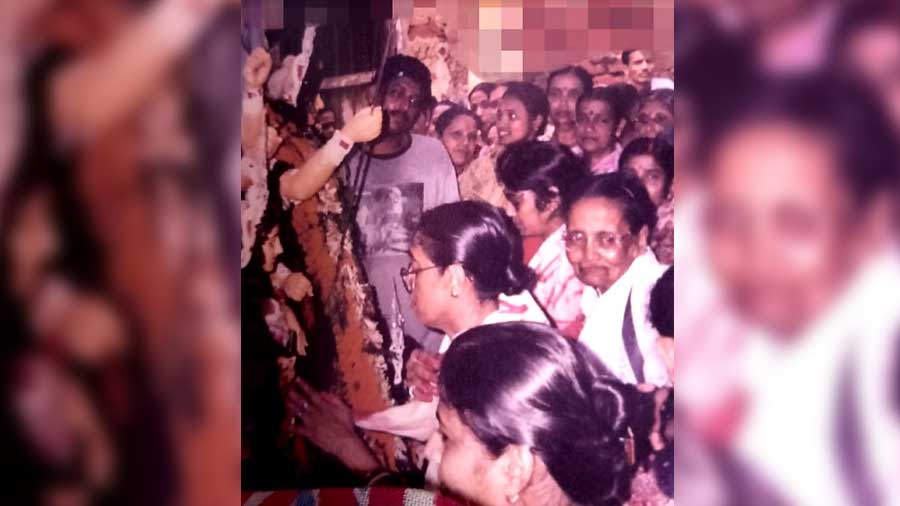 Widows participate in 'Sindoor Khela'
From the Chatterjee family album
This unique tradition inspired the family to allow all widowed family members to take part in Durga Puja and even participate in 'Devi Boron' and 'Sindoor Khela'. While in many families, widows are not allowed to participate in puja ceremonies fearing they bring bad luck, the Chatterjees of Barasat have a broad and progressive outlook.
Though the scale of the celebration is not that big now, the involvement of local people still remains large in this puja.
Unlike other families of Bengal, the idol-making starts here on the day of Janmashtami and not Ratha Yatra.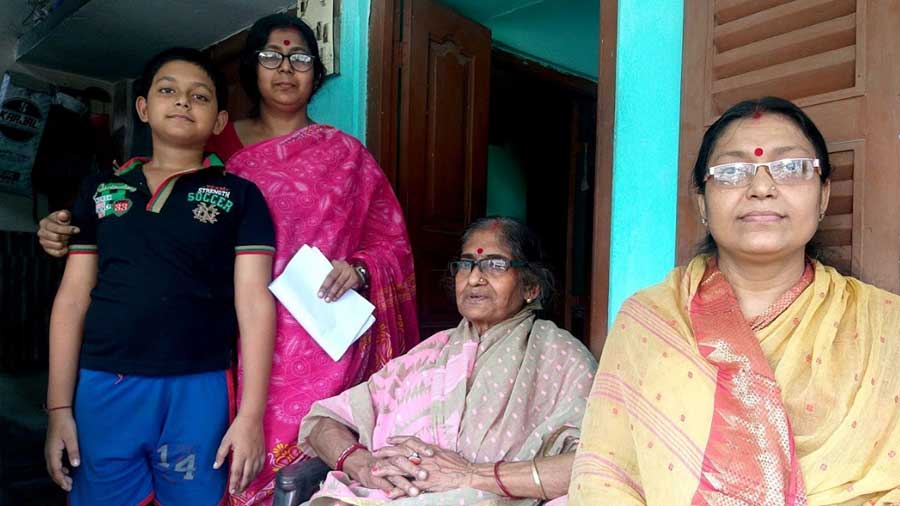 Tumpa Banerjee (right), a married member of the Chatterjee family, gave vivid details of their family's history
Somen Sengupta
The 'kathamo pujo' is done at the family temple where a 400-year-old Shiva linga is enshrined. Known as Bhubaneshwar Shiva, this Shiva linga is said to have been brought here by Shankar's great grandson, Ram Kishore Tarka Bapish from Orissa many years ago. The temple still contains a marble plaque installed in 1916 by Chandra Kumaren from the ninth generation of the family.
Following the North Indian tradition, the puja here is performed for nine days. The goddess is not offered any non-vegetarian food, even on Maha Navami.
"Another special custom we follow is immersing the idol before sunset, as we believe a daughter must leave her father's house before it is dusk," said Sraboni Chatterjee, beaming in pride while describing the rich heritage of this puja.
There are legends, folklores and fiction written by Bengali authors in magazines like Nobokollol about this puja.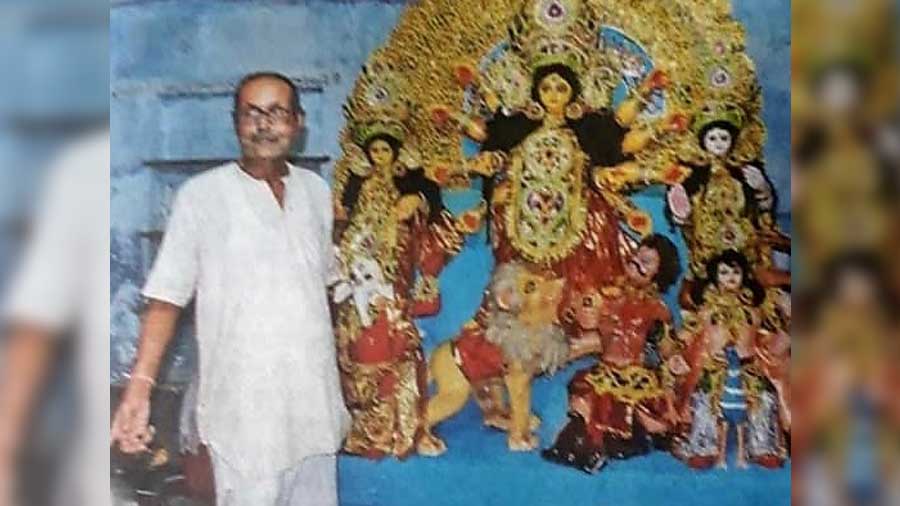 Kiran Shankar Chatterjee, the senior-most member of the family, refuted all rumours surrounding the puja
From the Chatterjee family album
"Every such story state baseless facts involving Akbar, Jahangir, Jodhabai and Man Singh. Some even tried to add a hint of romance between Jodhabai and Shankar following Jodhabai's intention of visiting the puja and offering pushpanjali to Devi Durga," said Kiran Shankar Chatterjee, the senior-most member of the family presently.
For the Chatterjees of Shiber Kota of Barasat, family tradition comes over anything — even the doubtful glorification of Delhi's Mughals.
Somen Sengupta is passionate about heritage and travelling and has been writing about it for 26 years. When he is not executing duties as a senior executive in an MNC, he keeps an eye out for intriguing historical trivia and unearths forgotten stories. This also makes him an avid quizzer.