THE MONTAGE OF MEMORIES
For the middle-class Bengali, back when I was growing up, Durga Puja was a time that triggered a regeneration of one's everyday life. We looked forward to new clothes, new shoes, new music, new books, family get-togethers, food and adda, hanging out with friends, going to the movies.
Carnival of colours
Getting together with the extended family was a must during the Puja holidays. The high point was making a trip to my grandmother's house in Baranagar, or all of us siblings meeting up at my Jethu's place. Also, you would run into an assortment of elderly people during the festive period... mashi-pishi, parar kaku-jethu, of whom a few would be Naxalites, footballers of different clubs, parents of friends.
For the whole year, the city looked black and white to me; it was like watching a black-and-white film. Only during Durga Puja, Calcutta was splashed with a burst of colours. It felt like I was watching the city in Eastmancolor.
What happens during such a carnivalesque atmosphere is that you loosen up, your inhibitions are gone, your filters are down. You become receptive and absorb a lot of diverse influences. Durga Puja gifts a wide range of vignettes — colours, images, sounds, emotions, expressions. More than devotion, it's these myriad associations around the Puja that left a strong impression during my formative years and shaped my artistic sensibilities.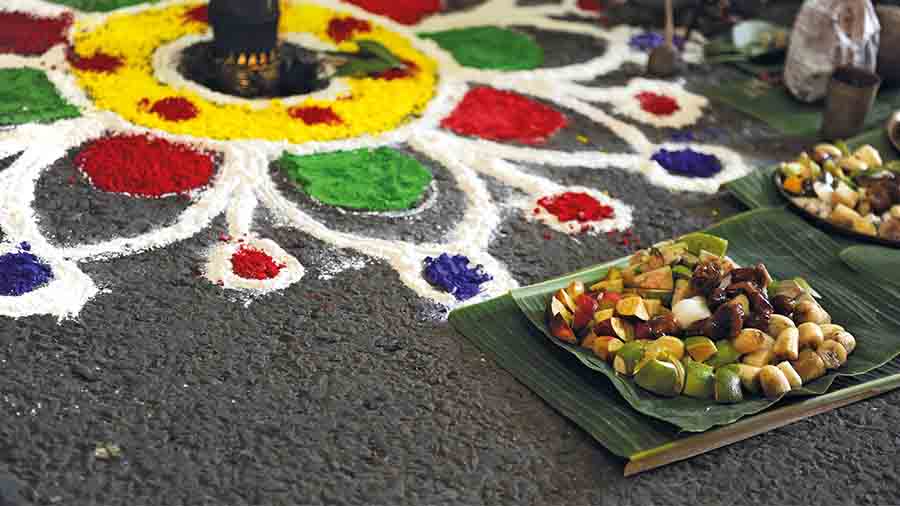 Three for joy...
Growing up, the main draw of Durga Puja for me was the trio of music, movies and magazines — pujor gaan, pujoy cinema, pujabarshiki. And we had a vast stretch of time, thanks to the Puja holidays, to savour them. These three had a symbiotic relationship and had a softening effect on the mind.
There was only the radio and the gramophone when I was a child; no television. Pujor gaan heralded the arrival of Durga Puja and all the singers would release new albums. I used to wait for Vividh Bharati and Akashvani to play Kishore Kumar, R.D. Burman, Lata Mangeshkar, Manna Dey, Sabita Chowdhury, Arati Mukhopadhyay. O mor moyna go... I still remember Lata's voice floating in from the faraway.
Puja was also the time that marked the beginning of my association with Bengali literature. We would be exposed to different writers, novels, poetry and comics. I remember the doorbell ringing and a fat, rolled-up Shuktara or Anandamela flying in and landing on the verandah. There was a cinematic element to it. Experiencing this moment was a thrill that is unmatched today.
Watching films at the theatres during Puja holidays became a ritual during my teenage years. We had gone to see Anand (starring Rajesh Khanna and Amitabh Bachchan) at Priya cinema; 28 members of our family, we took up almost two rows! Uttam Kumar's Shilpi and Shapmochan, Tarun Majumdar's Bhalobasha Bhalobasha... Kevin Costner's No Way Out at Lighthouse. All these were Puja viewing, and also a lot of black-and-white classics aired on Doordarshan.
The exposure to cinema during this time led to a liking for this medium. My understanding of it began with watching these films — by observing the performances, the art of storytelling, and listening to the music.
When we were young adults, Navami was reserved for a date with an out-and-out commercial film, like Jeetendra-Sridevi's Tohfa! Sometimes we would organise a mini-film festival at a friend's place, like a Vijay Anand special or a series of Hitchcock films or the works of the beautiful actress, Ingrid Bergman.
... and the loneliness and longing
Yet, Puja was not all about being in a state of happiness. All good things come to an end very quickly, like fast cuts in film. And one always had the foreboding that this happiness was short-lived, which gave rise to a deep melancholy alongside the joy and exhilaration.
I suffered from pujor biroho (pangs of separation). The image of a single pradip flickering in the empty puja mandap, after the idol had been taken out for bhashan, used to haunt me. It still disturbs me. I get the feeling that somebody is leaving me. That lone lamp ushered in a kind of void, emptiness, sadness and yearning for something unattainable. These moods and moments have later made their way into my films. Also, the colours, the noise, the joy, the emotions, the people, the crowd, the lonely in the crowd, the unspoken moments... all these have evolved into my stories.
In my mind, Durga Puja is inextricably linked with 'waiting'. Waiting in anticipation of something. Waiting in that lightness of being that this festival induces, the air charged with a sense of hope and change. That would begin at the crack of dawn on Mahalaya, with Birendra Krishna Bhadra's rousing stotra path on the radio. The words are tremendously inspiring and a sense of power would course through my veins.
Journey of moods, from mandap to movies
Antaheen is all about waiting. Abhik (Rahul Bose) and Brinda (Radhika Apte) spend a lot of time waiting, anticipating, longing. Abhik's aunt (played by Sharmila Tagore) talks about a phone call she used to receive. She had never met the man, the caller, but she would wait for his call.
There's a pervading sense of emptiness in Aparajita Tumi. All the characters feel a void in their own way, and a yearning for connection stemming from that. The place where Ushashi (Kamalinee Mukherjee) and Ranojoy (Chandan Roy Sanyal) live, reflects that mood. And Prosenjit, as Pradip, embodies a sense of aloneness and sadness through his body language and gestures.
In Anuranan, as husband and wife, Rahul (Rahul Bose) and Nandita (Rituparna Sengupta) have a great friendship. Yet, when they pass by an expanse of green fields near London, an element of wistfulness sweeps through Nandita and she starts singing Akashe chhorano megher kachhakachhi (a popular Bengali song on a sense of longing for the faraway). And when Rahul and Preeti (Raima Sen) watch the Kanchenjunga together, there's contentment and melancholy at the same time.
I usually do a lot of outdoor shoots for my films. Anuranan has a lot of outdoor and I tried to capture Calcutta in its different moods in Antaheen. One of the reasons for this is that I didn't get to travel much during childhood. Puja holidays were the only time when that happened, say when I went to Kausani and Ranikhet with my cousins. It was like a window to another world, it instilled in me a love for travelling.
The fact that I make women-centric films is because of my mother. It's from a need to understand a woman's psyche. I did make a short film called Debi, on the homecoming of the daughter of a household during Puja.
A favourite Puja pastime was to hang out with friends at Triangular Park, mainly to watch people. People-watching is so fascinating. I like to do it even now. In New York and Paris, I have spent hours in a cafe, just watching people. I have been thinking of making a film on it some day, called Cafe Kinara. It's about three bored young guys in a cafe, who are passing time watching people. They start observing and doing a character study of the people walking into the cafe and, after a point, begin to bet on who is like what.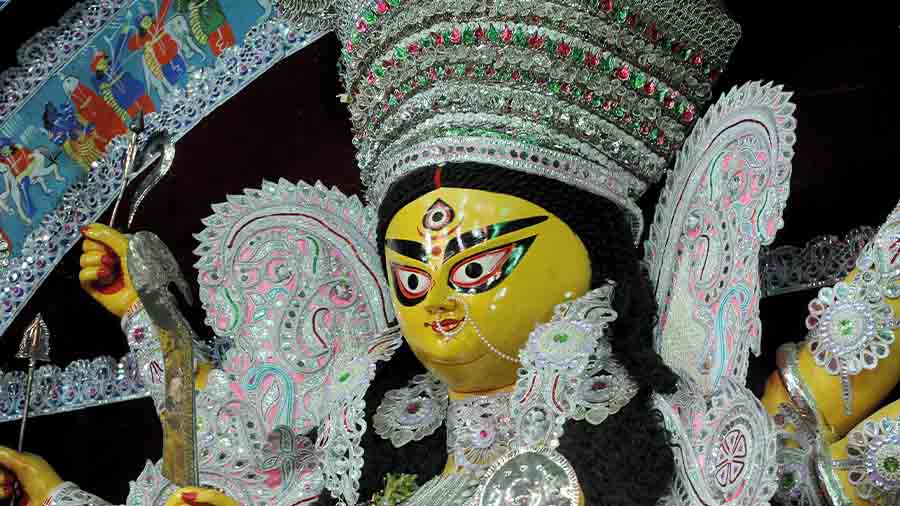 The powerful and the poignant
Some of the films I love for their representation of Durga Puja or its associations are Pather Panchali, Parama, Utsab.
Kaash phool waving in the wind, Durga and Apu running to the puja mandap for prasad at the sound of the dhaak, and Ravi Shankar's sitar playing have embedded (Satyajit Ray's) Pather Panchali in our cultural mindscape.
In (Aparna Sen's) Parama, all of a sudden a relationship develops between the lady of the house and a young man during Durga Puja. All of a sudden, a person is emancipated.
Puja is the time when interpersonal dynamics of relationships come to the fore, with the members of a family getting together, which was beautifully shown in (Rituparno Ghosh's) Utsab. Families coming together during Puja are an occasion for reunion and revelations at the same time.
In (Shakti Samanta's) Anusandhan, Amitabh Bachchan's character singing Kaliramer dhol to the villain (Amjad Khan) in front of the puja mandap is, in a way, Durga killing the demon.
And I loved the sense of power in the climax of (Sujoy Ghosh's) Kahaani, where Vidya Bagchi merges in a sea of women at the sindur khela after achieving her mission. It was very striking.
In the last sequence of Shakti Samanta's Amar Prem, a young man (Vinod Mehra) whom a courtesan (Sharmila Tagore) had raised as her own child comes to take her home even as people prepare for Ma's arrival. I remember how this powerful social message, unfolding in the backdrop of Durga Puja, had made a deep impact on me.
Durga Puja is significant in our lives for such moments of empowerment. The roller coaster of emotions, the exhilaration and the potential for change — it's like a multivitamin tablet that rejuvenates everyone for a year, especially an artist.
Aniruddha Roy Chowdhury is a multiple National Award-winning filmmaker whose films explore complex relationships with sense and sensibility. From Anuranan and Antaheen in Bengali to Pink in Hindi, Tony (as he is known to friends and family) has made Everywoman the focal point of his craft. He tweets at @aniruddhatony
Excerpted from Durga Puja: The People's Festival produced by The Bhawanipur Education Society College in 2019