The Puja release F.I.R. has been getting good reviews and actress Falaque Rashid Roy has been soaking in the praise. A t2 chat....
Let's hit the rewind button first. How did you get your first break in acting?
I tried my hands in acting with a short film named Khwaishein — The Desires of the Lost, which was sent to film festivals. It was directed by Neil Roy. I started to prepare for Khwaishein and did some initial workshops with Bennydi to hone my skills. It helped me a lot with different techniques of behavioural acting, method acting. I realised my actor self and I felt that I can perform. It was a very unconventional role. After seeing my hard work and devotion to acting, Raj (Chakraborty; film-maker) noticed me, he has always been an encouraging person in my life.
You debuted in films with Raj Chakraborty's Parineeta....
It was an experience of a lifetime, I was so excited, happy, and was waiting to fly and I felt on top of cloud nine. I was living my dreams. It looked like everyone was so concerned with what will I wear , what is my look. It looked like all eyes were on me. Subhashree had my back, helping with tips as she is my senior and friend.
And once it started I was a different person, I was Sayantika on set. I was so invested and wanting to absorb every information like sponge. After my shot I wouldn't go away. I would sit with the team, watch the monitor and other actors perform. I enjoyed being off camera as much as on camera. I love the shooting floors... it's so much fun. You feel the vibe of work mode on in full force. Once after Parineeta, Srijitda (Mukherji) had told me that I have a very strong screen presence. I hope to work with him too and soon.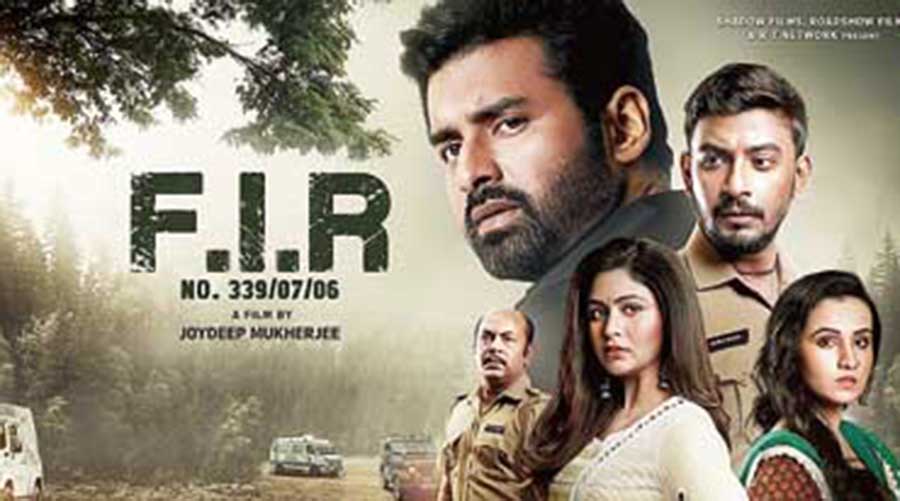 The poster of F.I.R.
What are your thoughts on F.I.R?
I am superbly excited about F.I.R. It is a cop thriller and mystery is one of my favourite genres.
Tell us about your character...
I play Shiuli, a bar dancer in a village. I grew really attached to my character. I could understand where she is coming from, I could understand her desires. At a deeper level, I could connect with her... I am homely too, just like her. For the intense scenes, I would get emotional. I did workshops under the guidance of Sudiptadi especially for F.I.R. I had to put on weight for the song which was shot later...to make it realistic.
What is the best part about F.I.R?
The best part is the plot, the plot is the hero. We are all revolving around it. It's a very beautifully balanced film with entertainment, song and dance and thrills.
What kind of roles would you like to do in future?
I love love stories and I am a romantic. I guess stories of love are a classic and will be in demand forever. As human beings we are bound to fall in love, look for our perfect unions and enjoy family life. I love on-screen romances and look forward to doing a sweet love story. I am a girl who likes fairy-tale romances.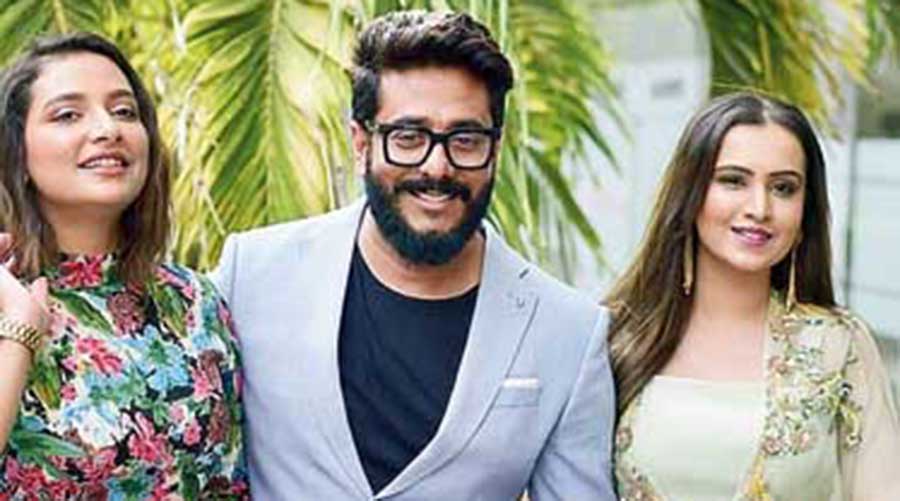 Subhashree, Raj and Falaque
What are your ambitions as an actress?
I am a cinema buff. Before the OTT era started I had an impressive collection of DVDs... I would watch Amitabh Bachchan and Rishi Kapoor movies! I still blush watching the Bobby song, it is so beautiful and serene.
Besides, as an actor I want to explore myself and I am here to learn and stick around. I don't want to be typecast as an actor who can do only intense characters or serious roles or only commercial or any one type. I want to be an actor who is flexible and has something new to offer in each script.
I would like to do a rom com, maybe play a lady cop and do women-centric films or be in family dramas with beautiful Indian values. I want to be the Gen Z artiste! Versatile and entertaining. I consider myself lucky having worked with some of the ace directors of our industry, starting with Raj Chakraborty in Parineeta, Arindam Sil in Mayakumari , Sayantan Ghoshal in Nirbandhamer Jora Khun and now Joydeep Mukherjee in F.I.R. He is one of the most calm directors I have seen, and he is always there for his actors...wherever I got stuck he showed me how to go about doing the scenes and to deliver. At the same time he gave me enough space to explore the character my way and allowed me to try and always encouraged me to do my best.
How was your shooting experience for F.I.R?
I am thankful that my seniors, Ankush, Bonny and Ritabhari have been so supportive and patient and I am glad we did our best as a team under the guidance of our captain Joydeepda.
I remember we had to pick up the dance in two-three days' time, including the lip sync. I was so worried as Bonny is a fabulous dancer and I was a first-timer having to match steps with him. He has been a complete stress-buster, being at the rehearsals to help me. The same I can say for Ankush, as I have several scenes with him... he too ensured we rehearsed together at the workshops that helped break the ice and added to the ease.