"An Italian with an Indian in Germany, you guess the mess" – that's how Giulia Raffaello describes herself on her YouTube channel Only One Giulia.
With more than 3,00,000 subscribers on YouTube and over 86,000 followers on Instagram, Giulia is a shining example of a successful content creator at the intersection of globalised cultures and a rapidly developing digital space.
Born and brought up in the northern Italian city of Padua, Giulia is based in Berlin along with her Indian husband Shreyans Jain, with whom she develops most of her vlogging content. With an academic background in political science and organisational leadership and the ability to speak six languages, being a viral YouTuber was not an automatic choice for Giulia.
"I was working in a tech job in Berlin when I made my first few videos for my company. They did rather well and I enjoyed making them, too. I've always been a performer throughout my life, be it singing, dancing or even doing improv theatre. But I had no plans to be a YouTuber," says Giulia from her residence in Italy where she is on her spring vacation.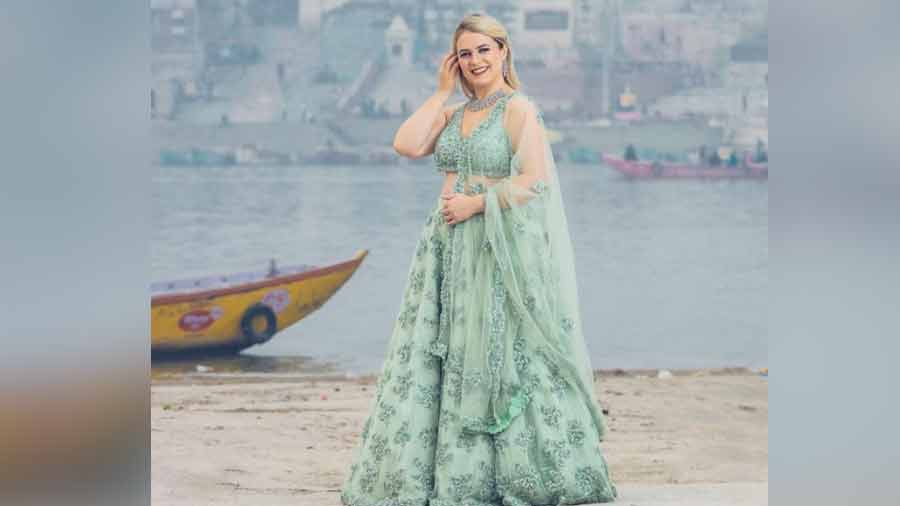 Giulia in Varanasi, a city that left an indelible impression on her
Courtesy: Giulia Raffaello
'You were born ready'
It was Shreyans or Shrey (as Giulia calls him) who convinced Giulia to take the plunge into content creation. After seeing her effortless charm on screen, Shrey volunteered to purchase all the equipment – cameras, lights and microphones – and told a reluctant Giulia that "you were born ready".
Starting in December 2018, Giulia's first few skits involved slice of life or humorous videos on her relationship with her Indian partner, before the content became more regular, diverse and far more spontaneous.
"We suddenly realised that this thing was becoming big! So we needed to do it properly with more attention. At the same time, we wanted to be as authentic as possible when filming, which is why the content became more about us and our lives and less about doing sketches," describes Giulia.
When Only One Giulia began, it was one of only three YouTube channels to document intercultural relationships involving an Indian and the solitary one in which the other partner was a European. Giulia had found her niche, but that did not stop her from experimenting.
"We're always trying to keep things fresh. Sometimes it leads to creative exhaustion, but it's all worth it when we receive the love and admiration of our followers," smiles Giulia.
From the best south Indian food in Germany to Giulia's Italian parents tasting paani puri, from Indian thalis in Italy to compilations of international YouTubers and their stories of India, Only One Giulia is a melting pot of cultures, people and ideas, all infused with Giulia's bubbly personality and subtle but infectious sense of humour.
From a blind date in Berlin to a wedding in Denmark
The primary focus of the channel, however, remains the bond between Giulia and Shrey, who were each other's first blind date in Berlin. "We met through this dating app called OkCupid (also the first brand they collaborated with once the channel was born) and spent six hours chatting over coffee in a park in Berlin. That's when I knew that this was something deeper…. We were both vegetarians and we connected in terms of our views on meditation and spirituality. Everything happened organically," explains Giulia.
The organic nature of their romance is evident in the content they create together. Non-stop banter, a fascination for understanding the Indian and Italian cultures and an understated yet powerful sense of empathy mean that the couple and their displays of affection never cross over into strained affectation.
Both their families, though initially surprised, have been extremely supportive and encouraging of their relationship, which was all set to mature into marriage when Covid-19 struck. "After waiting it out for months, we finally decided to have it in Denmark," narrates Giulia.
But why Denmark? Because "the bureaucratic challenges were proving too much in Berlin. Documentation was taking too long, especially for Shrey, even though he has permanent residency in Germany. One of my friends told me to get in touch with this Danish agency instead and they promised to get us married in three weeks. I couldn't believe it. Three weeks! Was this going to be a Vegas wedding or something?!"
Eventually, the picturesque wedding went off seamlessly in Denmark, with the special video capturing the precious moments fetching hundreds of thousands of views on YouTube. The couple also plan on having Indian and Italian themed weddings in the time to come, with the common feature in both celebrations being Bollywood music.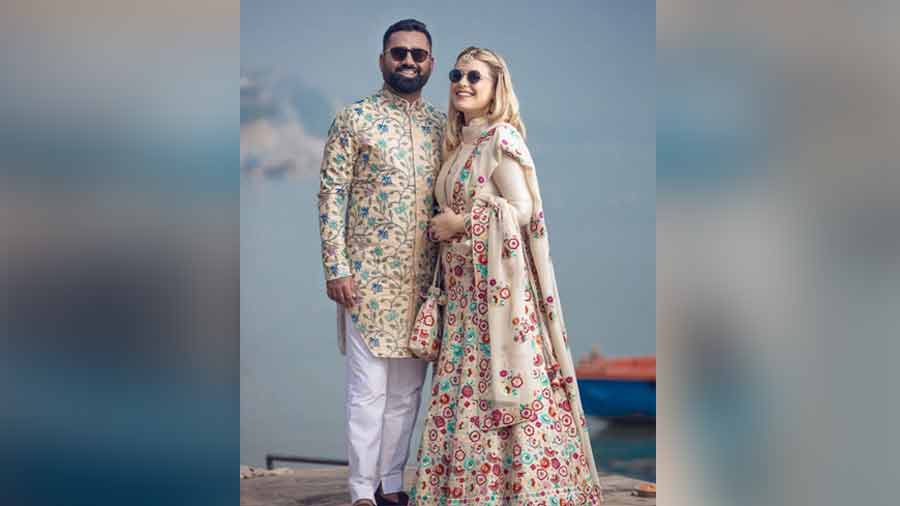 Giulia met Shrey in Berlin a year after both of them had shifted to the German capital for professional reasons
Courtesy: Giulia Raffaello
'Say Shava Shava' to 'Ghungroo' and 'Muqabla'
"I absolutely love Bollywood music. My first exposure to it was through Say Shava Shava and I haven't stopped listening to Bollywood songs ever since. My favourites, like Ghungroo and Muqabla, are fast tracks with well-choreographed dance sequences," says Giulia.
Apart from Bollywood, where Giulia is an admirer of Anushka Sharma, what else does she like about India? "I've always been intrigued by India. There's so much history and heritage to the country. I don't think one lifetime would be enough to explore India."
Seeing India through a time machine in Varanasi
In her travels to India so far, Giulia has been to a whole host of cities, including Delhi, Mumbai and Visakhapatnam, but it is Varanasi and Bikaner that have left the greatest impact. "Going to Varanasi was like seeing India through a time machine. There was something in the air of that place that I can't describe. Something so incredibly spiritual that I can never forget. As for Bikaner, that's my favourite place in Rajasthan. No offence to Jaipur, which I really liked, but it was in Bikaner that I got to connect with the locals the most, which is why it stood out for me."
Discovering Kolkata without a plan
What are the next locations on Giulia's India bucket list?
"I really want to go down South, to places like Bengaluru and Kerala. And yes, I can't wait to explore Kolkata, too. I don't think I'll come down there with much of a plan, but I'd rather just go and figure it out. I feel that'll be the best way to discover Kolkata."
Visits to India also mean meeting Shrey's family, who are spread out across the northern and central parts of the country. Does Giulia find it taxing to remember the names of all her Indian relatives? "It's funny, but even in Italy, we have this thing of interacting with plenty of relatives. The family cultures in both countries are quite similar in this respect. In Italy, they give you more privacy and independence, but otherwise the essence of having the family at the centre of social life is something both Indians and Italians are used to."
Food as a shared love language
On the subject of family, Giulia is effusive in her praise for Leena, her mother-in-law, who features prominently in her reels. "We get along really well, in contrast to the stereotype of a mother-in-law and daughter-in-law having a hostile equation, which, by the way, is a stereotype in Italy, too."
"Leena is like a friend, who's also a natural in front of the camera. We broke the ice by making fun of Shrey back in the day – we still do – and whenever I meet her, we enjoy each other's company, be it cooking, dancing or shopping," says Giulia.
A big fan of baingan ka bharta - Italians love their aubergines – Giulia wants to learn more about Ayurveda and how it can be incorporated into Indian cooking. At her Berlin home, though, Giulia is in charge of making Italian and continental food, with Shrey taking up the responsibilities for Indian dishes. The reason? "Shrey thinks my Indian is bland, so he prefers to put his own spices."
Giulia goes on to add: "Food as a love language is familiar to both Indians and Italians, which doesn't really apply to everyone. Say, the Germans."
Algorithms on YouTube and Instagram push you to your limits
Apart from her tendency to slip in a joke when least expected, there is an innate sense of curiosity in everything Giulia does, something that is easy to understand when one hears about Giulia's first trip abroad. "I was seven years old when I went to London with my parents. They were shocked to see how quickly I picked up English and started making friends over there. Right then I told them that I'm not going to be in Italy for too long. I want to go abroad to explore and discover," recalls Giulia.
That sense of exploration and discovery has brought Giulia a cosmopolitan experience as well as an international following like few others.
But has collaborating with Shrey on screen taken an emotional toll on their off-screen selves? "It can be tough, especially because of the volume of content we've got to make. Algorithms on YouTube and Instagram push you to your limits. If you don't post, you lose out. But Shrey and I have learnt to create boundaries between our professional and personal spaces, which has helped us enormously," reveals Giulia.
Where does Only One Giulia go from here? "Personal involvement and personal growth matter a lot to me. As does the ability to adapt and nurture my storytelling skills. At the moment, Shrey and I really want to do more interviews. We recently did one with Abhinav Bindra, and I feel that's a format that lets you genuinely understand someone and their choices."
"Going forward, I want to evolve in who we are and through the stories we tell, have greater connections with the communities we meet and interact with, and most importantly, find a way of understanding cultures more deeply," signs off one-and-only Giulia.